Starting any new business is an exciting opportunity. Breaking out on your own and creating something that's yours and reflects ambitions you've had for a long time is something that many of us dream of doing but few actually take the leap and do it.
As with any industry, when you start your own business in the health & fitness industry, there are certain hurdles you have to jump to get yourself up and running. In this article, we break down what you need to do if you're thinking of starting a Pilates studio business. We look at the costs, marketing, and those little things that are easily overlooked so that your new fitness studio will have the best chance of achieving success.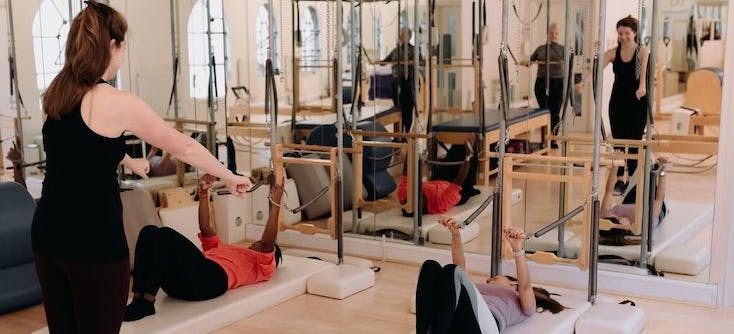 Photo Credit: Pilates East
Get certified as a Pilates instructor
Regardless of your own personal experience participating in Pilates, unless you have certification, you're going to find it difficult to establish yourself as a Pilates instructor, let alone as a Pilates studio business owner.
Having a qualification is vital for both the fact that it offers your clients tangible evidence that you are qualified to train and teach them as well as an added value to you and the credibility of your business.
Anyone attending any fitness class of any kind wants assurance that their instructor will provide them with the best and safest instruction and that they know what they are doing. So getting your certification should be your first priority if you haven't already done so. Here are a few tips to help you out:
How much does it cost to get certified?
The amount you pay for your certification really depends do on the course you choose to take. A mat certification can cost you from $100-$300 whereas a more comprehensive qualification can cost between $3,000-$5,000. To take the NPCP (National Pilates Certification Program) exam, you have to pay a one-off payment of $295.
Which course should you choose and how long will it take?
As with getting certified as a personal trainer, the various Pilates associations and organisations offer different courses that include certification. You can opt for a full-time course, but if you need to keep your day job going while you train, or you have other personal commitments that limit the time you have to attend courses, you can find plenty of courses that allow part-time study.
The time it takes to complete a certification varies in the same way. You can complete a course in a few months, or it could take up to a year depending on how much time you're able to dedicate to it.
The next step when starting a Pilates studio: market research and planning
Once you've completed your Pilates instructor certification the next thing you need to do is some market research. Opening a Pilates studio isn't as simple as finding a venue and welcoming your clients.
It requires you to really know your potential market too. And once you've nailed that, you'll be in great shape to launch an establishment that you know is needed in your area. Some of the questions you need to be asking yourself when conducting your research include:
Who are your competitors and are you offering something they're not?
If not, what is the gap in the market that will set you apart from other local Pilates studios?
Who is your target clientele? What are they looking for that they weren't getting from your competitors?
How much should you expect to spend on opening a studio?
What permits and licenses will you need once you've found your ideal premises?
While these aren't the only elements you'll need to address when setting up your Pilates studio, they're a good starting point to give you a focus.
Find out how to create a business plan for your Pilates studio business
Create a business plan
Once you've gathered the essential information you need from your market research, you need to take some time to set out a feasible business plan. This isn't just a useful exercise so you can visualise your spending and the steps to take when starting out.
It's also useful for any potential investors, future business partners, other teachers, and banks to understand your vision. It can also act as a guide to running your business and keep you on track.
Your business plan doesn't have to be complicated and overflowing with pie charts, algebra and complex language. If you're wondering how to make a business plan, there are seven essential things to include when writing a business plan:
Executive summary
Simply put, your executive summary is an introduction where you briefly outline the main aspects of your business. What is your business and why will it be successful? Explain your mission statement and briefly talk about where you want to open your Pilates studio and a quick summary of how many employees you intend to hire.
Products and services
With it being a Pilates studio, your services are of course fairly transparent, but you can set out your intended schedules for classes and sessions once you've established a client base and opened.
Job roles and responsibilities
This is where you can go into more detail about how many instructors and additional staff members you wish to hire. You may intend to recruit Pilates instructors who can also assist with reception duties, or as with many studios, gyms, and boxes, you might prefer to have a full-time office administrator who will take charge of administrative matters.
Submit your SWOT analysis
SWOT analysis is an acronym for Strength, Weakness, Opportunities, and Threat. You need to tell your reader:
What strengths you and your business will have. Why you will succeed and what elements will get you there.
Show that you have taken into account any weaknesses that you could face along the way. Consider things like the time it takes to become an established business and what you intend to do to address this.
Opportunities. Why is now the time to open a Pilates studio business? Why does your area need one and why are you the person to do it?
Is there anything that could threaten your business early on? Who are your competitors? Have you considered things like online instructors?
Market analysis and marketing strategy
The perfect time to show off all the market research you've already done, show your readers that you have thoroughly researched what you will need to do to go ahead and open up your Pilates studio. Also, enjoy the fact that your time spent doing market research has been useful for more than just the early planning stages of your business. We'll look at your marketing strategy in more detail later, but we can't understate the importance of it. Any potential investors will want to know exactly how you intend to get your name out there.
Target clientele
In your market research, you've already established who you hope to attract as clients and members to your new business, so let your reader know exactly who they are and why you believe they are your most profitable client base.
Financial strategy
It's important that investors and banks know exactly how much you expect your start-up costs to be. In this section of your business plan outline, you should include:
The total amount you expect to spend and how much of that you need to secure additional investment for.
The cost of renting or buying a space to set up your studio.
Staffing costs. How many instructors will you need? Do you hope to hire administrative staff, or will you and your instructors take on that role as well?
The amount you intend to spend on exercise equipment, as well as administrative tools such as computers and IT equipment, and management software.
How much money you'll need to get your marketing strategy in place.
Finding the right location for your Pilates studio
Finding the right location for your Pilates studio will depend on the results of your market research. You need to make sure you're not setting up shop too close to any potential competitors. Firstly you'll be rubbing them up the wrong way, and secondly, they are as much competition to you as you are to them. Once you've established an area to open your Pilates studio, you need to focus on the studio itself. When you've got your budget worked out you'll know whether you intend to buy or rent a space.
The cost of either, of course, wholly depends on your location. If you're starting a Pilates studio business in a major city, the costs for setting up your premises will be far higher than it is for people starting a business in smaller towns. Finding a good space for your studio means being adaptable to a certain extent. Unless you're buying or renting a space that is already a fitness studio, you will need to make changes to it to make it fit your needs. All these costs and factors should be included in your budget planning and added to your business plan.
Create a marketing strategy
We mentioned briefly that in your business plan you should include details about how envision marketing your Pilates studio business. So what exactly should your marketing strategy be? Well, there is no one way to do this, and there is certainly no one way that'll be enough on its own.
Marketing a new business, in particular, takes time and effort but it is worth it, in the long run, to set up strategies that you can continue to develop over time in order to continue marketing your business going forward. There are several key ways to market your business when you start out.
Use social media to market your business. Using social media has become a vital part of marketing any business, including health & fitness businesses. Regular posts demonstrating your business and services is a good way to garner interest so potential clients can see what you're all about. Advertising on Facebook, in particular, is an important marketing. The most used social media platform, creating paid ads on Facebook isn't going to break the bank and it's more likely to get the attention of people with an interest in fitness. It's also a great way to get people clicking the link to your website and potentially signing up for your classes and sessions.
Use good old fashioned emails. Sending out emails to promote yourself is still a good way to raise your profile, and setting up a free account with Mailchimp is the perfect starting point for marketing emails in particular. Whenever you attend an event to promote your business or speak to people to share your ideas, get their emails logged and included in your marketing updates. Building a database of potential clients is an important part of the process.
Ensure your branding creates a strong impression. You want your new Pilates studio to stand out so your business name and logo need to as well. Keep your name short and memorable. It should reflect who you are and what you offer. Creating a good logo may require you to invest in a designer, and ultimately you need to have confidence in the final product whether professional designs are used or you do it yourself. Your logo is going to be on the front of your Pilates studio, on your website, and on all of your social media pages.
Invest in the right Pilates management software to take your business forward
The importance of using Pilates management software
Once you have your Pilates studio business up and running, you need to consider how you're going to manage not just simplifying your scheduling and booking system, but managing your memberships, payments, and even how to offer online classes and on-demand content needs to be considered. Using Pilates management software is essential for these tasks in order to prevent you from spending hours of your working day dealing with it all manually. Cut out the paperwork, and keep track of your calendar, payments, and memberships in one easy to use space.
How TeamUp can help your new business grow
Perfect for an upcoming Pilates studio business, helping your business grow and develop is at the heart of TeamUp's ethos. Our features are built and designed based on the needs of our clients and their intuitive and attractive style helps our customers to build their own client bases and retain new members.
Offer your clients classes and appointments
Give your new clients the option to attend group classes or one on one appointments with a system that lets you offer both. The calendar shows your clients your group (in-person or online) classes while your very own appointment schedule allows you to set up appointments so that your clients can meet with you one on one. It's up to you to decide what services to offer, but you can feel comfortable knowing you really do have unlimited options to deliver the best to your clients.
Simplify your processes with intuitive payment and marketing integrations
Using the Zapier integration, you'll have access to over 3000+ different apps and marketing platforms that can help you simplify your marketing and boost your Pilates business's growth. The best payment processors on the market also ensure that you get paid on time before class and never have to chase down clients for late payments or wonder when a membership payment will arrive in your bank account.
Leave complicated spreadsheets behind thanks to detailed reporting
Whether you're writing out paper copies or messing around with spreadsheets, you end up confused and working late to get everything ship-shape and organised in time. An online system that includes everything from a clearly defined calendar, up to date activity feed, and detailed reporting will not only make you the expert of your business but will provide your clients with an easier customer experience. Using your reports to understand what's going on at all times, you can make the best decisions for your business and avoid running into complex hurdles down the line.
In summary
To sum it up, following these carefully laid out steps is the best way to ensure your new Pilates business launches smoothly and is built for success. Taking a recognised course to get certification as an instructor will give new clients and members confidence in your abilities running a studio and classes. Spending some time working on a well laid-out business plan won't just help you identify the steps you need to take, but it will give interested parties a clear idea of how you envisage your business to be.
To find out more about how TeamUp's management software can help you successfully start your Pilates business, sign up for a free trial and listen to what other Pilates customers have to say.
Thanks for reading!
Open Comment Form