Maria and Tiffany had big plans for the launch and grand opening of their brand new Pilates business, Advantage Pilates, at the start of 2020. However, once the pandemic hit Singapore, they had to quickly pivot. Rather than wait out the pandemic and postpone their studio plans, they decided to launch their online business and get started as quickly as possible. It's been a little over a year since launching and not only did Advantage Pilates thrive online, but once they came out of the first lockdown they went straight to work getting their in-person studio classes up and running. They now teach and run their classes in five locations in Singapore and are about to open their second private studio.
Advantage Pilates is definitely a success story and demonstrates that even when obstacles get in the way of your plans, that does not mean you have to give up. They already had clients ready and waiting to be their members and rather than let them sit and wait out the lockdowns, they found a way to still offer them their classes and their services even if it meant they had to wait a little bit longer to come to an in-studio class.
We had the pleasure of chatting with Tiffany Anne, Co-Founder and Creative Director at Advantage Pilates, about the success they have achieved since launching and their incredible growth during a very trying year. Tiffany also shared the key to quickly finding spaces to teach in and how having online booking software and social media marketing played a large role in cultivating their community online and then in-person. Here's what she had to say.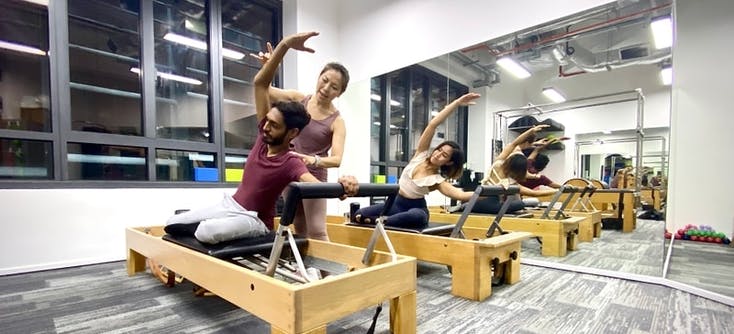 Photo Credit: Advantage Pilates
My name is Tiffany and I am the Creative Director here at Advantage Pilates. We're based in Singapore and teach our classes in 5 locations. We launched our business at the beginning of 2020 and originally wanted to start as a physical studio, but when COVID got in the way, we started online first.
How did launching online affect your plans for your new business?
When we started online we didn't know if we were going to make it because our students are really a mix of people. We didn't know if they would be keen on having an online class. We each already had students from teaching prior to launching the business and we were excited to teach them in person. Many of our students are elderly. We were really hesitant, but it all worked out. I have a student who is 85 years old and she was able to do the online classes. We were able to maintain our class and grow them. I think the journey was difficult but good. The COVID period became a blessing in disguise because we had time to set up and think through what we needed in the company and nowadays there are so many opportunities for so many instructors to teach.
At what point did you decide you needed software to help you run your business?
We started with TeamUp at the start of the pandemic with just online classes and now we use TeamUp for all 5 of our locations. I have been researching and comparing software online since the beginning of 2020. We knew that teaching online, we would need software that could accept and run our online bookings and classes and that would integrate with Zoom and ClassPass. TeamUp really worked for us and did exactly what we needed for our company. I found that the features in TeamUp worked really well and it had a great price point.
How has software helped you manage your business and multiple locations?
Starting out I saw how helpful the support is and everyone is very proactive with their support. Anything that I have had to ask, I get a response on the same day. Even though there is a time difference between Singapore and Europe and the States, we still get a timely response which is great. I really like the other collaborations and support has been there all the way.
I think TeamUp is good because it grows with the company. We started off really small, just an online platform where people can exercise and do Pilates. But eventually, we grew and TeamUp really accommodated what we needed; the multi-locations, and managing the bookings from each of the different locations. Everything is really smooth in terms of user experience. Overall it's a really good software to use and I really like that the company is always updating their features. There are a lot of new updates and I really like seeing that new things are coming along.
What marketing have you done to help you grow so quickly?
During the pandemic, we got an Instagram, Facebook, Linkedin, Twitter, Tik Tok, everything that you could possibly imagine. We were quite aggressive with social media. We really wanted to reach as many people as we could and that we were a new company that welcomed everyone to work out with us.
Once we opened our studio, we mostly focused on Instagram and marketing collaborations. We had marketing collaborations with other companies, and that was really helpful to add value to all of our customers. We collaborated with a rice company in Singapore called Origrains and we gave away a cute bottle of organic brown rice to everyone who signed up for our packages. People were quite happy with that and even gave feedback that they liked the rice and that it tasted good. We also ran a competition with them where people who wanted to get a free Pilates class with us had to enter for a chance to win.
We really care about health and wellness and we care about partnering with other businesses who care about that too. We want to take care of all of our students who have been with us for so long. Even though we are a new company, we were instructors before and have students who have been with us for years. We want to give back and take care of them.
What was your process of transitioning out of lockdown and starting your in-studio classes?
We re-opened in phases because we were unsure of how coming out of lockdown would go. From April to June we were doing only online classes and then in July, we started offering 1 or 2 in-person classes a week. In August and September, we opened our other locations. When we started giving our own in-person classes, we co-shared space with another studio. We wanted to test the waters and it was less of a worry booking time slots and sharing the space, before opening our own. By November/ December we had our own studio for private classes in Raffles, the central business district in Singapore. We had our client base mostly in that central area and expanded gradually to cover more space.
How did you find so many locations to host your classes?
We currently co-share 4 studios and have 1 of our own private studios we operate, but in May we will open a second studio and co-share 3. When we first started running in-person classes after the lockdown, we reached out to people and companies online that we knew were already running their studios. We asked them if we could book their studios during their downtime and offer classes during those times. Once we started growing our classes were overflowing and we needed more time slots so we expanded and opened more locations to offer more time slots. We really reached out to everyone. If you are a new business owner looking for space my advice is to reach out to as many people as you can and inquire about co-sharing. It's a great way to take advantage of the space.
Will you continue to run classes online post the pandemic?
We are still offering online classes. A few of them are purely online classes and then we have one class once a week that is a hybrid class that people can come into the studio to do or attend online. We have clients from Australia, Indonesia, and you never know who is going to register for a class and it's fun, so it's great to offer some online options.
How has teamwork and collaboration played a role in being able to launch so many studios so quickly?
All of us teachers have known each other for a while and most of us younger instructors used to be clients of our mentor, Maria. We started off as students and now we're teachers teaching alongside each other. It's really come full circle. There is always mutual collaboration and encouragement between everyone because we are all in the same boat trying to figure out and navigate teaching Pilates and fitness during the pandemic.
Each of us has our own strengths. For me, that would be the creative side and for Maria, that would be operations. Then we have other teachers that are really good at logistics, and we also have a Head of Education. We all take our strengths and put them together so it fills in all the gaps of what we need on each side. Because we are a team, we look at those strengths and weaknesses, and give and get feedback as much as we can. That's how we have been running the business.
What are some of the ways you have encouraged your community to stay motivated during the pandemic?
We're blessed to have a platform, have our community stay loyal to us, and people that are willing to co-share spaces with us. We really try to encourage each other from day to day. We talk with our students every day and because of COVID, they feel so down when they lose their strength and aren't able to do the things they could before. We try to encourage them as much as we can to take it easy and to try to have as much patience with their bodies as they can.
I also really like that TeamUp has birthday notifications. It has really connected us with our students even more and because we know their birthdays we are able to do something special for them and they really appreciate these tiny details. Greeting them, celebrating with them, sending them emails, it's all really helpful in staying connected.
Video: Why the Advantage Pilates team chose TeamUp to manage their multi-studio Pilates business
I think TeamUp is great because it grows with the company. We started off really small, you know, just an online platform where people can exercise and do Pilates but then eventually we grew and TeamUp really accommodated what we needed with the multiple locations.
Open Comment Form