After deciding that running her personal training business, Empower Fitness Training, within the walls of commercial gyms was no longer the right move for her business, Kathryn Edwards found the perfect home for her and her clients at Balance The Countryside Gym. When we asked her why she went from being a sole business owner with full control to joining forces with another business, Kathryn had the perfect answer; She simply fell in love with the environment and community Balance offered its clients. Kathryn knew that teaming up with a gym she grew very fond of could benefit both businesses and give her the opportunity to help even more people feel empowered to be the most confident versions of themselves.
We had a wonderful time speaking to Kathryn and getting to know more about her experience as a business owner and the ways she has grown her business alongside Balance. Kathryn is also sharing her takeaways for personal trainers and teachers on how they can take advantage of this time to grow their businesses and nail down who their ideal clients are. As well as why she believes it is so important to always keep learning in order to succeed. Follow along with our interview to get her insight and learn more about the community Kathryn and the team at Balance have fostered together.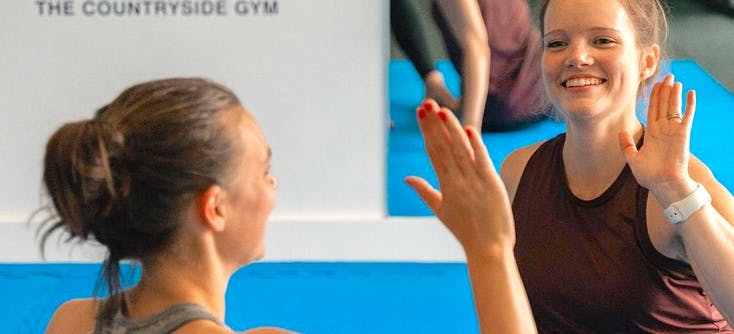 Photo Credit: Maple and Fluer Brand Photography
I'm Kathryn Edwards and I have my own personal training business called Empower Fitness Training and before lockdown, I teamed up with Balance the Countryside Gym, a gym just outside of Bath that has been open for six years now. Prior to joining the Balance community, I was running my personal training business in and around other gyms in Bath. My dad was taking Pilates classes at Balance and I mentioned to Sue Jackson, the owner, that I was in the process of finishing my qualifications and would be happy to help out. I started by covering Boxercise classes on Monday evenings where I began getting to know some of the clientele and found a real love for the gym.
What made you want to transition from being a sole business owner to affiliating with another business?
My business is called Empower because I am really passionate about empowering people to feel strong and confident through fitness. I really believe fitness can do that and no matter who you are and how old you are you can start at any time and build your confidence up. The reason I transitioned my business and teamed up with Balance was that I really liked the environment of Balance in both location and culture. Here you are in a beautiful place and our members can come and have small and individual attention that they can't get in commercial gyms. Many people come here and even make friends.
I no longer wanted to focus on larger gyms where both customers and trainers can get lost and do not have the individual attention they need. I really liked that the way Balance is run and it is so perfectly aligned with my mission and my business and I became really passionate about that. Ever since then I wanted to become a lot more involved here and build my community within the gym.
What advice do you have for other personal trainers who may be struggling to find their ideal clients and grow their business?
You don't see it very often that PTs align with another gym or studio after going out on their own. It's taken me a long time to get there. I really had it in my mind for so long that I wanted to merge with Balance. Sue was hinting that I could, but I didn't want to let go of having my own business and being able to control what I do.
But actually, from working in bigger gyms, it's such a saturated industry, I just felt like one in a lot of other trainers in those gyms, and it made me think about what makes me individual to them. I think a lot of personal trainers struggle with figuring out what makes them special to people in the gyms, and here is my advice for them:
Don't be afraid to narrow yourself down because you can actually open more doors that way.
When I was first getting started another personal trainer friend of mine gave me this same piece of advice. I am still self-employed and my own business, but I am branded as Kathryn at Balance so that clients can easily find where I am. Everything I do runs alongside the gym and I am teaching and helping out here as well. By partnering up with Balance I have been able to find my niche market and narrow myself down into this specific place and fully align what I am doing with what they are doing. Now people can recognize that I am here and run my business out of this particular gym and can be a face to the gym, too.
But don't avoid exploring outside of your niche either if the client is right for you
My market is more moms and some dads who have older children who have flown the nest and now want to focus on themselves and get their confidence back, whether that's through working out in the gym, running, however. But just because that is my market that won't stop me from training a younger person or an older person who wants to be trained as well. Just because you narrow yourself down or have a specific person in mind doesn't mean you can't take on anyone else. What matters is if they are right for you and you are right for them.
Use social media to keep your clients engaged
I started a fitness community on Facebook for like-minded individuals who want some tips and help with their fitness. I was doing 15 minute daily workouts for them which was great and that was keeping the engagement going. I think that having that fitness group meant that I narrowed down who would become clients. Using that community to post tips and the occasional live stream video meant that people could see what I was doing. I am completely different than some other fitness instructors and there is nothing wrong with that. I want to show my community that I am all about confidence and remind you that you already have the tools to make yourself feel confident, I just want to help you use them.
Attract new clients without giving away all of your services for free
I think that giving away some things for free is important in terms of letting people get to know who you are and if you are the right trainer for them. But don't let that turn into giving away all your services and classes for free. It's okay to give a free class here and there but there is a fine line between offering free classes and including a free class in your schedule here and there. If you offer only free classes and then expect to charge for them later it can be very hard to get those people to then become members if they're used to receiving your content for free. My aim in offering content in my Facebook group and on social media is to show you 10 to 40% of what I offer, but when you are a client I can give you a full 100% and show you the value I can provide when you have my undivided attention.
Always keep learning even if that means stepping outside of your comfort zone
I think lockdown has been a massive learning curve in a lot of these things and figure out how to do things now online. Don't be afraid to learn something new and step out of your comfort zone to be able to deliver for your clients. I have learnt how to do everything for social media on my own and there are tools and resources to help you.
Kathryn also shared her experience using TeamUp and how she and the Balance team work together to offer their customers an easy booking experience. Here's what she had to say:
How has management software played a role in running both Empower and Balance?
Balance uses TeamUp and I do as well through them. When I first joined we were using another platform, and we changed last year just at the start of lockdown to TeamUp. I never want to go back to anyone else. I hadn't had a lot of experience with the previous platform but what I did not like was that it was clunky and hard to use. When we switched to TeamUp I had worked out what to do and I didn't need any training on how to use it. Anything I have done I have been able to work it on my own and when I do need something I can call you guys and you'll be on the phone straight away. The customer service is really good and if you need to do or sort something in 10 minutes you can easily do it with TeamUp. The previous system however wasn't as simple as that. TeamUp is super intuitive and you can work it out, but if you can't there is great customer service that can help you.
How did you navigate the switch to online classes at the start of lockdown?
At Balance, we run a variety of classes including yoga, Pilates, dance, HIIT, and there are about eight instructors teaching here currently. I personally teach boxercise and a few HIIT classes as well as a Tone it Up strength class. We typically have fifteen people in our classes and keep it smaller so that every client can get that individual touch and help from us.
Being able to do things online is so brilliant. When lockdown happened we were able to change to Zoom and run our classes online. People get to do things from the comfort of their home, and members who were with us before lockdown have now stuck by us and transitioned to online but they still get the personal touch from us, instructors. Our customers who come online still get to see our gym here and how cool it is.
In what ways does TeamUp empower you to run your business exactly how you want?
I find it really really good. You can easily work out what you want to do for the clients. I find it really self-explanatory, easy to use and understand. Whereas other platforms have been complicated to use. TeamUp is really user friendly and there are a lot of tools we use every single day. We like to be really engaging with our members and love using tools, for example, the birthday tool to wish our clients a happy birthday, give them a gift and celebrate with them. Those tools add to the customer experience and personal touch.
Thank you Kathryn for sharing with us!
Video: Why Kathryn and the team at Bath the Countryside Gym chose TeamUp for their fitness classes
We were using another platform before, we changed last year, just at the start of lockdown to TeamUp and I never want to go back to anything else. I find it really, really good like you can easily work out what you want to do and for the clients as well, I find that a lot of it's quite self-explanatory. It's really easy to use. You can just go on and click, click, click done and you can understand it.
Open Comment Form