Your dashboard is getting a facelift - a fresh and clean look to make it easier for you to navigate. We're excited to share those with you now, as well as keep you updated on what's to come. Here are the new things you can do with your updated dashboard.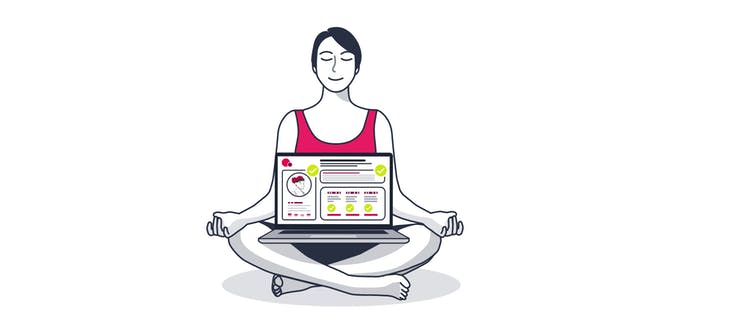 Manage availability from My Account
You no longer need to go into the staff tab of your dashboard to manage your own or your teachers' and coaches' availability. Any staff member who has access to their own dashboard can manage their own availability right from their own account under My Account to make for an easier journey.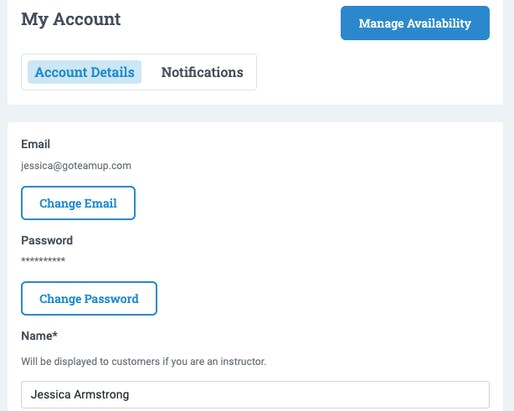 Easily organise your staff and instructors
Your staff tab also got a brand new look, but that's not all. Along with being able to add a staff member, view the roles of your team such as instructor and admin, and view of a staff member has appointments on and what type, you can also manage their settings right from the same page by clicking the options button.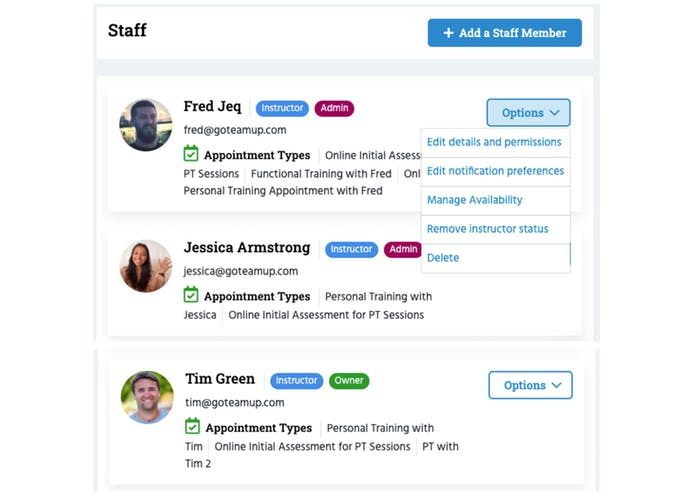 Provide Product Feedback in your dashboard
You can now submit your TeamUp wishes straight to our product team right from your dashboard. Using the submit a new idea button in the Product Feedback tab, you can let our team know what you need and how important it is for you and your business.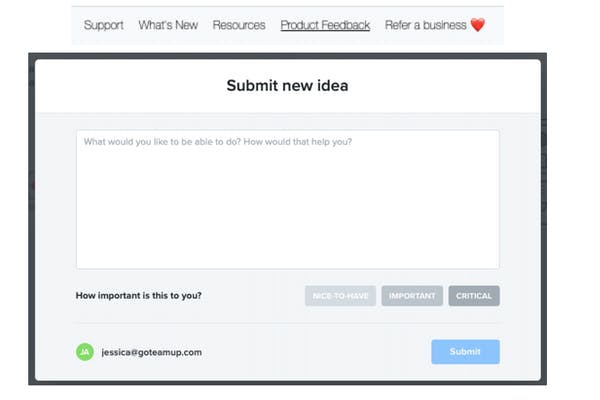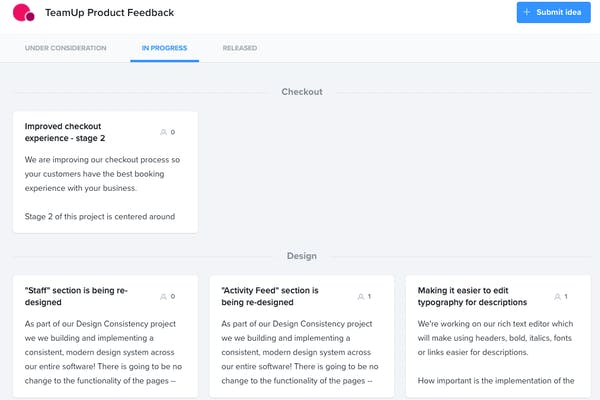 Your feedback or idea will then move into the Under Construction tab for approval, and into In Progress once it's underway. When your idea is live you'll be the first to know and can find everything you need to know about each update in the Released tab, as well as in our What's New section of our website.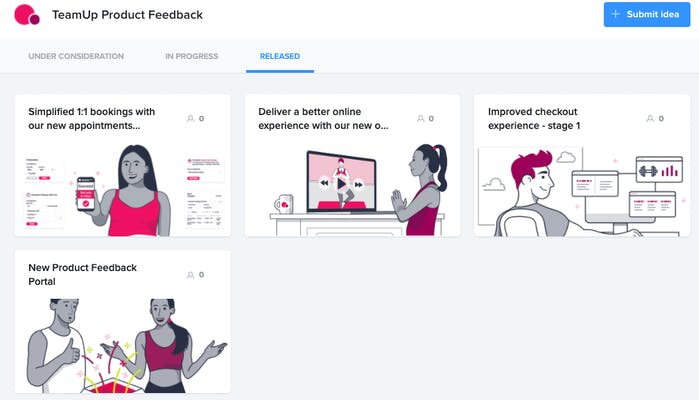 Include rich text elements in your Appointment description
Using the new rich text editor you can format the descriptions of your Appointments however you'd like. Use Headers or body text, bold and italics, and even hyperlink to other pages on your website.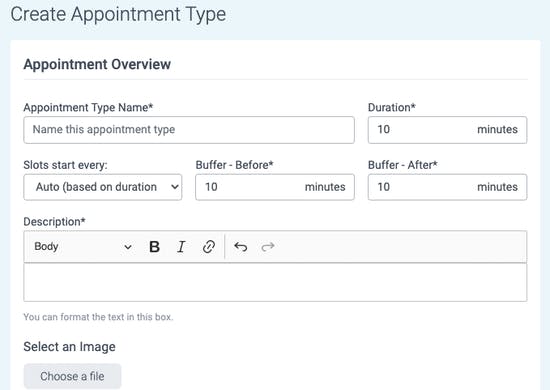 Formatting your text is completely optional, but it's a great way to highlight the information you want your customers to know about your Appointment, especially if your description is long and detailed.

Monitor your customers' activity with the new activity feed
It's easier than ever to see what's going on in your business in real-time with the new activity feed. See when customers are booking classes, which invoices are pending, who has purchased a membership and so much more. Using the filters you can search by all types of activities, by specific customers, and even by membership types. The notification preferences button will allow you to select which notifications you would like to opt-in or out of in your feed.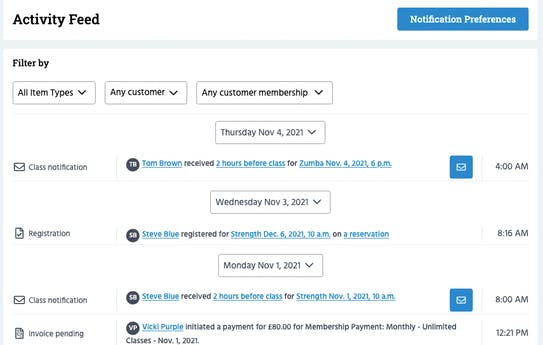 Design your customer site with brand new elements
Your customers can access your customer site via your goteamup.com URL or via your website when you embed TeamUp into your website hosting platform. No matter which option you choose, you can customize and design your customer site to match your branding with 100 types of fonts and any colours you want and by uploading your logo. You can also assign class types a specific colour, decide which tabs you would like to appear on your customer site, and set a default view of your calendar. And don't forget that if you are working with a web designer or developer, you can invite them using this link to access the customer site pages of your dashboard.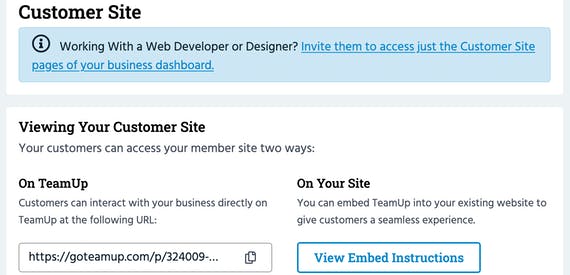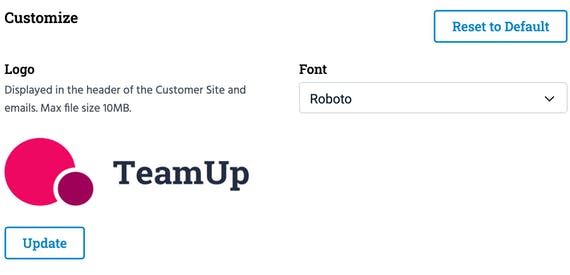 Clearly find and view your settings
Your settings page and the pages within have been updated to make them more clear and easy to navigate. From your general settings to your customer fields, here is a quick view of some of the pages you'll use to set up your account, systems, and automations. You can even directly access reports for these pages within these settings.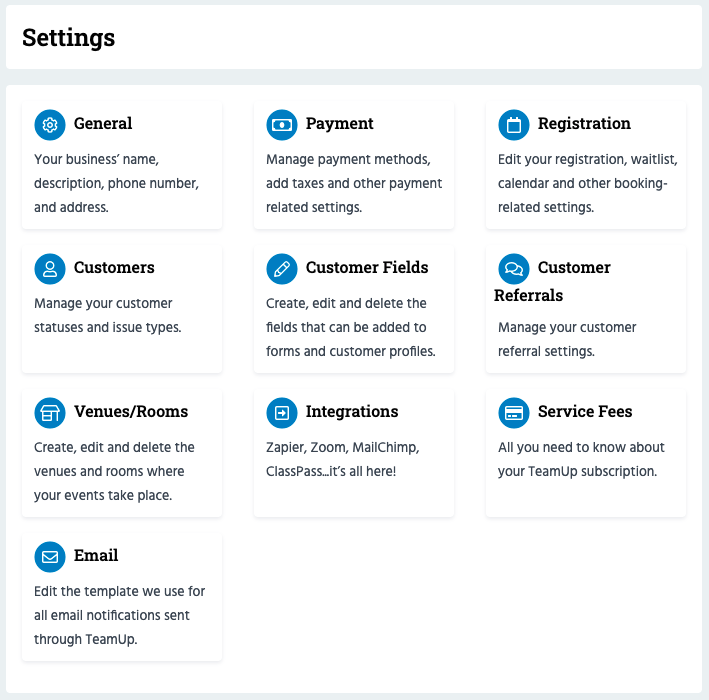 We've got a whole series of new updates to follow in the coming weeks and months and hope you find these to make your day to day even easier and more successful.
Sign in to your dashboard to start using these new features. If you are new to TeamUp and would like to learn more about these features and more, sign up for a free 30-day trial or schedule a call with our team.