What is this article? This is part of our new marketing series helping fitness owners learn what they really need to know to market their businesses. This is guide #5 of 7. To find the other guides, return to the overview page, here.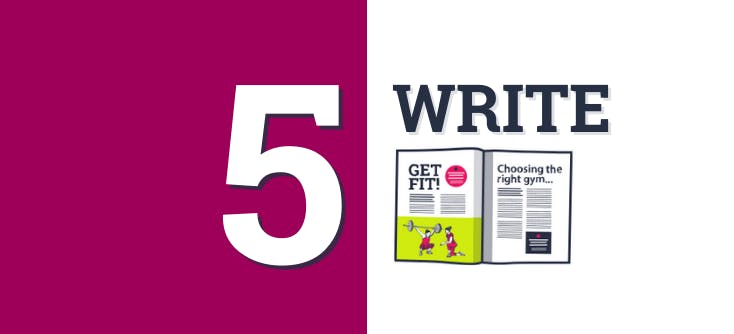 The purpose of this guide is to give you some tips and ideas for structuring your blogs and articles on your website. Well written and relevant content is a proven method to help your SEO and to increase your visibility on Google by helping you rank higher. What we mean by this is it's one of several ways to get your website on one of the first few results pages when people search for a fitness business such as yours, especially within your local area.
Why blogs are an important SEO tool
It's important to note that blogs aren't a quick fix. One post every now and again won't have as large of an impact as a consistent posting schedule. Once a week is a good starting point. It's also worth noting that while a nicely written blog is all well and good, they have to follow some SEO rules or people won't be able to find them on web search engines. Here are a few examples of how blogs can help you boost your rankings:
It keeps your website current. Google sees everything you do for your website. It's easy to set up your website, add some information and have your booking system manage your classes. But if you don't update your website regularly with relevant content, Google will assume you're not interested. Regular blog posts remind Google you're still there.
Blogs keep people on your website. When people spend an extended period of time on your website, it impresses Google. It means consumers are interested in what you're doing, so Google will be more likely to boost your website up the rankings.
It lets you create internal links. Once you've got people reading your blogs, you want to increase their time on your website. This is where keeping posts relevant to your business is important. You can link to various areas of your website to encourage signups, and you can also link to other, relevant blogs, something we'll dig into more later.
They're a great place to use keywords. In previous articles, we have discussed how keywords are similar to tags designed to catch Google's attention. Essentially search terms that people use, keywords tell Google that these are words you want to rank for.
A good blog gives external sites a reason to link to you. An important aspect of SEO is your domain authority (DA). The better the quality, the higher the DA, and something that helps that is external blogs linking to you. If they are linking to your content, it means the writer considers your blog to be a good reference to the topic they're discussing.
And vice versa - link your blog to external sites. This is a two-way street. Your domain authority, and your overall ranking, will be helped by linking to external websites and blogs with a similar or higher domain authority to yours. You don't need to go overboard with this. A couple of external links is enough.
Starting off
Before you get writing, you need to follow a few basic principles to ensure your article or blog has the best chance of getting noticed by Google, as well as make sure it remains readable for your members and followers.
Structuring your blog
While there is no one way to structure your blog, a simple process to follow to keep things as uncomplicated as possible is to break it down into paragraphs with a heading for each. This isn't just a good way for you to plan your writing, but it makes it easier for your reader to find the information they're specifically looking for.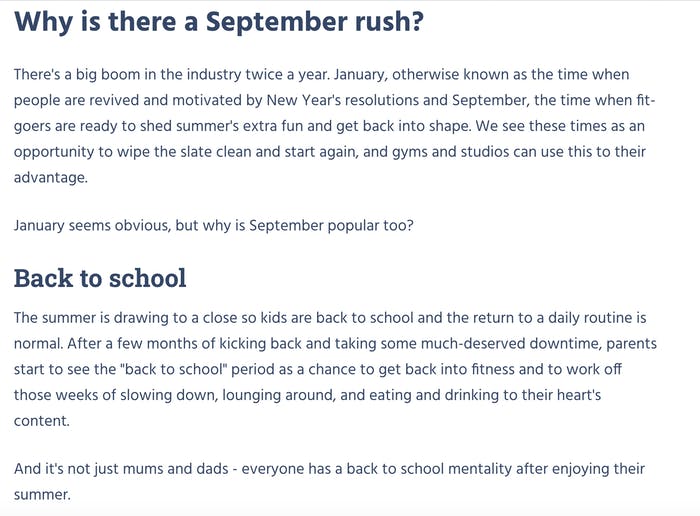 In this article about the September rush, readers can quickly find the sections explaining why September is an important time of the year for the fitness industry and for earning new customers.
Word Count
An SEO strong blog doesn't have to be the length of a book or feature article. You can keep it relatively short, but not so short that you can't go into a bit of detail. For a standard blog, we recommend aiming for around 500-750 words. Getting to 1,000 words would be great, but only if you have something to say. Don't just waffle on to hit the upper word count.
Find out why keywords are so important when writing blogs for your website
Keywords and how to use them
In our SEO guide, we give a breakdown of how to find and how to use keywords. Finding keywords isn't as complicated as you may first think. With tools such as Google Ads, you can use Keyword Finder to do a decent search around your topic, and even around each section of your blog. It may take a couple of goes to get into the swing of it, but once you've got yourself into the rhythm of it, it'll become a quick and easy process that will ultimately help your blogs to get noticed by Google.
The basic trick here is to make them fit into your text as seamlessly as possible. You want them to look as natural as possible which means you have to be strategic in choosing pertinent keywords that fit with your topic. For a blog of around 500-1,000 words, we recommend trying to fit two per paragraph.
Choosing your topic
Make sure your topic is relevant to your fitness business. If you run PT sessions, talk about nutrition tips, specific workouts, and your own experiences that relate to personal training. Similarly, if you run a yoga studio, you want to talk about the benefits of yoga, connecting mind and body, and even how yoga has benefitted you over the years. You're not limited to the angles you can take, and doing some basic searches on Google can be a good way to find topics that are popular within your area of health and fitness.
Titles and headings
Once you know your topic, you can start to figure out a basic plan for your blog. Choosing your title and the headings for your text is, as we mentioned earlier, a good way to plan your writing. Figuring out the order you want to present your tips, advice, and ideas is half the battle, and once you've got that it's go go go on the writing.
Your title or H1 should contain a strong key phrase, or search term, with a brief description (also known as a 'sub'), explaining the premise of the article. Take a look at the title of our blog, How to retain members as an example:

How to retain members is a strong search term that we found in our research. It's a topic that's relevant to our business and something that many of our customers would find useful. Clear in its intentions and supported by a clear description, readers know exactly what the article will be about.
The headings for the rest of your article are called H2s. Your H2s perform two primary functions:
They tell your reader what the following section will be about. Your readers may not be interested in the whole article, but don't worry. Even if it's one paragraph they want to read, the time spent searching, scrolling, and reading it counts towards your Google rankings.
They are an important SEO tool. Using a strong keyword in your H2 and then again in the paragraph tells Google that this is an important search term that you want to rank for. You won't bounce straight to number one in the search engine results pages (SERPs) but it is all part of the jigsaw that is SEO.

This section demonstrates how we used keywords in both our H2 and the following text. We used "scheduling" and "TeamUp calendar" as our target keywords and it clearly states what this section will talk about to our readers.
Adding internal links
The above example also illustrates how to use keywords to add internal links. You can see that "TeamUp Calendar" is highlighted. This means we've added a link, and since it's talking about our clients' TeamUp Calendar, that's the link we've added. It means anyone looking for more information about how the TeamUp Calendar will help their admin needs can click the link and read another, more detailed resource about it. We even did it again for this section! You can link to other blogs and articles, or to specific pages such as the sign-up page, about us page, or to your schedule to name but a few.
Don't just add internal links; boost your visibility with external links too
Using external links to boost your visibility on Google
It's understandable if you initially have reservations about adding external links to your blogs, or need further explanation as to what they are. External links are the links you include in your content that direct to another website.
It may seem as though you're giving other websites free advertising. But in actual fact, external links that are relevant to the section you're writing about add validity and authority to your post. But there is one key element that you need to remember, and that concerns your domain authority.
A higher DA means that the article in question has been recognised as an authority on a particular subject by Google. Using a tool such as Moz will help you determine which sites are a good authority on any given subject. You don't want to use sites with a low DA as that will either not help or even hinder your sites progress in the all-important Google rankings.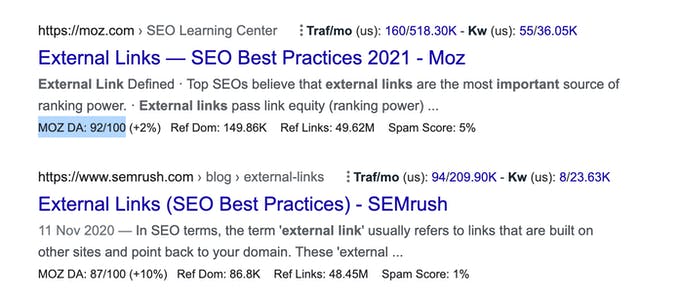 As you can see in this image, the highlighted data shows you the domain authority of Moz regarding external links. 92/100 is clearly a high DA, and below, SEMrush similarly has a high DA, so they are both good links to include in a blog such as this. The general rule of thumb is 40-50 is respectable for a DA and you should avoid using links that score lower than that. 50-60 is a good score while 60 and over is excellent.
You don't need to add a large number of external links to your articles and blogs. Two or three is plenty for a blog of 500-1000 words, but you do need to make sure the text you use (known as the anchor text) is relevant to the site you're linking to. Don't link a phrase such as "top fitness tips for beginners" to a website about personal training qualifications for example.
Share your blogs on your social media pages and other blogs
From sharing posts on Instagram to advertising on Facebook, there are numerous reasons why social media is important for a fitness business owner. You can engage with your current members through groups and pages, share tips and videos, and now you can post a link to your blog.
You want to ensure that your customers know you're working on your blog and regularly posting. A good way to encourage people to check it out is to share the link on your social media pages. If you don't tell your members that you're posting blogs, they won't know, and what's more, you're getting them to visit your website and increasing your traffic and visibility.
You can also use PR tools and websites, such as Help a Reporter Out (HARO) to help you get your content featured on other blogs, websites, and publications. With other websites linking to your website and content, this can contribute to boosting your visibility through external links and nodding to Google that your content is relevant to their readers and audience. A big kudos to you and your improving rank on the search engine.
Time to put it into practice and get blogging
Initially, implementing these processes may take some time to get the hang of at first, but once you get comfortable with them, they're easy to do and the benefits are plenty. On a practical level, your blogs are a good way of engaging with your members and keeping them interested in the services you can offer. It gives added depth to your website so it's more than just a place for customers to book their classes and see your schedule. They can see more about you, find out useful information about workouts and exercise techniques, tips on staying motivated and remaining on track to keep to their fitness goals.
On a technical level, blogs are a really important, as well as easily implemented, SEO tool. It's one of the best ways to use keywords to boost your visibility on Google, and in turn your ranking when people search for terms that apply to you and your business.
Next steps: getting listed on Google My Business
Now that your content will start driving traffic to your website, it's time to give another extra push. The next guide in this series covers how to get listed on Google My Business and appear on Google Maps. You'll learn how to create your listing and what you can add to it to make it attractive to potential customers. Start reading guide #6, here.
Open Comment Form