Instagram is probably the only major social media platform besides TikTok that isn't being hurt by the ever-reducing growth rate. As it still has room to grow in many different demographics and sectors, starting a fitness Instagram has the potential to share knowledge, gain sponsors, or sell your own services/products.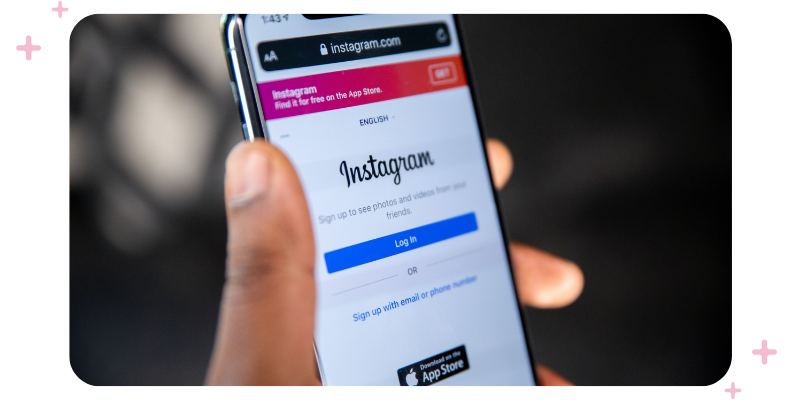 However, the competitive nature of social media marketing still applies. Unless you're Dwayne Johnson or Thor Bjornsson, you can't expect to have a devoted follower base on Instagram immediately. Even if you have dedicated followers, you need to adopt specific fitness Instagram marketing tips to keep growing.
In this article, we've discussed the 14 pro tips on how to start a fitness Instagram. Tweak them as per your niche and requirements.
1. Understand your Instagram goals and objectives
Your motivation to start a fitness Instagram will ultimately decide your objectives and goals. Beyond follower count, your personal goal will determine which followers you may end up getting on your profile. With a fitness goal, you'll keep finding activities to reach there and motivate your followers.
Typically, fitness influencer Instagram profiles are created with three goals in mind.
Sharing fitness journey
Most Instagram influencers start their journey with only the goal of inspiration in mind. Whether your mission is to lose weight or stay fit during menopause, you'll soon find individuals like yourself following your journey and encouraging themselves to take the first step. They'll be motivated by the fact that you were struggling with the same issue, and instead of surrendering, you chose to fight it.
Sponsors and endorsements
You may create your fitness Instagram to secure sponsors and endorsements. Many athletes and fitness enthusiasts from all over the world get recognized by their Instagram page and through the support from top brands like Nike, Reebok, and Gymshark. You should start your fitness Instagram to get noticed by the sponsors and get endorsed by them.
Clients
Personal trainers and gyms often use Instagram to acquire new clients. Instagram goals involving clients should include content that revolves around the benefits of having you as their trainer. Client transformations, workout photos, and videos should work for fitness Instagram accounts pivoted to securing clients.
2. Create a business account
Assuming you're starting from scratch, ensuring access to business tools including analytics, ads, and insights is critical to scale your fitness Instagram. Personal Instagram accounts lack these features. Therefore, the primary thing after opening an Instagram account is to turn it into a business account. From settings, switch to business profiles to get started. You shouldn't face much trouble navigating the features and metrics.
3. Get started with the basic details
Your fitness Instagram should have three basic details. First is the profile picture. Use a logo or headshot of yourself for the profile picture. While you should focus on making your profile picture look good, don't let editing and filters take over your originality. As a fitness enthusiast, try to keep the profile pictures about your theme and goal. Ideal Instagram profile picture dimensions are 180 X 180 pixels with a minimum size of 110 X 110 pixels.
The second detail is your bio. Your Insta bio is a glimpse of the content that your followers should expect from your account. Create a short and concise bio with keywords that resonate with your audience. You may divide sentences with parallel bars, use different fonts, or use emojis, but for fitness profiles, keeping a professional attitude is the best approach. Moreover, don't forget to include call-to-actions in your bio.
The third basic element is link. If you have a portfolio or blog, consider including it in your Instagram profile. Instagram allows linking in written form only on the profile page. Utilize it effectively.
4. Find your niche and stick to it
Think about the accounts that you follow on Instagram. If you're a gardening enthusiast, you may follow gardening profiles, but they all have something different to offer. They all have a niche on which they upload content. Fitness Instagram profiles are similar. You must find why you might resonate with your clients and stick to it.
For example, if you want users to lose weight through track running, your ideal followers are those who love running and want to lose weight. Generate content on that and use hashtags to push them. You may also use paid ads to reach new followers.
Moreover, don't deviate from your niche. The start may be slow, but it takes dedication and time to grow a fitness Instagram. Keep uploading content on your niche, whether it's HIIT, strength training, swimming, or hiking.
5. Focus on high-quality visuals
Instagram is visually intensive. You can't get around uploading low-quality, misframed photos and videos and expecting users to follow your profile. Whatever device you use to generate content, make the framing look good. Consider including your face in every picture or video you upload unless it's intentional.
Lighting is an equally critical factor. Good studio lighting can change the mood of photos and make you look better in every video. However, it may be tough to get good lighting in gyms. Try using ambient lighting and lightboxes for better results.
6. Go live with your fitness routine
Instagram Live is a critical feature. It sends notifications to all the followers that you're going live—increasing engagement. Famous fitness instructors use Insta Live to showcase their fitness routines, and meal plans to encourage their followers to do more with their content. Save the live videos as your stories and add hashtags to reach new prospects for your business or page.
Try including captions and music in the live videos if it seems too boring for Instagram. If you're in the gym, consider getting someone else involved in the production to get different angles of the same workout. Also, get your expertise out to the world by making comments about the postures, sets, reps, and hazards.
7. Leverage Instagram Stories and Reels
Reels are the latest addition of Instagram that strives for short video format. In addition to reaching your followers, Reels are able to reach the users who may be interested in such content, but still aren't following you. Stories, on the other hand, give you additional leverage to reach followers in a meaningful way with temporary photos, videos, polls, and links.
For fitness brands, stories and Reels present a great opportunity to reach new clients. While stories allow you to keep your older audience engaged, Reels, if done right, can increase your follower count manifolds.
Consider using hashtags, appropriate captions, and call-to-actions to make stories and Reels more effective for your business.
8. Collaborate with other influencers
Influencers are the heart and brain of Instagram. You, being a fitness channel, should also strive to become one. Getting recognition in the community is an efficient way to grow your fitness Instagram quickly. While you may not get encouraged by your direct competitors, you can extract benefits from your tangential brands that are open for collaboration.
For example, if you're a personal trainer with expertise in weight loss routines, you may benefit from collaborating with strength training influencers with level 4 recognition. It's considered the highest standard in the industry. They, recognizing your expertise, should increase your credibility on the platform.
Moreover, keep yourself open to collaboration. If an opportunity arises to collaborate with other influencers, don't disregard it. Promote the content with your followers and upload the highlights as Reels to attract new followers.
9. Celebrate milestones with giveaways
As a fitness brand, you may already have clients thriving under you. Make threads about their milestones, goals, and achievements to encourage others struggling. Even if you aren't someone offering fitness services, consider celebrating your own milestones with giveaways from your sponsors.
Don't be discouraged if you don't have sponsors yet. Promoting a brand with giveaways often yields great results that the brand may want to repeat. More often than not, influencers are contacted by brands to promote their products through their channel.
For instance, if you're on a weight loss journey, start by posting your rock-bottom content to gain empathy from fellow strugglers. Gradually start posting milestone images and training videos with occasional meal plans to keep them hooked on your journey. Whenever you reach a significant milestone, such as losing 25 lbs, post it on your fitness Instagram with scale and measurement updates to encourage your followers to do the same. Give away your training equipment, diet plans, and supplements in return for sharing and following your account.
10. Motivate followers by being open about your struggles
Fitness enthusiasts thrive on getting encouraged and encouraging others. As your followers are already struggling with what you've been through, they expect you to make content for them. As a user with weight gain issues, I would like to see my favorite fitness brand acknowledge my struggles and try to assist with diet plans, gym routines, and strength training. You must understand your followers and their reason behind following you to generate content around their issues.
Don't shy away from sharing your worst on your fitness Instagram. Most of us resonate with hustlers more than achievers. Your followers would love to see how you once were once a struggling individual who had the courage to take matters into their own hands.
11. Don't forget hashtags
We've mentioned hashtags a few times in this discussion. Hashtags are keywords that resonate with the idea of the content. The users of Instagram, knowingly or unknowingly, follow hashtags that are parallel with their interests. You include hashtags in your content with the caption. The feeds and the discover section show your content in an exploring way. If the users like your content, they can follow you.
As a newcomer to Instagram, try not to include hashtags that are too crowded. Whenever entering a hashtag, Instagram shows you the number of posts it's associated with. Don't go for short-tail hashtags like #weight loss, #fitness, #fitness motivation with millions of posts. It'll diminish your chances of being discovered. Instead, go for niche hashtags like #weight loss exercise #core strength, or #hiit circuit.
Depending on your niche, you may choose various other hashtags that may be more competitive to rank on. It all depends on your content and the nature of your trade.
12. Don't disregard captions
Instagram captions are one of the few places where you can include something in writing on the platform. In addition to describing what your content is about, you may guide your followers to bio links, websites, and other influencers for better outreach with captions. As captions also hold hashtags, try not to make them complex with emojis, long sentences, and punctuation.
The first sentence of your caption determines the performance of the content. As after a few lines, the captions are hidden behind a "more" link, consider including key details in the very first line. If your post contains CTA, don't wait to deliver it later in the caption. About CTA, always include one in your posts even if you don't have a sponsor. Tell your audience to share, follow, or answer a question raised in the content. Moreover, don't forget to add value to the post with captions.
13. Share how you got fit
Sharing your achievements is fine, but when you're trying to build a fitness brand around Instagram, you must educate your audience about how you achieved the goals. Progress images and videos are great for service promotion, but Instagram users want to know how you've struggled to achieve it and how they can follow suit. Occasionally post your workout videos, training images, and FAQ Reels for making your audience understand that you understand them.
Reddit is a great source of Instagram content. Follow the subreddits that are related to your niche and try to answer the queries and doubts posted there through your content. If one of the users has the issue, who knows how many others have it too!
14. Engage with your Instagram followers
Try to keep your fitness Instagram as interactive as possible. If you have grown a significant user base, it's possible that you may get a huge influx of messages in your inbox. Some of them might even be genuine business opportunities or user queries. Try acknowledging them either personally or through uploading content to resolve their issues.
The bottom line
These 14 pro fitness Instagram tips will help you take your personal training or gym business to new prospects. In this article, brief details on Instagram features, captions, hashtags, and content strategies are discussed.
FAQ about how to start a fitness Instagram
How important HD visuals are for Instagram?
High-quality visuals are quite essential when it comes to Instagram. Being a visual platform, your audience expects you to spend resources on production.
What should you upload content on?
Find your niche, expertise, and experience to create content around that. Ask your audience what they want to see next.
Are hashtags important for growth?
Hashtags on Instagram allow other interested personnel to find your account. Hashtags are quite important for growth.
Open Comment Form