What is this article? This is part of our new marketing series helping fitness owners learn what they really need to know to market their businesses. This is guide #6 of 7. To find the other guides, return to the overview page, here.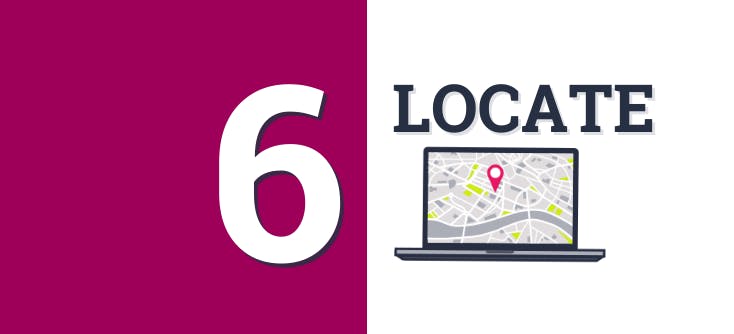 An attractive website and a solid SEO strategy aren't the only things that will make it easy for prospective customers to find you online. Listing your business with Google My Business has several advantages including interacting with potential customers on Google for free, giving customers a way to easily find you on Google Maps, and boosting your ranking in web searches. As the most popular search engine on the web, if you want customers to easily and quickly find your website and services, listing your business great next step.
In this chapter of our "solving real-world problems" series, we are going to show you how to get your business listed on Google My Business and Google Maps and why it is important. We have used Clare Eaton's, owner of Feel Good Health and Fitness, website to show you how to create your own Google My Business account and profile. Let's go.
What is Google My Business?
Google My Business is an additional tool in the Google marketplace that allows you to list your business and website for free. It gives customers the ability to search for and find your location on Google Maps as well as on Google searches. On a Google My Business listing you can include all details about your business that a customer would need to know such as phone number, website address, physical address, logo, opening and closing times, what type of business you are, photos, reviews, and more.
Google My Business works like this:
If you already have a Google profile (which you needed to open a Google Analytics account from article 2) you can list your business.
Once your business is listed, it will appear on Google searches and Google Maps.
People can find your business profile, website, photos, and your address.
The information you need to attract new customers is right there easy for them to find.
It's that simple and is essentially another touchpoint new customers in your local community can use to prove your legitimacy and investigate your services without even entering your website.
The benefits of using Google My Business for your website's visibility
Why should I use Google My Business if I already have a website?
Think of it as a bit of a boost when you're starting out and coming up with ways to advertise your business. While your website definitely gets the job done of customers being able to search and find you, at the start, they will have to dig a little deeper in order to do so, until your SEO strategy starts working the way it should. Google My Business can be one of a number of useful online marketing tools and can help make that search easier and successful early on.
Easier to find your business and location
Having a listing on Google My Business and a physical location on Google Maps can make it easier for those customers to find you quicker than it would be simply exploring the web search lists. By having a specific location that people can use to look for for example "Fitness classes for women in Nantwich" Google will immediately see what you are looking for and where and provide you with the most accurate options that fit your request.
Provide customers with more ways to contact you
When a customer searches for a specific service or type of fitness studio or gym, they might check Google Maps or Google to see what's nearby and available in their area. When they find your attractive listing with your contact information readily available, they can then contact you right from there before even entering your site.
Clearly identifies you vs other businesses with similar names
Chances are there are other businesses out there with a name similar to yours, and customers can get confused by this especially if they already are aware of your business and are looking for you. Having a listing on Google that shows them you are the right fitness business they are looking for will eliminate any doubt and clear up any confusion.
Gives prospective customers a snapshot of your business before entering your website
As you can add all the details and photos you would like, as well as reviews, to your listing, when prospective customers find your listing they'll be able to check out your business and determine if it is right for them before visiting your actual website. Think of it as an additional touchpoint and place you can advertise your business for free to encourage customers to dig further by visiting your website and booking.
The more info Google has, the more it will value your business over others
It goes like this, Google wants your business information and details to improve its algorithm (the way it pulls information for searches) and in order to do so, it offers you its services and marketplace tools for free. The more you take advantage of their free tools and features, the more information it is able to collect to better those services.
As you know from our previous articles in this series, Google doesn't want to make your life complicated with many steps and procedures to get your business listed and featured. It wants to make it easy and so that you use its platform over others (ie. Bing, Yahoo, Duck Duck Go).
Data protection and safety
Before you worry that this information and the data you provide won't be protected, Google is committed to business data responsibility, safety, protection, and privacy. It doesn't want to share or make your private information public, it just wants to use the data you give them access to get smarter.
Setting up your Google My Business profile
You can set up your Google My Business profile in just a few quick easy steps. Start by entering your Google Account and selecting the My Business option at the top. If you don't see that, you can use this link, here.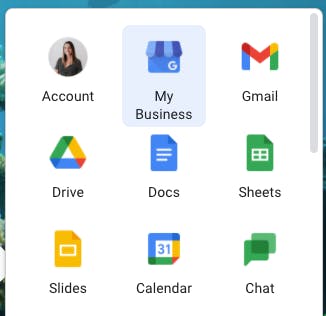 From there you will be directed to the Google My Business website where you will select "Manage now" to get started.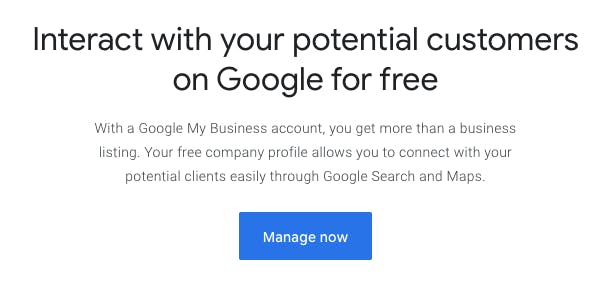 Business name
Once you have signed in you'll begin building your business profile which will ask you to:
write your business name
select your business category from the options Google provides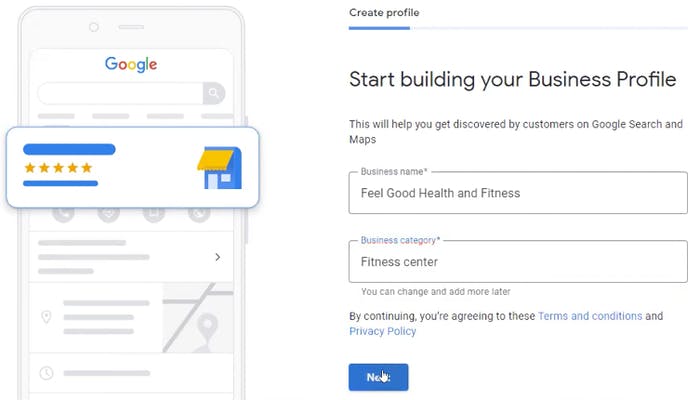 Location
Next, you'll need to add the location if you have a physical location where your business can be visited by customers, for example, your gym, studio, or where you hold your classes. When you select yes, you'll be directed to list your address that will appear in your listing and Google Maps.
Note for online business: Even if your business is completely online, registering your address will still help local customers find your business, and allow you to register your business in a given place. If you have an address where you would like to add to Google Maps, you should still select, yes.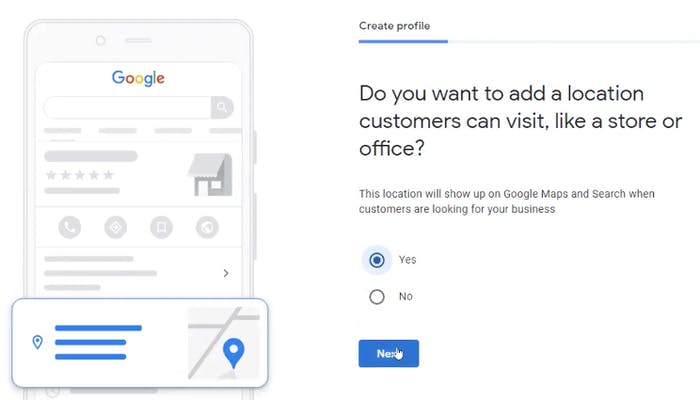 Website address and contact details
The next section is where you will add your phone number and your website for customers to be able to find and contact you.
If you have not checked out our previous articles on building your website and did not make a website, you can either select the responses "I don't need a website" or "Get a free website based on your info," however if you want to use this website as your official website, you will need to pay Google a fee for the domain.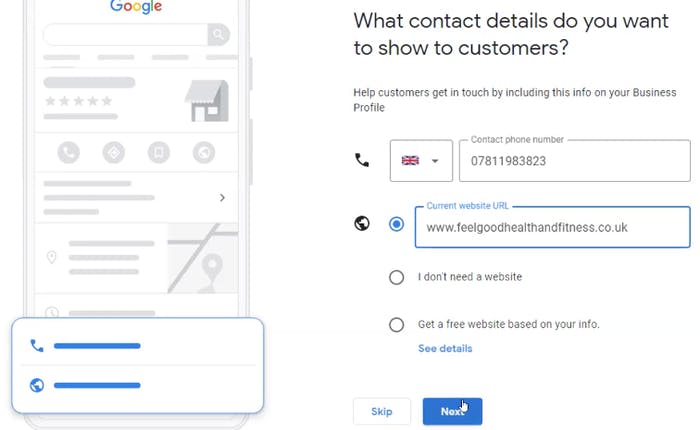 Verification
After you complete those first steps you will be notified that you have been verified and your profile is ready to access and use. After this step, you can begin customising your profile.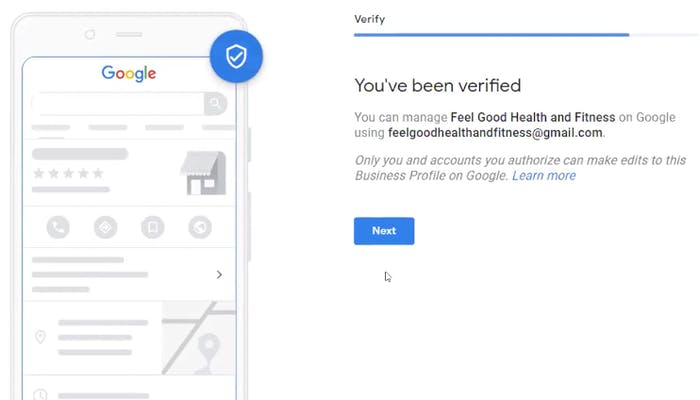 Add your services
In this section, you'll add the services your fitness centre is best known for and that you offer. You can also create and add your own if you have special names for classes that people associate your business with.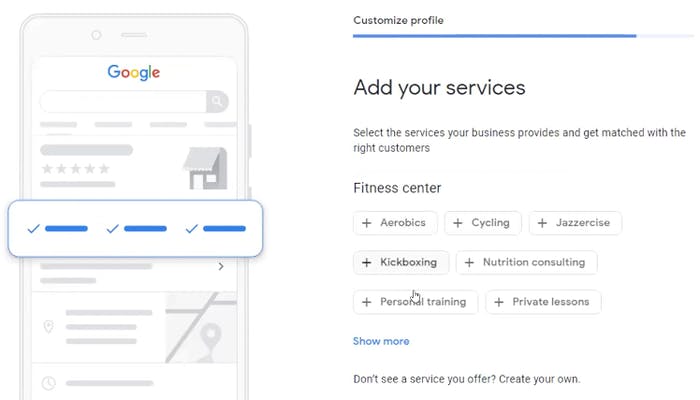 Add business hours
Making your business hours available shows interested customers when they can get in touch with you and when you are most likely to be available, as well as the actual hours of availability your facility has. You can do one block of time, or go as specific to list your class times.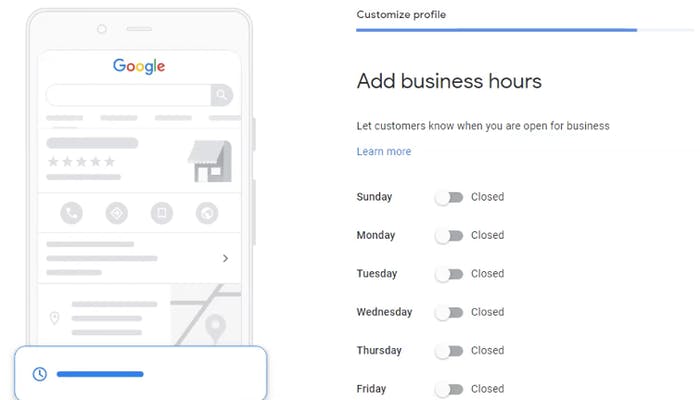 Add business description
Your business description is your pitch opportunity to win over customers visiting your profile. Share what you do and who you are and what customers can expect from your business. You can go in-depth or simply add a few sentences and direct them to your website to learn more with a clever call to action.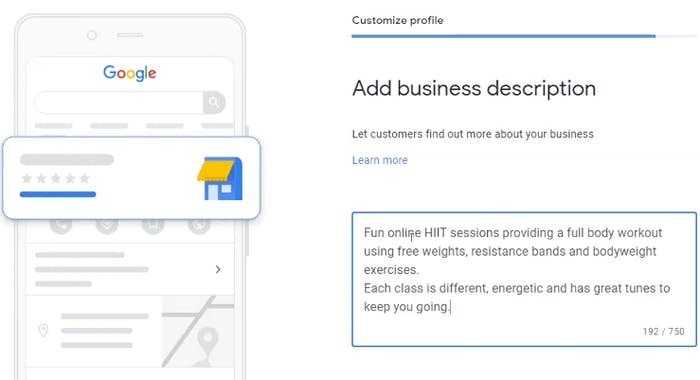 Add photos of your business
Give new customers a chance to see you and what your business is like by adding photos. You can share photos of your facility, at-home set up, images from classes, and give customers an inside look at your business.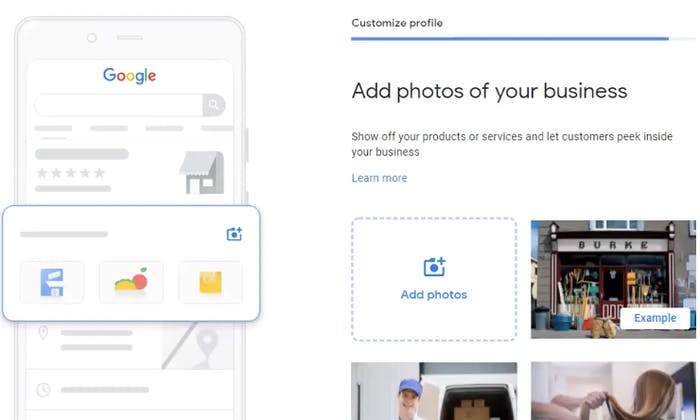 Finalising your profile
Once you have finished customising your profile you can save and open your dashboard to add any more details, make edits, and post updates.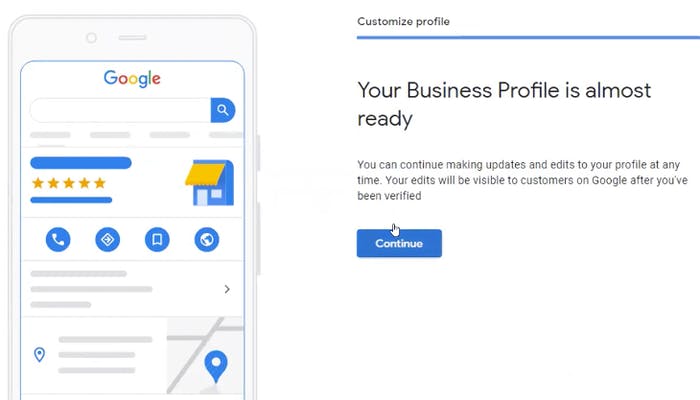 What you can do to boost your listing and attract customers:
Once Clare completed the signup and customisation process this is how her profile appeared on Google and Google Maps.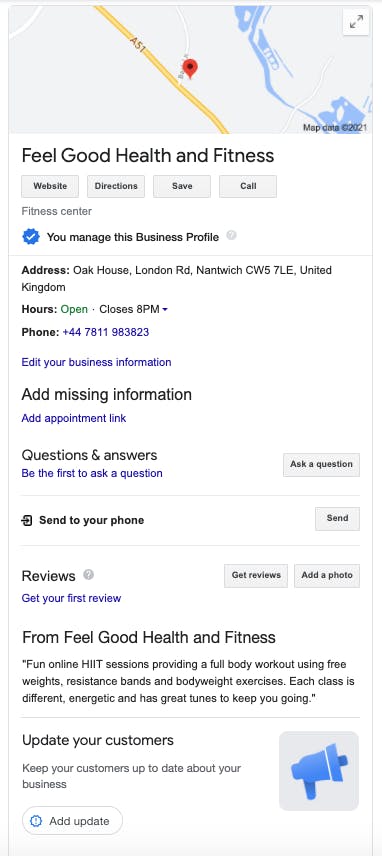 In order to make sure it was the best it can be, we took a few more steps to make it even more attractive (and easily findable).
Find out how to create a post on Google My Business using these easy to follow steps
Create a post
Just as you post updates and news about your business on social media, you can also do so directly on your Google Profile. Share things you want your customers to know, for example, that when they book with you your first class is free, or that you have just opened a new location, or that you are available for in-person and online classes. Sharing information about your business on Google makes it very easy to read and spend time on your profile before customers take the next step to check out your website and book.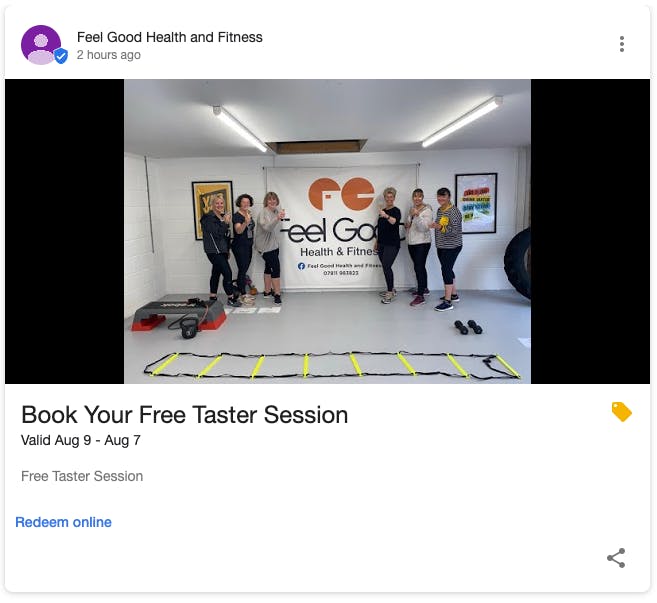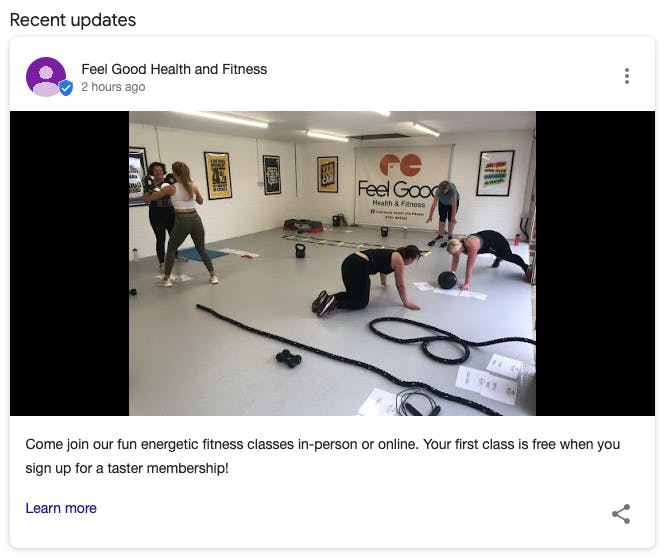 Update your health and safety information
Now more than ever fitness customers want to know the safety measures you are taking to keep them safe while in your classes and at your facility. Update your health and safety section so that they can see what you are doing and what's needed in order to comply with your protocols.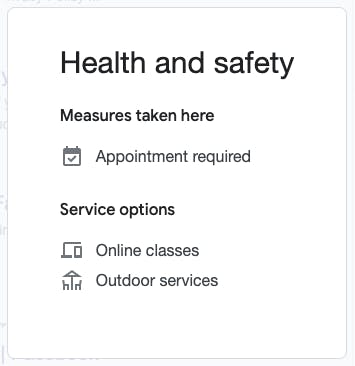 Ask your customers to leave you a review
Reviews hold a great deal of power in showing a potential new customer that you are the real deal. Asking your customers to say a few kind words or share what they love so much about your business on your Google profile will help your business grow. New customers can imagine themselves sharing the same enthusiasm and get an inside peek about what makes you and your business valuable to your existing customers from positive reviews.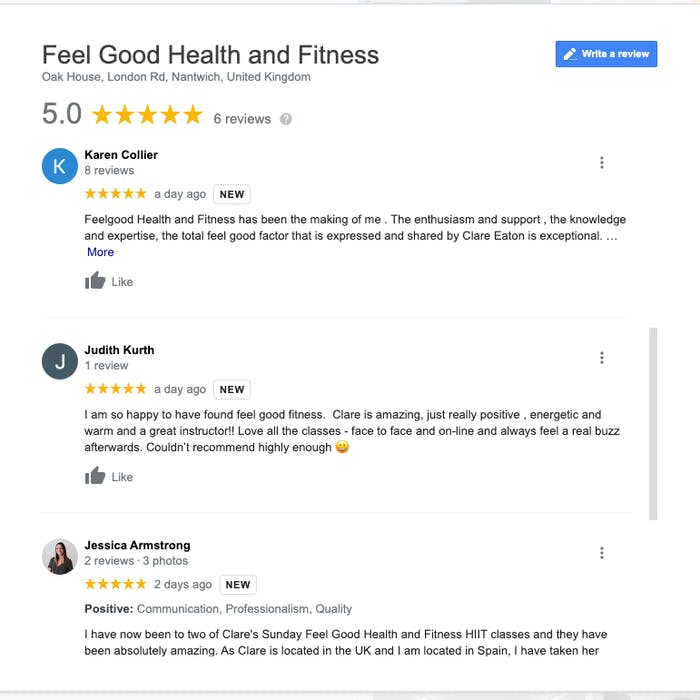 The finished Google My Business listing
Once we added photos, customers left reviews and updated the information on her listing, this is Clare's finished product.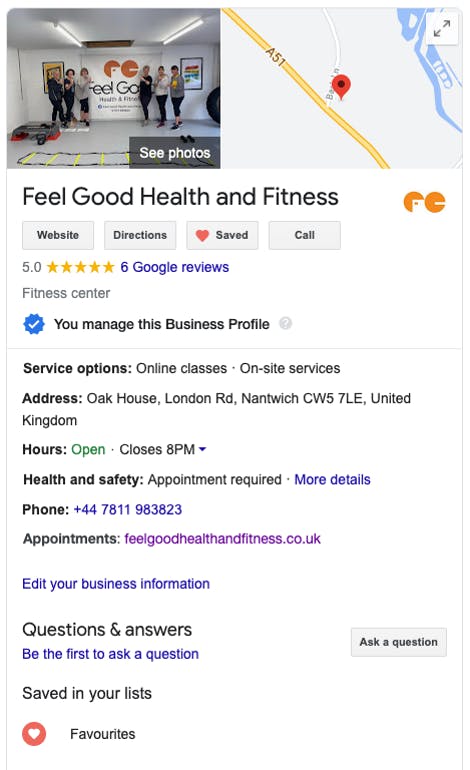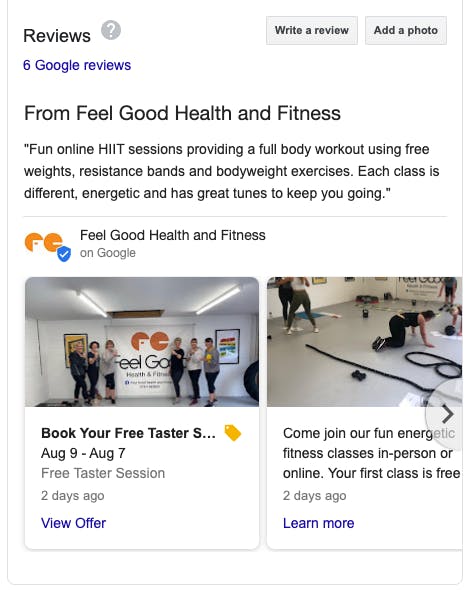 To sum it up
Google My Business can not only put your website on the digital map, but it can boost and increase traffic to your website and give customers a place to leave reviews.
Next steps: creating engaging social media posts
As your website starts earning some much-deserved traffic, there are other free advertising tools that can help you cover your digital bases, such as social media. In the next guide in this series, you'll learn how to create engaging social media posts to support your content, promote your business, and drive even more customers to your website via the various social channels. Start reading guide #7, here.
Frequently Asked Questions
What is GMB?
Google My Business is a platform that allows business owners to manage their online presence across Google, including Search and Maps. By claiming and verifying your business on GMB, you can control the information about your business when customers search for it on Google.
Why do you need to add your business to GMB?
There are many reasons why it's vital to add your business to GMB, but the most important one is that it allows you to control the information that appears about your business on Google. When customers search for your business on Google, they can see your hours, location, contact information, and even reviews from other customers.
What are the benefits of having your business listing on Google Maps?
There are several benefits of adding your business to GMB, including:
Allowing customers to find your business online quickly.
Giving you control over what information appears about your business on Google.
Helping you to connect with customers through features such as messaging, reviews, and posts.
How to improve ranking on GMB?
If you want to improve your ranking on GMB, try doing the following::
Ensure your NAP (name, address, and phone number) is consistent across all platforms.
Add as much information as possible to your GMB listing, including photos, business hours, services offered, etc.
Encourage customers to leave reviews for your business on GMB.
How do I get more reviews on my Google Maps listing?
Use the following methods to get customers to leave reviews for your business on GMB:
Respond to all reviews, both positive and negative.
Send follow-up emails or texts to customers after they visit your business, asking them to leave a review on GMB.
Display a "Find us on Google" sign in your place of business.
Open Comment Form