With dozens of clients, a toddler at home, and a baby on the way, Jen Johnson wears the hats of business owner, personal trainer, wife, and mother all at the same time. At the start of her PT career, Jen experienced some of the worst pain points for any business owner. Late payments, messy admin, inability to see her growth and income, and having to put her clients on long waitlists weeks in advance. After discovering that management software and an online booking system may be the trick to help her out, she not only saw her business begin to shift, but she was also able to track her income, easily offer online classes during the pandemic, and get all of her clients on the same type of membership plan.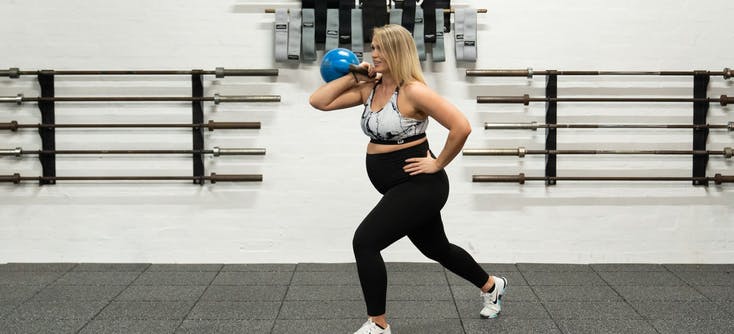 Photo Credit: Jen Johnson
Jen found that combination of resources, marketing, online classes and on-demand content to be the solution and key ingredients to growing her group and personal training business. Check out our interview with Jen here where she reveals the pivotal moments her business began to evolve, her experiences as a sole business owner and as a TeamUp customer and her advice on how to keep things personal even with dozens of clients:
Drop-ins vs. monthly membership: how to track your income
Prior to Covid I converted my double garage into a small studio and was running circuit training of eight ladies per class. Post-covid I am currently running my classes online with some available small group training when we are not in lockdown. I am so happy with the number of clients I have and am close to hitting my goal.
When I switched to training online, my business went from pay per class to membership plans. With drop-ins and cash payments, I couldn't really predict my income other than seeing what I had earned the month before, and I wasn't able to see if I was growing. When I changed my business to an online subscription I was able to see exactly how much I was earning and I had a dependable income. Being a mum and wife I felt more secure knowing I would be able to generate that and what I could turn it into.
In delivering a consistent product I was earning money rather than just being paid. I know many gyms that can accept cash and drop-ins, but being a sole personal trainer, I was unable to predict numbers running small classes twice a week and collecting cash payments as they went. For someone who doesn't hold a premise and is running classes online, being able to have a monthly membership has been incredible. I saw running monthly memberships and having consistency as an opportunity for me and my business.
The driving factor in switching to a monthly membership plan
With everything now online, I wanted everyone to get the same access to everything that I did. If I was going to do five classes a week, everyone would get the same. It took out an admin role for myself, there was now a flat fee, and it became the responsibility of my girls to then decide how much they would use or how much they would come to class. When you're running a recurring or monthly membership you as an instructor or business owner are also forced to deliver a package and there is sort of guidelines and expectations on what to deliver. I have many active clients and they are all just as important to me as the other. It doesn't matter how much they spend with me little or large, I wanted to offer them something to keep them going during the lockdown.
Online and on-demand content post lockdown
I will continue with on-demand and regular in-person classes post-lockdown. It was really hard when we came out of lockdown because I was giving both types of classes, delivering physical and online. I have since found a way to combine the two in order to offer both formats in a comfortable and convenient way for my girls and my business. This is how I have my current set up at home for online classes and on-demand content:
I have put in a big TV with a webcam so the girls doing on-demand got to do the same classes as the girls who came to the garage. They get the same content. I do adjustments of all the workouts, but we run the same program so that the people who were at home were still able to get the experience of being in a physical class when we were allowed to run them.
I have another package that I will offer that will include two 30-minute PT sessions and six live face-to-face sessions throughout the month. The plan is to keep both types of classes going because I want to give my girls the best of both worlds where they don't have to choose one or the other. You and your customers can have both.
Prior to lockdown, there were very few personal trainers online who were able to offer a real personal trainer experience. Now there are real people working with their customers online and they are able to grow on their own.
One of the benefits of online classes for me is I really enjoy delivering classes from home. I have even delivered a class from a Tesco park and once from a camper van. I can work from anywhere and it's allowed me to be flexible and maintain my business while having my son and baby on the way at home.
Prior to COVID did you ever consider offering online training?
Prior to lockdown I did not and would not have considered online training. I am very confident meeting face to face, but I am a busy mum and don't understand how some personal trainers are able to look primed and perfect 24 hours a day and at the time that's what you saw online. But when it became a necessity to put out online content and classes for my girls, my confidence grew.
You start looking around and thinking 'there is nothing wrong with what I am putting out there'. And that became a draw for my clients. They're not looking a someone who is completely unattainable they're looking at someone who is moving and working hard to deliver the best to her clients and is able to do so under the circumstances we have at the moment.
You can look at it as well as before in comparison, you may not have thought to put out online content because you didn't have thousands of pieces of content to put out. But really it's about what you are putting out and the quality, not how much.
The benefits of having booking software
TeamUp has supported my business for two years now. When I first started out as a trainer, I was giving two classes a week in a community centre with up to 25 attendees. They would pay me cash in hand when they got there, but classes quickly got so popular that I had to pre-book ten weeks in advance and people would buy a block of classes. But the management of that became an absolute nightmare. Collecting and managing PARQs, then the cash flow as well as some people still wanting to pay in cash, bank transfer, or PayPal, it was too much to manage.
Quick and easy setup and data migration
I decided to investigate software and wanted to find something inexpensive so I went with Wix, but I didn't trust the system or know if I could, so I did a demo with TeamUp. They asked how many clients and I laid it all out on the line. I was running four classes a week with waitlists and had about 30 clients at the time, so I explained everything I wanted to do and they did it all for me. For the data migration transfer, they sent everyone PARQs, waivers, and questionnaires, and they showed me how to do it so that I could when new clients signed up. It only took me six weeks for me to feel like the business was completely in line so for me that was really good. It was a very easy transition especially because I had done a lot of the back work and collected peoples' email addresses and contact information in advance, but it was all on excel.
Zoom and the COVID tools
It's been incredibly difficult, but it would have been nearly impossible without a system like TeamUp. When Covid and lockdown began to see the Zoom link and have a virtual venue available, that changed the business completely. If I had been working with Zoom creating the links and putting them out constantly I would have lost my mind because everything was constantly changing in the first month and it was the best way for home delivery. So having that virtual venue was probably the biggest game-changer for having online classes.
I remember thinking on Friday 'what am I going to do with my business, and then all of a sudden by Monday I had COVID tools in my TeamUp account and could freeze memberships and put a blanket extension on their classes. I don't think I would have been able to continue without those tools. It took all the admin away for me which was great.
I immediately jumped up in clients once I got online. I had dropped by about 30% with some of my clients not wanting to continue online in the first lockdown. But then some that I hadn't seen for 3-4 months returned when in-person training resumed and have stuck with it and continued online now.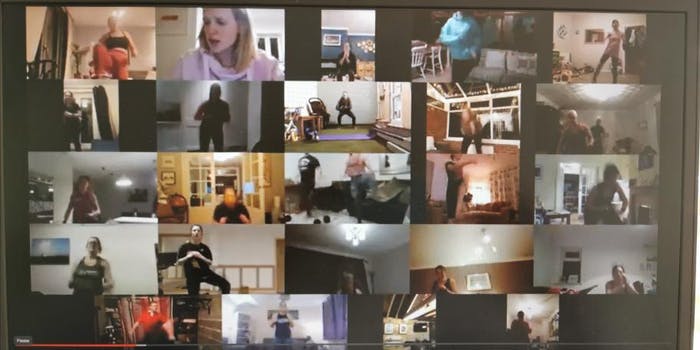 Customer support
TeamUp is probably the only business that I really enjoy using the chat widget for. If I can't figure out something it's so easy to use to click and ask questions. I also like that it comes back in an email, but that I can still see the messages in the chat within my TeamUp account. I have never had a problem getting an answer.
The dashboard
I cannot run a business on guesswork and that also comes with previously being a business development developer. You can't run a business on guesswork, you can't apply for a mortgage on guesswork, and you definitely cannot apply for any grants with guesswork. I was able to use screenshots of my TeamUp reports when I needed evidence to apply for grants. I was able to use that information to see what I needed to do for my business when I was re-opening. I can also track and see if there are any failed payments or if people leave without telling me. All of this I can see and I do not have to chase clients down. There's no way I would be chasing people down at this stage of the business.
Clients' responsibility for their memberships
It has also made my clients responsible for their own memberships and when they book classes and when they don't. When we came out of lockdown I had some clients that had bought blocks from me back in 2019 and wanted to use their remaining classes. However, each of those blocks has a 3-month limitation giving them plenty of time to use them before lockdown even happened. And although that was the case I still gave an eight week grace period as a gesture of goodwill, and they still had not used them. As a business owner, I cannot keep giving away free classes and extensions even after already having extended the time. Being able to have that black and white information is invaluable and it gives you the ability to run your business as a business.
How have you kept your classes entertaining and engaging online?
By speaking to them! I chose not to go on IG or Facebook lives because it's very one-dimensional. I know all of my clients personally and with online classes when they come on I leave time for a bit of a chat and catch up. I also stop and ask for adjustments or questions before and during classes. I run weekly programs so every day is different and I do a variety of workouts including Hiit, strength, and legs.
On Wednesdays, I have a Rewind Wednesday where the girls can choose between two workouts from my Youtube catalogue from the previous week. They get to repeat something they enjoyed and I get to save one day of planning.
On Saturdays, I run a team workout and will have about 24 to 26 clients attending every Saturday. It's one workout but there is an individual version and a team version, so they can either let me know in advance which they would like to do. If they choose the team version then I partner them up and tell them to pin each others' Zoom screens. I even give teams nicknames. I have two girls I always partner up and call the Double D's because they both have a last name starting with the letter D, and they love it. I have another set of girls who are friends from uni but don't get to see each other often, but now they get to work out together every Saturday. It brings a real sense of community feel to the business and it's super motivating.
What kind of marketing do you focus on? Has this been important to you and your business's success?
Instagram is my main source. I have found my Facebook business page to be very frustrating as hits vary so much. I can spend two hours writing an inspirational post and it may not get as many hits which is frustrating. I think Instagram is much more impactful, especially when my clients can share the content in their own stories and run with my promotions and share those.
I try to encourage them to repost. I ask the girls to get online and let their friends know if they are enjoying classes. I have asked friends of mine who are trainers come to give classes to my girls, and I always ask them to post after and share if they enjoyed the class so it has really helped my friends' businesses too. I also post a lot of content on my Youtube page so if people want to get to know me before signing up for a membership they can check out my content there. I link to my TeamUp calendar and Youtube via LinkTree so that everything can be found through my Instagram.
What advice do you have for someone who is thinking of starting their own fitness business during this pandemic?
Look to people who have done it well and want to do the same or better. Trying to stand on your own 2 feet is admirable, but the truth is if you see someone doing something well run with that. Don't copy, but learn from others who do things well. Be willing to work in other peoples' businesses and put yourself out there. Cover classes for people and lend a hand that way so you can build an understanding of businesses. Treat your business like a business and be careful not to undercharge for what you deliver. When starting out it's so easy to set the price too low to try and get clients quickly, but then people will expect that lower price forever. Put a lot of thought and energy into your pricing and do the market research because you'll never regret doing it.
Thank you for sharing your story with us, Jen!
To hear more from our customers check out their success stories. To learn more about TeamUp for your personal training business, check out our personal training software.
Open Comment Form