What is this article? This is part of our new marketing series helping fitness owners learn what they really need to know to market their businesses. This is guide #1 of 7. To find the other guides, return to the overview page, here.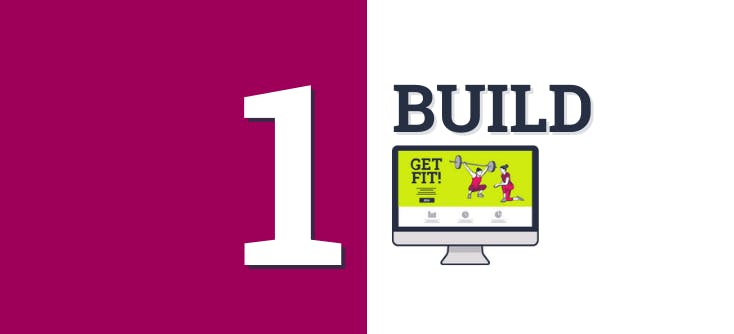 Providing your customers with a place to book your classes and manage their memberships online makes being a member of your business easy. But how does it help you grow and attract new customers? Without a way for interested fitness consumers to find the service you offer and check out your fitness classes, it'll become increasingly difficult for you to win over new clientele that doesn't even know you exist.
Fortunately, there's a pretty quick and easy way to boost the probability of new customers finding your business and going from intrigued consumer to loyal member — build a website.
Having a place where online web users can search for the services and types of classes you offer and land on your page, won't only help you improve your bookings, but it will help you take your business to the next level and create a customer experience that will boost your business's growth.
In this guide, we are going to share with you the importance of having a website, what a successful website can help you accomplish, and take you step by step through how to build your own, with the help of a TeamUp customer who recently experienced building her own website (psst. her website was up and running just 3 days later!). Let's get started.
Why your business should have a website
There are dozens of reasons why setting up a website should be one of your first priorities when launching or building your fitness business. For starters,
Websites build legitimacy and credibility
Setting up a website that can be easily searched for and found on any search engine helps proves your credibility and legitimacy. Search engines such as Google, Yahoo, and Bing favour websites they deem legitimate and think meet web visitors' exact needs and searches. The more effort you put into building your credibility and providing visitors with the most accurate representation of your business and services, the more those search engines will boost your website and get it in front of the eyes of consumers searching for what you offer. Customers will always choose a business that they are confident is the real deal and a website that contributes to their customer experience
Open up your availability 24/7 while saving you time
Whether you're a new business or an existing business, spending your time fielding new customer inquiries, answering mundane questions, all the while managing your current clientele and bookings is overwhelming and unnecessary. A website gives customers access to you 24/7 without even needing to contact you directly. With a place to explore your offering, see your prices, and get in touch with time to respond during normal business hours, you control your availability. A new customer is less inclined to reach out for more information when they are able to find exactly what they are looking for online on your site.
Attract ideal clients when you start a website
One of the most important steps in growing your business is knowing and attracting your ideal client, and a website can help you do that. When you start a website, you can clearly state what you offer, who you cater to, and what you help your customers achieve. A potential new customer is going to see that and immediately be able to tell if you're the right fit for them and vice versa. While so people might come across your website and still inquire even if they don't fit your typical client mould, that doesn't mean they can't become an ideal client, only that your services are attractive to an even wider group. Without a website, you're bound to spend that extra time answering repetitive inquiries from people who aren't actually interested in what you offer and won't take the next steps to move forward as a customer.
Adds professionalism to your business
No matter whether you are competing with other businesses on a local or global scale, having a website can give you an instant leg up on competitors. Websites and professionalism go hand in hand, and when customers see how easy you make their customer experience by providing them with a one-stop-shop for browsing, booking, and interacting with your business, not only will they choose you, they'll tell their friends to as well. Customers want to align themselves with businesses that exceed their expectations and meet their needs in a seamless way. And presentation means everything. Give them an easy to use and functional website where they can be wowed by your customer experience, and retain their membership.
Easier to refer your business with an online presence
While word of mouth is easily one of the most effective ways to gain new customers, it helps when that exchange is complemented by sharing a link to your website. When one customer, a family member, friend, or someone in your network shares your website with a potential new customer they're able to check you out and explore your offering right then and there, without having to go find it on their own. Simply stating "check out this fitness business" can be quickly forgotten, therefore unsuccessful. It helps when customers can even use referral codes that can be redeemed by potential new customers.
Gain exposure online and organic traffic
Building your online footprint is much easier to do when you have a website that directories, publications, blogs, and social networks can link to. By directing customers to your website online, with the click of a button they are there, investigating your business and determining their interest in you. The more and more your website is featured, and by other reliable websites, the higher your domain authority increases, and your search visibility improves, ranking you higher in search engines. This is a great way to also achieve your legitimacy and outrank competitors. The quicker customers are able to find you, the better chances you have of winning over new clientele.
Keep reading for tips and advice on the basics of building your website
What does a website need to include?
One of the reasons people avoid building a website is because they think it's too expensive, complicated and technical. They think that if their website isn't as "good or fancy" as someone else's, then what's the point? While having an attractive website is definitely a bonus and something you can achieve over time, to start, all your website needs to be is functional and give customers a good idea of who you are and what you do. Once you get started and see how easy it is to build you can add more to your website along the way. In the initial stages of building your site, all you need to have is:
A homepage with details about your business including your name, who you are, location, and contact information.
An about us page where you can give more details about who you are and what you do.
A booking page to direct your customers where to book classes and sign up for memberships (this would be where you embed your TeamUp account).
An FAQ page where your most commonly asked questions or information customers might request can be found.
A contact us page with your contact information or a contact box.
Your business's location and hours of operation with Google Maps, so that customers know where to find you and when you are available (even if you are an online business, having a location that you can register with Google Maps and Google My Business can help you appear in the search engine traffic of a specific region where you are located).
Links to your social media pages so your customers can find and connect you with you off your website.
Customer testimonials and reviews your customers have left you.
A sign up box for email newsletters if newsletters and e-blasts are part of your marketing strategy.
A gallery where you can feature videos and pictures of your business and classes.
While this might seem like a lot to add all at once, the good news is that when you create your website with a website builder, these pages and sections are already built into the tool for you to select and organise as you please.
Free website builders - how to choose
Building a website doesn't have to be expensive and you don't have to hire an experienced web designer. In fact, there are several website hosting platforms that actually allow you to host your website for free and provide you with free custom domains or subdomains (a domain that belongs to the hosting platform).
At TeamUp, we recommend the following free website services (that work best with embedding our platform). Those are:
While it is ultimately up to you to decide which website host works best for your business here are some things to consider when checking out the different options:
Easy to use and saves time. You don't have to be a technical genius to build or run a website, but it does help to be able to understand and easily navigate your system. Choose the option that proves easiest for you to use and offers ways to support you when you need assistance.
Helpful customer support. Websites can be tricky and things come up you might not be able to solve or figure out on your own. Having the guidance and availability of reliable customer support is very important in choosing a system.
Price for additional features and tools. While we recommend starting out with a free service to ease you in, as you grow your website and business, there might be additional services or features you want to be added and sometimes that comes with a price. If there are bells and whistles you think you might want to add down the line, make sure you know the price of those before committing.
Data security and protection. Often overlooked, but extremely important is knowing and trusting your website host will keep your data protected and secured. This isn't as simple as having a password. Several platforms will have extensive measures in place that are good for you to be aware of including customer data protection, payment walls, backups, and cloud servers.
Monthly storage and traffic limits. Some free services only allow a certain amount of available storage or monthly traffic. Knowing this in advance can help you see which will give you the most value and space without limiting your potential.
Loading speed. Later in this series, we will get into the ins and outs of SEO, but as a starter, Google prefers pages that load faster (faster content delivered means customers get what they're searching for quicker). Make sure the server you're choosing is known for having great loading speed and that adding things such as affiliate ads or downloadables won't take away from the page loading speed.
Once you pick your website hosting service it's time to get started setting up and building your website.
Get started - setting up a website for your fitness business
We want to show you how easy setting up a website and connecting your TeamUp account to it is, so we collaborated with TeamUp customer Clare Eaton, owner of Feel Good Health and Fitness (notice we linked to her website to send her that great traffic and give her domain a boost) to walk you through the steps of setting up a website using Weebly by Square. For the rest of the article, we will refer to the website builder as Square to avoid confusion.
Clare before setting up her website
If you are reading this guide it's most likely because you feel how Clare did before launching her own website. She had some of the following concerns:
"My concern over creating a website was the fact that I found it so daunting and had no idea where to start. I hadn't even considered the benefits of a website because I relied completely on Facebook, which was the only form of social media I was used to, and word of mouth from clients that enjoyed their workouts with me and the services I offer them. Because I have little business experience I hadn't thought of people googling local fitness classes and my website popping up!"
Clare after setting up her website
After the initial choosing of the platform and with a little help from our end, Clare and her daughter Lizzie started setting up their website on July 12 and had it up and running ready to go by July 15 (only hours after our call!). It's that quick and easy to get started.
"Building my website with the support and guidance of TeamUp has been so exciting and really interesting. I literally started from a blank page and gradually added everything to create an informative website that I'm proud of, I can't believe I've done it! People can now search and find Feel Good Health and Fitness, book their classes with me and join our fabulous community. It's wonderful to welcome new clients through my website, begin their fitness journey and welcome them to our fantastic community."
We know that creating something as important as a website can seem daunting, which is why we want to completely take the complexity out of it for you, walk you through the steps you need to take to get started and provide you with examples of how to build yours today.
Find out how to set up your website using Square
Step 1: Opening your account
As we mentioned above, we will be using Clare's website on Square as our example and website builder for her website. So first comes first, opening an account. Square tells you exactly what they need from you to get started at sign up. For privacy in this example, we have used our email address, but this should be the email address you will use to run your account, for example, your business's email address.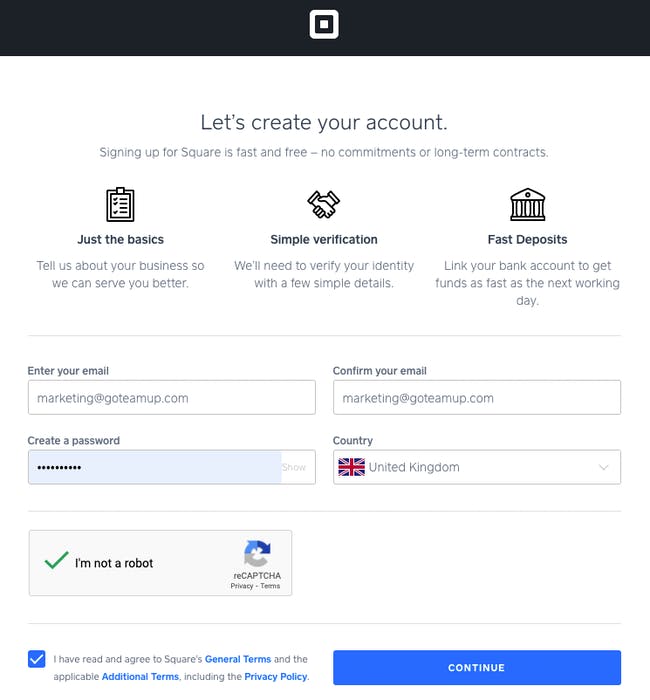 Step 2: Your online dashboard
Once you open your account you'll be directed to Square's POS dashboard and system. To start building your website, go to the Online section. There you will see a set-up guide section with six steps to get started.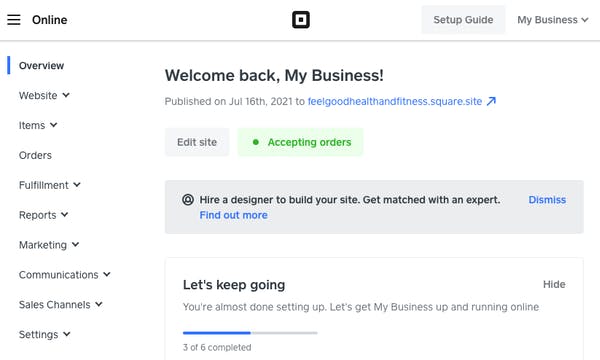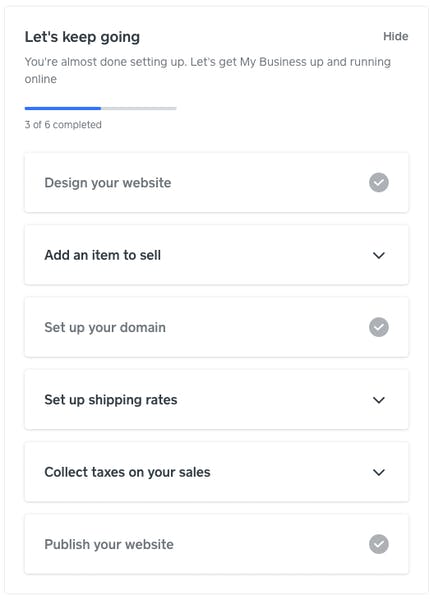 As you will not set up items to sell directly from your website or need to use Square's POS system at this time we will skip the steps:
Add an item to sell
Set up shipping rates
Collect taxes on your sales
and focus on the other 3 steps.
Step 3: Design your website
This is where it's time to let your creativity thrive, give your brand an attractive look, and add the elements you want to make your website appealing to your customers and new customers.

As we mentioned above, you do not need to have loads of content and pages on your website. Focus primarily on the basics and adding the most important information.
To begin Clare selected the following pages and sections to be added as her pages.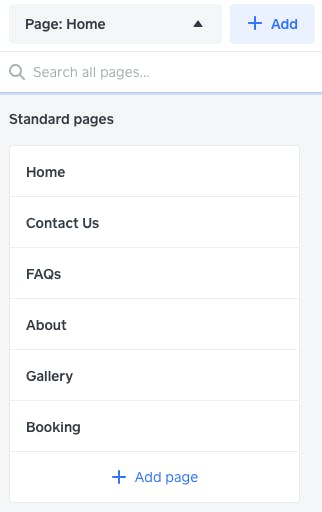 Check out these examples of Clare's website design
Homepage

The header is the top of the website where your customers can view different pages and search. You can design this however you want with either a drop-down menu or listing them alongside each other as Clare has, but it is helpful for customers to be able to easily see the exact pages they want to find.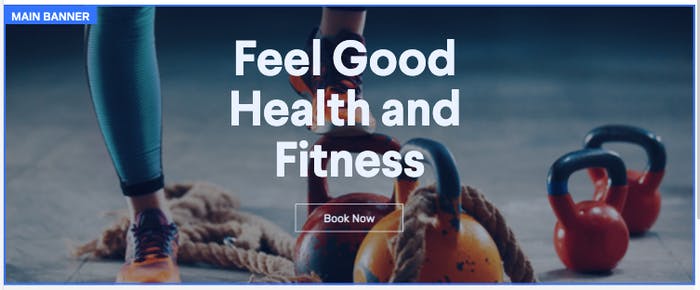 The Main banner is where you will add your website's H1 title and book now button, for quick and easy booking. The H1 is a tag that alerts search engines that this is the main topic of your website. As this will be the name of your business you want to make sure it stands out front and centre. The easy to find and view Book Now button below will direct website visitors directly to your booking page, in case they didn't do so via your header.

The about section on your homepage is a great place to give your website visitors a quick introduction to who you are and what you do. You can expand further on your about us page.

Adding in a customer testimonial or several is a great way to boost your reputation and show visitors your customers think you are valuable and give their recommendations. Adding a customer testimonial to your homepage will make it easy to spot and see.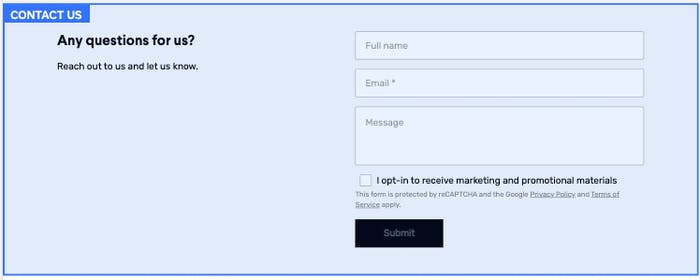 While you can also have a contact us page where your customers can also get in touch, it helps to have a section on your homepage as well with an opt-in button to subscribe to your marketing promotions and content.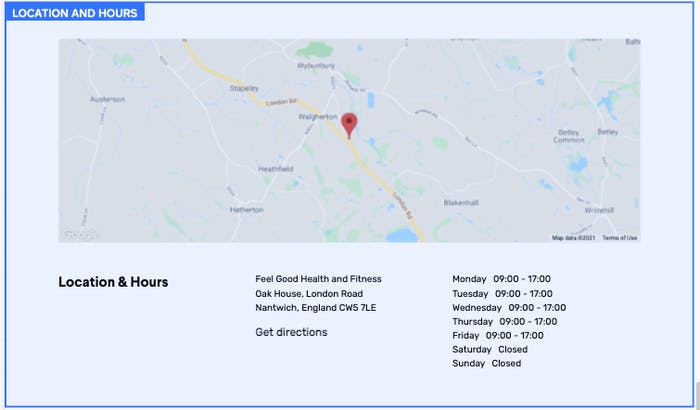 Having your location and hours clearly displayed on your homepage will make it quick and easy for customers and visitors to see when you are available, open, and if you are located near them. Even if your business is online, you can still state where you are based so customers know if you are local to them. The location with Google Maps will also help customers get directions to your facility right from your website.

The email newsletter section gives customers another place to opt-in to your newsletter, if they don't want or need to send any additional message and just want to sign up. Give them a strong call to action to encourage them to sign up.

Just as you did with your header, you can re-add the different pages of your website for quick and easy navigation, so that if customers or visitors don't want to scroll back up they can click right there. You can also add your social media icons so that your customers can check out your social media right from your website too.
Contact us page
Self-explanatory, your contact page is where your customers or potential new customers can get in touch with you. If you want to field inquiries before they get to your inbox you can set up a contact box or provide your direct contact information.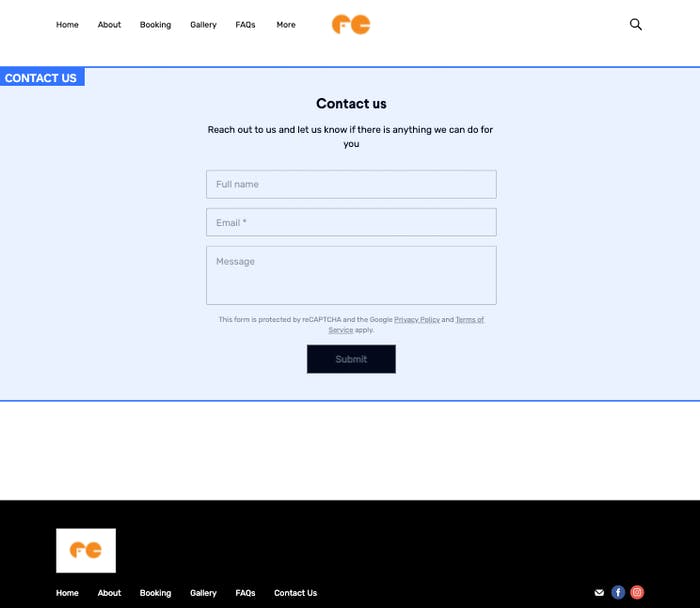 About us page
Your about us page is where you'll want to share with your customers everything they need to know about you, your business, and your story. You can keep it short and sweet or expand, it's totally up to you. We recommend adding a book now link at the bottom of your About us page so that once they're inspired and interested in you and your business they'll be motivated to book right away. It always helps to add a fun picture of you so that when they come to their first class, they know exactly who to expect and look for.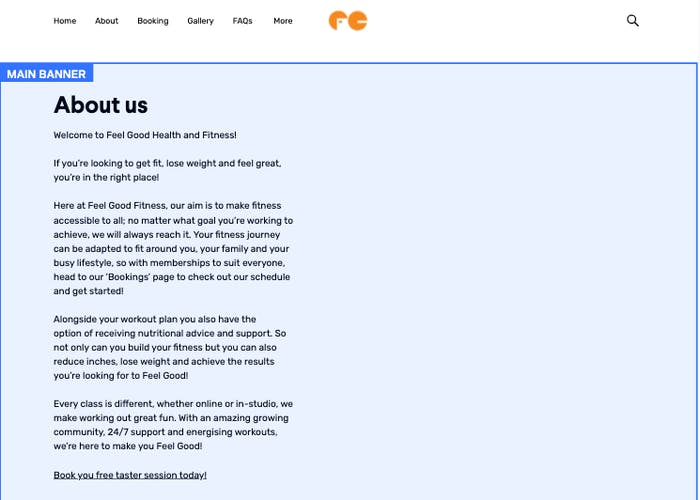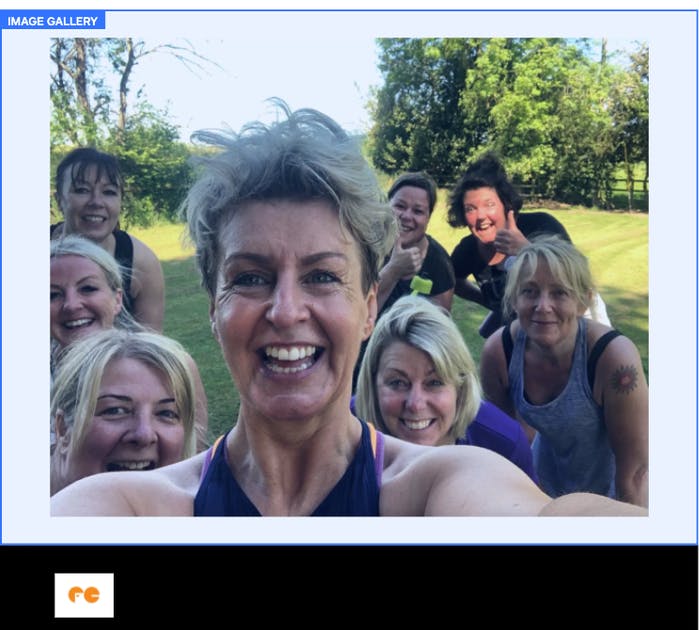 Booking page
Your booking page is where you will embed your TeamUp customer site so that customers can book or new customers can purchase a membership right from your website. To embed your code you'll first need to go to your TeamUp account and go to your Customer Experience section.

Once you collect your code you'll be able to embed the code directly into Square and your customer site will appear right on the page.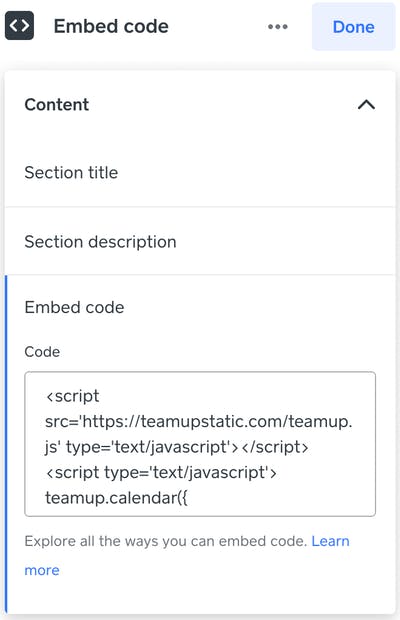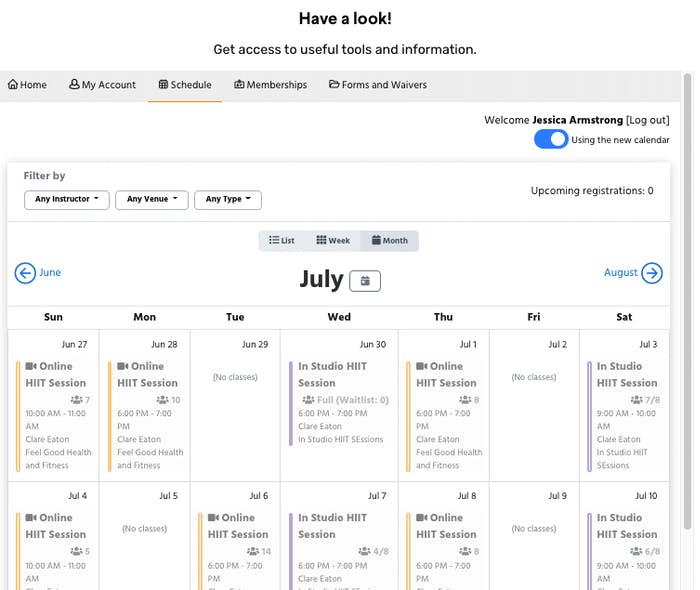 Gallery
Your gallery is the perfect place to add additional videos and photos that your visitors can check out. As with the other pages, you can customise the layout and even add some texts or captions if you want to show photos or videos for a specific type of service or class.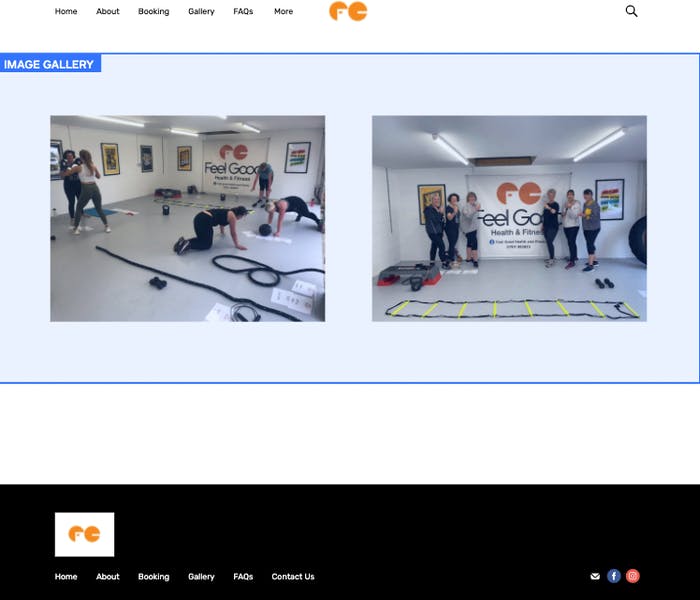 Adding alt text for SEO to your images helps search engines identify the photo and understand what the image is about.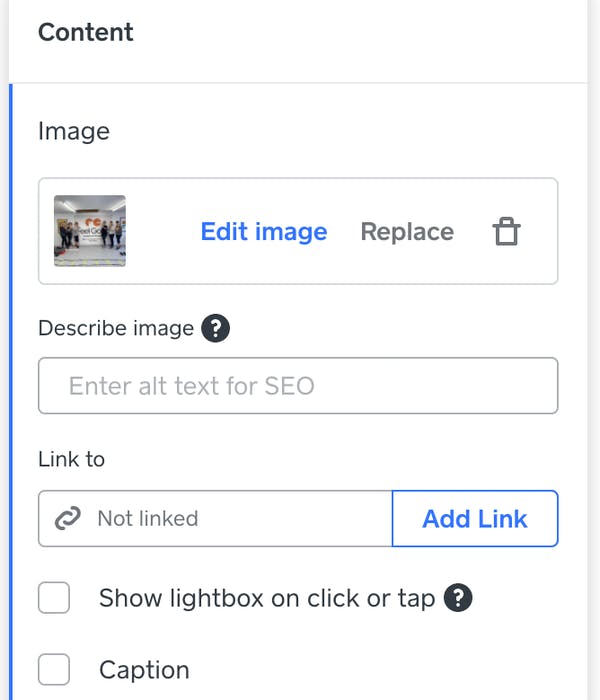 Step 4: Set up your domain
Your domain is the name of your website, a URL that people can see and interact with to reach your website. Square gives you several options for choosing a domain. You can either find a customer domain, use a domain that you already own elsewhere (which Clare's son had already purchased for her), or use a Square subdomain on your site for free. Domains typically need to be purchased, so we recommend using a subdomain for the time being until you decide or purchase the rights of your domain name. We also recommend making the domain or subdomain as close to the name of your business as possible.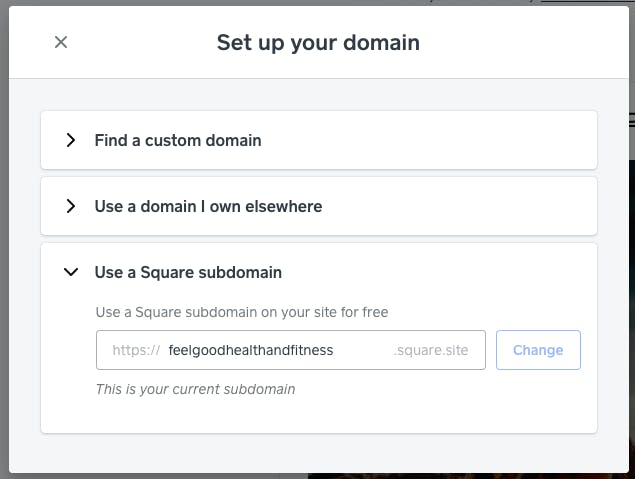 If you would like to go the route of finding a custom domain you can choose that option, the keywords you would like to be in your domain, such as your business name, and Square will give you options and pricing for each option.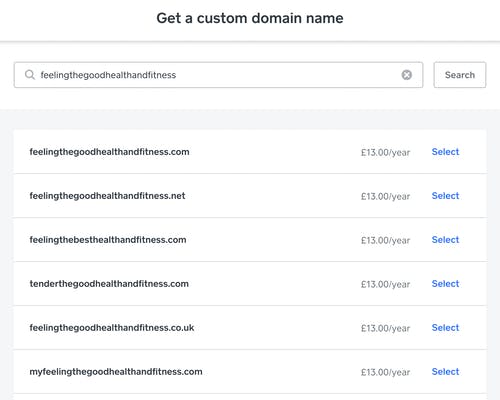 If you already own a domain that you would like to use you can verify it and use it on Square for £4/month, which is what Clare has done for her business.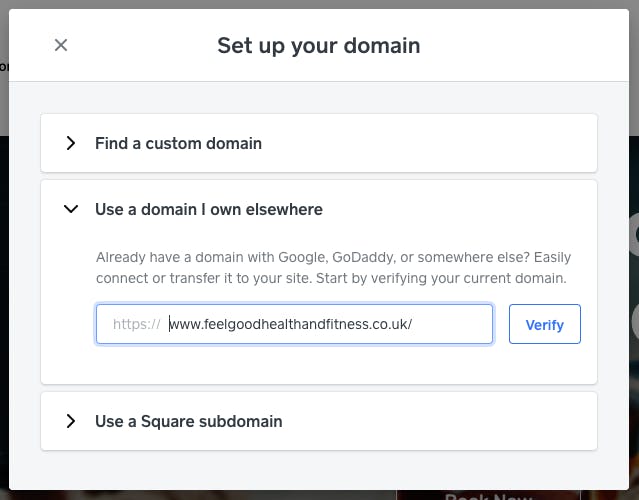 Step 5: Publish your website
Once you had added your pages, content, and secured your domain name, you can use the preview button to preview your website and make any changes. If you're happy with your website you can publish and always make changes and updates later, such as adding new images or content. Your link can now be input into any search engine to be searched for or clicked on to view.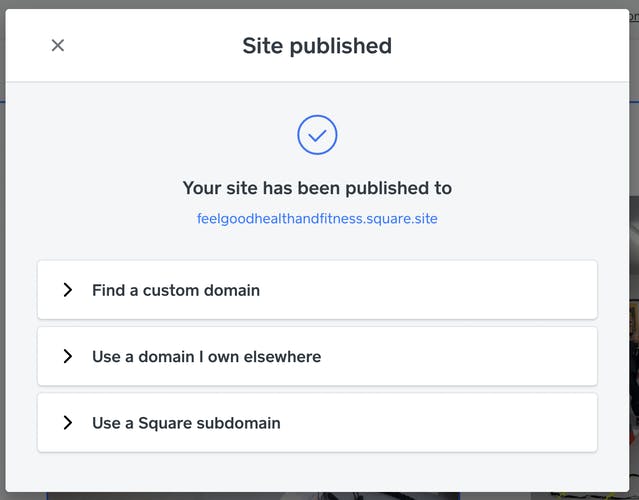 It's that easy!
Next steps: tracking your website traffic with Google Analytics
Now that your website is up and running and customers can search and find your website to book, it's time to learn how to set up goals in Google Analytics and how to track and growth and success of your website. In our next guide, we will discuss the importance of Google Analytics, how to use it, and how to set up Google Analytics in TeamUp. Start reading guide #2, here.
Open Comment Form