While yoga has been around for over 5,000 years, one particular style that has caught the attention of many yogis over the last few decades is hot yoga. In heated rooms, up to 37 degrees Celsius (98.6 degrees Fahrenheit) yoga clients absolutely love restoring and exercising their bodies in the warmer temperature. With numerous physical and mental benefits, hot yoga classes have become increasingly more in demand with many studio owners incorporating these specialised classes into their offering and even opening studios solely for hot yoga.
Photo Credit: Hotpod Yoga
Hotpod Yoga is a glowing example of a small studio turned successful popular franchise who saw the potential in what hot yoga had to offer and made it their mission to introduce the style to yogis around the globe.
Launched in 2013, owners Nick and Max, had a desire to reinvent yoga in the modern world. What originally began as a series of pop-up classes in various halls in London has grown into one of the world's largest yoga businesses with dozens of studios in over 50 locations across 8 countries worldwide.
We wanted to create a supercharged approach that could help take yoga out of its niche and into the lives of millions of people previously untouched by (or uninterested in) yoga. We did this by creating a yoga experience like no other – one that turned up the dials to new levels. - Nick and Max
However, like many others in the fitness industry, Hotpod and its many studios were not excluded from the effects of the COVID-19 pandemic. With many of their European locations forced to close their doors, Hotpod launched several online class options as well as a brand new part of their business to keep their members engaged and active from home.
As one of the most important elements in any hot yoga studio is the controlled temperature, we were curious to learn more about how Hotpod has created the hot yoga experience at home and what they have learnt from online classes.
With attendee numbers in the tens of thousands and views in the hundreds of thousands, this yoga business has proven that with patience, flexibility, and innovation, there is nothing that can stand in the way of achieving their mission, even with a major obstacle thrown in their path.
We asked them to share their advice for other owners and instructors who are struggling to give online classes without the equipment and elements they typically use in their in-studios. Here's what they had to say:
How has Hotpod and your studios navigated the previous and current lockdowns?
We are a franchise business with 60 studios in the UK and worldwide, so while some studios managed to stay open for most of 2020, many were forced to close due to local, regional or national lockdowns.
Our London studios closed for the first time in March and we quickly made the shift to online classes via Zoom, first from our teachers' homes and eventually from one of our studios. We created how-to documents and guidelines, which we shared with our studio owners around the world so that they could get up and running with online classes with their own teachers and students.
In addition to our online classes, we launched a streaming platform called Hotpod Home, where subscribers can access a wide range of full-length classes, as well as shorter drills and tutorials, to suit their own schedule.
When studios were able to reopen over the summer, we introduced Minipods in our Hackney and Brixton studios, which provide everything people love about our in-studio classes, but in an individually-sized pod.
These can remain open up through Tier 3 restrictions and are ideal for our customers who want to get back into their Hotpod Yoga routines but aren't quite ready for group classes, either because they are vulnerable or simply because they don't feel comfortable just yet.
How have your customers reacted to online classes and the various lockdowns?
It's been amazing to hear from the HPY community about how our classes have helped keep them sane and healthy throughout the pandemic. We've had multiple people get in touch to thank us for running the online classes and for keeping the prices affordable, and we've even had a few regulars attend almost every day since the first lockdown began.
We've also had lots of new customers join our online classes, and while some of them haven't had the full Hotpod experience yet, they appreciate our approachable style of teaching and the fact that our classes cater to all experience levels.
Now more than ever, it's so important to look after our physical and mental health, and we believe yoga should be accessible to everyone, whether in-person or online.
How have you helped your customers create the Hotpod experience at home?
There's really no substitute for the 37-degree heat and immersive atmosphere of the pod, but we've tried to help our customers recreate the experience in a couple of ways:
We've given customers access to our music app, Hotpod Sounds, along with curated playlists on Spotify. When taught from the studio, our online classes now include music as well.
We sell our signature aromatherapy so customers can recreate the fragrance of the pod at home, and we've put together a discounted 'Home Bundle' of HPY products, including yoga blocks, a strap, and our HPY mat.
During the national lockdowns, we've hired out our signature Minipods to some of our top customers, so they can fully experience hot yoga at home.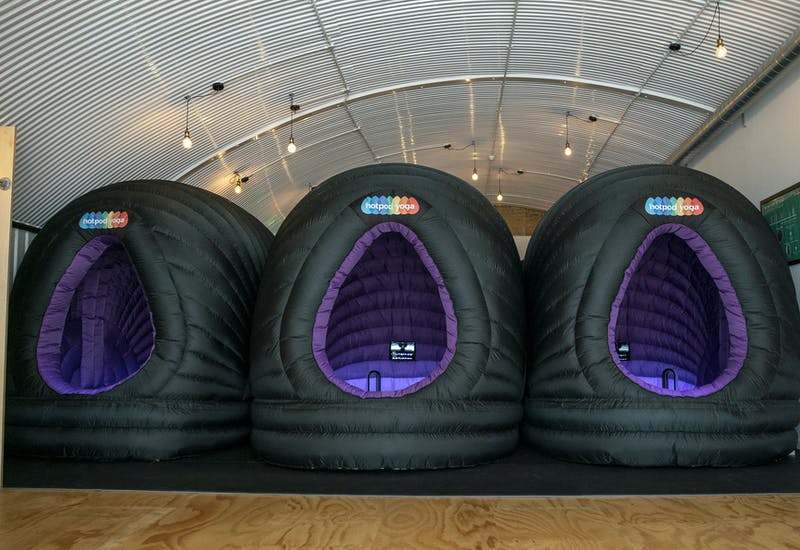 How have online classes helped Hotpod grow?
Our streaming platform, Hotpod Home has been a completely new area of the business for us, and one that we'll continue to develop once lockdown has ended. The Minipods are another exciting new avenue for us, which we'd been exploring pre-COVID but finally made a reality this year.
What advice can you give studios and gyms that need certain equipment or elements in order to give their classes?
The biggest tip is to not feel limited by what the in-person offering used to be like, and instead focus on delivering the best possible online product. The appetite for at-home fitness has never been stronger, and people are really open to new ways to keep fit.
As a hot yoga brand who are known mainly for the immersive atmosphere of our classes, we weren't sure how our online classes would be received, but we've had around 50k people attend our online classes since lockdown began and over 100k video views on our streaming platform. People are used to a new 'normal' now, which is a real advantage to businesses who are being forced to adapt.
How did you keep the Hotpod community united through the lockdown?
Soon after the first lockdown hit, when the NHS was struggling with the first wave of the pandemic, we held an online fundraiser called 'Stretch for the NHS'. Our co-founder Nick led an online class on Easter Monday, and we managed to raise over £100k for our health workers. Thanks to the support of our franchise network and customer base, we had nearly 15k people join in the online class – it's safe to say it was our biggest yoga class ever.
Later in the year when we felt like people could really use a morale boost, we ran a social media campaign called The HPY Awards to get people involved in our online classes. We asked our followers to share photos completing weekly challenges, such as doing yoga with a pet or wearing fancy dress or pyjamas. People really got into it and we had some great submissions – one guy even did part of a class holding his pet chicken.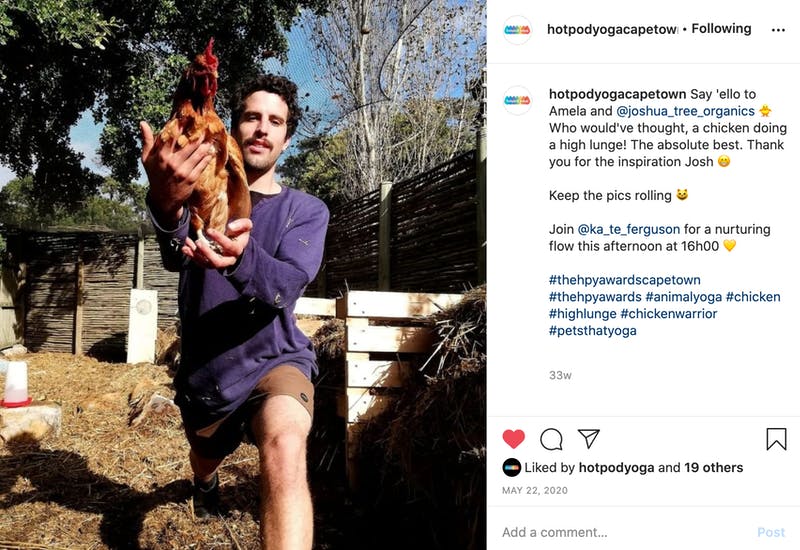 How has your TeamUp software helped you through online classes and the lockdowns?
The Zoom integration has been great, and through the API we've been able to give customers the ability to join classes directly from the Hotpod Yoga app, so it feels like a really seamless experience.
Will Hotpod continue to offer online classes once the studios are open and fully running?
The plan is to continue with an online offering indefinitely, whether this consists of live classes, on-demand content or both. We've seen that it's something our customer base appreciates even when studios are open, and it's a great way to make our classes even more accessible.
Thank you to Nick and Max, and the HPY team for sharing your insight and stories with the TeamUp community!
If you are a studio or gym owner and have a question about our studio management software please feel free to drop us a line at support@goteamup.com or check out our full list of online guides in our resources.
Thanks for reading!
Open Comment Form