What do clients love so much about group fitness classes? The camaraderie! Your clients love being able to come to class and enjoy a shared fitness experience together. The cheers, the high-fives (both in-person and virtual), they can't get enough. However, as an owner, the fun and excitement can go down the drain quickly if your classes and customers are unorganised and all over the place.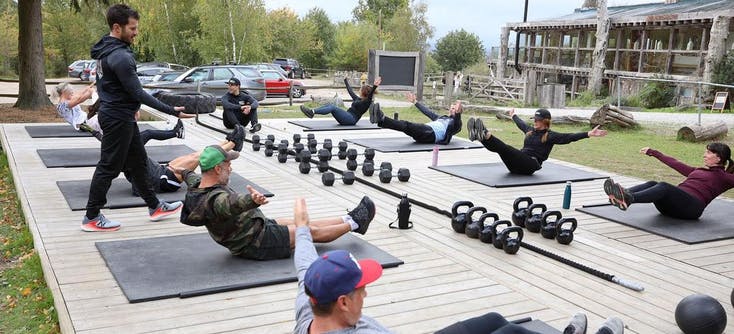 Photo Credit: MZ9 Fitness
Running group fitness classes without gym management software is for lack of a better word...stressful. Not knowing who is coming to class, who registered, who paid, or why someone said they would come and did not show up, is enough to give any owner or instructor a panic attack. We know this because our customers shared with us some of their pre-software horror stories. These are the most common challenges our customers ran into before using our software, and the TeamUp tools helped them get back their classes back on track.
Unorganised class attendance
When I had more than 20 clients in my group classes, I had no idea who was coming to class and for which class. It was a total surprise for me every time, which made things super unorganised. I was finding it too difficult to manage attendance at classes.
You end up spending so much time replying to people saying, "Oh yes, you can come to this weekend" or, " No you can't." Yeah, and I had class registers in spreadsheets, and it was just really messy and, yeah, TeamUp's so much better.
This is a common issue many instructors and gym or studio owners face early on without gym management software. While allowing your customers to drop in whenever they want may seem flexible and easy-going, it can also cause so much un-organisation and hassle. For both the teachers running class and the customers who show up only to find out it is full. Your gym software tools will give your customers a place to book, pay in advance, and have peace of mind that their spot in class is secured. Leaving you to focus on providing the best class experience possible. You can also enable a waitlist feature that will allow your customers to sign up for a class even if it is full. They will be automatically registered for a spot if one of your customers cancels before the cancellation period. Having software that will keep your classes full and let you know who is coming to class will save you a lot of time and energy.
Can't keep track of payments
I was spending a ridiculous amount of time giving payment details and then having to check the payments had been made. Tracking everyone who was on each session and then dealing with refunds or credit, all via an excel spreadsheet was just too time-consuming, confusing and frustrating for my clients.
We had over 300 members and trying to keep track of who has paid and who hasn't, who's booked in and who hasn't was a nightmare and very time-consuming.
Lacking a proper payment system to help you run your group classes can lead to two major issues quickly:
You have to have uncomfortable awkward conversations with your customers to find out if they did or did not pay. It can be even more uncomfortable when they said they have, but you can't find their payment.
Without earning an income for your business you can't pay your staff on time or afford the tools, equipment, and software you need...much less earn enough money to pay yourself.
An inability to keep track of payments and handle refunds if a customer cancels is one of the worst problems a business owner can have. On a positive note, once you start using software for gyms that automates your payments and payouts, you'll instantly see the benefit of having a system that will streamline your admin.
No time for relationship building
Problems were, it was hard for me to has helped me to implement my sort of class cancellation policy, because there wasn't like a system that I could say, "Oh well, on the system you have to cancel within a certain amount of time." So everything was quite personal. And in terms of me having to cancel classes, it's hard for people to see that because there wasn't any system for them to be able to look at. And everyone had to book through me, so I was having to be in communication with people all the time.
Managing your customers' bookings and cancellations is not the same as spending quality time fostering a healthy relationship. This is hard enough to do with a few customers, so when you have member numbers into the hundreds, your extra time becomes that much more valuable. In order to retain your customers, you need to have a connection with them and they need to trust and rely on you. Your customers won't be focusing on how much work you're doing in the background to keep things organised. They focus on what you are doing to help them and engage with them. Unless you have gym member management software handling your tasks that will free up your time, you'll end up letting important customers slip away and stop coming to class.
Unable to find what you're looking for
I looked for a booking system. And at the time I thought I needed something free, so I went onto one system. And after a few months of using that, I could see the benefit of having a booking system, and I could see also how terrible the one I had was. I was like, I need something that's going to handle the volume of bookings that I'm about. And I knew that a free system was not going to do it.
While signing up for free gym management software may sound like a great idea that will save you money, it will ultimately cause you more problems. The issue with free software is that typically all of the tools you really need to run your business successfully will only be available behind a paywall constantly forcing you to be upsold anytime you need additional features. You will also lack the essential customer support that can help you at any moment as well as the flexibility to grow.
Many types of gym management software charge by features needed, and the more features you need, the more money you pay. Rather than wasting more and more money to survive, find software that gives you everything you need, whose price matches its value, and offers unbeatable customer support.
Can't keep up with business growth
I had growing classes and needed to manage students and instructors. The number of active members went over 100 and it was becoming difficult to manage student and payments.
The excitement of your business growth and new customers quickly fades when that only leads to more responsibility and work on your plate. However, with gym membership software, your business has the capability to grow and new members join without disruption or change to your day-to-day. All businesses want to grow in one way or another, but without a gym management system to manage your customers and your staff in one place, things can get out of control and then your growth will be for nothing. Whether you have 100 customers or 10 customers, it's important to give your value and attention to each and every one of them if you want your existing customers to stay and your new customers to progress.
The top TeamUp tools for group fitness classes
Owners and instructors do not want to waste their time trying to get their admin under control when they could be spending that time with clients and teaching powerful classes. If you have run into any of the problems above no matter whether you are a new business owner or have had your business for years, gym management software can help you overcome challenges quickly and easily. The difference between the customer experience you offered before and what you will offer now will be night and day. Here are the tools that group class instructors can't live without:
Online booking system
Remember how much of a hassle it was figuring out who was coming to class? You'll never have to worry about that again thanks to the online booking system. Your customers will be relieved to know that they can manage their own bookings and memberships online and via the TeamUp member app, as will you be now that you don't have to spend all hours of the night organising class spreadsheets. The online booking system will also make sure you are paid on time and that customers cannot attend class unless they pay in advance, no matter if it is a drop-in or through membership.
Payment providers synced with your gym management software
And just as your gym booking software makes sure your customers pay for their classes, your payment providers will ensure that those payments are collected and deposited without you having to even lift a finger. Your payment processor will work with you to bill your customers based on the memberships and plans you set up. Your payment information will go straight into your invoice report so that you can see ahead of time when payments will be collected and payouts to your staff and instructors will be paid.
Attendance and membership reporting
It simplifies keeping track of my members who are attending classes. I do a variety of sessions. I do small group training, running classes, boot camps. It makes it a little bit easier to track their attendance.
Your reporting tool acts as a summary of your day to day business activity. You will be able to generate valuable reports on class attendances, memberships, payments, customer details, and much more thanks to your intuitive reporting tool. Track and monitor all of your group class activities that can help you make important decisions regarding your gym or studio. If your customers are booking certain classes more than others, or purchasing a certain type of membership over others, you now have the tools to see why that may be and figure out what you need to do to either improve the experience in that class or change the class or membership offerings. Reports give you back the power to control and keep track of all the details of your business — big or small.
In-app alerts and notifications
Although all of your admin can be done for you once you set it up properly, what it can't do is be fully responsible for building solid relationships between you and your customers. However, it can help. Every time a customer books a class, purchases a membership, is running out of their class pack or has a birthday coming up, you can use your software to send them curated messages and notifications. From helpful reminders to words of encouragement and motivation, your customers will appreciate that you have their backs even when it comes to something as routine as reminding them the class will be starting soon.
Customer relationship management
Your CRM tool will help you manage your customers and staff all in one place. With individual profiles for all staff and customers along with all membership plans and payment details, you'll be able to monitor your customers no matter whether you have 2 or 200. Your customers will be able to edit their profiles to keep everything up to date and make it easier for you to always be able to find and contact them. Your staff will also love that they can hop in the system and manage their classes without having to wait for you to give them the information they need.
All features included in your plan
As we said, paywalls are no fun especially when everything you need to run your classes is hiding behind them! Which is why with TeamUp you pay by the customer not by the feature. Your pricing plan adjusts not just based on the number of customers you have, but the amount that is coming to class, so that you pay for only people that are coming. It saves you money and adjusts automatically. We will also work with you to figure out how to properly charge your own customers and what prices they should pay as a member. You can check out our pricing guide, here.
Learn more about how to fun your group fitness classes with TeamUp. Sign up for a free trial or log in to your dashboard here.
Thanks for reading!
Open Comment Form