"They can all interact and I can keep the community together which is the whole point of gyms."

Joe Lyons, owner of Fitnostics Gym
When Joe Lyons first had to shut the doors of his gym, Fitnostics, in March 2020 he did not see the temporary closure as a setback. Rather he jumped into action to get his classes up and running online with Zoom. As we have seen over the past year numerous gyms and studios have had to put on their thinking and creative caps when it came to keeping their businesses open. With experience in marketing and tech under his belt, Joe took advantage of lockdown to find new ways both grow his business and find a solution to make sure his customers could always make it to class, in-person and online.
We asked Joe to share his journey as an owner with us and let us know how he has navigated the pandemic in the States. We are delighted that he has not only been able to keep his clients as motivated as ever but that he has been able to take his training sessions in the direction of live-streaming to be able to train his clients anywhere at any time.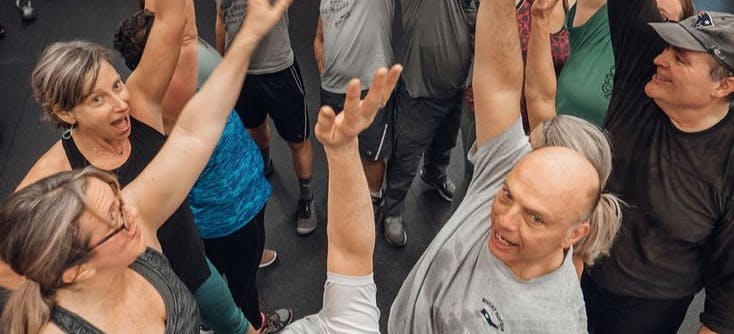 Photo Credit: Joe Lyons, Fitnostics
My name is Joe Lyons and I am the owner-operator and lead trainer of Fitnostics based in Stonington, Connecticut. The gym was first opened in 2012, and I took it in 2016 and recently celebrated my 5th year as owner. When I took over the business we went through several different marketing efforts in order to grow. We had about 40 clients at the time and in the first three years I was able to double that number and we now have 80 clients. We're a small 1600 square foot private facility and hold group training, semi-private group training, and one on ones which have become more and more popular especially in the past year.
I chose to run small group and personal training because of the energy it brings clients and the fun they have training together. With COVID we have been forced to cut our classes in half, but with that semi-private training has really taken off because people still like to be in groups, but smaller, and that's been fun as well.
How has COVID affected your gym and training sessions?
I really believe in the mentality, 'let's work together to get through this.' We're a private facility and currently allowed to train in the gym. I have had to cut my team training in half but still can run small group sessions if people are comfortable with it. We the coaches are mandated to wear masks in the gyms and we do everything possible to make sure our clients are comfortable at all times. I have really based my training sessions on my clients and their situations, if they live together, eat together, work out together. As the owner and trainer, I will ensure their safety in my gym.
When lockdown in Connecticut began in March I began doing Zoom sessions here and created my own home gym in my office. When I was allowed to return to the gym I began running my Zoom sessions there. I bought a go-pro and a separate microphone and linked that up to my computer and Zoom to give my classes.
Can you share with us your experience live-streaming your training sessions?
I still run Zoom classes within my gym. I give my clients the opportunity to still attend via Zoom if they do not or cannot make it to the gym. I live-stream my team training sessions in the mornings that my clients can decide if they want to join in-person or through Zoom. For my clients that are at home on Zoom, I turn on the gallery view and direct them to face my clients who are in the studio that way they can feel like they are part of the class and my clients who are in the studio can see them as well. They can all interact and I can keep the community together which is the whole point of gyms.
We had a snow day not too long ago and in the past, if we had a snow day or weather conditions were poor, we'd just close the gym because it was too dangerous for people to come. Now I can just schedule Zoom sessions and people can still hop on from home. Now we can use it whenever we want no matter what the need is. My clients now do not have to worry about not being able to make it to class or not having a chance to work out when they have the option to join online. Now we as coaches and trainers can do the maximum to be there for our clients and they can make the choice whether or not to attend.
Were you able to obtain grants or loans for your gym?
I have a great bookkeeper that was constantly on the lookout for government programs that we could take advantage of on both the federal and state level. We applied for two state grants and two rounds of federal PPP loans. We have received all of them and it has put us in a position to this point where we can look at 2020 as a wash. My bookkeeper found me the PP loans. I did the grant.
What have been some of the challenges you have faced that you were able to overcome during the pandemic?
Keeping clients distanced and safe was our #1 goal. We have older clients that did not want to give up other health and fitness, so we followed the same guidelines that any doctor's office would follow and we have been successful in zero transmission at our facility.
How have you handled motivation amongst your coaches?
In all honesty, the hardest part about being a business owner is hiring employees that are the right fit and people that you would trust with your family because let's be honest, your clients are your family. Take the extra time to select the right fit for your facility and take really good care of them as you would expect them to do with your clients.
What have been some of your creative ways of keeping your customers engaged over Zoom?
During our three month lockdown, we took turns training online classes between three trainers and it was really only made possible because of how fast TeamUp integrated Zoom onto the platform. The instructions to implement Zoom right into my schedule was so simple, that I decided to add Friday night Happy Hour sessions for all clients and their families to hop on and join us for cocktails. Bonding with clients is by far the best way to accomplish high client retention rates.
How did you find TeamUp?
My bookkeeper is the one who introduced me to TeamUp. We have had Mindbody and Zenplanner in the past, and TeamUp has been the best platform for anything gym. If TeamUp went down my business would go down. My entire business is run through TeamUp. My client portal, my scheduling, my payments, everything. What really made TeamUp stand out was how when the pandemic hit how immediate the team added Zoom links into the schedule. I am pretty savvy when it comes to computers, but that was such a help to me and my gym. It was so seamless and to my clients, I looked like a hero for figuring out the tech side when really it was all TeamUp. I think I could sell it to everyone in the country, and I can say that because I have tried everything else.
What marketing did you do in your early years as an owner to spark your rapid growth?
Marketing is 100% the difference between success and failure, but not just any marketing. You have to know your area and demographic. Most of all your niche. Figure what type of client you love to train and make it your focus. That doesn't mean you can't train others, it just means go out and market your niche. Referrals are the best and cheapest marketing tool. Don't get caught up in too many gimmicks.
My most successful marketing campaign was during the holiday months, I gave out Christmas cards to all of my present clients along with two gift cards worth one free month at my facility to regift to any of their friends that they felt would be great fits to join our team. Each client put so much thought into who to give them to because they know what kind of camaraderie we have built and know that just not anyone is a great fit.
How has this past year affected you as a business owner in the US? What are your plans for 2021?
The best part about America is that we can pretty much start any business that we want. The government has certainly stepped up to help us, small business owners. Our economy is small business. Without us, Wall Street would not do as well either because none of us would be spending money. We all work together and need each other. This past election shows how divided we can become when one-sided individuals run this country. Now it is time to reunite and get back to what Americans do best. Make and spend money lol. I'm even looking at opening another gym.
What is one piece of advice you think other gym owners need to hear right now?
If you are good at what you do and you love it. Do not give up!!! There are a lot of businesses that are not going to make it. As sad as that is, I recommend that you look at the positive side for you personally. There will be a lot of clients that will be looking to ramp up their fitness goals after this pandemic and fewer places to help them do it, so capitalize on that and go help those people. Even people that have never had an interest in fitness will be coming out of the woodwork because they don't want to be the ones locking themselves in their house again out of fear.
Thank you, Joe!
To learn more about how to improve the production and quality of your online classes and to increase customer attendance through live-streaming, check out our guides and resources for online classes, here.
Open Comment Form