Have you ever wondered why some fitness brands have more customers who advocate for them than others? Or how does the bulk of their new sign-ups come from referrals?
If so, you might've asked yourself questions like…
How does Kara have so many testimonials on her yoga website?
How did FitTrain Gym collect so many positive brand mentions on its Instagram?
I would love to have raving fans like Tai Chi Time does. What am I missing?
You might not know this yet, but what you're really wondering is how these brands are collecting and using user-generated content.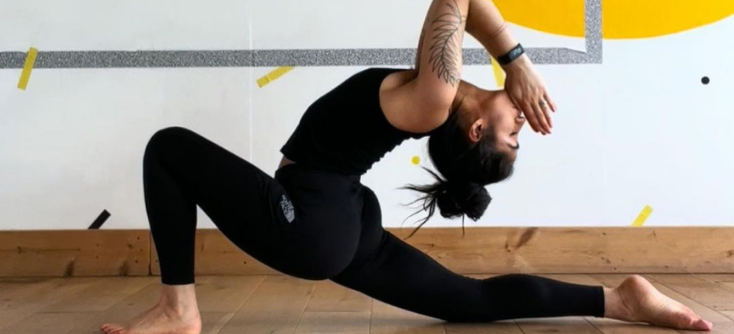 If you've been dreaming of turning your fitness customers into advocates, you've come to the right place.
In today's article, we'll walk you through exactly what user-generated content is and how it can support your business growth strategies. We'll also share four user-generated content ideas and examples you can draw inspiration from for your business.
Ready to learn more? Let's begin.
What is user-generated content?
User-generated content is original, unpaid, brand-specific content created by customers and then published on social media or other channels. For instance, have you ever shared a photo of a meal you enjoyed on social media? If you mentioned the restaurant's name in your post, then you've created user-generated content.
If a podcaster mentions a coffee brand they love on their show without being sponsored, that's user-generated content. If one of your customers shares a photo of themselves working out in your gym and tags you, that's also user-generated content.
How can user-generated content support my growth strategy?
Now that we're on the same page about what user-generated content is, let's take a look at four ways it can support your company growth strategy.
1. Enhance the experience during every stage in your customer life cycle
Whether they've just found you, know who you are, or are die-hard fans, integrating user-generated content into your marketing strategy can enhance the customer experience (CX) and support your growth strategy.
In fact, 61% of respondents from a CX survey said increased revenue was an expected benefit of delivering a positive customer experience.
Bottom line? It's not enough to have good offers.
CX is the result of every interaction a customer has with your business, from navigating your website to talking to customer service and signing up for a membership or subscribing to your on-demand fitness content.
That means you need a holistic strategy to promote an exceptional customer experience throughout every touchpoint on the customer journey.
While user-generated content is just one piece of a holistic strategy, it's an optimal one. By integrating user-generated content into your messaging and content strategy, you can support your customers no matter what stage of the buyer's journey they're in.
2. Encourage higher product qualified leads
A product qualified lead (PQL) is someone who took advantage of one of your free offers and now has a high chance of conversions.
If your business model includes free trials or freemium options, then leads who take advantage of freebies will have a better chance of converting into customers.
But how does that relate to user-generated content?
User-generated content can encourage leads who are on the fence about your offer to give you a try. For instance, if one of your clients beams about how much they love your online classes, this user-generated content can encourage friends to look your business up and sign up for a free trial. Or if someone shares on social media for example a Facebook review, why they continued from trial to member status, it can encourage others to explore your business and already think ahead to becoming a customer.
3. Capitalise on social proof
It's no surprise that people are won over by the positive experiences of others. By collecting visual product and company mentions and then repurposing them for use in marketing, you can capitalise on social proof.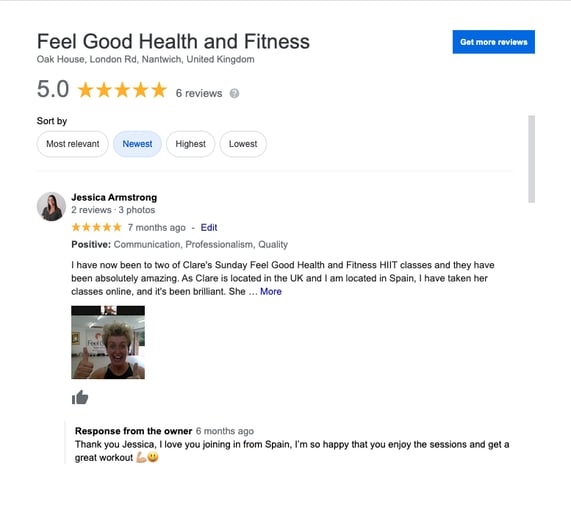 For instance, did one of your clients mention on social media that they hit their weight-loss goals three months early or leave a review of your business on a review site such as Google, Facebook, or Trust Pilot?
If so, you can create an ad campaign highlighting their results and then target the ad to prospects who are interested in weight loss support.
To take the stress out of collecting brand mentions and visual products, consider using user-generated content software, such as Hubspot, CrowdRiff, Later, or TurnTo.
User-generated content software collects visual product and company mentions from social channels and other sources and helps you repurpose them for marketing.
4. Go viral with an auto-share system
A simple way brands increase their chances of going viral with user-generated content is by setting up an auto-share system using social media management tools.
An auto-share system allows you to achieve social proof and turns your users into advertisements for your business with the click of a button. Not only does this technique boost brand awareness, but it also entices prospects to jump on the same bandwagon.
To take advantage of an auto-share system for your fitness business, consider your goals. Where do you want to drive traffic? What do you want to promote?
If you're looking to promote your new plyometrics training course on TikTok, you can set up an auto-share system for customers who've completed the course. Then, with a click of a button, customers can quickly share how the plyometric training experience improved their lives with their TikTok followers.
4 user-generated content ideas and examples for fitness businesses
Still unsure how to integrate user-generated content into your marketing strategy? Here are four user-generated content ideas you can draw inspiration from for your fitness business.
1. Before and after photo compilations
Looking to promote your new workout challenge? Eager to show prospects the kinds of results your customers get when they work with you? If so, consider repurposing before and after photo compilations or short videos showing how your customers looked at the start and end of the challenge.
Take it one step further by laying out what prospects can expect to experience in your challenge.
Here's an example from Raise the Bar Fitness and Louise Redmond PT: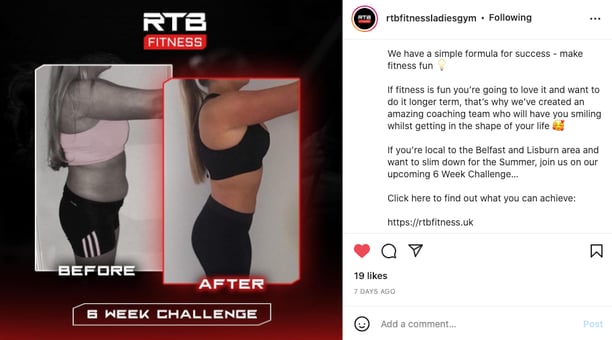 In this example, Raise the Bar talks about their formula to your success and what you can expect by signing up for their summer challenge.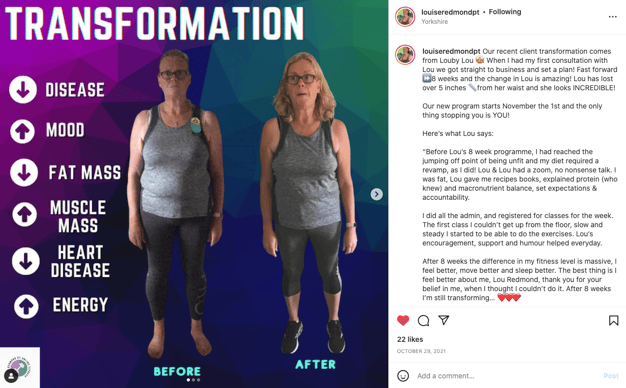 In this example, Louise Redmond shares the story of one of her clients who has stuck to her goals and has lowered her risk of disease and fat mass and increased her mood, muscle mass, and energy. In her caption, she also includes a testimonial quote from her client who shares what she has personally gained by working with Louise.
2. Heartfelt video testimonials
There's nothing that can pull at the heartstrings more than touching video testimonials.
Have your one-on-one sessions helped a client tighten stubborn loose skin after their fourth child? Has one of your customers walked away with the kind of confidence they've always craved?
If they've mentioned these results in a live video, Reel, Story, or video post, consider implementing these videos when you market your classes and sessions.
Here are some other examples of video testimonials your customers might've created:
A video about how their new diet has given them the energy and vibrance they've been looking for
A video about how you've trained them to get ready to compete in national body-building competitions
A video about how your stretch routine has increased their flexibility and decreased inflammation
3. Contests, challenges and giveaways
Looking to boost virality with contests and challenges? Encourage participants to participate in your giveaways and contests to tag friends and share your post. By inviting participants to not only share but get their friends to join the giveaway too, they are telling their audience and specific people to check you out who would be interested in what you have to offer.
And if they win the giveaway, that's even more incentive to immediately get started. You can also then use a photo of your winner in your content or post the progress of your contest winner along the way.
Here's an example from Infinite Balance: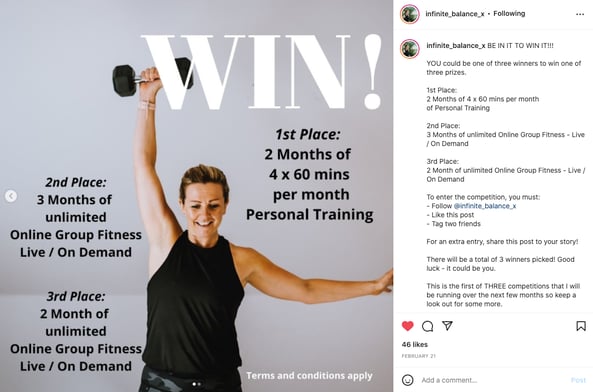 In this contest, Infinite Balance will offer free personal, group and on-demand training for three different packages if you follow three simple steps:
follow the account
like the post
tag two friends
with a bonus entry if you share the post in your Instagram story.
This is a good example if you would like to increase your follower base. If you copy this technique, you'll have at least two additional prospects for every customer that shares your giveaway with friends.
Additionally, if you're running a challenge you can encourage customers to share the photos of their progress on social media and tag you in their posts. By doing this they are showing their audience what they have achieved by working with you and also demonstrate how long or how much progress they have made to reach the goals you have set together.
4. Pinterest workout tips
Do your customers love sharing workout tips you've taught them on social media? Consider repurposing their tips as pins on your Pinterest page. It's even better when your customers create their own pins so that you can repin them and repurpose them for use on other social media channels. A pin or post with a caption
Look what Jenny took away from class today
Love to see John taking the initiative to keep going even after class time
Customers will be inspired by this to post their own and have you share.
Ready to see how user-generated content can support your growth strategy?
If turning your customers into raving fans is a big part of this year's growth strategy, we hope the tips we've shared today will help you do just that.
Craving more business and marketing tips for your fitness business? Check out our free resources for more actionable advice and strategies.
Author bio: Guillaume is a digital marketer focused on handling content management at Wordable. Outside of work, he enjoys his ex-pat life in sunny Mexico, reading books, wandering around, and catching the latest shows on TV.
Open Comment Form