Once you have your post-COVID re-opening plan in place (see our guide for tips on how to get started), it's time to get your customers to come back. It's normal that there will be hesitation, questions, and a level of uncertainty to start. This situation is new for everyone, and no one expects you to have all the answers, but having a strong plan of action will help. Combine that with enthusiasm and positivity, and your customers can begin to set aside their worries and concerns and focus on restarting their fitness journey inside your facility.
Here's are some tips to help you motivate your customers to come back to class. And the TeamUp features that can help you do so.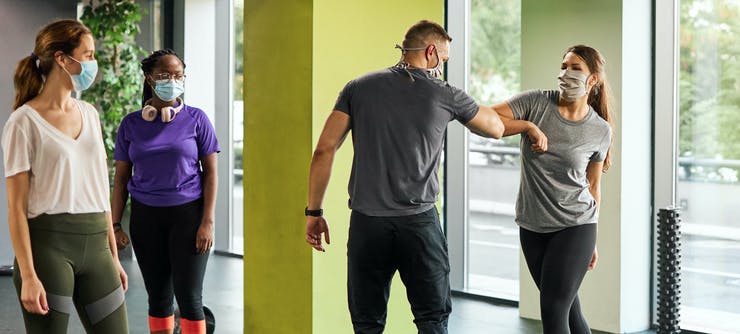 Reconnect before you re-open
We can't say this enough. Communication with your customers is not just important, but useful. It will make your life as a fitness business owner so much easier, especially when you implement an email marketing plan.
Before and after you re-open your customers may come to you with questions and concerns. To list a few:
Will your class schedule be the same
What are you doing to for health and sanitisation protocols
How are you complying with any new regulations
Will class sizes be the same
Will the same instructors be teaching the same classes
How can I adjust my membership or class-pack to meet my needs
While there may be a unique question here or there, what your customers ultimately want to know is how are you making their experience at your gym safe. So be sure to get them that information as quickly and efficiently as possible before opening your doors.
Send them a pre-class reminder
A little boost or reminder that you are re-opening and want to see your customers back in class will go a long way in increasing their possibility of attending.
While not every one of your loyal customers may show up on the first day, that does not mean that they won't be back.
To start your first week off, send out reminders to your customers before every class. You can go the extra mile and let your most loyal customers and class regulars know when their favourite classes are.
"Tom, we know how much you love yoga with Lucy. Don't miss her class this week at 8 pm. We can't wait to see you there."
And if they didn't make it this time, no problem. Let them know you missed them and hope to see them soon.
"Hi Jenny, we noticed you weren't at Pilates today. We hope to see you soon."
That little nudge and reminder that you noticed their absence may be just what they needed to encourage them to come back.
Celebrate milestones
Remember when Jenny celebrated 6 months of her membership and Ted finished his first 10 classes? It's time to celebrate them in person.
If your customers achieved major milestones during the lockdown, remind them of their achievements and let them know what you plan on doing to celebrate with them in person.
Your customers will feel so appreciated that you remembered their big moment and want to celebrate even if it's a few weeks or months later. It's moments like these that will solidify your customers' trust in you.
Adjust class sizes
Due to local restrictions and regulations, you may have to limit the number of customers that attend your class. Which may also be a huge benefit to your customers. With more space in your gym or studio, they can work out and exercise freely without worrying about coming in close contact with another one of your customers. This is one of the pieces of information that can both be shared via your email communication, as well as in the details of your class.
Let your customers know how you are responding to the situation and that their health and safety is a priority in getting your business back up and running.
If the other tips for motivating your customer to come back to class did the trick, but due to availability there are no spaces left, encourage them to sign up on the waitlist. If one of your customers cancels at the last minute, your next eager customer will be able to take their spot.
Offer new skill sets
If there were skills, goals, or challenges your customers wanted to work on before lockdown, make those a priority when you re-open. Offering a new variety of workouts and exercises to learn will encourage your customers to come to class so they can take their own skills to the next level. Make it even more of a challenge and competition by offering incentives when they come to class in-person.
"On Monday we are going to do a 5-minute plank challenge in class. Sign up and if you are able to hold your plank for 5-minutes we'll gift you a TeamUp t-shirt."
"Don't miss Saturday's 5k track race. The winner gets a free private session with your favourite instructor."
5 TeamUp features that can help you welcome your customers back to class
Motivating your customers to come back to class is even easier when you use TeamUp's communication features. Check them out to see how you can use these tools to get your customers back to your gym.
1. Email templates and marketing integration
Standardise your policies, new updates, venue information, and Q&As by creating templates in your TeamUp dashboard. Once you have your documents ready to go, use TeamUp's marketing integrations to your customers before they come back to class. Your customers should be aware of all major and minor changes and protocols of your fitness business. Having this information before you re-open will ensure a safer and better experience for both of you.
2. Class notifications
Within your dashboard, create custom notifications to send to your customers before or after class. The available fields allow you to choose how long before or after class they will be sent. As well as include a curated message to go along with the notification. This will both boost attendance and remind your customers your in-person classes are back in session, as well as encourage them to come. It can also show your customers that you are eager to see them back in class too.
These class reminders can be changed and tailored at any time, allowing you to keep your messaging to your customers up to date.
3. Milestone emails
Class notifications and milestone emails are created and sent the same way. Set your conditions for the milestone markers you want to share with your customers. Whether it's their 6 month anniversary at your gym or they are now able to complete their 10th in-person class, your milestone emails will help remind you of your customers' important dates. And they will help you remind your customer.
4. Waitlists
Maybe all of your customers wanted to come back to class, but due to COVID regulations, your typical class availability has been limited. Waitlists will allow your customers to sign up for a class and take the spot of any customer who made a last-minute cancellation. This will ensure that one of your customers is able to fill the spot and come to your class.
5. Member app
Signing back up for your classes is easier than ever using the customer member app. This will save your customer time in contacting you to reserve a spot, prompt them to pay online before coming to class so they don't have to exchange cash or credit in-person, as well as boost attendance (thanks to simplicity). If your customers are not currently using the member app, this is a great way to reconnect them with your fitness business and make restarting their fitness journey quick and painless.
Re-opening your gym will be exciting, rewarding, and challenging. This situation is constantly evolving, but one thing we know is that if you have a strong plan of action in place to welcome back your customers, they will return. Some quickly, some slowly, some here and there. Use your positivity and enthusiasm about your fitness business to motivate your customers and encourage them to come back to class.
For more tips on re-opening your gym and creating your plan of action, check out our guide here.
If you have great tips on welcoming customers back to class, share them with us at stories@goteamup.com and we will include them in our list.
Thanks for reading!
Open Comment Form