Choose your space. Set your lighting. Check your sound... this article is about the fundamentals of setting up your online classroom.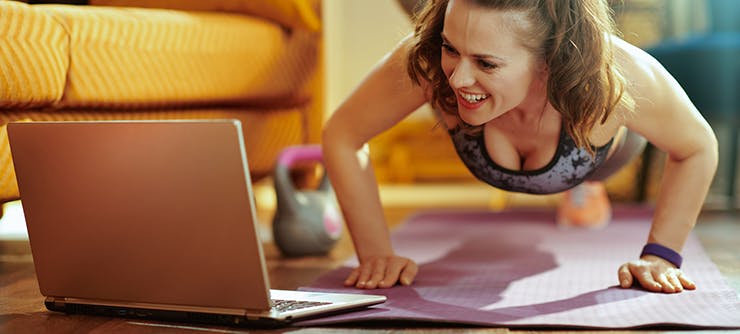 Choose your space
Setting up your online studio begins with asking yourself: how much are you going to move around? Once you assess how much space you need, you can work on perfecting everything else. You'll need to have enough space to demonstrate different moves - and to have the camera far enough away from you so that your full body is in view.
If you have a yard, that might be nice and spacious, but background sound might be a challenge. Inside, you will find that bright and light walls help a lot with the quality of the image. If you're not sure how sound and light will work around your property, try to test out different locations for a minute or two each. Record yourself in front of the camera, say a few words, and do a couple of demonstrations. Then, evaluate the recording: how was the light on you? How was the sound? How was the backdrop?
Don't worry about being a perfectionist. Your clients want you - they don't need it to be perfect. Know that you can constantly improve.
Set the lighting
When you're choosing a space, lighting makes a big difference. If you're lucky enough to have a big window, you'll want your camera to face inward from the window. This will light you naturally without casting shadows on your face and body.
If you don't have a big window, you might want to get (at least) two bright lamps. If you want to get really technical, Podia has a helpful blog post about how to light quality videos. The same rules of lighting video apply to live classes.
If you are teaching outside, make sure the sun is behind your camera or device. If you're inside, you can start by getting any spare lights you have and positioning them behind the camera. If it's too bright, try facing them away from you so the light reflects off the wall.
Pay attention to what you are wearing. Light and plain colours come across better on camera than complex patterns. Try to make backgrounds plain too. A dark colour is fine to give contrast and should be as least eye-catching as possible. If you want to play around, Zoom offers you the option of virtual backgrounds. These work especially well with a green screen (or a green blanket or sheet) but work with any colour background.
Use the video preview to see how they look and go for as clear a picture as you can achieve.
Get the camera position right
In an in-person studio situation, how do you start your class? By saying hello! For a friendly effect, you might want to set up your camera so that you can be up close for the beginning and end of the class. Your students will appreciate the quick, personable greeting. Use some masking tape or similar to make marks on the floor so you know where you need to be for the initial welcome/goodbye and other positions during your class without guessing.
For your movement demonstrations, position the camera at a mid-height so it is just about straight on with your body. Too low and it will look like you're speaking down to your students. Too high and it will make them feel very tall.
If you can plug your device into a tv, you can expand the pictures of your clients to help you diagnose their performance. If you do this, you'll want to move the television to be just under or (even better) directly behind the camera. That will make your students feel like you're looking at them.
Use some masking tape or similar to make marks on the floor so you know where you need to be for the initial welcome/goodbye and other positions during your class without guessing.
Take it up a notch with multi-cam views
If you are using a laptop or notebook, consider using a USB camera to give even higher quality and more flexible picture. With Zoom, you can also connect two cameras and switch between them. This may be useful to have a device camera for wide shots and then a USB camera for closer shots. There are also several apps including Iriun that allow you to partner your phone and laptop cameras to create multiple views on your Zoom call. To use Iriun all you need to do is download the app to your laptop and mobile device and they will connect through the same Wifi connection.
If you use your laptop's built-in camera, Iriun, and a USB camera you can quickly and cheaply run three different camera angles during your Zoom class. This is particularly helpful when needing to instruct on the positioning of your students. In Zoom you can use the screen share settings to quickly and easily switch between multiple camera views. Your audio will still run from your main device, through a Bluetooth headset or microphone in the device.
It might take a few classes to get the flow of your set-up. You'll get there, and once you do, try to aim for consistency in each session once you find a formula you like. That will help your clients focus on the class content.
Check your sound
Microphones don't have the same expert filtering as our ears. A big space and hard walls can often make your voice echo on the video. To help with this, you can give your walls texture by hanging a blanket or putting on a bookshelf.
An external mic system is going to help. If you can't buy a microphone, then paying attention to where your laptop or phone is positioned will pay dividends. A basic Bluetooth headset or headphones will enable you to hear what is going on without needing to turn up your speakers. The same goes for your clients. If they can wear headphones then they will be able to focus on what is going on rather than external distractions.
A Bluetooth headset will also enable customers to hear you better, especially during movement. Learn how to mute all of the participants when you get going, reducing noise distractions for other participants. Be ready to quickly unmute them during gaps. If you're using music in your class, make sure it's already loaded and easily accessible on the device (make a playlist for instance). For music, Zoom has an audio sharing feature. This enables you to send your music directly to your clients' speakers.
To implement this follow these simple steps:
When you join your meeting click the "Share Screen" button at the bottom of your screen.
Click "Advanced" at the top of the window that opens.
Select "Computer Sound Only" and click "Share". The first time you do this you'll need to enter your system password.
Play your music as normal via your preferred music player. And you're set!
Make eye contact
When you're welcoming your students, try to force yourself to look directly into the camera. This will take practise! But, your clients will feel you are communicating directly with them.
Once class starts, try to spend some time in the class looking at clients, just like in the studio.
Check your connection
Make sure your device is connected to the fastest option on your WIFI. If using a laptop, you could connect via an ethernet cable to the router, or move the device closer to the router if the connection is not that fast.
Watch out for others in your home studio (wherever you are doing your classes) who might be sharing your connection. It can make a big difference.
Recordings are your best friend
Watching yourself on a video recording is not many people's idea of fun. But it is the best way to learn how to improve. Most online video platforms have a "record" function. If you can put yourself through the awkwardness of watching your own class, it will pay off for your next one.
To make notes as to what you can improve, as yourself:
How did intro's go? How could they improve?
Which exercises don't come across well? Which ones do people love?
What words of encouragement do your students respond do?
What kind of jokes fall flat? What lifts the mood?
What do you want to tell your students next time you meet?
What sign off seems to work well?
Creative ideas for Zoom classes
Looking for more inspiration and ideas to keep your online classes exciting and fresh? Save time on planning class this week and see what several TeamUp customers are doing to incorporate costumes, game nights, buddy systems, pets, and more in their online classes. Check out 20 customer-inspired online class ideas and let us know if you have an idea you'd like to add to the list.
If you're thinking of moving online but aren't sure how to do that, check out how TeamUp's Zoom integration works. As always, we're here to help you - give us a shout if you need help.
Open Comment Form