When the customers of Team Kinetix came to Brad Wendes in need of assistance with their day to day bookings and memberships, he saw it as an opportunity to improve his customer experience. With a foundation based on helping people, Brad has built community and encouragement into every aspect of his Parkour business and in the wider Parkour community. A TeamUp customer for over three years, we started noticing the new steps Brad was taking to show his own customers how easy using TeamUp is after he began posting "how-to" videos on his Instagram and Youtube channels.
Brad is thrilled to share those videos to lend a hand to other TeamUp customers who may need some assistance showing their customers how to manage their memberships and bookings, and we are thrilled for you to get to know Brad, his story, and how he grew Team Kinetix and Parkour in the UK to what it is today.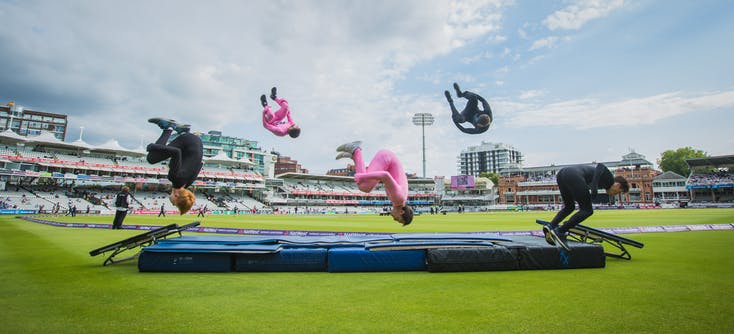 Photo Credit: Team Kinetix
My name is Brad Wendes and I am a Parkour coach, acrobat by trade, which I guess is a bit different to a lot of people. When they said "go get a real job" I ignored that in favour of playing all my life. We run Kinetix Academy and have a 7000 sq ft warehouse in North Essex where we do Parkour, free running, and Acrobatics. We do predominantly classes for children but we do some classes for adults and preschoolers as well, and pretty much for everybody who wants to come to jump around and have fun.
Parkour in the UK
There are very Parkour organisations in the UK. There are only 7 facilities, 4 of which are in mainland England. I and the other gym owners have a great community and we're all friends and get along and none of us is in direct competition with each other.
I was never very good at being told what to do, so I have always known I was going to work for myself. I came from a history of gymnastics, having done it since a very young age, but always found gymnastics as a sport to be fairly restrictive, constructed on competition, with a very rigid set of rules and regulations. My background was always in performative gymnastics rather than competition gymnastics, and I loved performing in crowds and doing arena displays and all of that which I love. I just like jumping around and showing off.
Discovery of Parkour
In 2004, I discovered Parkour, after I saw some kids jumping around at the park. I went and did some flips and we got to talking. I realized Parkour could give me the freedom to train the things I wanted to train rather than go down the competition route of gymnastics. Parkour then wasn't recognised as a sport (and wasn't until 2017) or activity, but we were doing a lot of corporate events and corporate entertainment. We were even semi-finalists in Britain's Got Talent in 2007 which had millions of people watching on live television. We started doing ore live entertainment events such as movie premieres and corporate parties and that was great until about 2008/2009 when the financial crash forced businesses to stop spending money on unnecessary things like men in lycra jumping around.
Partnering with Parkour UK
We started getting involved with youth projects and wondering how and if we could teach people to do what we do, and the answer was yes. There was a fledgling National Governing Body called Parkour UK trying to standardise Parkour and Parkour coaching so we got involved with them. I was a board member of Parkour UK for three years and during that time Parkour was recognised as an official sport and had the same rights as other sports such as football, tennis, and rugby which is amazing. There is even an international governing body for Parkour.
In April 2018 we opened the Kinetix Academy. All of this has really grown out of wanting to do something. We really have created our own marketplace, and have taken nothing and created a legitimate sport, got insurance, wrote a syllabus, and between us all Parkour UK, my team, and the teams I work with, we've really done something quite special. More recently I've done things like I was a semi-finalist on Ninja Warrior UK years ago which is quite nice for our kids now to see all the coaches doing cool stuff and we try and do as much as we can to show them and act as good role models for the kids.
Growth and collaboration between the Parkour community
Between myself and the other Parkour Gym owners in the UK, we help each other out. We have a group chat and we talk every single day about what's working, what's not working, what software we are using, what classes we are running, what age groups we are teaching, what our experiences are, and we help each other out on a daily basis. I think it's helpful that there aren't many of us so we aren't in direct competition with each other. But again, given the community that we've got, it would be inappropriate to open another gym near one of us because we don' want to be in competition with each other. We want to help each other grow. I can refer people to their businesses in other areas and vice versa, and we can visit each other's gyms and all be stronger as a result of working together and trying to chip away at each others' businesses.
Teaching Parkour and freerunning kids classes
We teach the kids we train by leading by example. At the risk of getting too deep and preachy, Parkour itself and its origins come from altruism, a desire to help other people. Its origins were in the French military who have a saying "Être fort pour être utile" meaning "Be strong to be useful" so there's no point in being strong if you can't do anything with it. The fundamentals we teach are about overcoming obstacles and about working together and helping each other. We do team challenges where the kids have to work together to achieve a challenge and we teach people to encourage each other. There is no person that is the best, we don't encourage competitions, we encourage them to you know egg each other on and as will happen with young people there will be some friendly competition but that isn't the focus. The older ones encourage the younger ones and their peers rather than being in competition with each other they're helping each other and growing as a result. We try and encourage each other to help each other out rather than trying to push over each other to be the best.
Building a better customer experience through video
Lockdown has given us an opportunity to sit back and take a step away and to re-assess what I am doing. A year of no income has been painful but in terms of business development and looking at what we're doing and what the customer experience is has been quite good to be forced to step back.
Video content and curation
During the lockdown, I started doing a lot of videos, daily training videos from my living room at home. We started putting on social media and Youtube to give our customers exercises that they could do at home in their living room to stay fit and strong so when they come back to classes they won't have missed out. While I don't mind standing in front of people and talking, I didn't really do a lot of talking videos in the past, it wasn't something I particularly liked, and I was a little bit nervous. I see people do those vlog style videos where they do a lot of just talking to the camera incessantly and there are a lot of influencer style videos that I never wanted to do.
But in doing that and getting the positive feedback and seeing people getting a lot of value out of that I had to reframe my own way of thinking and say actually this isn't something someone is doing because they are being narcissistic, for the most part, there is actually some value to the content they are creating.
On-demand video content
It was very difficult when trying to decide how to do an online offering when we have an enormous warehouse filled with bars, and mats, and safety mats, and boxes and enormous equipment, and the guidance from the government was not to go outside or share equipment, so I had to work really hard to think up challenges that were relevant that people could do from home which is why I think I made over 60 on-demand videos that people could do right from their living room with things they found around the house, but there were challenges that people could look up and do. Some were strength and fitness and some of it was skills-based, and yes it was hard, and by the end of summer 2020, I was running out of ideas. I started with daily and then scaled down to Monday to Friday so yes it was just me filming stuff which helped stay sane too.
Creating TeamUp instructional videos
We looked at what we were doing and we started doing more tutorials and really short videos for Instagram in particular that were under a minute or close to a minute that someone could look at and digest really quickly. We had an FAQ page on our website that had a couple of downloadable PDFs on how to use TeamUp in a very basic way, but I started getting a lot of phone calls of people asking "how to do this" or saying that they had looked at the system but didn't know "how to do this". And because people are asking these questions and it's a system I use every single day I started thinking "oh this is so straightforward it's such a simple system", "why are people struggling with this." I use this system every day, but just because that person is the 200th person to ask me that question, it's the first time they're asking so the information is brand new.
So I spent the last couple of weeks making the videos saying, this is "how you do it", while "these are really really simple things to do", the system is so easy to use and so quick to use, it perhaps isn't intuitive for someone who doesn't use a system like this every single day. So I've created videos where I show how to do something and me doing it, this is what you click for, this is what you look for, and now if someone calls me up for a question, I say you know what, go to our Youtube channel and there is a video that shows you how to do it. So basically now every time someone asks a question, we make a new video so that the next time a person asks we can say check this playlist here is anything you need to do.
The aim of these videos was to help people whether it be my customers or someone who is never going to come to my business at all. None of the videos are monetized. They are all free and available for people to use. We don't blame them for not knowing how to use the system, rather provide a resource to educate them and a couple of our friends who run their other businesses started sharing the videos I made because there is a lot that's universal that other businesses can use.
How to use TeamUp to purchase a membership.
How to book a class as a member.
How to easily switch to TeamUp's mobile site.
You can see each of Brad's videos on his Youtube channel, Team Kinetix and Instagram page.
Re-opening live Parkour classes and the future
Reopening offered a few challenges. The first thing we had to take into account was the government guidelines and regulations. Things like having a screen at reception and having hands free automatic sanitation stations around the building and a marked one-way system, which makes it easy for them to enter one way and exit another so we don't have any crossing of paths. We also have our customers wait outside at the beginning of every class and then bring them in. The parents have an outside waiting area where they have coffees and teas.
We took the government guidelines and then Parkour UK set up their own guidelines which were slightly stricter and then I looked at our specific business and we went kind of a little step beyond that as well. We have an enormous amount of space to keep distance, we didn't do kids warm-ups so we could have a normal amount of children and put them into really small groups with one coach per group. So we're having a large amount of our staff on site. All of our equipment is always sanitised with fast-acting sanitisers and antibacterial fluids and we are requiring sanitising of hands upon entry and sanitising equipment every 15 minutes.
As the government restrictions start to ease up, we started cleaning between classes and wiping things down if faces and close contact was made with certain equipment but still maintaining the cleaning between sessions. Simple things like that do affect our business, but in terms of the customer experience and people feeling safe that was more important and meant more customers would come back and we'd be stronger as a result.
Thank you for sharing Brad!
Video: Why Brad chose TeamUp for his Parkour club
Whether you want memberships, pay as you go or you want flexibility for your classing and your pricing and you want ease of use for your customers, it is the best system out there.
To learn more about TeamUp for your Parkour or fitness club, sign up for a free 30-day trial, here.
Open Comment Form