Payment processors facilitate customer payments. They receive the payment details, connect with the banks, and report back when the payment is successful.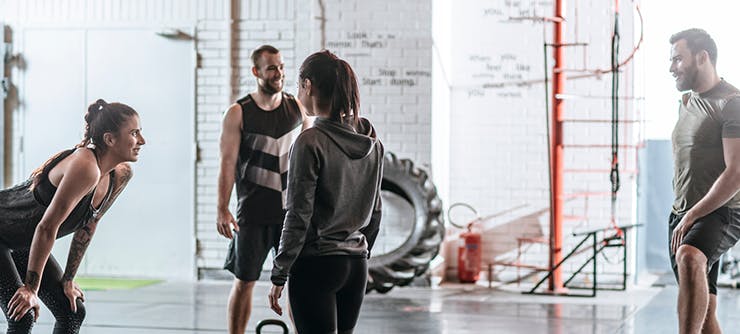 What is a payment processor?
A payment processor is different from a booking system, but the two types of systems work together to make a sleek experience for your customers.
If you're building a busy fitness business, you'll want your payment processor to do exactly what you need. Here are the top ways of how to evaluate payment processors.
What are the different types of payment methods?
As a business owner, you can choose from a diverse mix of payment processors. This will mostly be:
Credit card or debit card. Nowadays these are very similar and most are provided by Visa or Mastercard. There are some other systems like American Express but the rates can be higher. Some payment processors offer a flat rate for all cards.
Direct debit (Known as SEPA in Europe) or ACH (USA). The systems don't work exactly the same way, but the premise is similar - automated bank to bank payments that you control. In the UK and Europe these are very secure payments for customers and generate a lot of trust as well as having low fees.
Online blended processors like PayPal. PayPal is reasonably unique with strong brand awareness and reach. Their fees are very high though. There are many others but they aren't as well known.
Card swipe machines. Offered by companies like Square and iZettle (now owned by PayPal). They can be convenient for quick one-off payments.
Cash, cheque, postal order! Still alive but not very convenient for you and difficult to keep track of earnings.
How do I evaluate payment processors?
When you're choosing your online booking and payment tools, make sure you...
Go contract-free
Don't get locked in to a long commitment time. Software as a service, or SaaS, is designed so that you can leave any time. That means that every month, the software company should be solving the challenges you have.
Pay only what you expect to pay - no hidden fees
Some payment processors have extra 'hidden' subscriptions that you can't get out of. These might include separate merchant accounts. That happens when you sign up for a payment service but start getting unexpected bills from another company because your merchant processing isn't included in the initial offering.
Look out for retentions "chargeback security"
Some payment processors will retain some of your revenue (for as long as 6 to 12 months) as "security" against chargebacks.
Choose based on customer service
Some payment processors will do whatever they can to keep you off the phone. They'll make contacting them for help complicated or not available. We suggest you call in to see how fast - and how helpful - the customer team can be.
Check out the flexibility of payment processors
Some processors allow you to take payments but not much else. It's likely that at some point you'll want to change your prices or schedule. Make sure you can do that easily.
Some software only lets you do monthly payment, but what if you want to offer four weekly or six weekly billing? Make sure your software is flexible so that you can construct your payment services around your business, and not the other way around.
Make sure the product works as promised
Setting your business up right is important. You want your details to be stored correctly. You want your processor to be reliable. You need clear and easy to use software so nothing gets lost.
Use the software to keep track of payments
If you're working with a customer to figure out payments, you'll want to be able to see right away if a payment has gone through. If it hasn't, you'll want to know the status of the payment.
My old booking system was too basic. Couldn't do cancellation periods and payment facilities were limited.
What are the best online payment processors for a small fitness business?
The best payment processors will offer you:
No contracts. Or, simple contract terms.
No hidden costs. Take away the worry of a surprisingly large bill.
No retentions. No withholdings of your money outside normal processing time.
Great customer service. Or, a self-serve processor that answers all your questions.
Flexibility. You want to structure payments in a way that works with your business and customers.
A great implementation with your chosen booking and management software.
The top 3 payment processors for fitness businesses
From our experience, these are the best payment processors for a typical fitness business, balancing all of the above. TeamUp integrates with over 10 different processors, so get in touch if you have questions about your particular use-case or see our page about payments in TeamUp.
GoCardless
GoCardless is an online direct debit system. It is affordable and has a great user experience. They're quick to transfer funds to your business account, and they have great security ("military standard" according to their website). Direct debit is the ideal system for regular recurring payments, and your customers will love the convenience.
Go Cardless is available for the UK and Europe, and is now expanding to the US, Canada and Australia.
Using GoCardless already? Check out our free import service and we can bring over your payments for you with no disruption. Want to learn more? Read this story about a GoCardless customer switching from MindBody to TeamUp.
Stripe
Stripe is really easy to set up. You can make an account and be taking money in minutes. It's a great option for one-off purchases because card payments are valid from the moment they are authorised meaning that that payment 5 minutes before class will always be paid to you and can't later be cancelled. Payment is taken from the customer's account on the same day, and you receive a week later (or less depending on where you are based). Stripe's security + SCA is highly rated, and it's available worldwide.
Using Stripe already? Check out our free import service and we can bring over your payments for you with no disruption.
PaySimple
If you are based in the USA then PaySimple is the perfect balance between an automated system like Stripe, and an old-fashioned customer service focused business. It's also more affordable.
The service includes excellent card billing, ACH, customer service and highly rated security. Compared to Stripe you have to commit to a contract, but this is a formality. The service normally charges a fee, but if you enquire via TeamUp, then this is waived. Just ask our team.
Using PaySimple already? Check out our free import service and we can bring over your payments for you with no disruption.
If you're still wondering which payment processor is right for you, give us a call! Our customer team is happy to help you out, even if you're not yet a customer of ours.
Open Comment Form