Given the significant innovations this year in fitness tech and the increased demand for virtual classes, being accessible online now plays a very important role in being a successful fitness business. While an increase of online fitness classes doesn't mean that traditional live classes and workouts will become a thing of the past, what it does mean is that a combination of in-person and online classes complemented by on-demand video content is proving to be the best formula for many businesses and their clients.
On-demand videos are an excellent way to provide fitness clients with even more workouts and exercises without adding more classes to your workload and schedule. Not only does on-demand content lend itself to clients and customers who prefer to workout from home, but it also adds another layer of flexibility for those who can't make it to every single in-person or online class but still want to feel like part of the community.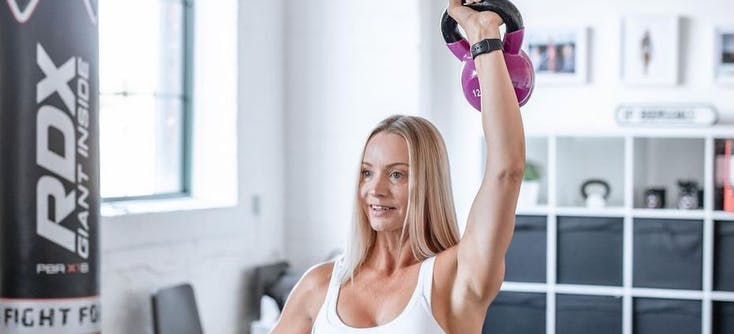 Photo Credit: LP Body Goals
If you have been waiting for a solution that allows you to offer more to your clients without over-spending and over-extending yourself, TeamUp's On Demand feature is the way to go.
But before getting started it's important to learn how to properly use and create on-demand content and understand what it can do for your business. In this guide, we are breaking down what exactly on-demand is, why you should begin offering it, and how to deliver on-demand content to your clients.
But before getting started it's important to learn how to properly use and create on-demand content and understand what it can do for your business. In this guide, we are breaking down what exactly on-demand is, why you should begin offering it, and how to deliver on-demand content to your clients.
What is on-demand content? Streaming services for fitness fanatics
On-demand content refers to video content that fitness clients and customers can watch whenever it is convenient for them. With on-demand videos your clients can take as much time as they need to go through a video, play, fast-forward, rewind, or pause. On-demand fitness content typically consists of class recordings and pre-recorded videos, which can include anything from additional classes, workouts, meditations, demonstrations, instructional videos, and more.
Perfect for fitness professionals and businesses who have customers who cannot make it to live online or in-person classes, customers who would like additional videos to use at their convenience, or those who want to work out on their own time but still enjoy the community experience, on-demand content is one of the easiest and best ways to cover all of your clients' needs without adding more classes to your schedule and timetable.
Whether you curate your content or share your recordings, on-demand content is a major step in the direction of complete fitness accessibility and a huge opportunity to keep your clients engaged and motivated beyond live classes.
Why you should begin offering on-demand content: making fitness technology work for your business
There is a common misconception that just because someone spends more time at home that they have more flexibility and free time in their schedules. However, it can actually be the opposite, especially if you work full-time, are responsible for your family, are a student or quite frankly if you just have a lot on your plate. Although online classes have given many fitness clients the opportunity to maintain their workout routine from home, sometimes a class schedule and someone's personal schedule do not match up. This can be challenging and frustrating for someone who looks forward to class but cannot make it.
By including on-demand content in your class offering you are giving your clients the opportunity to still keep up with their fitness routines, but at a time that is most convenient for their personal or professional schedules. Your clients who couldn't make their schedules work will feel relieved to have this solution and your clients who want more can now take advantage of your content whenever they want. It's a win-win that both solves a problem and allows you to grow your business with a larger offering and services that cover all of your bases.
On-demand production and cost; create content affordably
On-demand content also allows you to solve the problem of your clients seeking additional outside-of-class resources to cover their fitness needs. That extra value you now offer means that your clients won't feel the need to subscribe to external services to find other content. By offering this new service you have the opportunity to save your clients money that they can now re-invest into your newer services. It does not cost you a lot to produce, especially when you are recording already scheduled classes, and for the content, you curate outside of class the time and effort you do spend is an investment in providing a better service to your clients.
You also do not need hundreds of already recorded and curated videos to launch your library. Add to it as you go and as often as you would like. The purpose is to give your clients another resource and extension of you that they can take advantage of whenever they'd like. As with everything you'll get better and better at building your library along the way, and quickly find what works well for you and your clients and what doesn't.
What you can gain by offering on-demand content
Would you believe us if we told you offering on-demand content could help save you time and energy? While there are a number of ways to get started on your on-demand content, what your clients are looking for isn't overproduced videos and never before seen workouts. They simply want a way to access you and your workouts and classes. By giving your clients access to your pre-recorded videos and class recordings you can:
Save time and energy trying to find alternative ways to reach those clients who can't make it to in-person or online classes
Provide more content alongside your class schedule for those clients who want a little extra
Keep your memberships and revenue boosted by offering services your clients can't get anywhere else
Improve your understanding of what your customers want more of and what types of workouts they enjoy most
Earn more without adding additional classes to your schedule
Offer a wider variety of content that will help your business grow
Gain more appreciation and loyalty from your clients
Eliminate your clients' need to find other alternative fitness content
Cultivate a sense of community and bonding outside of class
Reach new clients who were interested in your offering but their schedule didn't work well
Diversify your offering and motivate yourself to deliver
And we're sure that along the way you will personally find and experience many more benefits to supplying on-demand content. Our customers sure have.
How to deliver on-demand content in TeamUp
Just as your clients can access your TeamUp calendar and booking system through your customer website, they can now access your very own On Demand video library there as well. Alongside your schedule, your customers can click on the On Demand library tab and find all of your available on-demand content, organised by collections, filter by class type, instructor, and any filter you create, as well as select to only see the content they have access to.
The content library will also show your customers which website hosts your on-demand content. In order to host your on-demand content in TeamUp, you will need to already share your content on a hosting platform. We recommend using Vimeo, but you can also use Youtube, Zoom, and several others. Your video content is available to memberships only so your customers will either need to already have that membership or purchase a membership in order to view it. You can learn all of the steps to setting up your library in our what's new guide.
Additional resources for on-demand content
If you are officially convinced that you should offer on-demand content to your clients, here are a few additional TeamUp resources to help you get started.
Check out our top tips for on-demand content best practises for engagement, delivery, production and keeping your community involved. Just because your client viewing your video isn't there with you live, doesn't mean you shouldn't record without keeping them in mind.
Learn how to get your videos and Zoom recordings in front of the eyes of your customers and in their memberships by using our guide to marketing your on-demand content.
Be inspired by fitness business owners like yourself and see why over 50 TeamUp customers love using the new On Demand feature and the content they offer in their library.
Read our guide to setting up and selling your on-demand content to learn which platforms to post your content on and what Teamup tools can help.
What TeamUp customers have said about the On Demand feature
Several TeamUp customers shared with us why On Demand content has elevated their business and offering. See what they had to say here:
As soon as you came and offered the On Demand, I did a trial with you, so I could tell straight away how easy is this. It was brilliant. And again, thumbs up for TeamUp. - Fran Flin, owner of Flin's Fitness
The fact that one of the latest features of TeamUp has been to be able to include our On Demand within that same profile now takes us to another level. So we've actually discarded our whole other system and we're about to finish our transition. We literally within days of doing it where we've actually moved all of our recorded library onto our same system. So we streamlining into this one kind of portal where all our clients can actually see the classes in the studio and the classes On Demand same time, which is an amazing new feature. - Michelle Koton, owner of MPower Pilates
But then I realized there is a feature on-demand and TeamUp, and all you have to do is send a link to your YouTube video, send a description that you have in your YouTube video, and it just goes really quick. For example, one of our members is a news reporter and she just travelled to Rome yesterday and she was just checking how our on-demand section is. Is it updated and it is so she will be able to do ICON workouts even when she's in Rome now before she comes back and joins us again. So it was fantastic, actually. - Greg Mikolap, owner ICON Gym
So now I run drop-in live classes on Zoom. I have a subscription package and a monthly subscription On-Demand package. I sell individual videos. I sell training courses for yoga teachers to mentor them through using technology. And all of that goes through my TeamUp system. So I don't know how I would actually manage without it. And it's enabled me to totally reconfigure the business to something that can work online. - Lucy Bannister, owner of Lucyoga
To beginning using TeamUp's on-demand content library, head to your TeamUp dashboard or sign-up for our free trial.
Open Comment Form