When it comes to running a Pilates studio there are right ways and there are wrong ways of going about your business. But trial and error can help you figure out what works best for you. Jean Androne, owner of Loving Pilates, shared her top dos and don'ts about being a Pilates teacher and managing a studio. Read her story about opening her studio and learn what she says all teachers must absolutely do to be successful and what you should avoid if you don't want to lose clients.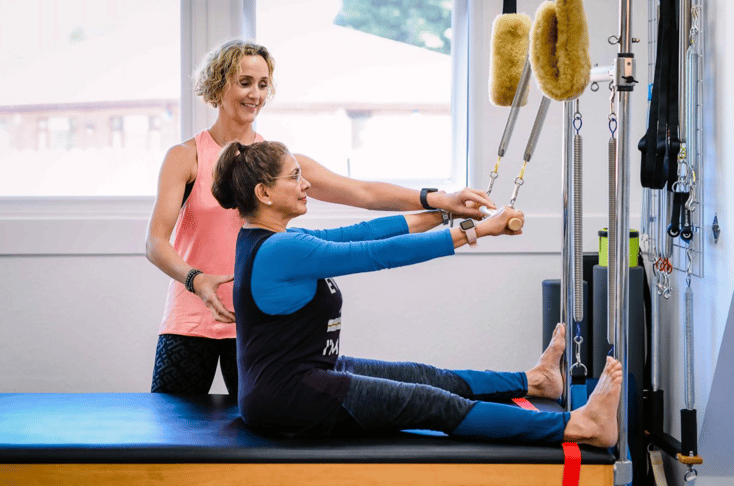 Why did you start your Pilates business?
I started my training as a student in a studio in Cape Town, South Africa, and basically very quickly went through the Pilates teacher training program and was working for a studio as a teacher. From there, I branched out and started developing my own studio.
Coming to the UK, I started from scratch. After 10 years of teaching, I started again trying to build up my clients. I went from teaching in different studios to creating a home studio at home and then teaching big group classes in rented halls.
My dream has always been to have an environment like this, to be able to mentor other teachers and give my clients the benefits of working with the apparatus at an affordable price. Pilates was originally very elitist, working on the equipment was something that only sportspeople or people who had money could do. My idea was to have group apparatus, group springboard, group reformer classes and make it affordable for the masses so that they could feel the benefits quickly.
I also enjoy the Pilates teacher training side of things having taught both courses and workshops while in Cape Town and now offer them here in this new space. I have been teaching for a long time, so I really want to give back. I have a lot of knowledge that can help less experienced teachers. I have a team here now, nearly eight teachers and they are building up their businesses too. Some of them have their own businesses elsewhere and choose to work in the studio because they want to be in this environment.
Pilates business dos and don'ts
Don't ever sell yourself or your services short
Don't underprice and don't discount. Try and find a way of bringing people in and offering them something else with that, but not discounting what you're eventually going to want them to buy. Instead, offer them something, in addition, say have them pay for the class, and then give them an additional taster of something else. Something that is not going to cost you or your time. Or the first class they pay for and the second class is slightly discounted so that you get people in the door.
I know there is one studio that offered their second class free, which is actually a good way of doing it because people value the class, and they've paid for it and the second is free. If people have done two classes they're generally hooked. They've invested in it, they came back, and they'll feel it after two sessions. That's a more clever way of doing it. We offered free tasters and a lot of people came for the taster and boom never came back, so that's something I'd say don't do.
Do create an environment that makes people want to come back
Retaining clients isn't just about the class you deliver, it's the feel-good factor. It's the fact that they can come into a light, airy and friendly space. It's clean and smells nice too. It's the whole package. It's remembering they had a birthday the other day. TeamUp is really good at that. They remind me that someone has a birthday. That's very clever.
Those little things. The extra little bits bring people back. They think, 'she cares'. She remembers that my daughter wasn't well or whatever it was. It's those little things that people come back for. Not just for exercise, but for mental health.
Don't waste too much time on social media
You need to have a presence, but it's very hard, even with analytics, to see if you are actually drumming up business or you're just creating a presence. The people that reach out through social media rarely materialise as clients. In the teacher training aspect, it works. If I'm advertising a teacher training workshop or course it works because like-minded teachers are following me and they will come whereas the general population less. Definitely have a presence on social media, but make sure it's not channelling all of your time. The best thing is other clients going out and talking about the studio and spreading the word.
Do your own Pilates
Some teachers aren't doing enough Pilates themselves and you need to invest in yourself as well. Go to another teacher and do a Pilates class. You need to be training and practising. If you practice your teaching becomes easy because all you're doing is regurgitating it out of your system. You keep it in your body and you can teach that.
Don't discount your knowledge and education
For teachers starting out building their own client base, the biggest thing is not to sell themselves short. You have worked hard for your education. You have invested in your education both financially and in time and energy and brain and body. Don't discount your knowledge, value, or your ability.
Believe in that and people will see it and believe it too. Own your education and your certificates. It's a long journey to become a Pilates instructor and it's ever-evolving because we're constantly educating ourselves more and more. Don't devalue that. People will see that confidence and that's very attractive for clients. You want people in the door but there is a right way and a wrong way of doing it. Trial and error things, but be confident that you are the teacher and you know what you're doing.
Do take advantage of the growth tools in your software
The integration of MailChimp and Constant Contact. I have Constant Contact and that has been handy to have those systems integrated into TeamUp. The on-demand and memberships. All the payments come through TeamUp so that connection has been very helpful to me. Passing the responsibility over to the client to do their own booking, change their own classes, rebook, and manage it all on their own is great. It's less on me and the system does its job.
Do keep learning and expanding your knowledge
I have used awesome tech training with Rachel Clinton, I've done a course with them. Body Control Pilates has offered Facebook training and social media training. I am always on the lookout to learn more. We all need more and that's a good thing.
During COVID, I'd say that 60% of those clients disappeared and that's been hard. But, I'm not concentrating on pulling people back although they are coming back slowly. I'm really focusing on how to generate new interest.
Thanks for sharing Jean! To learn more about Loving Pilates, follow Jean and her team on Instagram and Facebook.
Video: Why Jean chose TeamUp for her Pilates studio
I would recommend TeamUp for other Pilates studios, as it takes the programming and the administration of payments, signing up to courses, taking payments, ticking people off if they've come.
Learn more about starting your own Pilates studio, here.
Thanks for reading!
Open Comment Form