Choosing the best management software for CrossFit boxes is crucial for your business. By investing in the right CrossFit software you'll be able to spend less time behind your desk and more time building your CrossFit community. Your software will limit the amount of time you spend on admin each day, and it will also help to boost your overall customer experience.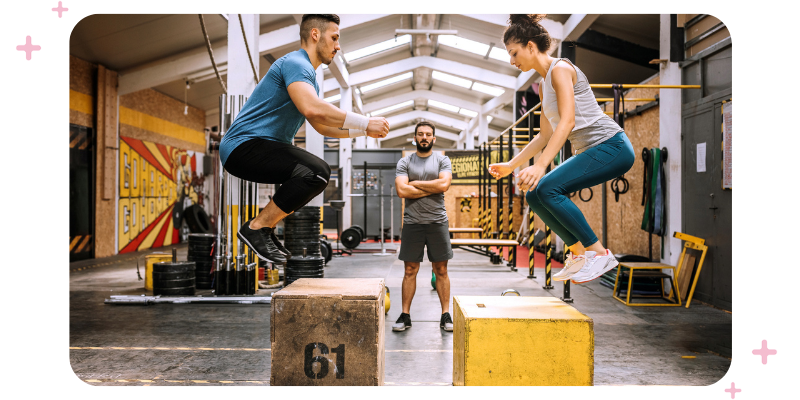 With a number of recommended software providers out there, it can be difficult to fully analyse which option will be the best fit for your business. But when you start to dig into what each provider offers, you can start to really understand where the differences between them lie.
In this guide, we analyse some of the most popular CrossFit gym management software providers so you can decide which one will work the best for you and your business.
What is CrossFit software?
Simply put, CrossFit software helps CrossFit owners to run all their business operations. An example of SaaS (software as a service) in the fitness industry, CrossFit management software has a number of key roles to play in organising a box's admin on a day-to-day basis.
CrossFit software's primary function is as a solution for simplifying membership management, class and appointment scheduling, booking and registration management, membership tracking, staff management and more. The majority of CrossFit software will have at least these functions which are essential to seamlessly running a CrossFit box.
The benefits of using the management software for CrossFit boxes
The best management software for CrossFit boxes is the software that adds the most value to your business. The less time you have to spend at your desk organising schedules, payments, and marketing your CrossFit box means more time for working with your team and your customers to ensure the best workouts possible. The simplest software solutions will come with the essentials, but the best CrossFit gym management software will also help you:
Manage memberships. Offer different membership packages in one easy-to-access place.
Publish class schedules online and on a customer member app.
Take control of payments using some of the most reliable payment processors. Avoid late or non-payments for your classes and memberships.
Use intuitive integrations to improve your communication with clients and to align your marketing and sales strategies.
Make business-based decisions based on facts and data through thorough reporting about every part of your business.
The Best CrossFit Gym Management Software
1. TeamUp
TeamUp is a leading CrossFit gym management software provider that provides services to boxes, gyms and studios. One a leading SaaS provider, TeamUp stands out for its flexibility, scalability, and attention it gives to your business and your members. All features are included at each price level, with pricing based on the number of active customers you have each month. With a booking platform that can be embedded into your own website, online class management, event management, a mobile booking app, financial reporting, and quick and knowledgable class customer support available whenever you need it, TeamUp is an all-in-one software solution.
Pros
Intuitive user-friendly software.
All features included. No hidden costs.
Month-to-month contracts, no fixed term.
Cons
Not specifically built for CrossFit.
No free plan but competitively priced at every level.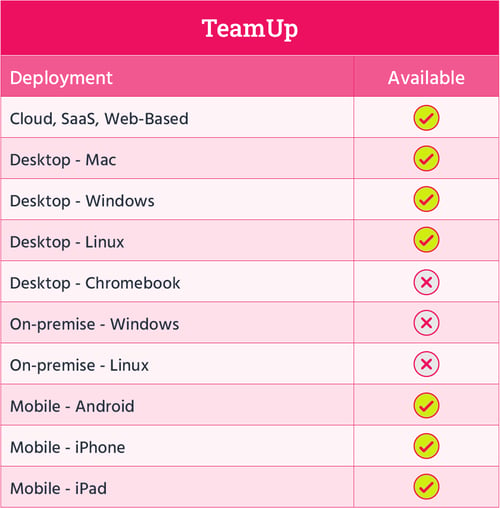 2. Wodify
Wodify was built as a CrossFit management software but it can also function as gym management software well. An all-in-one system, Wodify provides its clients with various management features such as memberships, sign-ups, attendance, revenue reports, automated payments as well as lead management, time tracking and payroll. Wodify has a member and also has a workout and exercise planning feature so coaches can design custom workouts and training plans.
Pros
Intuitive and user-friendly software.
No added fees for payment processing.
No additional fees for exporting data or adding members
Cons
A more expensive opinion for smaller CrossFit gyms.
Ad-hoc reporting is not available.
Member app undergoing a significant rebuild.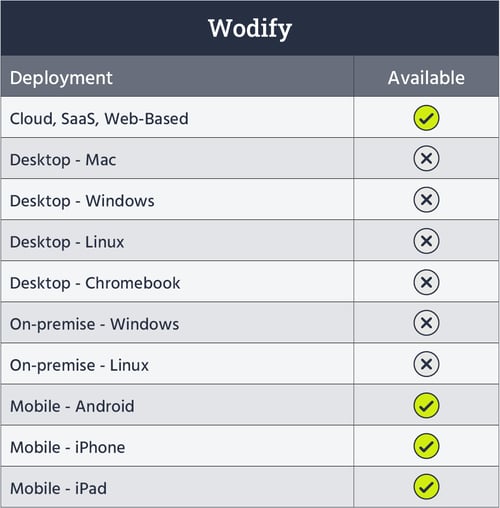 3. Mindbody
Mindbody has been a leader in management software for some time now. With booking solutions across the health, wellness, beauty, and fitness industries, Mindbody's all-in-one software has a big emphasis on enterprise and franchise management. Some of Mindbody's key features include managing member payments, live streaming classes, a platform for on-demand video, marketing automations, auto-pay memberships, inventory management, scheduling, and reporting.
Pros
Customers can take control over managing their memberships and payments.
Good member app.
Advanced marketing tools.
Cons
Not specifically built for CrossFit.
High processing fees.
Complicated to learn when switching from other software.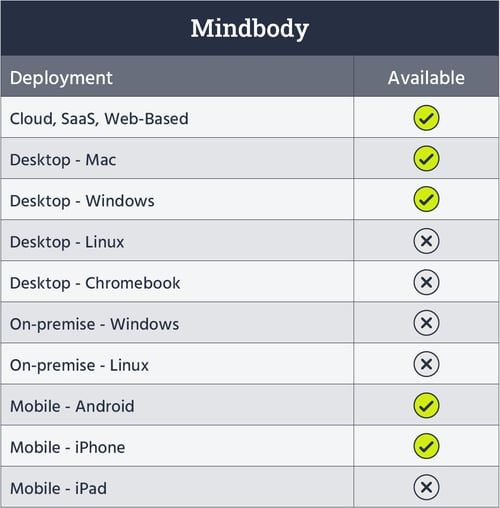 4. TRIIB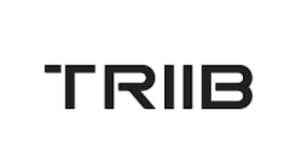 Founded in 2015, TRIIB was developed to address the frustrations of CrossFit gym owners. With TRIIB, CrossFit owners can keep track of active memberships, failed payments, and daily revenue. Other key features include tracking attendance and automated billing. TRIIB also has features designed for fitness members. For example, nutrition and fitness challenges, and daily tasks. Members can track their workouts and sessions. Additionally, TRIIB's calendar and schedule can be embedded into your website.
Pros
Tracking workouts for CrossFit gym members.
Apps and features are frequently updated.
Event management and ticket sales feature included.
Cons
Doesn't include workout programming.
The user interface can be complicated making operations difficult.
The members' app has some usability issues.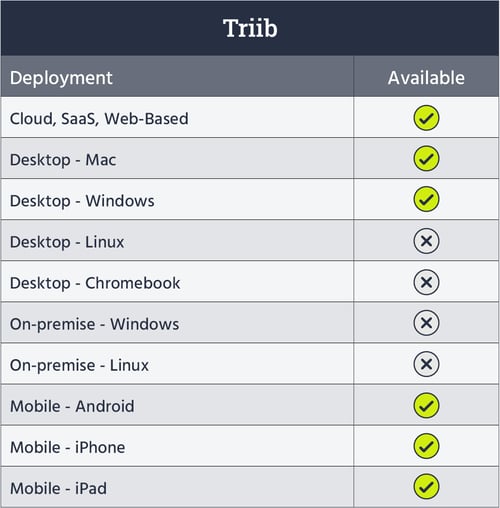 5. Zen Planner

While primarily gym and fitness studio management software, Zen Planner can also be used by boutique gyms, CrossFit boxes, yoga studios, and other fitness disciplines. Popular due to its ability to help brand awareness, Zen Planner also has features to help with marketing. While the software for gym management focuses on streamlining marketing, other key features include billing, staff apps, member apps, and workout tracking alongside core tools such as scheduling and online booking.
Pros
Member self-service makes checking in and out easy for them.
Automated billing and scheduling improve efficiency.
Features to aid with customer engagement and client satisfaction.
Cons
Mobile features don't work seamlessly with desktop features. Mobile functionality is limited.
Data exports and transfers from previous software or system cost extra.
Not specifically aimed toward CrossFit box owners.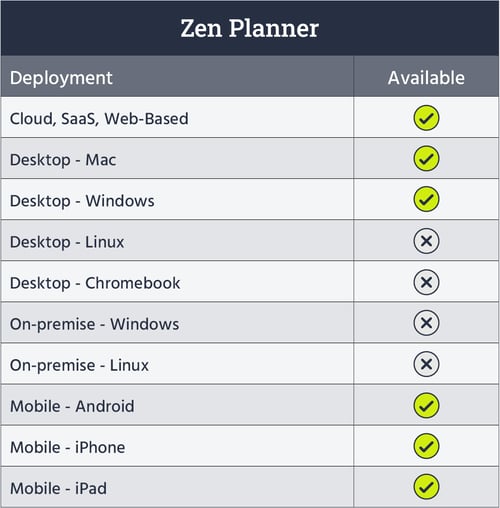 6. PushPress
PushPress is another provider that specialises in gym management software, but it covers many of the operational needs that a CrossFit gym would have with automating a number of repetitive tasks. For example, class bookings, collecting payments, and performance reports. The schedules and calendars are user-friendly and intuitive, giving trainers control over their schedules and making it easy for customers to use.
Pros
Clear central dashboard with a daily overview.
Can integrate with personal websites and social media.
Useful training videos to learn about the software.
Cons
Limited email automations.
Unprintable reports.
Customer segmentation is unavailable.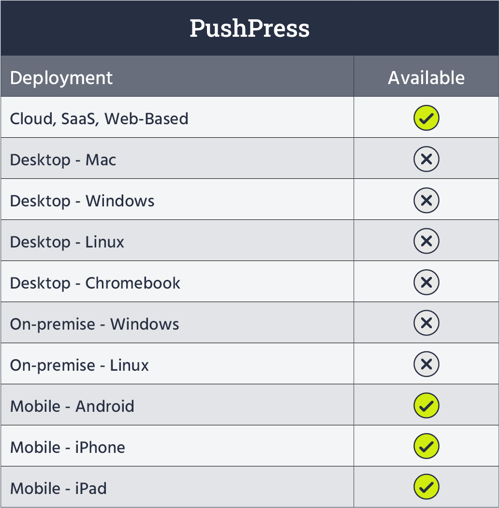 The key features of CrossFit management software to look out for
The best CrossFit gym management software will include all the key features you need to run the admin for your business. You don't want to have to invest in different software to run different parts of your business. The goal is to invest in management software that takes care of all your needs. With a number of key features to think about, there are certain components that you should look for when you start looking into CrossFit software providers.
1. Class booking and scheduling
At its core CrossFit software helps CrossFit box owners to create simple and clear booking and scheduling solutions. Being able to set up a schedule that your customers can easily find and navigate their way through to sign up for one of your classes is the doorway to creating a good customer experience.
Your software will make it simple for you to create schedules, appointments, and events in your box. Your team will both be able to see what their class schedules look like and plan accordingly while the process for booking a session at your CrossFit box will be seamless.
2. Online waivers and PAR-Qs
Waivers and PAR-Qs are essential for all fitness businesses to keep track of. Chasing up your customers to fill them in can be an arduous task, but the best CrossFit software will allow you to add waivers and PAR-Qs to your sign-up process. For new customers, when they want to purchase a membership or book a class, they will be prompted to fill out any forms you need them to as a part of that process.
This makes organising your members' information easier for you and for them. Once you have that information on file, it is stored within your software and can be easily found if you or your customers need it at any point. It's also worth remembering that for your customers, once they've completed those waivers and PAR-Qs they won't need to fill them out again unless your business requires any updates after a certain amount of time that you've designated.
3. On-demand content and online classes
Online classes and on-demand content are increasingly important features for fitness businesses. Having those features included as a part of your CrossFit gym management software prevents having to use another platform to host online classes or to share on-demand content such as VODs of your WODs.
Whether through your website or through a member app, your clients can follow along with your online classes or on-demand content which is all set up and hosted through your software making your admin tasks more seamless.
4. Scalable pricing
When you invest in CrossFit software that doesn't offer scalable pricing, you run the risk of having a system that has locked features, meaning in order to get full usage of all the tools you need you have to pay extra.
However, by choosing a provider that has scalable pricing, your monthly payment is entirely dependent on one factor; the number of active customers you have. The majority of CrossFit management software providers that offer scalable pricing give all of their customers full access to every feature they have available for no extra cost.
5. Intuitive integrations to ease your admin load
When you're choosing your CrossFit software, be on the lookout for the marketing and sales integrations that you'll have at your disposal. From simple yet repetitive tasks such as sending out pre and post-class notifications to helping you convert leads and sending out marketing materials, integrations are an integral part of any management software.
Integrations are easy to set up, and the best bit is that once you've created a workflow, you don't have to repeat it again. Integrations are there to take over those time-consuming, repetitive tasks such as email marketing and chasing leads. As well as freeing your time up, they also help to create a smoother customer experience. Some of the ways the right integrations can help you run your CrossFit box include:
Saving you time from repetitive admin tasks.
Creating better communication channels between your business and your customers.
Automating tasks that you set up once and don't have to do again yourself.
Ensuring you have secure payments that arrive on time.
And much more besides. The amount that can be achieved from integrations is impressive, to say the least, and once you start using them you'll wonder how you managed without them before. Knowing that the kind of tasks that you'd normally have to spend hours doing can be done through your software really highlights what a difference the best management software for CrossFit can do for box owners.
6. Thorough reports about every part of your business
It's important to know exactly how your business is running. You want to make decisions based on stone-cold facts, not just from your gut, and that's where reporting comes into the equation. The best CrossFit gym management software will have robust reports that give you a clear indication of how well your business is doing.
From reports that outline your income, who's paid or who hasn't, and show you which clients are slipping away to how well certain classes are performing and tracking attendance trends, with thorough reports you can make calls about how your business is run.
The right reports will help you become an expert in your business. You'll know when you need to make decisions about how to help your business grow and you'll know exactly in which area any improvements need to be made, taking away the burden of having to make those decisions without the data to back them up.
7. Consistently good customer reviews
You can spend hours reading every provider's website, page by page, but ultimately the best judges of any management software are the users. By using comparison and review sites such as G2, GetApp, Capterra, and TrustPilot, you can read full reviews that will tell what users liked and disliked about specific software providers in a lot of detail.
Getting this perspective from others in the CrossFit industry is invaluable. Many of the CrossFit box owners reviewing software providers will have similar needs to you, similar expectations, and want the same assurances as you so you know you can objectively find software that will work for you.
Compare CrossFit gym management software providers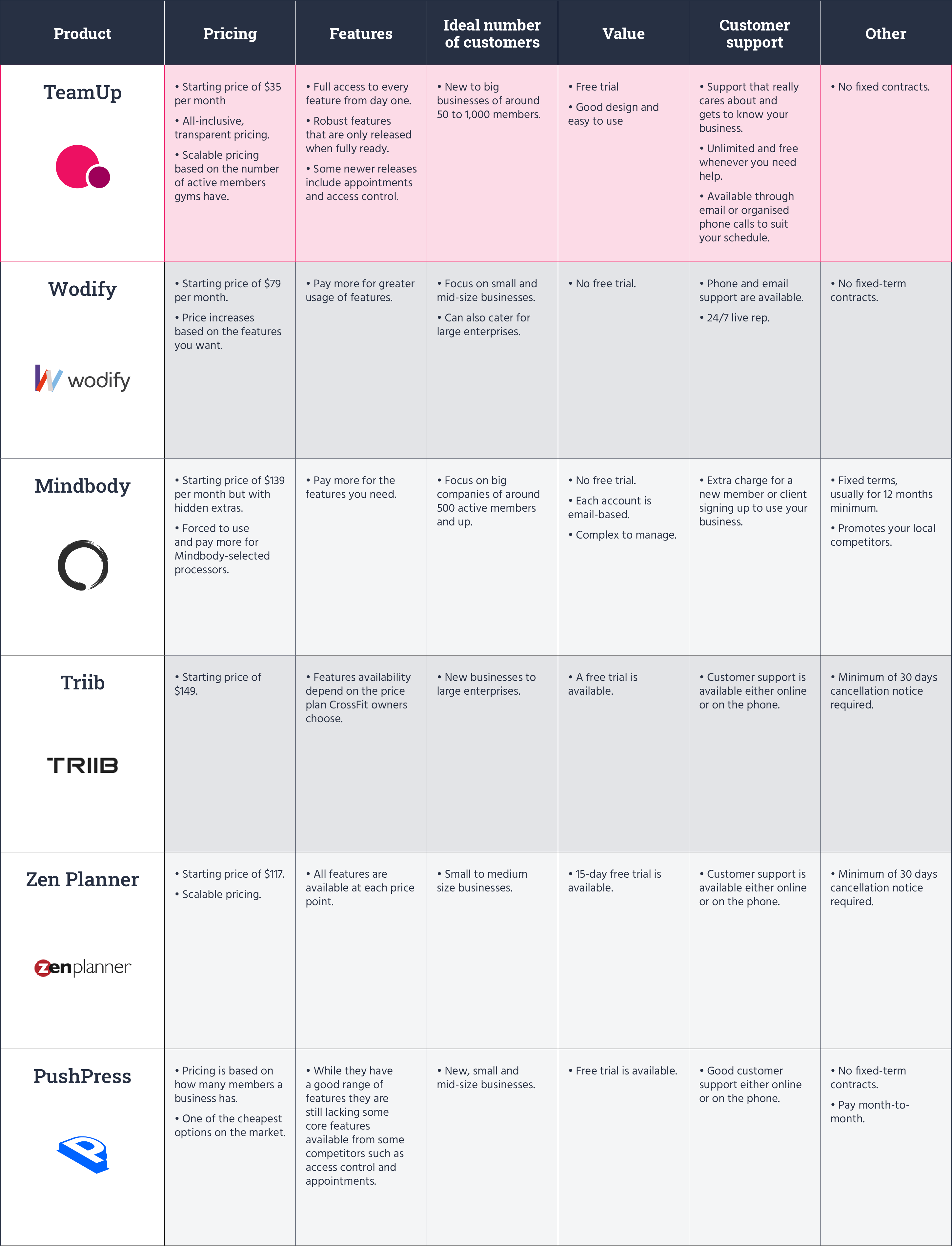 Why you should choose TeamUp's CrossFit gym management software
TeamUp is one of the most consistently well-rated and reviewed software providers on the market. Not only is it well reviewed, but it's been ranked as the second easiest to use by G2.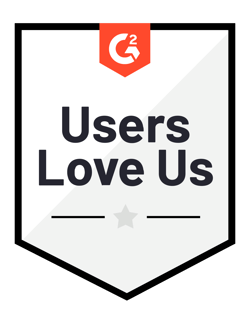 TeamUp offers scalable pricing so you only pay for the active customers that you have. This also means that CrossFit box owners have full access to every feature that TeamUp has. No hidden costs, no unwanted surprises. If we have it available, you have it to make your day-to-day easier.
The customer support at TeamUp is unlimited, consistent, and with team members who aren't just knowledgeable about the product but also about your CrossFit business. You know that you'll be talking to someone who understands your needs and preferences. As a part of choosing TeamUp, our onboarding team will transfer all your data from your previous provider or current system for free.
TeamUp has robust features and world-class integrations that all combine together to create a seamless experience for both you and your customers. There are no hidden costs and no extra charges to pay for using any features to make sure your business can grow.
To find out more about how TeamUp's CrossFit gym management software can help you better run your business, schedule a call and start your free trial today.
Thanks for reading!
Frequently asked questions about CrossFit gym management software
What is CrossFit software?
Crossfit management software is used to aid CrossFit boxes to manage their operations. From scheduling and managing payments to receiving thorough reports about every aspect of a CrossFit gym's business, CrossFit gym management software helps CrossFit gym owners to automate and manage time-consuming admin tasks.
Why do you need a CrossFit booking app?
A CrossFit booking app is useful for CrossFit box members to quickly and easily sign up for classes, memberships, and to upload their personal details for your CrossFit business's records.
What features does CrossFit software provide?
CrossFit software provides a number of features to help with running operations in CrossFit boxes. Features can include scheduling, online booking, marketing integrations, and secure payment methods. By using CrossFit software CrossFit box owners can automate a number of tasks through the robust features on offer. Notifications, marketing emails, and taking payments are some examples of this. Other automated processes available include creating a cancellation policy preventing boxes from losing revenue without having to intervene personally.
What are the benefits of having CrossFit management software?
The benefits of using the best crossfit box management software include limiting the amount of administrative work a CrossFit box owner has to do. Repetitive tasks can be automated, such as emailing reminders to members or taking payments. CrossFit software may also include thorough reporting so owners can understand every part of their CrossFit business.
How does CrossFit scheduling software work?
CrossFit software is an example of software as a service (SaaS). CrossFit software providers provide online management services to CrossFit box owners in a cloud-based model or app. CrossFit box owners can keep all their administrative information and data in their CrossFit software securely.
Open Comment Form