As a personal trainer, you know that it can be hard to keep clients for the long term. In order to retain your clients, you need to be sure to provide them with quality service and make them feel valued.
You don't need to reinvent the wheel to do this. With a few simple steps, you can improve your client retention rate and keep your personal training clients coming back week after week, class after class.
In this guide, you'll learn some easy-to-implement retention strategies that you can put into motion and continue to use every time you get a new client signing up for some personal training sessions with you.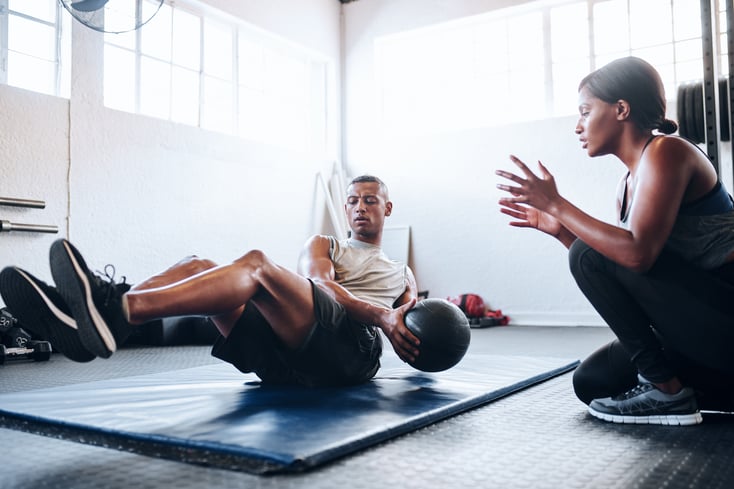 1. Use personal training software to stay organised
Personal training software plays a huge role in helping personal trainers retain their clients. A clear advantage is the online booking system creating a more organised way of running a personal training business.
But with the best software for personal training business owners, your system becomes so much more than just a way for your clients to book classes and sessions. It adds a perception of organisation and professionalism that can't be replicated by spreadsheets or Google Calendar.
When you invest in personal training software, there are key features that can help you improve your customer experience model, and subsequently help you to retain your clients.
Scheduling and managing appointments
Starting with the basics, personal trainer software will help you to manage your scheduling and your time more effectively. When you have a system in place that allows you to see all of your bookings in one place, it becomes much easier to stay on top of things.
You can schedule classes and appointments with ease, send automatic reminders to your clients about their upcoming sessions, and it's really easy for your clients to see your availability. With personal training software such as TeamUp, you can create different appointment types in your system.
This allows your clients to choose the type of session they want with you. Whether it's a specific workout you offer, or they want a consultation, it's clear for clients to choose the correct appointment type. In addition to this, you're then able to plan ahead knowing exactly what appointment or class type your client is booking with you.
Marketing integrations
Your personal training software should also come with some great marketing integrations. This is important as it gives you the ability to easily promote your services and reach out to your target market.
With TeamUp, for example, you can connect your personal trainer software to your Zapier. This gives you access to over 3000 apps that can help you improve your engagement with your clients outside of class.
Using an app on Zapier such as Drip allows you to set up a monthly or biweekly newsletter to send out to both clients and potential leads with information about your classes, what you can offer, and even some tips and advice for staying active outside of class time.
It's an important part of keeping engagement up with your clients, and by connecting your personal training software to Zapier, you can set up your marketing emails once, and then Zapier does the rest so you don't have to.
Offer online PT classes and on-demand content
A great feature of personal training software is the ability to offer online classes and to create your own library of on-demand content.
Online personal training is a really valuable asset for personal trainers as it gives you something to offer your clients when they can't make it to a physical class. Online PT is also a great way to upsell your services and add an additional stream of income to your business.
With TeamUp, you can easily create and sell on-demand courses that your clients can access at any time, so if they can't make it to a class, online or in-person, they can still follow one of your workouts.
You can also use your library of on-demand content to create videos that offer nutrition advice and exercise tips. This is a great way to keep your clients engaged when they're not able to make it to class, and it's also a valuable resource that they can refer back to
Encourage your clients to use the member app
Another great way to retain your personal training clients is to encourage them to use the member app. Most personal trainer software these days comes with a member app that your clients can download and use to book classes, track their progress, and even message you directly.
The TeamUp member app is a great way for your clients to stay on top of their bookings, cancel or reschedule appointments, and even check their account balances.
It's also a great way for you to stay in touch with your clients, as they'll receive notifications and reminders on their phones. Even when they're on the go or at work they'll receive reminders about any upcoming classes or sessions they've booked.
2. Keep your personal training sessions fun and engaging
If your clients are bored or don't feel challenged by your exercise program then quite simply, they won't keep coming to your personal training sessions. It's important to keep things fresh and fun, so your clients are always engaged and excited to come back for more.
One way to do this is by creating workout templates. This means you can easily switch up your workouts week-to-week, or even day-to-day if you want to, without having to start from scratch each time.
You could even create each workout template or exercise program as an appointment type to add to your schedule so if your clients have a particular favourite, they can request it and you can prepare ahead of time.
3. Be available to your clients when they need you
You want your clients to feel comfortable with you both during their sessions and if they need to contact you outside of class time.
This means being available to answer any questions they might have, whether that's about the workout they're doing, their diet, or anything else related to their health and fitness journey.
Creating a rapport with clients that makes them feel as though they can reach out for additional advice and that you care creates a solid professional relationship between personal trainer and client. Building that level of relationship is key to retaining your personal training clients.
4. Create a referral program to get more clients and reward your current customers
Personal trainers that create a referral program not only increase their client base by getting their customers to encourage potential clients to sign up but also retain their current clients and members.
A referral program is a great way to reward your clients for spreading the word about your business and bringing in new leads. It's a win-win for everyone involved, and it's a really effective marketing strategy.
There are lots of different ways to structure a referral program, but one way is to offer a discount to your current clients for every new client they bring in. This encourages them to keep training with you while also bringing in new business.
5. Congratulate them on their successes, both big and small
Your clients will have all sorts of different goals, and it's important to celebrate their successes, both big and small.
After the successful completion of a program or when your clients achieve specific goals, make sure you take the time to congratulate them. This will show that you care about their progress and that you're invested in helping them reach their goals.
Congratulating them in person is a must, but you can also use your personal training software to send out milestone emails. Once your clients have completed a course or a certain amount of classes, you can have milestone emails automatically sent out from your system.
It's the little things that make a big difference, and your clients will appreciate the extra effort you make to show that you care about their success and achievements.
To sum up
Retaining clients is something that everyone who works in the fitness industry needs to have a strategy for. As a personal trainer running your own fitness business, you can't rely on others to come up with the strategy for you which can feel as though you're at a disadvantage compared to others in the fitness industry.
But by following these five simple steps, you can create a retention strategy that you can put into motion the moment new clients sign up for classes. Making the most out of everything your personal training software can do means creating processes that kick into action automatically so you don't have to go through each task one by one each and every time you take on new clients.
Creating a fun exercise program coupled with an approachable style and a focus on customer service will help you to keep your personal training clients for the long term. You're creating a professional relationship but also showing you care that they achieve their fitness goals - it's a winning combination.
When you have a system in place that helps you to retain your personal training clients, you can focus on other aspects of your business, making it the best it can be.
To find out more about how TeamUp's personal training software can help you retain personal training clients and grow your business, check out this guide about the benefits of personal training software.
Open Comment Form