Fitness training has transformed, with live streaming becoming a prominent medium. For many fitness enthusiasts, these real-time classes provide an avenue to engage in rigorous workouts, regardless of geographical constraints. This virtual approach ensures that everyone can stay active and connected to their fitness goals from anywhere.
The success of any live-streamed fitness session lies significantly on the chosen platform. Selecting the appropriate platform can be the difference between a dynamic, interactive class and a disjointed experience plagued by technical glitches. Gym owners and trainers must make informed choices emphasizing high-quality video, intuitive interfaces, and specialized features for fitness experts.
To make this simple for business owners, we present a curated list of the top 8 platforms tailored for live-streaming fitness classes geared towards enhancing every virtual fitness journey.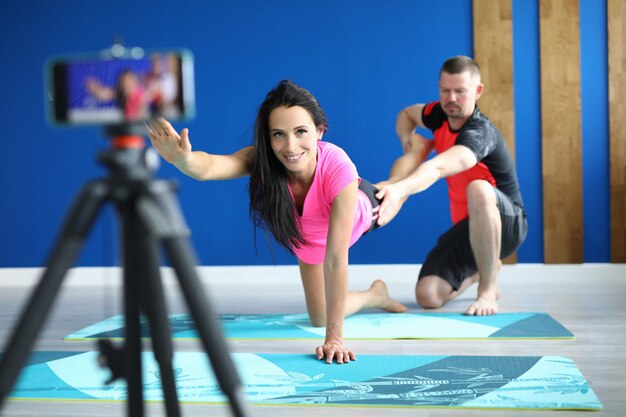 TeamUp's Expert Insights on Live Streaming Platforms
Equipment Concerns: One important point raised within the community about online classes is the variety of classes and whether they all require equipment. While yoga makes perfect sense for a bodyweight workout, it might be worth clarifying whether classes like kettlebell workouts exclusively involve bodyweight exercises or require additional equipment. This clarity can help users prepare accordingly.
Interactive Elements: Many users were intrigued by the idea but expressed concerns about the lack of interaction. Some wondered if viewers could also stream themselves, potentially enhancing the experience. Additionally, incorporating a chat function could allow users to engage with each other or instructors during workouts, creating a sense of community.
Pricing and Freemium Model: The fitness community appreciates affordable pricing and the freemium model. These are strong selling points that can help you attract early clients. Make sure to emphasize these aspects in your marketing efforts.
Video Demo: To give potential users a better understanding of your online fitness class, consider including a video demo. This can provide a glimpse of what to expect and help them visualize the experience.
Try It for free: Experience live streaming for your fitness classes on TeamUp. To learn more, visit our dedicated Online Classes page.
GoTeamUp
TeamUp is a platform designed for fitness professionals to manage their businesses, including options for live-streaming fitness classes.
Features

:

Live Streaming: Allows the broadcasting of in-person classes online, with seamless integration with Zoom for class delivery, enabling users to schedule online classes alongside in-person classes, offering flexibility for trainers and clients.
On-Demand Content: Provides the ability to offer on-demand videos and virtual fitness content, which can be accessed directly from the user's TeamUp account and app.
Online Class Booking: Facilitates easy booking of online classes with unique class links for each session, simplifying the process for both trainers and clients to meet online.
Deliver Classes: Online or in-person, with a register to see who is attending and all crucial details about them. It also enables you to start an online Zoom class directly from the register and offer on-demand content alongside live classes.

Target Audience: Fitness studios, personal trainers, and other fitness professionals looking for a comprehensive platform to manage their classes, memberships, and client relationships, while offering live streaming and on-demand fitness content.
VPlayed
VPlayed emerges as a robust platform tailored for live-streaming fitness classes, making it a hub for personal trainers and coaches. With a suite of features, it is a comprehensive solution for managing, marketing, and monetizing video and audio content catering to the fitness industry.
Features

:

Live Streaming:

VPlayed excels in delivering HD live streaming, allowing fitness professionals to broadcast their classes in real-time with minimal latency, thanks to underlying technologies such as transcoding and adaptive bitrate streaming.

On-Demand Content:

The platform supports on-demand workout videos, enabling trainers to design fitness programs that can be accessed by subscribers or members anytime, anywhere.

Content Management:

VPlayed comes with a robust Content Management System (CMS) that simplifies the management and discoverability of uploaded content, making it easier for trainers and coaches to organize and share their fitness materials.

Monetization Models:

A range of monetization models is at the disposal of content creators, paving the way to generate revenue through digital subscriptions.

Marketing and Analytics:

The platform provides video marketing and analytics features, helping fitness professionals analyze their content's performance and optimize their marketing strategies.

Multi-Platform Streaming:

VPlayed is designed to stream content across many platforms and devices, including Android, iOS, Web Apps, Fire TV, Apple TV, Android TV, and Smart TV, thereby expanding the reach of fitness content to a broader audience.

Target Audience: The platform's features resonate well with the needs of personal trainers and coaches, offering them a streamlined solution to share their expertise, engage with their audience, and monetize their fitness content.
Uscreen
Uscreen is a platform tailored for fitness professionals and studios to monetize their fitness videos online. It offers both live streaming and on-demand video capabilities, ensuring a comprehensive solution for online fitness instruction.
Features

:

Live Streaming:

Uscreen allows for smooth live streaming of fitness classes with features to schedule streams in advance.

On-Demand Content:

The platform supports on-demand workouts, enabling bulk video uploading to the Uscreen CMS.

Apple Watch Integration:

The Uscreen Fitness Tracker integrates with Apple Watch, displaying workout stats on the video player.

Monetization:

Various monetization models are available, including subscriptions, bundling of videos, or one-time access fees.

Content Organization:

Custom filters aid in organizing content by topic, difficulty, or other criteria.

Multi-Device Access:

Uscreen ensures a premium workout experience across various devices with its branded mobile and TV membership apps.

Target Audience: The platform caters to fitness studios and individual fitness professionals looking to distribute and monetize their fitness content online.
OnZoom
OnZoom extends Zoom's unified communications platform to provide a comprehensive solution for hosting and monetizing events and fitness classes.
Features

:

Live Fitness Class Hosting:

OnZoom facilitates the hosting of live fitness classes, allowing fitness professionals to engage with their audience in real time.

Monetization:

It supports creating free, paid, or fundraising events, enabling fitness professionals to monetize their services.

Engagement Features:

Features real-time chatting with members to enhance engagement during live fitness classes.

Target Audience: OnZoom suits fitness studios and individual fitness professionals looking to host live fitness classes and engage with their audience online.
Wowza
Wowza is a platform known for its robust, customizable, and scalable solutions, suitable for live-streaming fitness classes. It provides a high-definition, interactive, and personalized fitness streaming experience, adaptable to various devices and internet speeds.
Features

:

Live Streaming: High-definition live streaming in a dynamic, two-way format, allowing near real-time instructor feedback.
Adaptive Bitrate Streaming: Automatic adjustment of streaming quality based on end-user connectivity, ensuring the highest quality stream possible with minimal buffering.
AI and Advanced Customization: AI capabilities for automated pose-tracking, helping instructors manage more students and enabling users to personalize their experience.
Global Streaming: Global streaming capabilities at any scale, ensuring high-speed video delivery across various geographic locations.

Target Audience:

Wowza caters to fitness studios, individual trainers, and enthusiasts looking to partake in interactive live or on-demand fitness classes from the comfort of their own homes or on the go.
Brightcove
Brightcove is a platform that stands out for live-streaming fitness classes, offering a range of features to facilitate the distribution and monetization of fitness content.
Live Streaming: Live event distribution with best-in-class technology ensures beautiful live streams, regardless of viewership size​.
On-Demand Content: Creation of on-demand assets from live streams with the live clipping tool, enabling easy sharing to social channels even during the event​.
Enhanced Analytics: (Upcoming feature) Enhanced analytics provide more insights into audience engagement and performance of live streams​.
Scalability: Capability to scale from hundreds to millions of live or on-demand concurrent viewers, without compromising the quality of streams​.

Target Audience:

Brightcove is well-suited for fitness studios and individual fitness professionals seeking a reliable platform for live streaming and on-demand fitness content. Through Brightcove, they can effectively engage with their audience, monitor performance analytics, and scale their fitness services to reach a broader audience.
DaCast
DaCast provides an all-encompassing platform for live streaming and on-demand video content, making it a suitable choice for fitness instructors looking to digitalize their offerings. With DaCast's Over-the-Top (OTT) broadcasting solution, fitness professionals can live stream or record their classes for on-demand playback, enhancing accessibility for their students.
Features:

Live Video Streaming: Enables real-time broadcasting of fitness classes, allowing for interactive engagement with participants.
On-Demand Video Hosting: Record live broadcasts and make them available for on-demand playback, providing flexibility for both instructors and students.
Video Analytics: Monitor engagement and analyze performance metrics to optimize the streaming experience.
Monetization: Offers monetization features pay-per-view or subscription-based models, providing a revenue generation avenue for fitness professionals.
API Integration: Powerful API for automating live and VOD processes, allowing seamless integration into existing digital platforms.

Target Audience: DaCast is a simple and affordable platform for those in the wellness and fitness sector, particularly beneficial for small to medium-sized establishments or individual trainers offering live-streaming fitness classes.
obé Fitness
obé Fitness is a platform dedicated to providing live and on-demand fitness classes, offering many workout options to fitness enthusiasts. It is designed for those looking for various workout classes that can be accessed at their convenience.
Features

:

Live Fitness Classes: obé facilitates live streaming of various fitness classes, enabling users to engage in real-time workouts with instructors.
On-Demand Content: Provides a vast library of on-demand fitness classes, allowing users to work out on their schedule.
Various Class Types: A wide range of workout classes, including strength, cardio, yoga, and more, catering to different fitness preferences and goals.

Target Audience: obé is tailored for fitness enthusiasts seeking a platform that offers a variety of live and on-demand workout options, promoting a flexible and personalized fitness journey.
Open Comment Form