While we commonly work with fitness businesses at TeamUp, we also welcome entrepreneurs from a huge number of different backgrounds. We are always excited to see the flexibility and power of our software applied in new ways.
A year ago, we started working with Patrick Hegarty, who owns Idiomas Flow, based in Alicante, Spain. We were thrilled to catch up with him and find out how his innovative idea of using TeamUp for his popular language school was progressing.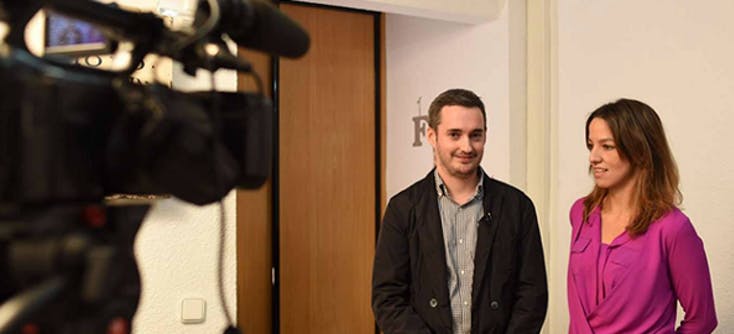 What is Idiomas Flow all about?
We are a language academy offering adult English classes to Spanish natives.
How did it come about?
After finishing University I couldn't find a job at home, so I decided to take a year out and learn a bit of Spanish as a new experience. I started working as an English teacher and really enjoyed it, as well as loving the Spanish lifestyle and people. I decided to stay on another year and soon that became a third. I met a girl out here who became my wife and business partner and Idiomas Flow became a reality.

Tell us more about your clients.
Most of our students are either studying at the university or are business professionals, who have already been studying English for a number of years but still cannot use the language. They all realise the importance of conversational English, especially in the global community and business world. We offer a new method, which is based on conversational English. We do dynamic one-hour classes, where students come before or after work. Most do three to four hours a week with us and within six months they are speaking a relatively good level of English.
What packages do you offer?
When we started, for the first two years we had the traditional system of classes where students would come twice a week, either Mondays and Wednesdays or Tuesdays and Thursdays at the same time every week. A number of our students needed a bit more flexibility when it came to picking and choosing which classes to come to; this was something none of our competitors was doing so we saw an opportunity. Through TeamUp I realised I could create a system where students could come to classes more or less whenever they wanted to. All they needed to do was buy a "bono", a membership option that entitles them to four hours a week of classes. These they can pay for on a monthly or trimester basis, as well as having an option to do a 10-lesson course of one-on-one classes.
How did you find out about TeamUp?
My wife joined a CrossFit in Alicante and I was watching her reserve classes on the TeamUp system and it started me thinking. Flexible classes are something that no other English academies provide and TeamUp would enable me to do this. The only problem was organising the classes into basic, intermediate and advanced classes. I decided to take on the free trial and it worked really well. Since we went live with this new flexible format we have increased our number of students by 200% and now have around 110.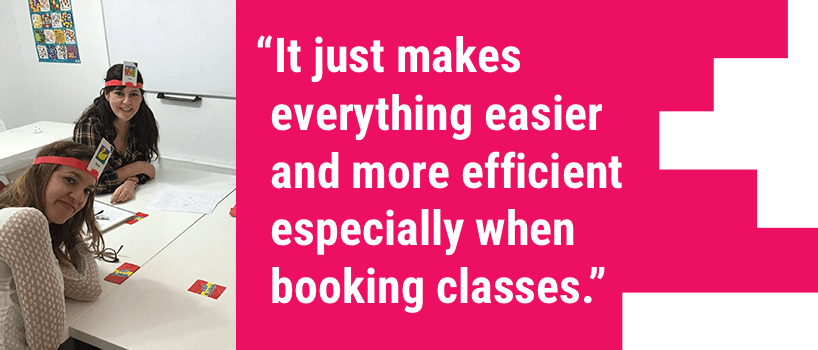 How did you find setting up TeamUp?
It was simple. We just manually input all the data into the application, which is really easy to use. Having all the details in one place made keeping track of our clients' information simpler too. The support team is really good, any problems and I send them through and get an email response within an hour. It is really responsive and we really haven't had any problems.
How do your customers find TeamUp?
They are fine with it, we do have the odd person who might not get an email and then find it in the spam but generally, there are no issues; it just makes everything a lot easier and more efficient especially when booking classes as the students now can do it themselves.
What would you tell other businesses looking for a booking service?
The TeamUp system is very easy to use for both the business and the customer. It also gives you a great deal of flexibility, especially as it can be accessed from your phone at any time, which customers like a lot.
Last question, TeamUp was initially targeted at fitness businesses. Was this ever a concern for you?
No, the language might be a bit geared to the fitness industry but this wasn't a problem. I wanted to do something different in my industry and provide a flexible way of offering classes; when I discovered TeamUp I realised, "Wow, I can actually do this".
Thanks, Patrick for giving us insight into your business and how TeamUp is helping you. For more information on Idiomas Flow, please visit their website at http://www.idiomasflow.com/
­­­
For more information on Teamup and whether we could help your business then visit our website.
Open Comment Form