What is this article? This is part of our new marketing series helping fitness owners learn what they really need to know to market their businesses. This is guide #7 of 7. To find the other guides, return to the overview page, here.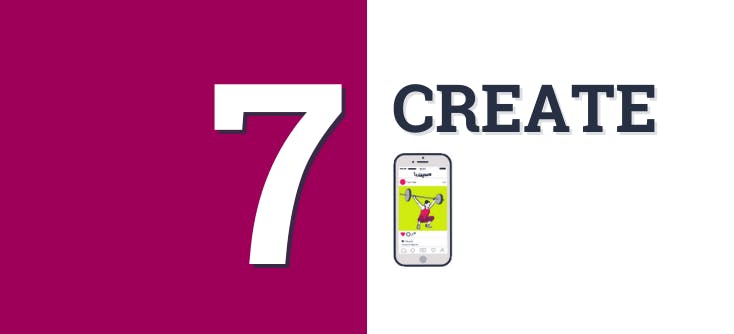 Social media is an incredibly important and really effective way of garnering interest and exposure for your business. When it comes to online marketing, you can't plan a strategy without including social media in the formula if you want to really engage with prospective customers. Your target clientele almost certainly regularly use at least one social platform on a daily basis, if not more.
Which gives you the perfect opportunity to utilise popular social channels to make your fitness business shine. Not to mention it is the perfect tool to support your new content on your website and give new customers a place to find your website. In this article, we look at the different ways businesses use social media to promote themselves and how you can too.
What is social media?
Facebook, Instagram, Twitter, Linkedin, Youtube, and back in the day, MySpace and even Bebo; social media platforms have become household names. An easy way of staying in touch with long-lost friends and far off family has also become the hub of online marketing. From corporations to small business owners and everyone and everything in between has made creating engaging social media pages and posts a central part of establishing a solid online presence as a key part of their marketing strategy. These platforms are no longer just ways of sharing videos and photos with friends and family, they are a vital part of any business generating interest in their product and services.
Why should fitness businesses use social media to attract new customers?
There are plenty of reasons why you should put effort into your social media activity. As tedious as it may seem at first, ultimately the results speak for themselves.
Firstly, setting up a page on most social channels is free and doesn't come with as heavy of costs as do other marketing strategies. While it's up to you to decide how much you want to invest in your social media channels, ad spend, and whether or not you'd like to use a platform to schedule and post (more on that later), social media doesn't have to be expensive to be effective.
Secondly, it gives you a wider reach to entice potential new customers through your doors. On certain social media channels such as Facebook and Instagram, the platforms use algorithms (tech term for formula) to show you the content they think you want to see and vice versa. Setting your location, targeting certain areas, and using hashtags can make sure you find your target clientele and they find you.
Thirdly, what better way to explain what you and your business can offer than actually showing everyone? Photos, videos, and customer testimonials can be shared for the world to see. The more creative and engaging you are with your content, the more the social channels reward you by making sure your content gets seen.
Why posting is the key to engagement
If you're not a regular social media poster in your personal life, dedicating time to post content in your business life can seem like a tedious task. However, it doesn't have to be. Creating a daily post (photo, video, graphic) with pertinent hashtags will get the right people looking at your content, and it is a way to demonstrate what your business is all about.
When social media platforms see that not only are you posting good engaging content, but relevant content, they want the audiences you are targeting to see that and will prioritise your content. Social media rules are ever-changing and it can be a bit tricky figuring out what Instagram and Facebook like one week over the other, but as long as you are posting the content your audience favours and responds well too, engaging back with your audience via likes, shares, comments, and saves, and keep a regular posting schedule to stay consistent, your social media will help you grow. In the next few paragraphs, we'll show you examples of what good social media posts and strategies look like and how to create your own.
How to decide which social media platforms to create posts for
How to choose which channels to post on
There are a plethora of options when it comes to social media and while you might enjoy one channel over the other, you have to consider where your ideal customers spend most of their time online. If you're incredibly tech-savvy and enjoy engaging with social media then the world is your online oyster. However, if you prefer to keep the technical side of your business to just the necessary, choosing one or two platforms is a good starting point.
What a good social media post looks like
There are certain "musts" when you're posting to your social media accounts. To make sure your posts grab the attention of people scrolling through new posts, you need to make sure that you stick to some core principles:
Great, high-quality photos. As obvious as this point may seem, you'd be surprised at how often people post less than great photos. Attention-grabbing photos are essential to a business's social media. It's the difference between a random post and a professional account trying to catch the attention of potential followers and customers.
Relevant hashtags. It can be tempting when you're posting to add as many hashtags as possible. Don't. In fact, certain social platforms have either a recommended number or limit to how many hashtags you can use. You need to keep your hashtags on brand and relevant to your post. Anyone searching a particular hashtag won't give posts the time of day if they don't actually reflect what they're looking for. It's better to have fewer, relevant tags than hundreds of irrelevant ones.
Speak their language. Following on from relevant hashtags, you need to cater the language for your posts to your target audience. If you're trying to network with other businesses on Linkedin for example, the language you'd use to that of Facebook and Instagram to get the interest of members and potential customers will be noticeably different. Doing some research by looking at how similar businesses gauge their language on the social media platforms you're intending to use is a good start.
Keep it concise. For platforms such as Facebook and Instagram in particular, keeping the written part of your post as short and as simple as possible is a big bonus. People scroll quickly, and they're not going to want to read a lengthy article. You can link a post to your website's content, especially if you're creating blogs and articles to help your SEO strategy.
Know the best time of day to post. You want posts to get noticed by as many people as possible, so knowing when most people tend to use different social media platforms is another vital aspect of managing your social media. Make sure you're aware of the best times to of day to post and on which platform so that you know when to schedule your posts to go out.
Find out about the different types of social media posts businesses should create
Different types of social media posts and content to share:
Promote offers and events
Showing your followers what promotions you have coming up, such as for newcomers in January or during the September rush, as well as any events or challenges you're setting for your members is a good way of regularly engaging to as many people in the health and fitness community as possible, especially on a local level.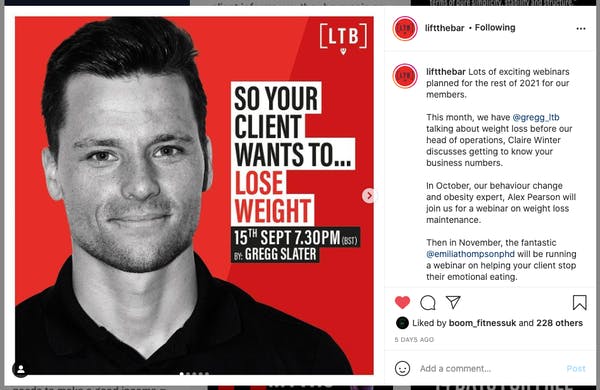 Photo credit: Lift the Bar
Members' success stories
A win for your members is a win for you. Their customer loyalty has paid off, and they offer you the chance to show new customers what results they can achieve by sticking to their fitness goals and working out with you. Posting your customers' achievements and encouraging them to share the post on their personal accounts is a great way to spread the word about the services you offer your members. You can also think of it as boosted credibility for what you're saying new members could achieve can and does, happen.
Photo credit: Louise Redmond PT
Share your tips and expertise
Keeping your current customers and turning followers from prospective clients to members is something you should be aiming to do with your social media accounts. Uploading videos with demonstrations of workouts and explanations about form covers both bases. It keeps your members engaged while also showing potential customers what you can offer them should they come to your classes.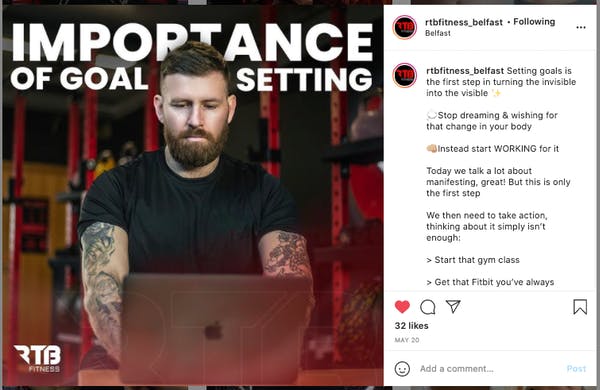 Photo credit: Raise The Bar Fitness
Create polls
Having trouble deciding about what to offer your customers? There's no one better to ask than your members themselves. Facebook, Twitter and Instagram are perfect for creating basic polls. Offer two options and see which gets the most likes. You're engaging with your clientele and getting free market research all at once.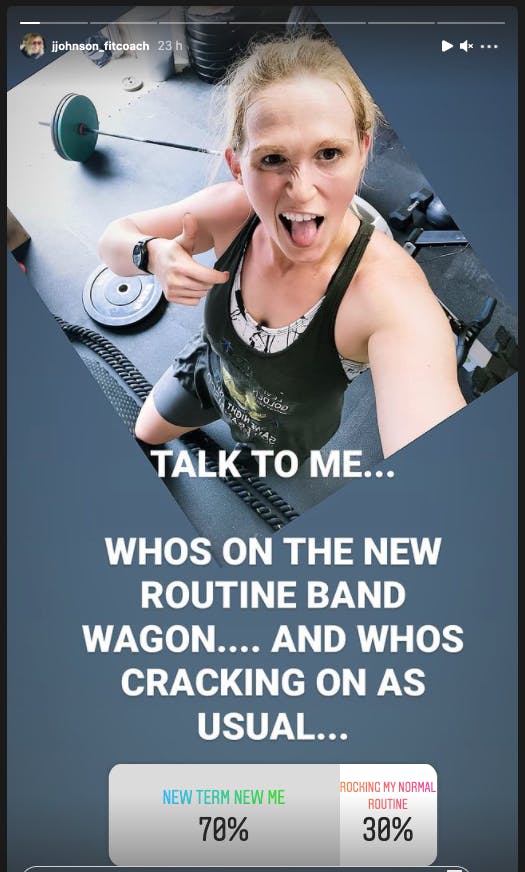 Photo credit: Jen Johnson
Introduce your team to your online community
Don't hold back on your social media posts. This is your time to shine and show off all the best parts of your business and that includes your team. Introduce your instructors and trainers. You can start by posting about new staff members. Who are they, what's their experience? It's a way of introducing them to your members without having to arrange a meet and greet. Another angle would be to do a staff member of the month post. Again, get them to write a few words (we're talking a few sentences maximum) about themselves. Your team are the ones interacting with your customers, so let them know who everyone is.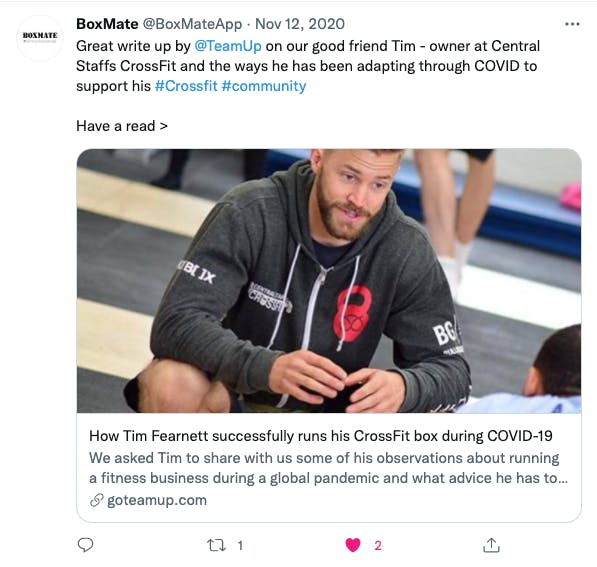 Photo credit: BoxMate
Tell your followers about your awards and business news
When you achieve something positive such as winning an award or a new partnership, don't be afraid to show off. Show your followers how far you've come and add links and photos of these accomplishments to your newsfeed and story. It's also important to add this kind of information to Linkedin. It shows you're a serious player in the industry, and it can also help you improve your networking with other similar businesses.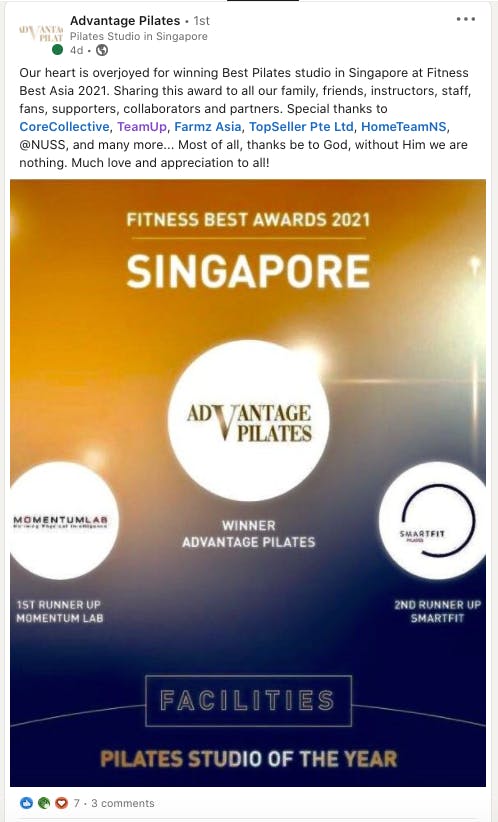 Photo credit: Advantage Pilates
Motivational and inspirational content.
Sometimes your posts don't need to be directly about your services. They need to motivate your customers and seeing that in their feed is a great reminder for them to keep going and achieve their fitness goals without it being overtly a promotion of your business.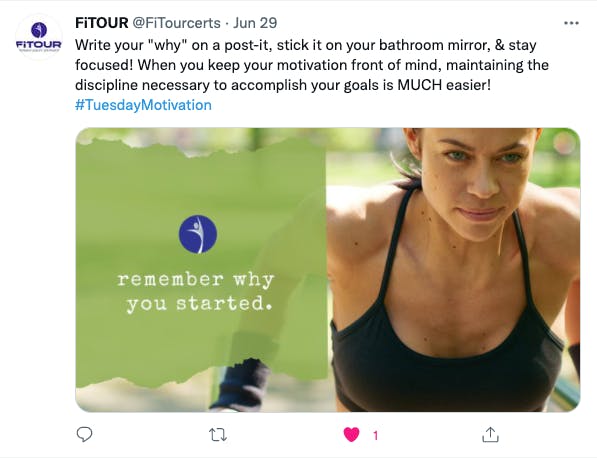 Photo credit: FiTOUR
Workouts customers can do on their own
A way to keep your members engaged outside of class, adding content detailing short home workouts, or videos explaining form and technique for a specific exercise is a great way to keep your members chasing their fitness goals. Your demonstration videos are also the perfect way to market your on-demand content. Just include short versions of your on-demand videos, and you're essentially marketing to non-members by showing them what they're missing out on.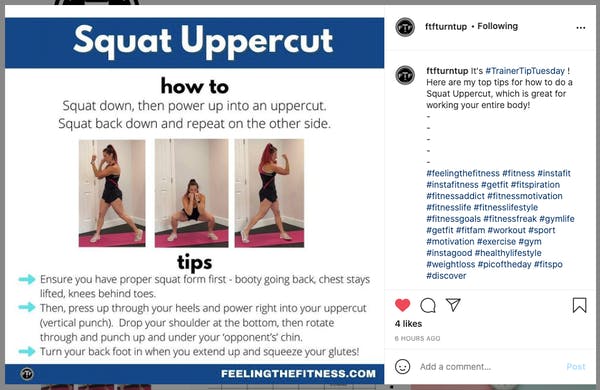 Photo credit: Feeling the Fitness
New classes and services
Your social media accounts are one of the easiest places to let your customers and members know about any changes to your business, be it new staff members, a change in times for sessions and classes or new programmes, challenges, and any other services you want your members to be aware of, a simple post with a link to your website is an easy yet effective strategy.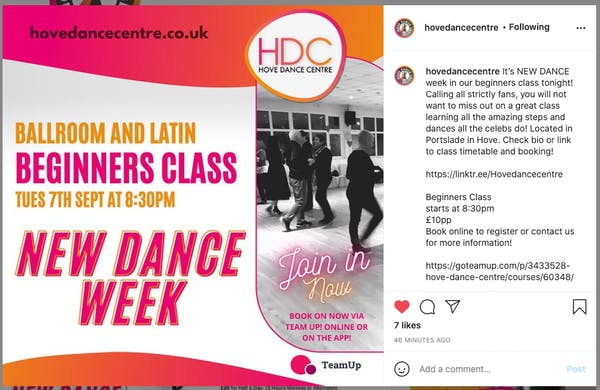 Photo credit: Hove Dance Centre
Tools to help you post on multiple channels at a time and organise
Keeping on top of your social media posts and making sure you update them regularly may seem like a full-time job in itself, especially when you're posting to several platforms every day. Taking photos and making videos showcasing your business, creating catchy captions for them, choosing the relevant tags, all adds up to more time away from what you really want to be doing in your business. However, it's not all doom and gloom.
As with most things in the world of tech, there are people out there who have created some great solutions to help you organise your social media. There are a number of social media management apps out there designed to make it easier for you to manage your business' social media accounts. From scheduling your content to posting it across multiple platforms for you, these apps are designed to take the time-consuming side of running a business' social media away for you. With both free and paid subscriptions available for these apps, you can opt for a version that works best for your and your business' needs.
To wrap it up, social media is a great addition to your marketing strategy
By investing some time into your social media posts, you are tapping into one of the most easily accessed areas of online marketing. It's an easy way to create an online community for your members while also advertising your business and your services to the wider online world. You don't have to spend hours of your week creating and uploading content either. It's something you can spend a bit of time on once a week, and then with the help of third-party apps, you can schedule your content to go out throughout the week.
Series conclusion
This guide is the final guide in our 7-part mini digital marketing series. To find guides 1-6, head to the series overview, here. Make sure to sign up for the free downloadable guide and receive updates when we launch new updates or guides. Thanks for reading and please get in touch and let us know how you found it.
Open Comment Form