It's time to re-open your doors to welcome your customers back for in-person classes. As you make the transition from online classes to in-person classes again or choose to continue with both, these guides and tips will help you navigate how to move forward. You've been through this before, and know the drill, but as we have said before, preparation is the key to successfully re-launching your fitness classes in-person.
Everything you need to re-open your gym or studio can be found in these articles here: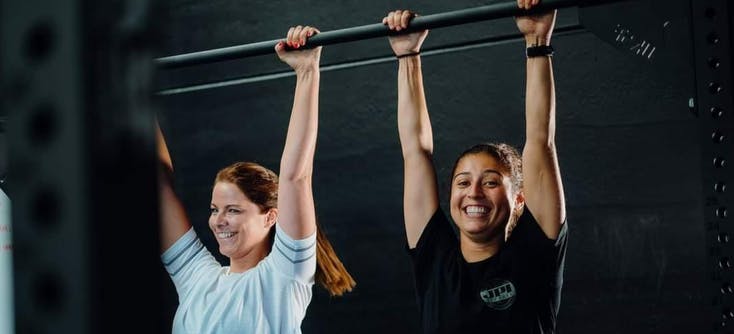 Photo Credit: CrossFit Pembrokeshire Tenby
Re-opening your gym or studio
Use this time to put together a strong game plan for re-opening your gym or studio. Learn how keeping your customers informed, preparing ahead, and using several of TeamUp's tools and features will help you bounce back without skipping a beat.
TeamUp COVID-19 tools and features
Partnering with Zoom to offer online classes isn't the only feature that will help you manage your fitness business during COVID-19. Check out the top TeamUp tools and features that will allow you to manage memberships, check in with your customers, and offer support all within your very own dashboard, here.
What the new tier system means for your gym or studio
As new rules and regulations go into effect on December 2, 2020, make sure you know what tier your business falls under, and what the terms are for giving classes in person. Sources including EMD UK and GOV.UK are continually updating their websites to provide the most accurate information regarding gyms and studios, personal training, group exercise, and outdoor training.
How to make your customers feel safe and confident about returning
Check out our guide with details on everything you can do to help your customers feel safe and confident about returning to your facility. From sharing and communicating your safety measures and protocols to adjusting class sizes and your timetable, now is the time to go the extra mile for your customer and their safety.
Offering one on one training outdoors
When regulations allow, give them the opportunity to do so through outdoor one on one personal training. This guide will help you understand the rules for one on one training, how to maximise the opportunity to offer these sessions, and how to help you schedule them within TeamUp.
Encourage your customers to come back to class
Now that the doors of your gym are back open, learn how to encourage your classes to come back to class. Your safety measures, class sizes, new skill offerings, and TeamUp tools will give your customers the comfort they need to help them return.
Give your customers the option to do both
If you have customers that are still hesitant about coming back full time, offer them a membership that includes both in-person and online classes. This will not only show your customers that their safety and comfort matter most to you, but it will boost your engagement to ensure that you are reaching as many of your customers as possible through both formats.
Send surveys and forms to gain insight from your customers
Your customers can provide you with some of the most beneficial and helpful information when it comes to re-opening. Take a page out of one Pilates studio owner's book, and check in with your customers to see how they feel and what they expect from you when you welcome them back to class. You can see the results from her survey after she first reopened her studio, here. If you would like to update your signup forms to include recent health history, you can do so by requiring your customers to resign before returning to your gym or studio.
Use TeamUp's updated and newest tools and features
Streamlining your admin and tasks using our booking software will help you get back up and running without any pause. To lend a helping hand, we are adding and updating tools and features to your dashboard, weekly, with guides on how to use them in the what's new section on our website.
Ask your customers to leave a review
A customer testimonial sharing how amazing of an experience it is being back in your facility and classes could be just the thing another customer or potential customer needs to feel encouraged to return, too. Ask your customers to leave you a review or encourage members to return to get everyone back on in your gym or studio in no time.
For more information regarding opening your gym or studio during COVID-19 check out our resources section updated weekly.
Open Comment Form