Triathlons are seen as a true test of an athlete, and participation has grown steadily. But while most people can achieve proficiency in running and cycling, swimming is the least favourite activity and the one that people fear more than anything else, especially on open water.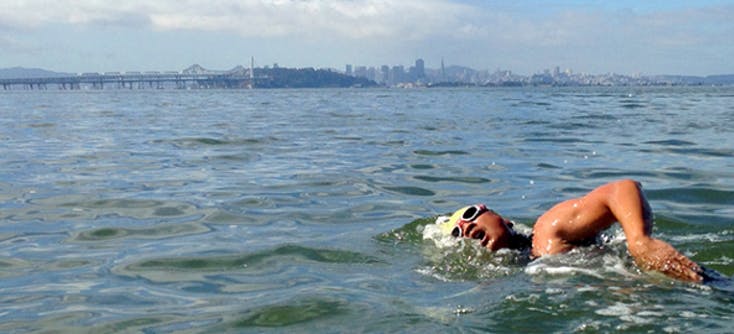 The 2012 TIA survey showed that 56% were runners before they came to the sport, 22% were road cyclists, and only 19% were swimmers. The gap that Warren spotted was that this was the area that most people needed some form of coaching in swimming. His judgement is backed up by statistics. TribeGroup LLC. 2009 report "The Mind of the Triathlete™" showed that 42% of people training for triathlons didn't have a coach, but would like to. Importantly, triathlon training attracts committed people, who are prepared to invest in their training and equipment.
Why is it so challenging?
Warren highlighted people's biggest initial fear the cold. However, this isn't really a problem: "Being in the bay, it's actually a lot warmer than you might expect. It's a big concern of people before they start but then they're often surprised how warm it is" The biggest challenge in the bay isn't the cold or the sharks it's the unpredictable current and tide. Ignoring the occasional seal is also a regular treat.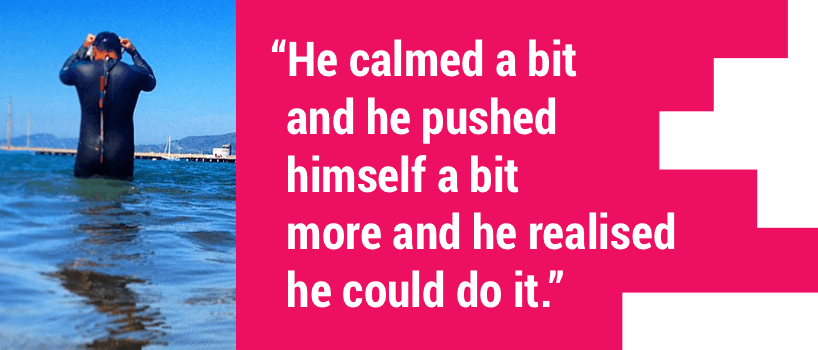 History as a coach
Warren has been involved in swimming for a while: "I was always into swimming, first at school at then at college. I did coaching and then that just progressed I found my passion for teaching when I coached in high school, running swim clinics. Discovered that I loved the sport and loved the process of helping people improve. I got into coaching for a few years and loved it so much that it opened my eyes why haven't I been doing this my whole life? I just thought… so many people could benefit from learning proficiency in this area."
Passion for helping people achieve their goals
Warren is most passionate when describing making a genuine difference to someone's life and training. "There was a swimmer who I was working with a few months back who was training for his first full Ironman triathlon. He's a great athlete, great runner and great cyclist but was new to swimming and was uncomfortable. He knew he had to swim the distance for his triathlon. And needed to do it with energy. But he felt like his swimming just wasn't quite at that level, and said to me "even if I do it, I won't have enough energy left to complete the race".
So he came and had some private sessions, and we put together a program. We started working together and he came regularly. We kept working to extend the distance so he was prepared for the actual event. Every day when he came the water was flat. Perfectly calm. Until the day he said he was ready to try the full distance. And it was a crazy day in terms of the weather. He was pretty intimidated by the prospect of getting out there. But he was confident in his abilities and I know absolutely that he could. So I said, "we're going to swim out there and then all the way back". He got in and then swam all the way to the point. Then looked back and was like "Oh man, now we have got to go back?!". "I'm not sure if we can do this".
The halfway point is the toughest once you're tired from the swim over. So we were out there in the bay. Of course, I was in the kayak and had all the safety equipment. We stopped and talked about what his options were. He calmed a bit and he pushed himself a bit more and realised he could do it. When he finally reached the shore he was so excited that he had done it. "This was one of the hardest things I've done in my life and I'm so excited that I achieved it". A couple of weeks later he had the event and did it no problem. He contacted me straight afterwards and said he was so grateful. That is one of the best feelings as a coach."

How software has helped
Warren is enthusiastic about how software has helped his business: "It just gives so much in terms of convenience and importantly means that I can focus on the swimming. I'm out supervising and depending on how many people come to the swims, I might have to hire someone else to help. Because people register in TeamUp it allows me to see how many people we're going to have and allows people to pay beforehand so it's all about the swim when they get there. I don't enjoy it when people just come and say 'here's some cash'. When people are able to pay online it makes it a separate thing and makes it personal when they are there. Means I can help them out rather than it being about the money."
Pulse team
Warren is a real example to anyone who loves what they do and wants to find a way to make it important. His commitment, passion and determination to make it a business that puts people first is truly outstanding.
Would you like to challenge yourself in the San Francisco bay? Find out more about Warren and Odyssey swimming here.
To learn more about TeamUp, sign up for a free trial.
Open Comment Form