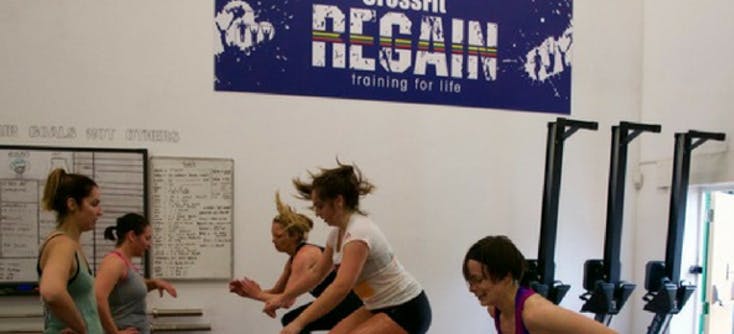 How did you get into CrossFit?
I was a Marine and on leaving the service I retrained as a sports therapist and at the same time did my level 3 PT training as something to fall back on. I joined a CrossFit for my own fitness and box and eventually set up a clinic there. I really enjoyed it and wanted to get more involved with the actual running of a CrossFit Box rather than just sports therapy — this inspired me to look for my own gym.
Where are you now?
We now have around 70–80 members and keep to the original CrossFit concept, placing the emphasis on intensity in workouts and plenty of strength work. Our gym is more geared toward health and fitness than the competitive CrossFit. The demographic we work with is the 30+ although we do have a few younger members.
What does the future hold?
Right now our actual floor space is quite small, so we are probably going to look at reaching 100 members and then start a waiting list. For us good service is paramount, we want to make sure everyone is getting properly looked after. Next year we may look at getting more coaches in to do more classes and possibly take a step back, but we will have to wait and see.
How did you find TeamUp?
We started with TeamUp, as soon as we opened, on the recommendation of a friend. I knew I wanted a management software system because the thought of organizing everything once we were busy horrified me. My friend showed me on his system how TeamUp worked and as soon as he did that I made the decision to sign up!
What do your clients think of it?
Great, I believe. We have not had any complaints and the system seems to run itself. They all get on with it and the majority enjoy it because they can do everything over their cell phones, from booking classes to payments. It all seems to work, for them and for us.
How about the GoCardless option?
This is very easy and was the reason we wanted to go with TeamUp originally. Chasing people for money is not our style, especially when you have more than 30 members. It causes awkwardness. We've always had the GoCardless and Stripe on there and we originally had a cash option too. After the first year, we got to the point of being card only and it made life a lot easier. Clients sign up, fill in all the details themselves and we never see it, we just have the money drop every month which is perfect. It's effortless!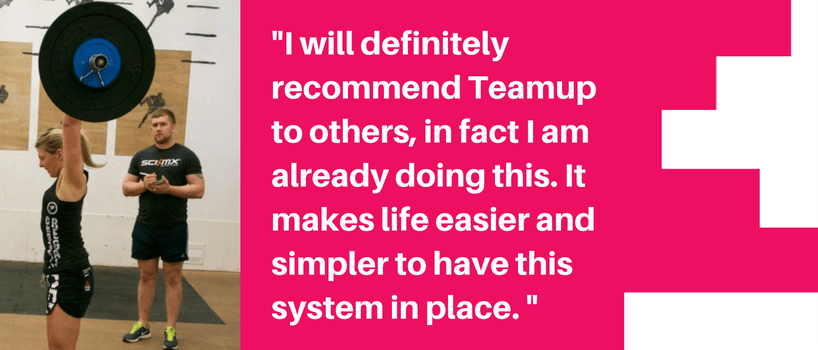 What would you say to another CrossFit facility or fitness professional sitting on the fence about using TeamUp?
The system is so easy to set up and use, from day one there have been no glitches. It does everything, all your classes, memberships, courses, and finances it is an extremely versatile system. What's more, you can look back on trends and this, that and the other, which is incredibly handy! But the big plus for me is that it is continually evolving and getting better. They are looking constantly for new options, ideas and ways to make the system even more straightforward. Then there is the support, from the Facebook page to the helpline. You always get a quick reply to any question.
Is there anything you want to add?
Just that I will definitely recommend TeamUp to others, in fact, I am already doing this. It makes life easier and simpler to have this system in place.
Thanks, Matt, for giving us great insight into your business and how TeamUp is helping you!
To learn more about TeamUp sign-up for a free trial.
Open Comment Form