After spending 4 years in the management and sales side of the fitness industry husband and wife team Nick and Hannah Eagle decided that their 70-hour working weeks could be put to even better use by setting up their own business.
Oxfordshire Personal Training has been running for 3 years now and going from strength to strength.
Nick tells us about what he has learnt along the way about business growth and shares some business tips. He also tells us how TeamUp has benefited his business, saving time as well as leading to his business saving £100's each week.
"We have a combined experience of over 30 years and we have a variety of trainers. My wife and I are both personal trainers and other personal trainers are working for us. They've been working for many, many years in the industry too."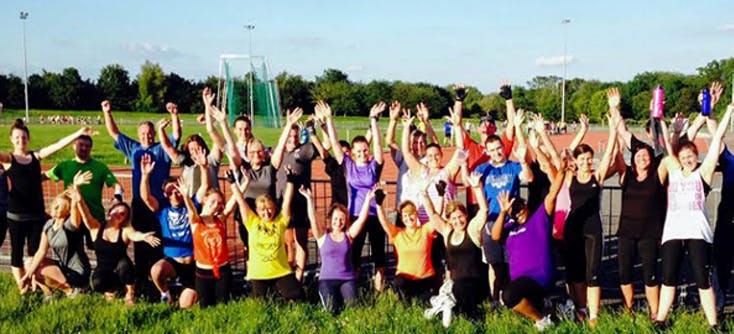 What does Oxfordshire Personal Training do differently? What makes you stand out from your competitors?
Well, we try to provide an all-inclusive approach to exercise.
Taking much of the common problems and challenges people have and overcoming them all in one place.
We're kind of the go-to guys for most things. We use nutritional support, supplementation, group exercise and one-to-one personal training.
Each one of our customers gets a dedicated personal trainer to help them through their journey whatever their goals may be.
We have a group exercise program that we run and boot camps. That's kind of at the one end of the spectrum where you turn up and just paying a group exercise. It isn't tailored to you but it's predominantly based on weight loss or the opposite end, you can purchase personal packages which have a dedicated personal trainer and every else that you might need to help you achieve the goals.
Tell us about the jump from employment to running your own business….
Well, my wife and I are both very, very hardworking individuals, very career orientated and usually we've always worked 60–70 hour weeks. With our enthusiasm, we decided that time would be better spent growing our own business.
It's a little bit different in the fitness industry because you do live and breathe it. It becomes your life, your hobby and your career kind of merge into one.
It's very important to deal with the stresses of work and the energy levels you need to run your own business or work 60 hours weeks.
You need to be fit and healthy. It's important to prioritize that above the work to enable you to work that hard.
Have you always wanted to run your own business?
Yeah, I think so. I've always been very ambitious. My wife is too and we naturally gravitate to, I think, having control.
How is the business growing at the moment?
We are going through a great phase at the moment actually where we have three freelancers who work for us and we have somebody else starting in a few weeks and hopefully two more by the end of the year.
It does change the balance of the business. They're all absolutely fantastic and really hardworking.
They seem to have the same culture that we do. They fit into our business culture but it does come with a whole load of responsibilities and stress that you have to manage as well.
What business advice would you give somebody that you wish somebody had shared with you three years ago?
I think education is very important in the fitness industry. I think keeping up today with current trends and new information, a new science that's out is very important.
The piece of advice I usually give everybody is that go into business you do need to run it like a business and you need to do your research and learn about running a business opposed to exercising for a living.
I think it's important to understand marketing and sales retention and management leadership and these types of skills to be able to grow a business.
I think that's the thing I wish I'd been told early on. It's spending a lot of time learning those skills as well as the knowledge and education that you get in the fitness industry.
You built your own membership management system initially, what issues did this give you?
I've always built my own websites and I built my own membership management system online too.
It was something that I built and it was fairly basic but it allowed me to manage our membership base of boot campers when we first started our boot camps.
As that started to grow, I started to find problems with the application that I built. It wasn't necessarily suited to our needs completely as we had hoped and we're not spending a lot of time fixing the problems and adding different patches here and there to make it a little bit more robust.
I'd come across another bootcamp website from somebody at the opposite end of the country and saw that software was really interesting and quite useful. We tested it for about 30 days or so and decided to roll it out on our website and use it with our customer.
We haven't looked back since.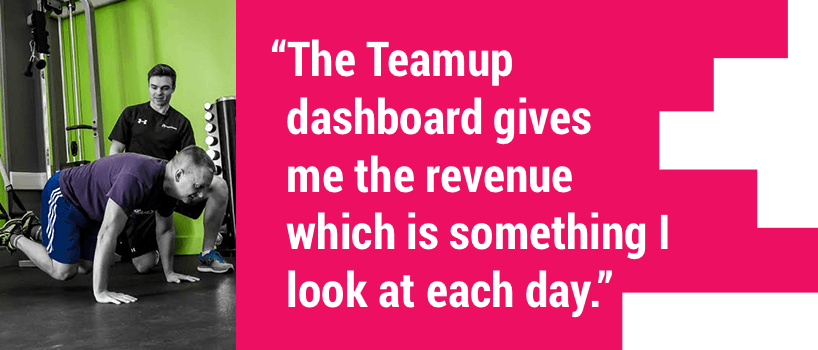 What does it do for your business?
Bootcamp membership is one part of our business and customers register for a free trial which sends them into the TeamUp system. This is our customer relationship management system, with every contact we have for the bootcamp.
Half of our business goes into this system and it gives us a dedicated place to keep our leads and keep our customers and information on them so that we don't lose track of them.
We then schedule classes on the system to our hour boot camps and they're on recurring events which save me time each week scheduling new events instead of them reoccurring.
Our membership base can then log onto through our website to book those sessions each week. That saves me a lot of time having to put customers in.
At the end of the month, I typically use the reporting features to broadly see their face and the changes we've made in our business apart.
It's very difficult when you're dealing with a lot of customers to know the trends by knowing the individual actions or the activity they're making.
The reports give us a really broad overview of the trends of what sessions are busy, what sessions aren't busy, what customers are likely to leave our business or losing motivation and what customers are repeat customers, the ones that are most enthusiastic about coming.
It gives us reporting and what it takes to be able to make actions on board.
How many customers are using the system?
At the moment I think we're looking at about 100 customers, active customers, this month. Through TeamUp and that would probably get to about 175, I think, in the summer.
What else has TeamUp helped you with?
TeamUp is constantly rolling out new updates which I'm really enthusiastic about.
Every time I see a new update, even if it's not relevant to my business, I wonder, "How could I use that."
It gives me inspiration for different ways of growing my business even though they are just developing the software.
That saves me a lot of time and a lot of effort in coming up with new ideas let alone new add-ons to your software to try them, improve the software and also then improve the business. They do that for me.
How do you get your motivation?
That's a tough question when it's all you know. I do wonder sometimes. I wish had a very good answer for that. I think it's just very, in general, the drive that I have and to grow too. I'm not very good at standing still.
I think it's just an internal kind of motivation I have. I'm not sure where that comes from.

Do you think that you need that if you're a business owner?
I do think it's very important to have a huge level of drive because businesses grow and move up the ladder slightly, each step, it becomes more and more challenging.
You have to be quite robust to deal with that. I think it's very important to have a compass that goes north constantly and doesn't get deterred by some of the challenges you find at each level.
It's important to have a lot of drive or a very, very good product.
Anything that you'd like to mention?
It's very important for me to be able to see the financials of the business at a glance and this could be quite challenging when you're dealing with lots of customers.
The TeamUp dashboard gives me the revenue which is something I look at each day to see whether I'm ahead or behind on the month for our new customers, confirmed revenue or active customers.
Also, TeamUp lead me to another company called GoCardless which integrates with TeamUp really well and has managed to save me quite a few hundred pounds each month on my direct debit fees.
TeamUp has helped me indirectly with some of the financials of the business too which I think is really useful and worth mentioning.
Our culture and mantra in the business is that great workouts change lives and it's something we've always stuck to whether it be that the setting is in a target audience that we're writing our blog piece for marketing material for or the way that we deliver sessions or the nurturing of folks that we take… We're looking to change people's lives with very, very good workouts.
Thank you, Nick!
Learn more about GoCardless and TeamUp here.
Thanks for reading!
Open Comment Form