Finding what makes your business stand out in a very populated industry can land you quick success. Whether that's offering something new to the market, nailing who your ideal customer is, or having an excellent location that makes accessibility easy. Sure these things help you attract members, but it's the feeling people who walk through your door experience on the inside that's going to make them come back for more.
For the owners of Squatch Frontier Fitness, they knew that if they were going to make a real difference and impact in Austin, Texas area they needed to offer more than another space for people to come and exercise. They needed to build a community of like-minded individuals who cared about their health, had an entrepreneurial vision, wanted to make a difference among their peers too, and enjoyed the benefits of unconventional functional workout styles and wellness.
With over 100 members and a community of people who are determined to flourish and thrive personally and professionally every single day, Squatch is disrupting the traditional fitness model and customer experience.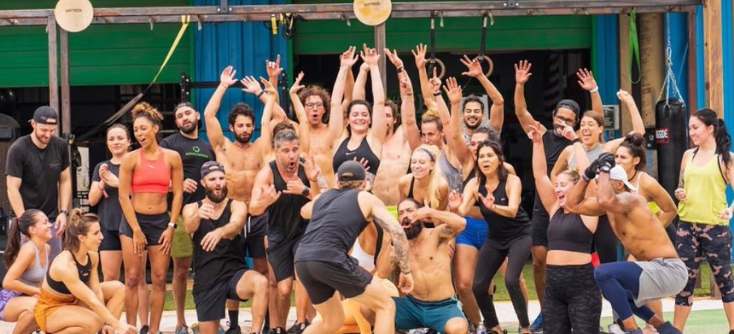 We sat down with Squatch Frontier Fitness Digital R&D, Joe Lucky, to explore the evolution of their business model and how they give their customers a 360 experience. Joe walked us through the strategies, such as local partnerships, that have contributed to their growth and success, and what their goals are for the remainder of 2022 and beyond. Enjoy Joe's article below.
It starts with a vision
Originally Squatch Frontier Fitness was called Squatch Thursdays. We started doing workouts in the backyard of our owner, Jason Sabala, house. At that point, I had worked with him for about three or four years at his other business, Buzz Mill Coffee, which is a 24-hour coffee shop. I was into the idea because I worked out, and it became a way for us to test our culture within our leadership team there to see who was really in it for the journey.
We love the quote,
If you want to go fast, go alone. If you want to go far, go together.
That's always been at the core of our culture. We started the workouts on Thursdays then became Tuesdays and Thursdays and then six months later, it was every weekday. Jason then decided he wanted to open a gym, and he had already talked about this for a while and had already tried in 2019 shortly before the pandemic, but then had to pivot and relocate almost immediately once quarantine hit.
When that happened, we knew that we wanted a very specific type of person to be in the gym. That was someone who cares about their own health and takes it into their own hands. Someone who is running their own lives in a very specific way that is uplifting not only themselves but the community around them.
Creating a member base of movers, doers, and shakers
We knew that we were looking for someone that we would call a "mover, doer, and shaker".
If you are a mover in our community, most likely you're a trainer and you are helping move along with the ideas.
If you are a doer, you're most likely the one who is like having a lot of ideas and conversing with all these other movers.
If you're a shaker, then you're the person who integrates a lot of these communications.
An entrepreneur is basically what we wanted, but we wanted someone who would look at the gym here in Austin, and see that they wanted a little bit more at a better price within a different community.
Finding like-minded individuals to join more than a gym
We started looking for our members by going to other businesses we loved in our community. The Ocean Lab here in Austin is a great example, the owner is an amazing human being. We chatted with The Health Lounge by MSW Nutrition. We kept the conversations going and Jason also spoke with his mentors and people in many areas of life, as well as other gym owners.
We started realizing there was a common thread amongst our local community of people that show up. We got this core group of people to come to the gym and started growing through them. A lot of our growth was through word of mouth, and we kept it small at the beginning to be within COVID restrictions.
We had a tight-knit group of people who really resonated with our mission but didn't have the tools and resources and gym amenities that we have now. They saw the vision and were willing to invest their time and energy, and money, and that's where we started.
Our core group was about 80 people and that grew little by little through people sharing their stories on social media, tagging us, and people asking what gym they went to. Our members have like-minded people following them because they love what they do in life and those people were vouching for us.
Implementing collisions to inspire collaboration between members
We started looking at the gym and started discussing 'we have all these people, how do we catalyze these ideas?' We had to create a lot of collisions and that's how we see the business.
When we implement something, how many more collisions can we create? By collisions, we mean ideas touching other ideas, other people conversing with others that can bring them further along on their journey versus someone who's just going to use them and then let them go. We want more of, "Hey, you helped me". It's a win-win situation.
Even when we're discussing our sauna, we want people to sit there and talk and converse. We have an ice plunge because we want them to take care of themselves.
We also have a community workout and do a trail clean once a month. We didn't have these elements right out the gate, we built them over time. Now it feels like it's growing like wildfire.
I hosted an event called "fire and ice" and it's all about coming as you are, giving you the energy you need to bring new ideas, intentions, and innovations across the threshold of you. That mission is not just something of mine. Everyone echoes it and that's not on purpose either. It seems to be that we all align under a single thread of how we can connect and bring the community together.
Members and activities making an impact on the Squatch vision
There are countless other people doing cool things in our space like going into the sauna, then the ice plunge and talking on social media about the benefits. Going and doing sled work and why it's beneficial. People are seeing our members going and doing activities more in line with where they see their life going. Instead of being a traditional bodybuilding gym or CrossFit gym, we are allowing the world to see through them these other avenues.
CJ Finley, the owner of Thrive on Life, is an example of someone being himself, posting about what he's doing in his life, including coming to our gym, and his stories really took off.
There's Daniel Gertner, who is a functional movement coach and a brand ambassador for Kinis Barefoot Shoes, which is a movement company that makes barefoot shoes. She and Daniel Gertner are leading the way. She hosts this class every week called Warrior Women where powerful women come together and they work out together. She also hosts another class called Girls Who Grind.
There's a Dave Nuzzolo who is a trainer for Athletic Truth Group and is a great facilitator for helping you rehabilitate your knees.
When you see these stories of unconventional yet functional ways for your body, it's not really spoken about in the larger fitness community.
We offer a lot of different flavours for people to try and when people see them in their stories and how they're going for it and getting after it, they want to join.
Building partnerships throughout the community to support our members
When a member becomes a member of Squatch Frontier Fitness, it's in large part because of the community. But I also believe that if you have a member that is about taking care of your health you should also have access to other places that have the best interest for you as well. We have perks that are available for any member.
Coworking spaces
Originally we had the idea of adding a cafe to the gym because within the gym there are so many collisions and people want to keep talking. But within a cafe, there's no privacy. Someone's going to come up and start talking to you. We partnered with a co-working space across the street from us called Createscape Co-working which allows our members to get memberships there for 10% off as first-time visitors. For our employees, we're also able to go over there and get some work done too. Being in a different environment, separating a little bit of their workout from their mental work.
Nutrition
If you like to source your meat and you want to have high-quality meat that can be delivered to you we partnered with Broken Arrow Ranch and every one of our members can get 10% off there.
Buzz Mill, our 24-hour coffee shop, all of our members get 10% off of food and drink as well as 10% off to all the food trucks located near there. Most of them are even vegan.
MSW Nutrition has one of the best offerings for our members which is free B12 shots, $30 off NAD+, $5 off Drinks, and 15% off everything else.
Apparel
At Kinis Barefoot Shoes you get 15% off some of the best barefoot shoes on the market. At Forever Athlete and Rhone Apparel, you get 15% off as well.
Activities
We have access at Buzz Mill to a lumber society which has a wilderness survival class that allows our members to get the skills necessary to survive in the wilderness for at least 72 hours. They get one class free a month.
There are so many great perks associated with just being a member. And we're always looking at other businesses to bring in.
Goals for Squatch Frontier Fitness in 2022 and beyond
We have been recognised for my fire and ice event where we had ice plungers and fire performers. It's not something you're going to see at any ordinary gym. The community workout is huge and has so many people coming out, so much so that we were recognised by our local KXAN news sharing our story. The community that we're cultivating here and the community workout are becoming something to be reckoned with. We're almost getting too big and we're going to have to put a cap on it eventually.
Thank you for sharing Joe! To keep up with Squatch Frontier Fitness, check out their Instagram page. To hear from more TeamUp customers and learn about their businesses and communities, visit our customer stories here.
Open Comment Form