MiBootcamp is a hugely popular and distinctive bootcamp based in Chelmsford, UK. Russell Byham, charismatic and energetic owner of MiBootcamp, has spent four years building the business with raving loyal customers, and a unique presentation that has proved enormously popular. They've also set records for charitable donations and were one of the first bootcamps to build community and charity into the core of their being — resulting in even more growth. We caught up with Russell recently, to find out what it takes to achieve this, and to find out if TeamUp has been helpful in taking MiBootcamp to the next level.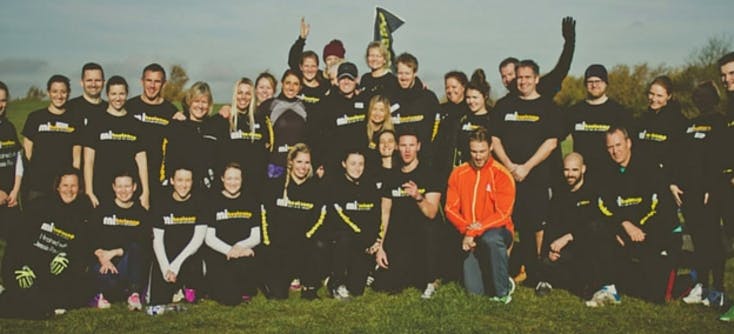 Tell me a bit about MiBootcamp, how you got started, how you grew the business?
Gaining my Level 2 Personal Training qualification in 2004 was a dream come true and provided the opportunity I had been looking for.
I worked in the industry for six years spending time first as a Fitness Instructor and then as a Personal Trainer having gained my level 3 qualification — working in both gyms and, for a season, on a luxury cruise ship,
I began to realise that there was a gap in the fitness market. Gyms were getting larger and we're offering even more but didn't really deliver the product correctly or cater for one particular market — the outdoor fitness trend — for all seasons and in all weather conditions.
I launched MiBootcamp four years ago offering a distinctive service with equally distinctive and recognisable branding operating on land at the edge of an upmarket golf club near Chelmsford.
How many locations do you work from?
We currently have 3 locations — Chelmsford, where we run 5 MiBootcamp at Little Channels Golf Club 5 times a week and also our MiBuggy Bootcamp 3 times a week from April to September at Hylands Park — a venue best known for the annual V Festival venue that offers mums, specialised classes, after childbirth 3 times a week.
Braintree is our latest venue — established at the popular Great Notley Country Park for a year now and where we run 5 sessions a week.
We've heard a lot about your charity work, can you give any standout examples?
In November 2011 MiBootcamp at Chelmsford was chosen as the venue for a Charity Bootcamp event to be hosted, alongside me, by the well known American Fitness and Weight Loss Guru Jesse Pavelka which raised over £4K for the HOOP charity aimed at challenging obesity. At the time this was a record for the charity.
Do you have any advice for someone setting up a fit biz? Any general business wisdom that you'd like to share?
My advice before setting up is that you really need to know people, their needs, their wants and their goals. You also have to first know what market you are aiming for. Often when people fail it is because they don't know their target market or become a jack of all trades which can massively affect the balance of your business. Plus you have to know the areas you are operating in. You have got to be willing to make sacrifices be patient as success builds in this business as reputation grows and have a passion for it — knowing that it is not going to be easy what you put in you will get out if you're willing to go the distance!
You're working with TeamUp for your class and member management. What did you do before?
Researching back in 2013 after 3 years of MiBootcamp I had growth of 46% in a year and was expanding quickly once the sun came out. With this came the realisation that I was taking so much on my shoulders and that I needed to find a way to keep control as the business grew, numbers increased and the administration grew with it! I looked around for a while and noticed gyms running on TeamUp.
How have you found TeamUp so far?
TeamUp has been one of my best choices as a business owner for further expansion for both business and profit and, vitally, user-friendliness! It is like my pocket PA accountant! It made things easier for people to look at the different membership choices and what works and is flexible for them . . . with the benefit of online organising.
What features work really well for you?
The sign in and registration facilities have been helpful to me and all of the MiBootcamp team. It has helped us see who attends most, who needs that extra support and we reward our highest attenders with free personalised T-shirts as a reward!
Three other benefits to Teamup for MiBootcamp?
It's helped the MiBootcamp brand as it is a high-end company supporting our growth. It has given our members a professional and attractive online booking option that they like and which sits well alongside the other interactive activities available to them in the digital age and it works for us!
Would you recommend TeamUp to other fitness businesses? Why?
I would recommend TeamUp to any fitness company, private or commercial gyms big or small. It will help them keep track in a simple and effective way, staying ahead of the competition and providing that cutting edge service without losing control. It is so easy to use whether you're on a laptop, tablet or smartphone.
Most importantly it means you have more time to focus on our main priorities and goals — helping our members achieve their fitness, body image and nutritional goals in a fun way!
To find out more about MiBootcamp check out their website — mibootcamp.co.uk. What do you think it takes? What has made Russell's formula so successful? Leave a comment below.
To learn how to use TeamUp for your gym or studio sign up for a free trial.
Open Comment Form