As warmer weather quickly approaches and COVID-19 restrictions loosen to permit outdoor fitness, now is the perfect time to review how to properly run outdoor bootcamps. If you have are a bootcamp business owner or have run outdoor sessions in the past, you know that managing and running outdoor classes and bootcamps is a bit different from your typical indoor fitness class. One, you're outdoors and have the climate, environment, and location to consider amongst many other factors we'll cover in this article. And two, although you don't have the walls of a facility around you, it is just as important to go through the very detailed preparation and organisation processes just like you would for any studio or gym class.
We asked our friend Stephanie Jannati, owner of Bootcamp SE16, to share her knowledge and experience running outdoor classes and bootcamps with you. In this guide, Stephanie covers the very important steps all bootcamp and outdoor fitness business owners need to know in order to get started running safe, effective, and legal sessions outdoors. We also share the TeamUp tools that can help you organise and manage your outdoor bootcamps so that your customers come prepared, excited, and ready to get started.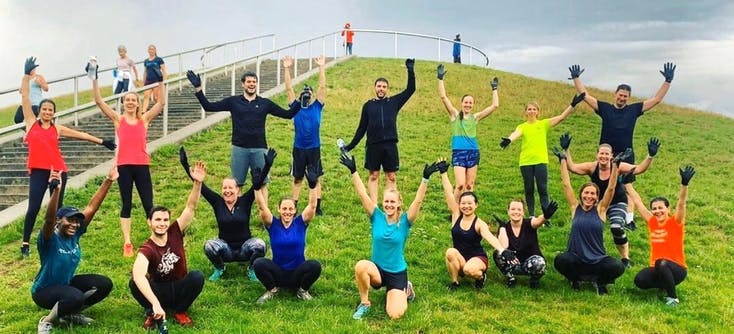 Photo Credit: Stephanie Jannati, Bootcamp SE16
How to be a bootcamp business owner
But first, let's get to know Stephanie and why she is our go-to for outdoor fitness advice. Stephanie is the owner and operator of Bootcamp SE16 in London, England. After 8 years as a coach and group fitness instructor in gyms in and around London, teaching everything from body pump to spin to personal training, she decided she wanted some more creative freedom and to take her sessions outdoors. She first started with a Saturday morning Bootcamp with 6 clients in each class. Fast forward 8 years and she has now taught and trained thousands of clients and runs one of the most successful bootcamps in the UK.
With a diverse all-female led team of coaches and staff, and a long list of clientele she trains both in-person and online, like many fitness owners she can't wait to start her in-person training again. However, having run her business for the past 8 years, she knows the necessary steps and processes required for getting her outdoor business back up and running. Stephanie is sharing all the steps and need-to-dos before trainers and coaches return or begin running their own outdoor classes. So before you jet for your local park or public space and tell all of your clients to meet you there, be sure you have gone through and done the following properly:
1. Scope out the location in advance
While some gyms and studios include outdoor space or outdoor facilities, many of you will be hosting your classes and outdoor bootcamps in various public or private parks, beaches, sports centres, etc. And while the great outdoors boasts tons of room to work out, a lot of other coaches and trainers are thinking the same thing and have probably scouted out the same or similar areas. The last thing you want is to run into a situation where your perfect location is being occupied by another class or group at the same time where you have planned yours.
Even though you are training outside of a physical facility, you have to go about planning and choosing your space just as you would any building, studio, or structure. If you are new to bootcamps and outdoor classes, location and accessibility for clients are very important to keep in mind.
If you have an existing client base you need to find a location that's good for your clients and easily accessible to residents.
If you're starting from scratch you need to find a location that is convenient to you and close to the area where you typically run your classes and that has a broad range of clients that are interested in what you have to offer.
Be organised and intentional, and do the homework required in order to carefully select a location that is accessible to you, your clients, and will allow you to train there.
2. Do your due diligence and get in touch with the local council
Which brings us to step 2 of choosing and securing the right location. Most public space if not all is licensable, so getting in touch with your local council for that area to find out if the space where you would like to run your sessions requires a license is very important. Although some areas don't require a license for temporary activity, if you are planning to establish your outdoor bootcamp long term, getting in touch with the council in your local area and investing in licensing will ensure you can use that location now and long-term.
If the council discovers you are training on their land without a license and have gone against their bylaws, not only can they kick you out, but they can also deny any future license requests. This can be a huge hindrance for new bootcamp owners and can result in serious consequences when trying to grow their business in a specific area. Make sure you are not one of them and get in contact with the right people to ensure you go through the correct processes and obtain your space legally.
3. Build a relationship with Friends of Parks Groups
Certain parks and spaces belong to Friends of Parks Groups who take care of and conserve public locations. After getting in touch with the local council, a great next step is to inquire with the Friends of Group about the locations you are interested in. These groups have a big say in whether or not you can run your classes and camps there, as well as can let you know if someone is already using the space and when. Many bootcamps share and operate in the same space at both the same and different times. However, it's not a competition, because every business has its own unique style. One of the best things Stephanie did early on was befriending the Friends of Group in the park where she runs her outdoor bootcamps.
One of her client's fathers was the chairman of the woodlands and she introduced Stephanie to him. Not only did the group grant Stephanie permission to use the space, but he also told her about the history of the park, shared with her the work they do, and how much the park means to the group. They even provided her with storage space for her camps (but more on that later). With that Stephanie was able to develop a relationship with the group and constantly helps them do the work they do through volunteering. Building a supportive relationship with the people who can make a difference in the way you run your business. With their help and the great relationship they have created between them she is able to offer a better product and experience to her clients.
4. Have your equipment prepared for outdoor bootcamps - ask about storage
When you're scoping out your area to start outdoor bootcamps and your networking with the council and groups, that's when you can also ask if there are any storage facilities on site. Even if they currently do not, they may allow you to put a structure on their land or create a contract so that you can store your equipment on site. If you invest in a large heavy kit, you will not want to keep lugging your equipment around with you or in your car if you plan to set up long term in one area.
The other alternative is to incorporate kit transfer from your car to the park as part of your training and request that your clients participate in the setup and takedown before and after every session. It depends on what kind of bootcamp you are doing, and sometimes you may not need loads of kit, but if you plan on it then storage and transferring your kit to the location is something to keep in mind as part of the organisation and preparation process.
5. Investigate private outdoor spaces
Another ideal location to run your outdoor sessions and bootcamps is private land including farms, schools, and sports facilities. Some public space licenses in the UK can be extremely expensive. It can much more cost-effective to work out a deal or contract with private landowners. Certain public spaces also close at earlier times, while with private depending on your agreement, you can run your classes whenever you'd like and have a larger window of availability. Again if you plan to run your bootcamps and outdoor classes long term this is a good investment in securing a cheaper location with larger accessibility all around.
6. Create a Google account
Depending on the location that you license and set up, having a Google account and creating a Google Maps location can make it easier for customers to find you and search your spot as if it were a physical location. In the TeamUp tools feature, you will see how this comes into play when creating your venue as the map will pinpoint your exact location and your clients can search that specific spot.
7. Make it easy for customers to identify you
If you have clients who are returning to class they may already know how to identify you, but you can make it even easier for them and new customers to quickly spot you with uniforms and branding. You can set up flags, banners, and wear a specific uniform, something that helps your customers easily recognise you and make sure they are in the right place. With multiple bootcamps taking place at the same time, this is the best way to ensure your customers don't mistake another bootcamp for yours.
8. Be respectful and engage with the community
Remember that being respectful of the rules and bylaws can go a long way in ensuring the long term success of your bootcamp and business. Go through the correct processes and connect and communicate with the right groups of people. Fostering relationships with the community will not only make it easier for you to run your business, but it can also help you find more clients to join your bootcamps.
If there are other bootcamps going on in your area, don't be shy or look at them as competition. There are so many clients to go around and more than enough space to happily coexist. Look up who else is operating in the park, find out if the council will allow more licensing there, and check with the hours of operation. If you can't make it work with that area, don't be discouraged. There are plenty of spaces to investigate, just like there are plenty of clients to welcome.
9. Double check your timetable and venue
Consistency is key, and as businesses get ready to go back outdoors and to the parks, it's important to make sure that you have your software and timetable up to date with the proper times and locations. Stephanie runs a combined 40 classes a week some of which are online and outside, so knowing which are which in advance is important in ensuring that your customers sign up for the correct classes. Make things clear to avoid confusion and offer simple easy to read updates for your customers to keep things simple.
If you are returning to the same location double check to make sure the address of your venue is correct. If you have selected a new location, make sure your clients know how to find you, where that location is, and that your class schedule reflects the changes made. Giving your clients the ability to book in advance, manage their own registrations, and show up ready to go will help you get started off smoothly and without a hitch.
You're almost there!
While for some fitness trainers and owners setting up outdoor classes or a bootcamp might be temporary, it is still just as important to give your clients the best experience. While running an outdoor bootcamp may have started out as a weekend hobby, Stephanie quickly saw how beneficial it was to go through the correct procedures and that by doing so it would give her a much better opportunity to do what she loved. Which is how she has been able to secure her success and the success of her business for the long run. Taking the time to make sure you are doing it the right way will help you grow your business, keep your clients happy, and ensure that same success for your business, too.
To learn more about running Bootcamps and how your software can help, check out our TeamUp tools and features for outdoor classes and Bootcamps guide, here.
Thanks for reading!
Open Comment Form