Did you know your TeamUp dashboard holds the key to your gym or studio's growth? Your reporting tools contain valuable data and insight that can help you make important decisions to further your business's success.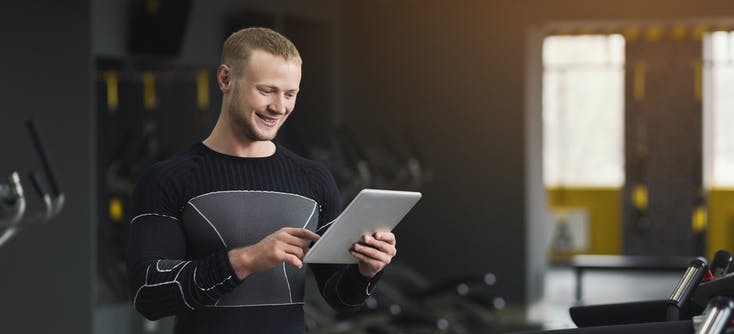 Many of our customers come to us wanting to use their reports but are not quite sure what they need or are looking for. On the other hand, some know what they're looking for, but are not quite sure where to look.
"We need to report revenue coming in, when we were gonna get paid, who is buying what, and just a basic functionality."

"Is there any way of getting certain data I need on my reports?"

"Is it possible to see exactly who bought particular memberships?"

"I need help using the class attendances report to find my most popular classes each week, can it do that?"
Gym and studio owners are busy enough managing their clients and classes, so wasting time sifting through spreadsheets can be a hassle and cause stress. Having the ability to go into your dashboard and find exactly what you need will save you time and help you make quick decisions that will positively impact your business.
With so many reporting options, it's normal you may get a little lost. So we're here to help guide you down the right path. While all the TeamUp reports can be used to manage your business, these five advanced reports are essential to your everyday business health and growing success.
The invoices report
No one likes chasing down their customers asking for payment updates or why they have not been paid on time. It can get awkward and lead to very uncomfortable conversations that then can ruin the relationship between you and your customer. Using the detailed invoices report, you can track and monitor all your payment activity at a glance. It's the easiest way to find out everything you need to know about your customers' payments to you and your payouts to your staff and team.
Your invoices report will help you stay on top of your business activity and manage your finances without having to dig through spreadsheet after spreadsheet. With all the information per customer and payment on one single line and the ability to filter and customise your view, this report will quickly become your favourite tool.
"It makes the whole process so easy for me and my clients. It's great to have class bookings & revenue displayed in such a clear way. It makes the whole process so easy for me and my clients. It's great to have class bookings & revenue displayed in such a clear way."
The class attendance report
See who is coming to class, who may be slipping away, and who registered the most last month using the class attendance report. In your attendance report, you can filter by customer, class type, instructor, venue, membership, and more. Staying on top of your customers' registrations is vital in making sure your classes are going well and that your customers are happy. If you notice one class is constantly being filled while another barely has any registrations, that can help you decide how to alter the class or remove it from your schedule. You can also use this report to track certain customers and monitor their memberships. This is a great resource to use to keep your customers motivated to come to class. Your report will tell you if someone has reduced the number of sessions they attend which can alert you to take action and check-in.
The classes report
Similar to your class attendance report, your class report will help you see which of your classes are performing the best and which may need a little work. If you notice attendance is higher in one class over another you can inquire with the instructor and your customers to see what you can do differently in the other class or drop it from your schedule. This report will help you make fast business decisions based on your customers and quickly show you what does and does not work well at your gym or studio. This will also show you whether your customers prefer a certain venue, time, or instructor. Using that information you can figure out what to offer more, where, when, and with who, to keep your customers engaged.
The memberships report
Do you offer recurring membership plans, class packs, or drop-ins at your gym or studio? Or do you offer each? Use the memberships report to see which of your memberships plans are the most popular with your clients. Filter by membership type, status, customer, payment processor, and more. This report can help you make recommendations for your clients on which membership they should purchase that will benefit them the most.
Perhaps one of your customers has a regular routine and comes to the same class at the same time every day. Using that information you could suggest they purchase a recurring plan and use the block booking tool to schedule them in advance for all upcoming classes at that time. You won't have to worry about collecting their payment and they do not have to worry about registering for class. Maybe you have a customer that can only make it a limited number of classes a week. You could encourage them to purchase a class pack so that in case their schedule changes, they won't underuse or run out of classes in a given period of time.
Your customers will appreciate that you are looking out for them and are making suggestions to provide them with an overall better experience at your gym or studio.
The referrals report
Not only is the referrals report an important tool, but it is also one of the more fun and exciting reports. You can use this report to see which of your customers were referred to your business and which of your customers referred new customers to your business.
You can also use this report to check the status and see if a referred customer purchased a membership and which. To encourage your customers to refer new customers, incentivise them by adding credit to their account for every new member who signs up for class or purchases a membership. Recognise your star customers for their outstanding efforts in helping your business grow, and check to see that their credits have been added to their account when a new member signs up.
"TeamUp has made managing our members simple and time-efficient. Running a busy CrossFit box means that time is at a premium, so having easy-to-access reports and simple-to-use features allows me to focus on coaching and the day to day running of the box."
Remember all reports can be viewed with your dashboard or downloaded by CSV if you prefer to have physical copies.
Need a hand running reports before the end of the year? Drop us a line at support@goteamup.com and we'll be happy to help.
Thanks for reading!
Open Comment Form