The last thing you want to worry about after finally finishing your extensive yoga teacher training is how to launch your very own studio. With excitement and desire to inspire new yogis to begin their journeys, it can be a little overwhelming to think about the steps it takes to now find clients, run a business, and teach on top of that. However, it's also very normal not to have all the right answers in the beginning.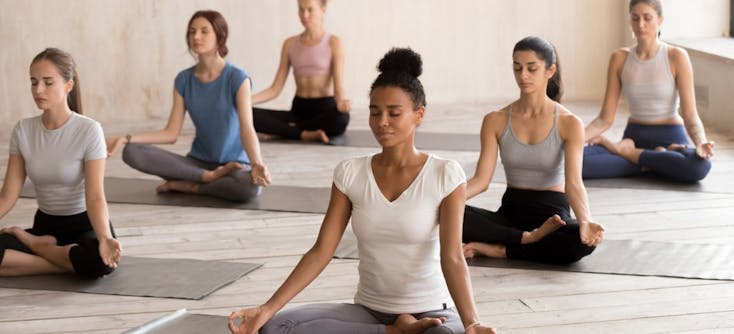 The good news is with a little patience, following a few simple steps and using the right studio management software, your experience as a business owner will flow much more smoothly. We have created a guide for all new yoga studio owners that takes you through the process of launching, creating a plan and goals, and what tools you need to get started on the right track. Let's start with goals and planning!
Goal and intention setting
As we all know, setting intentions for your practice is a very important piece of yoga. And just as intentions are important in yoga, goal-setting is important in creating a successful business. So before you get started, ask yourself, 'What do I want to achieve? Do I want to have dozens of clients? What problems am I looking to solve? Do I want to specialise in a style of yoga?' Once you are able to identify your goals and what you want to achieve you can start planning on how to accomplish those goals.
Remember growth takes time and cannot be done overnight. Goal-setting for your studio should not be rushed, as it is a process that is ongoing and should leave room for expansion. Set goals that are achievable and within your reach, and continue to build on them as you grow your studio.
Create your business plan
Once you have your goals and intentions set for your yoga studio, it's time to create your business plan. Now is a good time to decide what type of business you would like to run and determine who your ideal client is. As well as what type of format or medium you will use to give your clients classes. With the growing popularity of online classes, many new yoga studio owners are choosing to give classes online to build their network or start with smaller in-person classes.
A business plan may look as simple as stating your goals, projections, activities, customers, and revenue. Or it can be extensive and thorough and include full executive summaries, marketing and sales strategies, and financial projections. While ultimately it is up to you how detailed you would like your plan to be, what it comes down to is knowing what you want your business to achieve what you will do to make that happen.
Marketing your studio
Creating a marketing plan to go hand in hand with your business plan will also help you attract new clients. The most effective way to start building a business is by creating a website where your clients can book your classes. Your website does not have to be complex or over the top at any part of your business journey, but you can always improve and add-on along the way. Give your clients information about you and your classes, what you can help them achieve, and what they can gain by being your client.
You can also use social media platforms like Instagram and Facebook to advertise your business and attract new clients. Create a customer referral program and incentivise new clients to sign up even more clients by giving them credits for more classes.
What's important is to establish a plan that incorporates your goals, helps you grow, and gives you a way to engage with your clients without causing you stress and hassle in running your business. That's where yoga software comes in.
Choose the right studio management software
Your final step before launching your yoga business is choosing the right yoga studio management software. Having the right software for your business will not only give your clients a place to book right from your website, but it will also help you run your studio, customers, staff, payments, and classes all in one place. While some software can be expensive and hard to understand and use, at TeamUp we built our yoga software with our customers in mind and a price based on the number of customers you have, not the features you need. Our tools will make running your studio fun, enjoyable, and give your clients the best customer experience possible. Here are a few of the TeamUp yoga software tools that will help you launch your studio:
A streamlined dashboard
Easily one of the most important tools is the streamlined dashboard that will help you manage all of your day-to-day tasks, payments, customers and staff in one place. Organisation is key especially for a new business owner who has to wear many hats. Opening up your dashboard and knowing exactly where everything is will help you save time and focus on your classes and clients, rather than admin. You can also customise your dashboard to prioritise things that are most important to you and show you the information you need quickly.
An easy-to-use online booking system
Your booking system is the core of your software. Without an online booking system, you would be spending all day and night trying to organise your schedule and figuring out what classes your clients wanted to take and when. Having a place where your clients can sign in and make and amend all of their own registrations and pay in advance will eliminate you having to figure out their schedules and chasing them down for their payments. Bonus points if your software comes with a member app so that your clients can book and purchase memberships on the go. (Psst...TeamUp's does!)
Partnerships with the top payment providers
Our payment integrations will not only make sure that your clients' payments are collected but that you are paid on time and your payouts are made to your staff, without you having to monitor them. Stripe and GoCardless will ensure that your clients never have to worry about whether or not they paid for class and that you got paid, because everything is automated, again, to save you time and hassle.
Zoom integration for online classes
If you're planning on giving online classes to your clients, then the Zoom integration will be your favourite tool. Signing up for classes online using our yoga software is just as easy as signing up for in-person classes. Once a client registers for a class they will receive an email confirmation with the link to the Zoom meeting room that they can open and join before class starts. Unique to TeamUp, once a client enters the room they will be marked automatically off the register just like they would for a normal in-studio class.
Whether your business is in-person, online, or both, having the ability to offer online classes will help you grow quickly and access clients who can't meet in-person. It also helps that your online classes can be scheduled and booked along with the rest of your services, all in the same place, to make your clients' experience with online classes as easy as in-studio classes.
Insightful data and reporting
The intuitive reporting tools will help you make important business decisions right from the start. Not only will you be able to see who is coming to class and when, but you'll be able to see which of your classes are booked the most, with what instructor if you have several, and which of your clients come the most or least often. While you have access to these metrics anytime you want, being able to check them within weeks of opening will help you see what is working best and what you can adjust to improve early on. The reporting tools will also help you check that all payment processes are functioning correctly and that your membership plans are being purchased and used.
Forms and waivers
When a new client signs up for your classes or purchases a membership plan, you can prompt them with forms and waivers to fill out online in advance before class. You'll be provided with helpful information that you need to know about your clients, as well as inform them about your studio policies and procedures. It's a win-win for being prepared on both sides.
A customer relationship management tool
And the forms and waivers tool works even better when paired with the customer relationship management tool that stores all of that information and keeps your clients organised into their own individual customer profiles. Never worry about forgetting a client's name, birthday, detail about their fitness history, or whether or not they are coming to class, again. Your CRM will keep you on top of existing and new business to help you grow early on.
So what else can you expect from TeamUp?
Our tools will help you with everything you need to get started and run your business, and our unlimited customer support will lend you a hand whenever you need. No question or concern is too big to handle, we've got you covered. You even have access to us before and throughout your free 30-day trial.
You will also never have to worry about being upsold ever again. Your TeamUp pricing reflects the number of active customers you have, not by feature to give you everything you could possibly need to run your business the way you want.
It's time to launch
Launching your new yoga business is exciting. You are entering a brand new chapter that will invigorate and inspire so many new yogis to grow with their practice and become a loyal client at your studio. With your goals and plans ready to go and your software all set, you'll be ready to run your studio and give your new clients a class experience they'll want to repeat over and over again.
Need help getting started with software for your new yoga studio? Sign-up for a free 30-day trial or set up a call with our team, and we'll walk you through.
Do you know of a friend or colleague that is getting started launching their own business? Remember that you can receive a gift card on us when you refer another business to TeamUp.