Whether you are new to marketing or have a little experience, here are the top 10 ways to gain exposure for your fitness business that do not require you to be a marketing pro. Using these methods you can attract new customers and take your brand's visibility to the next level in a short time, with incredible long term value.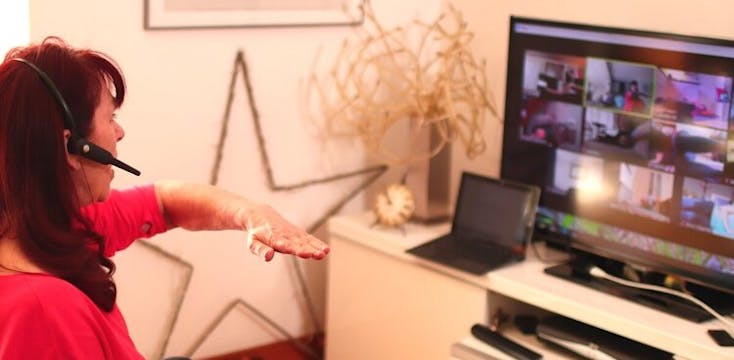 HARO - help a reporter
Tracking down journalists and reporters to feature your gym or studio can be a full-time job on its own. Help a reporter, known as HARO, makes the process of finding opportunities to be featured in publications much easier. HARO sends out daily alerts up to three times a day with categories including business, lifestyle, general, fitness and health, and more. Each of these categories includes requests from various publications and journalists for information on a variety of topics.
If you have information or stories that are relevant for their request, all you have to do is respond to the email address provided with their query and answer their questions. Some HARO pitches may require a couple of questions to be answered with more to come later if selected. Others may ask for the entire response or story. If your submission is selected then the journalist will either let you know your answer was chosen and will be included or oftentimes they will just send the link to you once the article is live.
Although it is possible that a submission may not be included in the final article, it's a great way to practice your pitches and storytelling.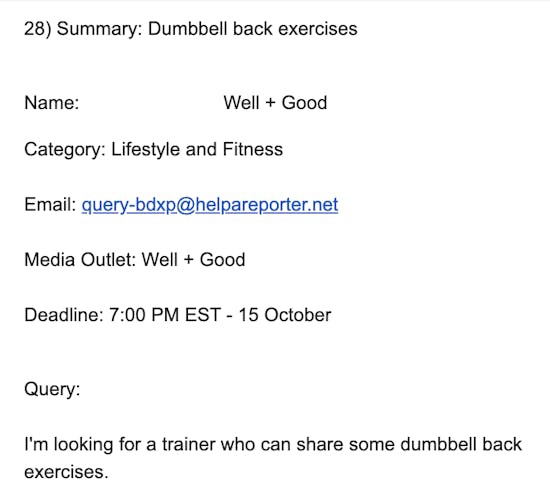 Reach new audiences with social media
Whether you have Instagram, Twitter, Facebook, or all three, social media is one of the best ways to gain exposure for your gym or studio. With dozens of social media platforms to choose from the best way to get started is by asking your customers what platforms they are most active on and having them help you build your audience. Maybe you start with Instagram and encourage all of your customers to follow your account and share it with their own audiences. By getting your customers involved, you can quickly maximise the potential that one of their followers who may not have known about your business is now interested in learning more.
There are hundreds of communities and social media groups across the various platforms that will not only help you grow your business via the number of customers you have but also through advice and networking. You can connect with other fitness business owner's share ideas and collaborate to expand both of your businesses.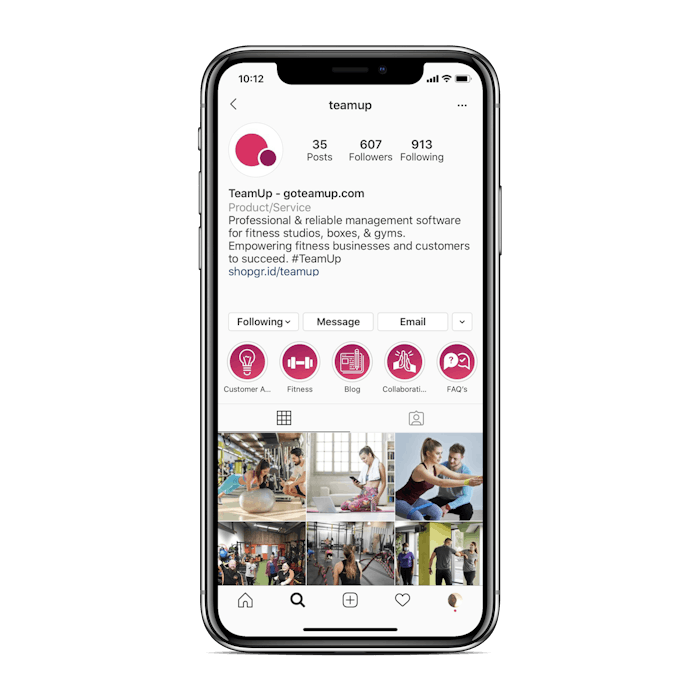 You've got mail
Email marketing is one of the quickest and most efficient ways to get news to your audience and customers. Anytime you have information, news, discounts, something exciting to share, email marketing will allow you to send that information directly to your customers in one go. TeamUp integrates with several different email marketing platforms that make it even easier for you to customise and send out newsletters, emails, and e-blasts to your subscribers. If you are new to email marketing, the best place to start is with our guide, here.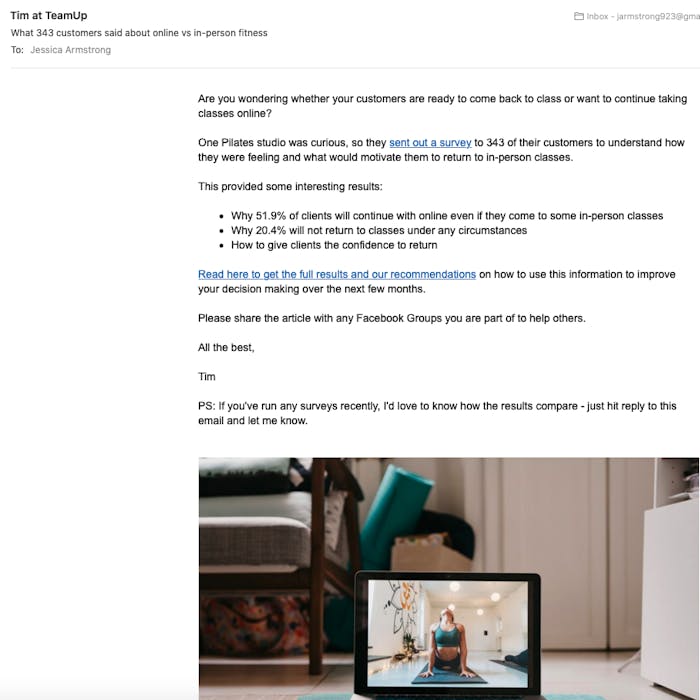 Give your customers the chance to win big
Alongside creating content to share on your social media accounts, you can also grow your business by hosting giveaways. Giveaways are an excellent way to expand your business's brand awareness and reach new audiences. If you have a special campaign coming up or something you would like to celebrate, you can pair it with a giveaway that will give a chosen number of lucky winners a prize from your gym or studio.
"Giveaway announcement! Follow TeamUp on Instagram and Facebook and tag 2 friends for the chance to receive a 50% discount on your account next month to celebrate our 10 year anniversary!"
They can also help you attract new customers as well. Offer free trial classes at your gym or studio to entice new potential customers to come to check out your classes.
"Giveaway announcement! Subscribe to our newsletter for the chance to win a week of free trial classes at our gym!"
You can announce your giveaways on your social networks, to your customers, via email newsletters, and more. If you have different audiences for each channel, cross-promotion by posting on each channel will increase your number of participants.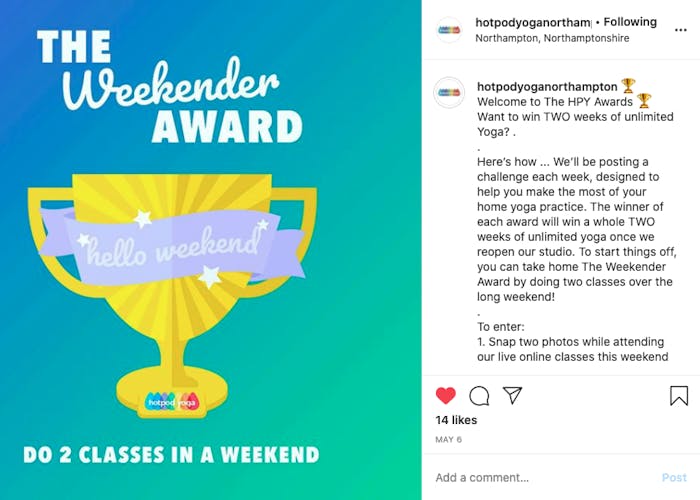 Credit: Hotpod Yoga Northampton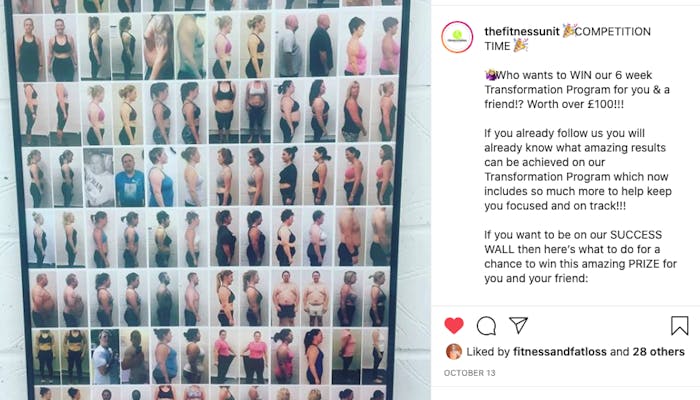 Credit: The Fitness Unit
Ask your customers to spread the love
One of the best ways to get your customers involved in your business growth is through a customer referral program. With your program, each of your current customers will receive a unique code and URL that they can share via social media, text message, email, phone, however they want. Each time a new customer uses a referral code to sign up, the owner of the code will receive a credit that can be applied to any upcoming bookings or membership purchases.
This is a great way to get your customers involved in bringing in new business while rewarding them for helping out. With your TeamUp reporting tools, you will also be able to see which of your customers contributed the most by referring to the highest number of new customers.

Share your expertise
Take your writing skills for a spin by participating in guest post opportunities on other fitness websites and blogs. You can find many blogs and websites that are looking for input and experts to weigh in. Some may ask for already written posts or to be contacted first, but either way, this is the perfect opportunity to make a new connection in the industry and share your expertise.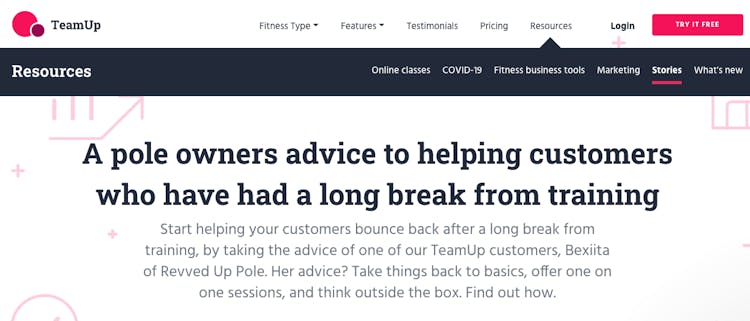 Attend webinars and online conferences
With limited in-person events and networking opportunities, many fitness experts are getting creative by hosting an online conference and webinars. In-person, these events may have been smaller or only accessible to a limited group, but holding them online gives a much better opportunity for a larger group of people to join and attend.
Events, webinars, and conferences are the opportune time to network with other fitness business owners and industry experts to ask questions and learn something new to apply to your own gym or studio.
With TeamUp, you can also host your own online webinars using our Zoom integration. To host a webinar, all you need to do is create a new class offering that specifies that it is a webinar. You can require your customers to book it separately outside of your membership packages, as well as offer it to people who are not customers at your gym or studio. Anyone who would like to participate and attend your event can go through your same booking process to reserve their spot. Before the webinar begins, all attendees will receive a link to the Zoom chat in their email and be marked off the registry once they enter the room.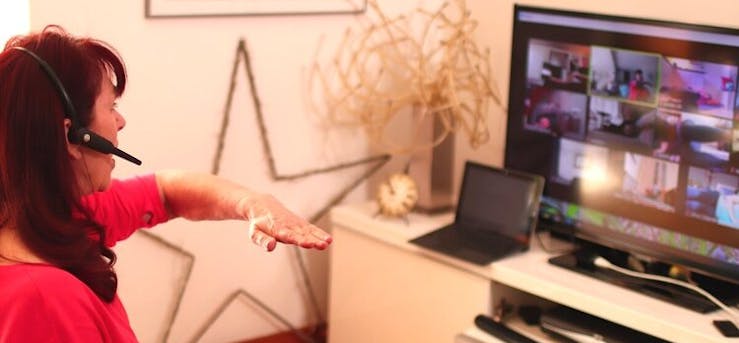 Credit: Karen Grinter of Northants Pilates hosting an online webinar.
Send your news to the press
If you have major news that you would like to share with a much larger audience, publishing a press release ensures that your news gets picked up by many large media outlets. The prices of press releases differ across platforms. You can inquire and test a couple of different platforms before making your final decision on which to move forward. Not only will your press release reach multiple outlets, but depending on the package you purchase you can also select to send your release to multiple target markets and locations worldwide.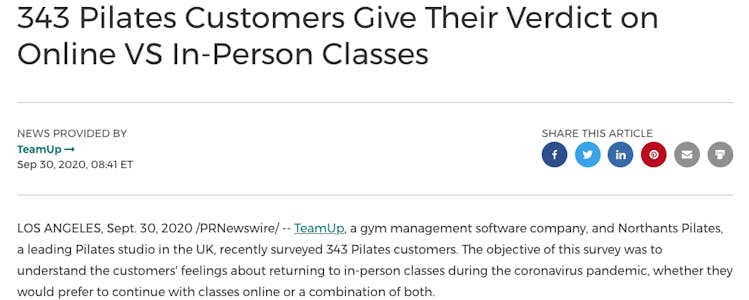 Be a guest on your favourite fitness podcast
Podcasts have quickly risen to the top as one of the best ways to market your business. Whether you choose to start your own or be a guest on someone else's show, they are a great opportunity to connect with other experts in the industry. Podcasts also help you reach even larger audiences and expand the potential that someone may learn about your fitness business and develop an interest. They can also help make you an authority on a topic and give your business credibility.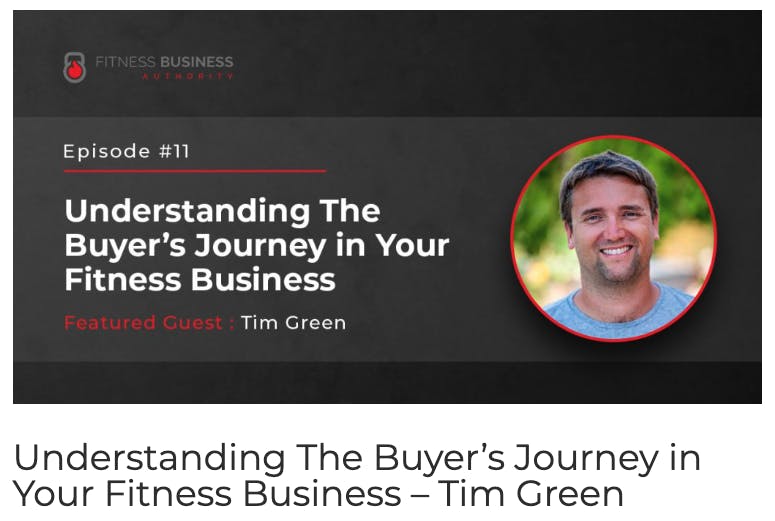 Credit: Fitness Business Authority
Ask your customers for a review
Reviews are one of the best representations of your brand's reputation. With dozens of review websites to choose from, ask your customers to help you build your business's rep by leaving a sparkling review. You can even ask your customers if you can share their reviews on your social media and in your marketing materials as testimonials for new customers to see.

Bonus tip: always be linking
For all of these tips make sure you link to your website wherever possible. This will help you rise in the organic search rankings and for customers to be able to click through to you to find out more.
We can't stress enough how important this is. Every link builds long term value and strength in a small but powerful way. Links from popular websites can build value in a big and instant way.
To find more tips on marketing your fitness business check out our guides and resources, here.
Do you have a marketing tip you would like to share? Let us know at stories@goteamup.com and we will add it to the list with a quote from you!