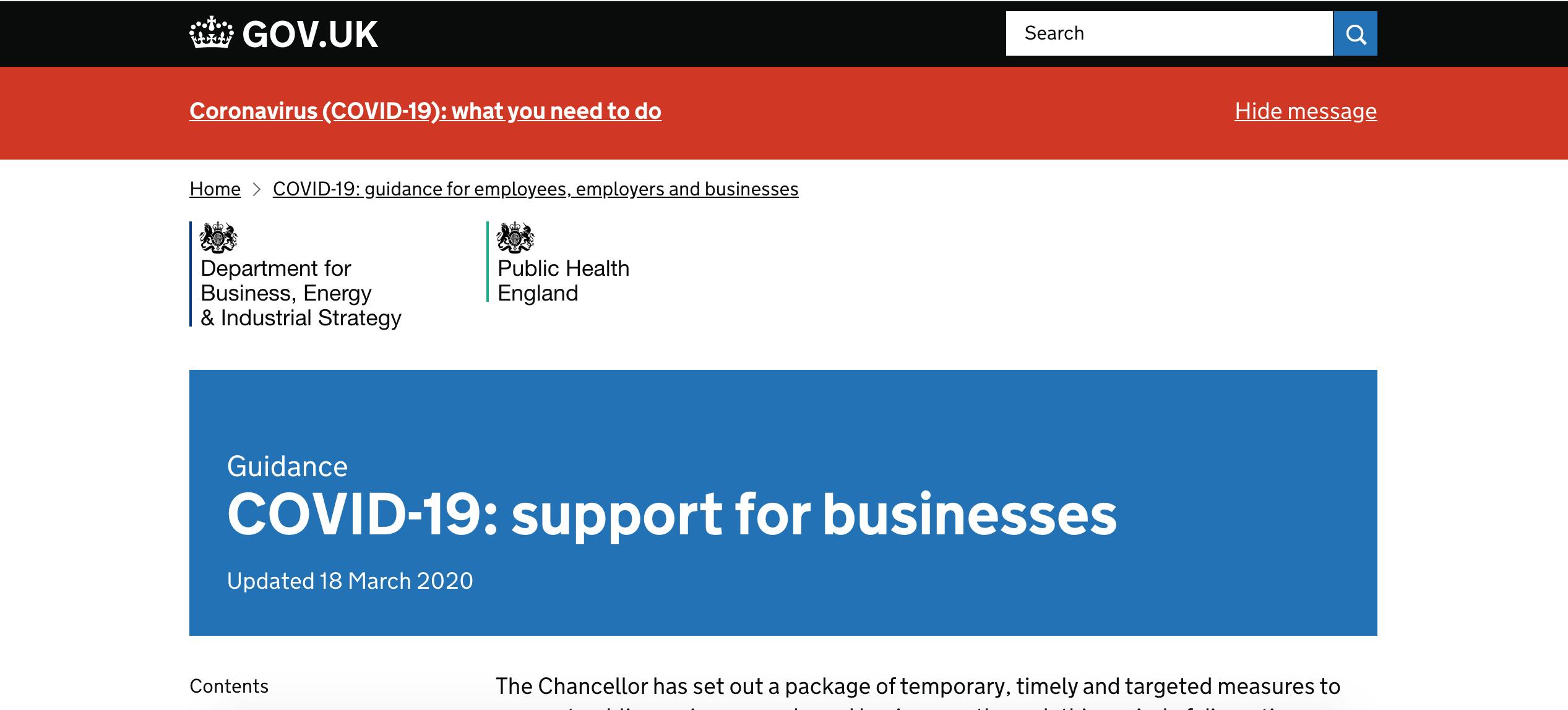 Self employed income support scheme
On March 26th the UK Government added support for self-employed. There are quite a few qualifying conditions which are broken down on their dedicated page: https://www.gov.uk/guidance/claim-a-grant-through-the-coronavirus-covid-19-self-employment-income-support-scheme
Crucially, they have not offered any support for single director limited companies who only take earnings through dividends. There is some pressure for this as it represents a large group. So we will monitor the situation carefully and update if there is a change.
We recommend you read the above page if you are self-employed. At this moment there is no action to take. If you qualify for the scheme, the government will contact you and invite you to apply. There is no information on this process yet, but we'll update when we have more insight to share.
Government ordered closure and insurance
Since the 21st March, the government ordered closure of several categories of businesses. This has been approved as a reason for business closure by several insurers. Speak with your insurer to find out if they will cover a claim for losses due to forced business closure.
Support for businesses that pay business rates
Business rates for the 2020-21 tax year will be re-billed by your local authority and you should speak to them directly for advice. It seems that some support is at their discretion so it's important to communicate to ensure you get the benefit. The relief will apply from your April 2020 council tax bill, so if you've already received it then you will receive a revised version.
The government has announced a £25,000 grant for businesses with a rateable value between £15,000 and £51,000. Contact your local authority for more information.
On 20th March more advice will be published so there is not really any benefit to speaking with them until after that date. If you've tried already and had a 'no', then it's because they don't know what to do yet. Try again after the 20th March.
Support for businesses that pay little or no business rates
The government also announced a smaller business one-off grant of £10,000 if you are eligible for Small Business Rate Relief.
To find out if you qualify for a small business grant visit this page (https://www.gov.uk/apply-for-business-rate-relief/small-business-rate-relief). This will also be administered by your local authority, and the funding will be provided in early April.
Business interruption loan
The government is going to guarantee 80% of loans for this new temporary scheme. The details are due out from the 20th March and it will be administered by the British Business Bank.
The first 6 months of the loan will be interest free.
Visit the British Business Bank website for more information. They have a dedicated page here listing all the approved lenders. First place to start here is with your bank.
Sick pay help
If you have employees who have been off work sick, then you can get a refund on statutory sick pay. They haven't announced all the details yet but keep detailed records of any staff absences due to sickness or quarantine to be ready when they do.
Problems paying tax
If you are worried about any ability to pay outstanding tax liabilities there is some leeway and help available via the "Time to Pay" scheme. Call the dedicated HMRC helpline: 0800 0159 559 for more information.
If you have found out any other help mechanisms that would help other business owners please drop us a line on tim@goteamup.com
Further Reading
To find out more about the features TeamUp have implemented to help business owners see this article. It covers how to bulk discount memberships, how to cancel all classes between two dates, and how to go online.
To read some tips for how to approach a lockdown see this collection of tips.