So you're ready to take the leap and start your own gym. It's a great decision, but it's important to remember that it takes more than a love for fitness or a good workout to make it a success.
Proper planning, research, and financial budgeting are essential in starting a gym. In this article, we'll cover everything you need to know before diving in - from legal paperwork and equipment needs, to target market and location considerations, to potential financial costs and revenue streams.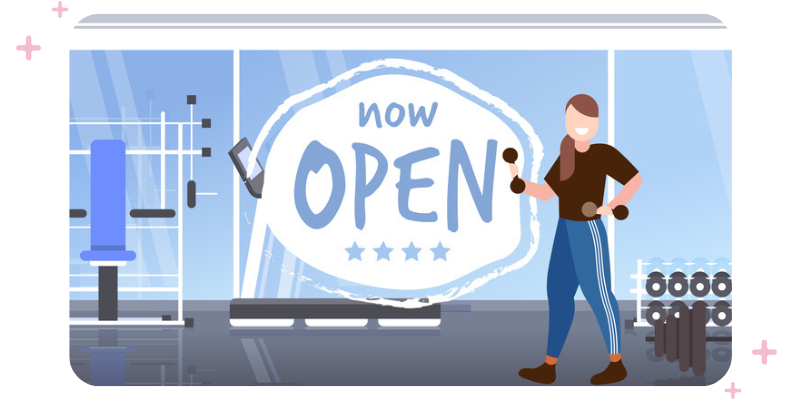 Whether you're a fitness enthusiast or a seasoned professional, this article will provide you with valuable insights that will help you make your gym a reality.
1. Location
Location is a crucial consideration when starting a fitness business. Fifty percent of gym members said they chose to stay with their current gyms because of their location. Some things to consider when selecting a location for your fitness facility are visibility, convenience, and accessibility.
Opening a new fitness facility in a prominent location helps promote visibility. If potential members pass the health club on the way to work, they can consider attending the gym as part of their daily routine and are more likely to join. Ideally, it must be close enough to where your target market lives or lies within their daily commute. It is advisable to open gyms on high visibility roads (even with higher rent) to attract potential members rather than in back blocks.
Convenience and accessibility include adequate parking. Members need parking places, so make it a convenient option for them to join by providing all the things they need to get to your gym faster and hassle-free—location and parking areas. Bonus points if you choose a location that's close to convenience retail, such as grocery stores, health stores, and even restaurants - members will be more likely to fit in their gym activities between errands and social commitments.
2. Investment
According to the IHRSA, 81% of fitness centers close within their first year of opening. One of the reasons for this failure is the lack of cash reserves during its first year of operations.
As with any new business, you need to have enough working capital to cover the initial expenses for your gym opening, plus a few more months' worth of operating expenses—ideally three months. Opening a new gym requires a lot of time and attention, especially during the critical early stages; add more to it if it's your first business - expect a learning curve. Come prepared, and don't underestimate the importance of staying financially liquid during your first three to six months of operation - it's important to have plenty of cash reserves.
3. How will you stand out from your competition?
Knowing your competitors helps with market positioning. Identify nearby gyms or fitness centers in your prospective location, research, and see if you can do anything new or better to entice your target market to support your gym and not theirs.
With more than 32,000 health clubs in the US, it is most likely that you will find a gym or fitness facility every few blocks in every city. Standing out from the competition is equivalent to surviving (and thriving) in your first year of business. Again, narrow focus (niche down), define your target market, assess your location, and build up hype and promotion even from gym opening.
Keeping up the hype is a different story altogether. You need to maintain customer satisfaction and implement retention strategies, which is where maintenance, management, and marketing come into play.
Join a fitness community near your location and start gauging interest there. Assess what people look for in a gym.
4. Target Market
Once you know who your competition is, the next step would be looking at their current audience.
Identifying your target market will depend on your chosen location and your research. It is also best to refer to industry experts such as the IHRSA to know the current trends in the fitness industry in the US. They regularly release and update their media report; pay attention to the data they put out, as it can help you make informed decisions based on changing trends and customer behavior.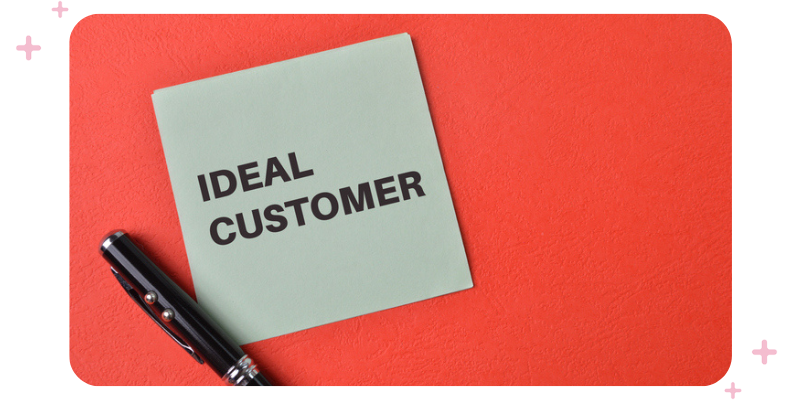 5. Business Plan
Now that you have researched your location and target market, identified your competitors, and estimated the needed investment, it is time to work on your business plan.
A business plan is the initial step in any new venture. This will be your compass and serve as the key to success for your business. Your business plan should include the results of your market research, competition, equipment needed, budget, and operational expenses.
Learn more: Gym business plan
6. Legal Requirements
Operating a business would need licensing, especially for gyms. There are a lot of documents and requirements involved when applying for licensing, so it is best to seek legal help. Consult with a lawyer to ensure you are starting on the right foot. For example, establishing a sole proprietorship requires different paperwork than corporations or partnerships.
Note that your gym's location may have specific permit requirements depending on the state. Find out about your state's licensing requirements by visiting SBA's reference to state licenses and permits.
You might also need special licenses if you plan to operate a childcare center, sell retail, or serve food in a kiosk.
7. Insurance
After licensing, the next thing you need to do is purchase insurance for your gym business. While every company operates with a certain risk level, gyms are more prone to risk because accidents and injuries can always occur.
Your insurance will depend on the type of gym you will be opening, what services you will offer, and the facility size. General liability insurance is a given to cover claims from non-employees, but you would likely need insurance for workers' compensation, property protection, and professional liability.
Learn more: Insurance for gyms and personal trainers
8. Equipment
If your fitness center needs fitness equipment, decide where to buy or lease. Both offer advantages and disadvantages. For example, leasing helps you stay on top of the latest exercise technology, lets you assess the need for the equipment before eventually buying, and usually covers equipment maintenance already. You can also determine how many pieces of equipment you need before buying. This is great for those that require a significant investment, such as cardio equipment.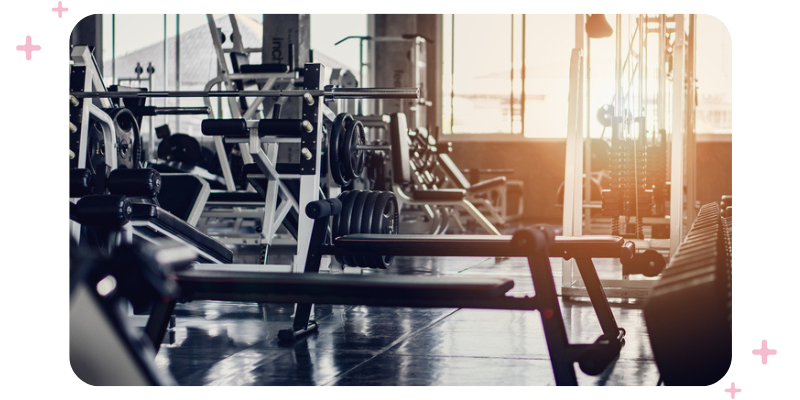 However, if you lease, it might cost more in the long run. If you decide to go this route, check to see if the equipment company is a member of a leasing association, such as the National Association of Equipment Leasing Brokers or the National Association of Equipment Finance Professionals.
9. Staffing
Gyms are service-based businesses. What you will be offering is intangible and ongoing, so you need to hire the right people to provide adequate service. So get the right people on board.
You also need to hire smart, especially when it comes to fitness instructors and personal trainers. Check their training and accreditation (licenses) thoroughly. Ask about their training styles and workout routines and their experience with coaching clients. You might also want to consider temporarily hiring them for a "test run" and have them do a few fitness classes or personal training sessions before offering them employment.
10. Membership options
Memberships will be the lifeline of your gym. Whether or not your gym is packed every day, as long as your membership retention is high, you will more likely survive during "lean" months.
Before opening up your gym, decide on membership options to make your offering as appealing as possible. It is also recommended you start offering early access for membership registrations before you even open.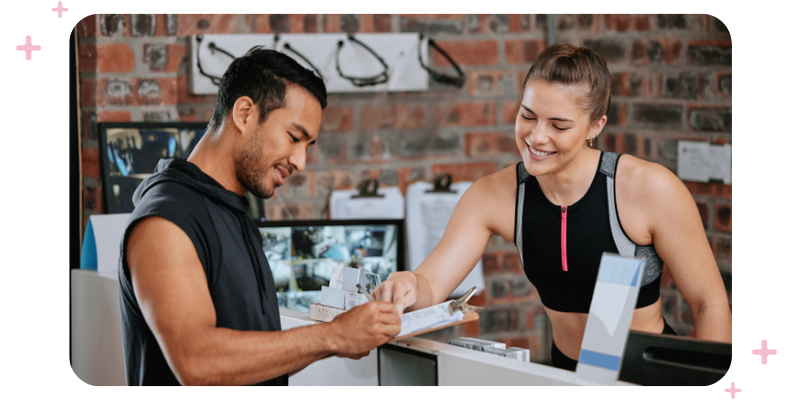 11. How will you market your gym?
A considerable part of a successful gym opening depends on strong pre-sales and pre-opening promotional hype. Consider hiring a PR team for marketing, PR, and social media management if you have the budget for it.
Remember, selling as many memberships as possible when your club opens its doors is crucial to opening-day success. Pre-sales could start early as eight weeks from opening. Have foundation memberships sold in stages and build urgency by offering the most attractive option under a limited time.
Build up the hype! Reach out to potential customers. Send out teasers. Launch your website and social channels and direct people there to give updates and progress on the club's development.
Learn more: Marketing strategies for gyms
12. Financing
Chances are you might not have enough capital for investment at the start, so you will need financing. Before applying, make sure your financial records are in good shape. Money experts advise that budding business owners have enough money saved for personal expenses for at least 12 to 24 months.
Again, having a strong business plan in place will be a huge help in securing funding for fitness clubs.
Learn more: Financing for gyms
13. Operations
All businesses rely on operations—and gyms are no different. You need systems for staffing, training, programming, retention, administration, and sales.
If you lack know-how in these areas and are doing this business without a solid team behind you, consider investing in a fitness franchise brand instead.
14. Management
You will likely be on top of everything for the first few months after the gym opening. But even before then, consider how management will look for your gym once the chaos ends.
You will possibly need to find another "you" or a more experienced manager than you to help ensure operations run smoothly. More importantly, hire someone you trust.
Learn more: Gym management software
15. Maintenance
Ensure you incorporate maintenance costs into your working budget to survive the first few months. A wise tip is to always have a buffer whenever you're thinking about business expenses. For example, add an additional $100 to the amount you allocate for monthly bills. That $100 becomes valuable savings if you don't use it to pay the bills.
Don't forget to pencil in the maintenance schedule for your gym and cardio equipment regularly. This will save you a lot of money in the long run, as maintaining a piece of equipment costs less than acquiring a new one.
1
6. Safety and Compliance
Aside from getting licensing and insurance, your facility should also pass state laws for safety and compliance. Check your city and state requirements,comply, and have a certificate issued before gym opening.
Learn more: Access control software for gyms
17. What's your niche?
If anything, the boutique revolution has proven that people will chase the most unique experience possible. Offering a one-size-fits-all type of gym won't appeal as much in today's market. You need to niche down and narrow your focus. Many business owners skip this part and get excited about getting all the paperwork ready and hiring people even before giving time and effort to do market research and niche down.
As a fitness business owner, narrow your focus and zone in on a few areas—that is where you will find your sweet spot.
18. What's your budget?
Finances will always be crucial in all aspects of life, especially in businesses—starting, maintaining, or even closing. Gym startup costs vary based on the size, location, facility, and type of gym you open. The basic start-up costs can range from $10,000 to $50,000 on average. (Note that it is impossible to give a good range because gyms come in different sizes—boutique studios, 24-hour gym access, and more.).
19. Are you ready to be a business owner?
The gym industry is lucrative, especially after the COVID-19 pandemic. The world has relaxed most, if not all, its restrictions, and people are renewing their commitment to health with enthusiasm. However, starting a business requires more than a love for fitness.
As a gym owner, you should be interested in more than your workout but also in managing people and giving sincere service to your customers. Savvy gym owner also has a clear vision of what they want in a gym and has a relentless drive to pursue it at all costs. If you're willing to invest your time, money, and effort into a business and industry that you're passionate about, you're likely to get the results you want.
Be ready to put a lot of work (and heart) into your gym business at the start. As the saying goes, "No pain, no gain."

Frequently asked questions about things you should know before opening a gym
What legal paperwork do I need to start a gym?
Depending on your location, you may need to register your business, obtain a business license, and obtain any necessary permits or zoning approvals. You may also need to comply with health and safety regulations.
How much does it cost to start a gym?
The cost of starting a gym can vary greatly depending on factors such as location, size, equipment, and staffing needs. It can range from a few thousand dollars for a small home gym to several hundred thousand dollars for a large commercial gym.
How do I determine the target market for my gym?
Determining your target market involves considering factors such as location, demographics, and the types of fitness services you plan to offer. For example, if your gym is located in a densely populated urban area, you may want to focus on offering high-intensity classes and personal training services to young professionals.
How do I choose the right location for my gym?
Choosing the right location for your gym involves considering factors such as foot traffic, parking, visibility, and competition. It's important to choose a location that is easily accessible to your target market and has enough space to accommodate your equipment and members.
What are the ongoing costs of running a gym?
Ongoing costs of running a gym include rent or mortgage payments, utilities, equipment maintenance, staff salaries, and marketing expenses. It's important to budget for these costs and factor them into your financial projections.
How do I market my gym?
Marketing your gym can include traditional advertising, such as print and radio ads, as well as digital marketing, such as social media and email campaigns. Networking and building relationships with other local businesses and organizations can also be effective ways to market your gym.
Open Comment Form