Opening a gym requires serious work. Hiring trainers to gain customers and renting space can feel as scary as jumping off a cliff into the unknown.

And like any endeavor, the cost of opening a gym varies depending on many factors.
Three primary factors will affect the cost of opening your gym: size, location, and type. For instance, a boutique yoga studio will likely cost less than a mid-size CrossFit center.
That said, you can expect to invest at least five figures regardless of which type of gym you choose.
In this article, we'll provide an accurate breakdown of how much it costs to start a gym so that you know exactly what expenses to anticipate and how much revenue you'll need to generate to sustain your business long-term.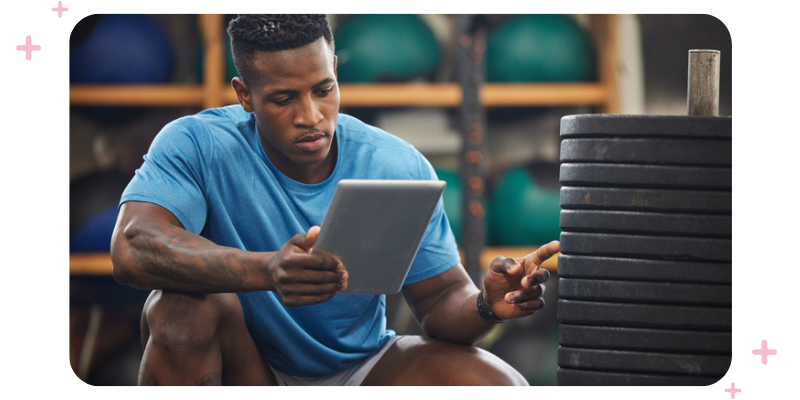 Is opening a gym worth the investment?
Many people don't realize how costly it is to open a gym, which often leads them to question whether the investment is worth it.
However, running a gym can be a very profitable career choice if you manage your business well.
How a gym's revenue covers its costs
For example, if you have a gym that can support 200 members each month and charge $20 for a basic membership, you would make $4,000 monthly before taxes.
This doesn't even include the revenue from upper-tier memberships, per-class pricing, or merchandise like workout clothes or bags, which would help drive your business's success once membership starts to grow.
With enough members, your gym could easily make more money than it costs to run every month. Achieving this goal usually takes less than a year after opening.
Breaking down the costs of opening a gym in the US
US gym startups should expect to spend between $245,000 and $400,000 on their new venture. Of course, you'll also need to account for operating costs and these startup expenses.
Keep scrolling to get a detailed breakdown of each cost.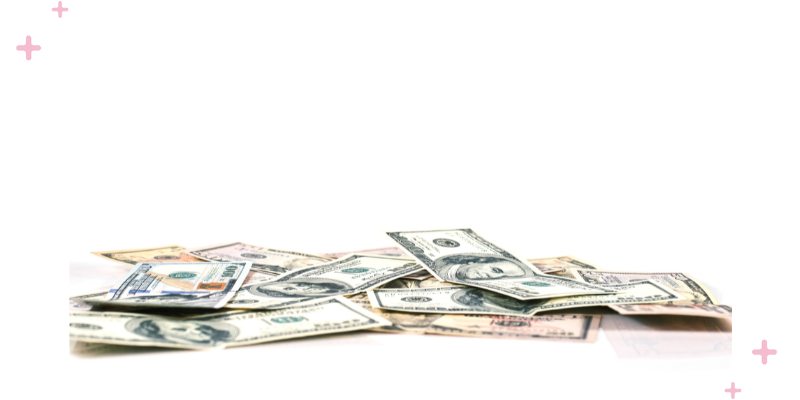 Startup and one-time costs
Lease deposit or down payment
$45,000 – $90,000 (Lease)
$105,000 – $150,000 (Buy)
Property costs will be your business's most significant startup and ongoing expenses. The amount you spend will depend highly on the location and size of the facility.
Gyms in the US, on average, are 3,000 square feet. You can expect to pay an annual lease anywhere from $15-$30 per square foot, depending on where the gym is located. Therefore, annually, you would be looking at a lease between $45,000 to $90,000.
A security deposit for a commercial lease is typically 3-6 months of rent, which the landlord can use if monthly payments aren't made, or terms of the contract are broken.
If you're purchasing the property instead of leasing it, 20-30 percent should be expected as a deposit for your lender. Budget $35-$50 per square foot; thus, for a 3,000 sq ft building, that comes out to $105,000 - $150,000 upfront.
Gym equipment
$2000-$3000 (Lease)
$75,000 (Buy)
$10,000-$20,000 (Non-training equipment)
One of the first decisions you'll have to make when opening a new gym is whether to buy or lease your gear. Although it may seem like buying would be more cost-effective, leasing has its own advantages, such as updating the equipment regularly and not having to worry about maintenance (since that's usually the lessor's responsibility).
In addition, there are tax advantages in the United States with leasing-- thanks to 2017's Tax Cuts and Jobs Act, lease payments are 100 percent tax deductible.
For leasing gym equipment for a 3,000-square-foot facility, you're looking at $2,000-$3,000 per month. Some lenders also request a one-month deposit.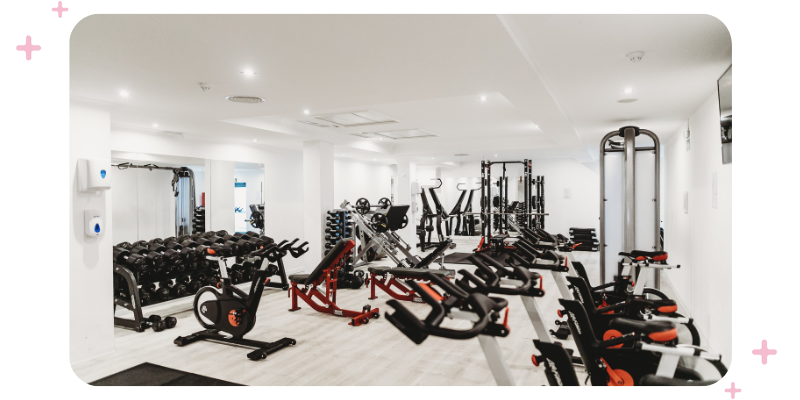 If neither owning your gear nor regularly updating your equipment is of interest to you, you can buy or secure an equipment loan outright. Regarding gym equipment costs, buying will set you back about $25 per square foot.
So, for a 3,000-square-foot gym, your equipment will set you back around $75,000.
If you finance your equipment, you'll have a monthly bill of $1,000-$2,000 (and interest accruing). You should also set aside money each month for maintenance and repairs.
Additionally, keep in mind that your equipment costs will include items unrelated to training, like:
Couches
Chairs
Tables
Towels
Wall decals and artwork
Plan to spend an additional $10,000-20,000 on these expenses.
Licensing and permits
Before you can open your gym to the public, there are a few legalities you must take care of first. This includes completing paperwork and paying fees for the following:
A business license
Trade name registration
Health & Safety certification
Employer Registration
Depending on your location, additional licensing and permits from your local government may be required. Factor in around $5,000 for these fees to get a general idea of the cost.
Legal fees
Up to $5,000 per year.
You will need a lawyer's help to draw up the lease or business sale agreement and any other deals that require legal processing. Their hourly rates could amount to $200.
Ongoing legal services will also be needed, so setting aside approximately $5,000 per year for these fees would be beneficial.
Building remodeling and decor
$105,000
Once you have the keys to your building, you can start from scratch to create your dream gym. However, understand that it will take a significant investment of time and money.
To get a standard gym up and running in terms of amenities like showers, locker rooms, turf flooring, etc., you should budget $35 per square foot. For 3,000-square-foot gyms, this comes out to around $105,000 on average.
Although it requires considerable money upfront, you can talk your landlord into covering all or some of the refurbishment costs. They might be amenable to doing so in exchange for slightly higher monthly rent. It's worth asking, even if there's only a chance they'll agree – after all, you won't know unless you try!
Hardware and POS system
$1,400
You must invest in a high-quality point-of-sale system to get the best. This will enable you to process payments quickly and efficiently and integrate all data into your software seamlessly. Make sure that your gym POS system includes the following:
A credit card magnetic reader
An electronic cash drawer
A mobile barcode scanner
A receipt printer
For an initial investment of $1400 in POS hardware, you will get the following with an ongoing monthly payment of around just $100.:
2 x Tablets
2 x Card readers
1 x Printer
1 x Cash drawer
The monthly software cost depends on how many licenses you need.
Certifications
$400-$1,000
If you're not already an experienced fitness trainer with multiple certifications, we recommend taking a course with the International Sports Sciences Association (ISSA). These courses usually cost between $400 and $1,000 and can be done online.
Ongoing operating costs
Wages and taxes
The number of employees you have will affect how much you pay in wages. As a general rule, for every 50 members, plan to employ one staff member. So, a 1,000-member facility will require 20 employees, including front-of-desk staff, floor trainers, cleaners, and sales and marketing staff.
Employee payment is typically the most considerable expense small businesses have, so this budgeting aspect must be done correctly from the start. According to recent studies, these are the average salaries for key gym appointments:
Fitness Instructor – $40,000
Personal Trainer – $58,000
Gym Manager – $69,000
If you want to retain talented 20 employees, be ready to spend at least $700,000 yearly on employee payments.
As for personal trainers, whether you'll employ them or let them work as independent contractors is up to you. The IRS has stringent regulations concerning who should be classified as an employee or an independent contractor.
According to the IRS guidelines, these are instances when you should hire your trainer:
The gym markets, bookings, and collects payments for the personal training service.
The gym sets and evaluates programs to determine if they're meeting standards.
The service is a necessary part of what the gyms offer.
There are several ways to structure a compensation package. The most common are:
A straight percentage of revenue: typically 50 percent.
A sliding scale: the trainer earns more money by bringing in more clients or sessions per week.
A tiered plan: The rate the member pays and that you and the trainer make depends on the trainer's experience level.
A salary or hourly rate: A typical personal trainer makes two different hourly rates, one for training a client and another for clients. $17 to $20 per hour while training and $9 to $12 per hour when not.
Be sure to set funds away for payroll and self-employment taxes, which may differ from state to state. In some cases, these taxes need to be paid quarterly, so make sure you understand the laws in your area.
Generally, setting aside 10% of what you pay yourself should cover any tax obligations you have as a self-employed individual.
Lease or mortgage payments and utilities
You must pay monthly lease or mortgage payments without a large budget. As mentioned earlier, renting a building costs $15-$30 per square foot, while buying one outright is $35-$50 per square foot. Consequently, your monthly lease/mortgage payments would be between $3,750-$7,000 each month.
A majority of your monthly utility costs will go to electricity. The amount you spend on power each month largely hinges upon how many machines are plugged in and running simultaneously. For example, a 3000-square-foot gym with common cardio equipment should see around a $2500 monthly utility bill.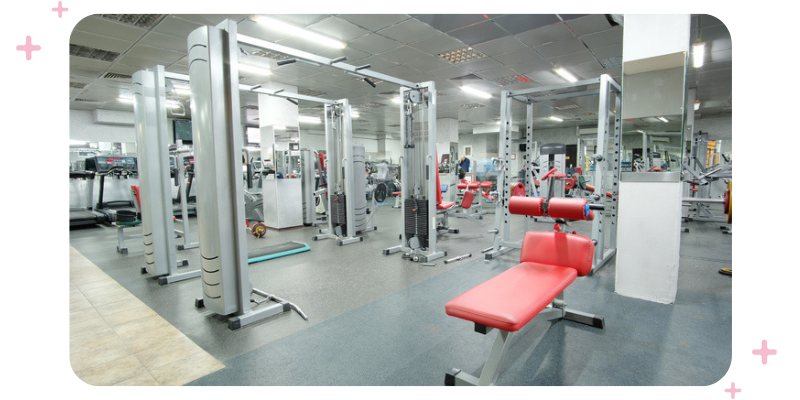 Marketing and advertising
Regarding marketing, $3000 to $5000 per month is ideal for open-day costs, with an additional 7.5% of your monthly turnover set aside for general expenses.
A solid online presence is vital, so platforms like your website, Instagram, and Facebook should be priorities.
Gym management software
Investing in quality gym management software will save your staff hours of back-end labor every week, optimize your business and allow you to offer a more personalized, responsive service to your members.
Look for a system incorporating lead management, automated billing, membership management, and staff management. It should also have a mobile app and integrate with your website builder. You should expect to pay around $175 monthly for good gym management software.
Gym insurance
$500-2,000
Before letting customers in, you must ensure that your business and yourself are protected against any accidents or injuries on the property. The best way to do this is by getting insured.
Here are five types of insurance coverage to think about:
General liability insurance protects your employees if they are held accountable for an accident or injury on the premises.
Professional liability insurance covers accidents or injuries caused by employees' actions (or lack thereof), such as not putting up a sign warning people about faulty equipment.
Business income & extra expense insurance can help cover the cost of relocation and repairs if a fire, earthquake, or flood impacts your business.
Worker's compensation Insurance can protect against claims such as If an employee suffers a work-related injury.
Equipment breakdown insurance reimburses for losses caused by equipment malfunctions – but only if you own the equipment.
Maintenance and repairs
Even if you're leasing your equipment, you'll have wear and tear expenses related to other hardware in the gym, like couches, flooring, window coverings, and computers. You should budget $500-$1,000 per month for those.
If you're buying new gym equipment, it will be under warranty. If you go second-hand, though, breakdowns are bound to happen, so remember to put away $25 every month for each used piece of equipment in the facility.
Miscellaneous expenses
Many gym owners have found that paying for the services of a freelance fitness writer is a worthwhile investment.
This will enable you to provide your members with up-to-date information in emails and on your website's blog, positioning you as an expert in the industry and the go-to solution for all their fitness, training, and nutrition questions.
For around $500 per month, you can keep a steady stream of educational and engaging content coming to your members.
Factors affecting the cost of gyms
The type of gym
The cost of your new gym largely depends on the type of facility you want. You could choose from a small boutique gym, a CrossFit box, a functional training center, a personal training studio, a yoga or boxing studio, and more.
Commercial or private gym?
Furthermore, it would help if you also decided whether to open a commercial or private gym. The costs of opening a commercial versus a private gym are different.
Commercial gyms have cheaper membership options but don't get as much income per person because they let anyone become a member. Private gyms cost more upfront but make more money per customer since they can offer individualized attention to their members.
Private gyms have stricter requirements for membership than public ones and are usually more expensive, but they offer a better quality experience tailored to the individual.
Location
The price of leasing or renting space greatly depends on your location. For example, central cities tend to be more expensive than suburbs. Keep the following in mind when choosing where to put your gym:
Visibility
Situating your gym in a high-traffic area will give you an edge.
Demographics
With more people working from home due to Covid, it makes sense to locate your business close to residential areas that are still developing. A shopping center will usually pop up in these new neighborhoods. If you put your gym next to the market, you're likely to get the attention of health-conscious individuals with extra money to spend.
Research
If you want to open a new gym, research the area to see if there is a demand. If so, find out what other gyms in the area are doing well and where they could improve. This will help you decide what your own gym should focus on.
Cross-promotion potential
If you set up shop near businesses such as massage therapists, chiropractors, or health foods stores, you'll be able to promote each other's services/products.
Parking
If you're scouting your gym's location, be sure to factor in the need for plenty of parking spaces for your members. After all, who wants to work out after searching for a parking spot for 20 minutes?
Franchise Gyms
Being a part of an already established company gives you name recognition as one of the main advantages when entering the market.
Another significant advantage is that you're given a tried-and-true business and marketing system to set you up for success.
When joining a franchise, your membership fee will cover essentials such as equipment, location outfitting, and staff training, typically costing thousands of dollars if done individually.
Although there are some benefits to franchising, it's not entirely perfect. You won't have the same level of independence as a sole operator. If you're a creative entrepreneur, company regulations might hinder your business innovation. Franchise fees could also be expensive, and the franchisor gets a percentage of every membership fee you make.
Some gym franchisees have encountered the issue of a single franchise's bad reputation reflecting poorly on the entire chain and affecting their revenue. Other costs to consider when purchasing a gym franchise are initial fees and ongoing royalty payments. In 2020, these ranges in America were $30,000 - $300,000, with most agreements being active for 10 years.
Funding options for your new gym
Government loans
The Small Business Administration (SBA) offers government loans to establish small businesses. The following groups of people are given priority for the loans:
Women
Minorities
People with disabilities
Although SBA loans boast lower interest rates than banks and private institutions, the approval process usually requires more time. To ensure your application is processed without delays, submit it as early as possible.
Private loans
If you want to take out a loan from a bank or other private lender, you'll need to show them an extensive business plan, a marketing strategy, ID documents, and excellent credit.
The great thing about being pre-approved by a private lending company is that you have access to a secure line of credit.
However, the price for this security typically has high-interest rates attached to it. You might have put up collateral against the loan as well.
How much does it cost to open a gym in the UK?
The gym and fitness industry is a billion-pound industry in the UK, so it's essential to have the proper knowledge and experience to succeed.
Some franchisors in the UK won't accept unsecured governmental funding, while others have no problem with it. Additionally, Some franchises also have requirements regarding your liquidity and net worth. Nevertheless, depending on size, location, and franchisor, a gym franchise can cost you between £185,000 and 315,000 total. So being knowledgeable of your options for financing will aid you in choosing the best gym franchise.
Banks may offer you loans based on your credit score and how much money you have saved.
The government provides grants and programs that can help with startup costs.
Some franchisors will give financial support to those who qualify.
Angel investors invest in startups in exchange for a portion of the company's ownership.
Family members or friends can also help by co-signing a loan or giving money outright.
Always remember that you can use more than one source of funding for your business. Diversifying your financial risks is always a good idea.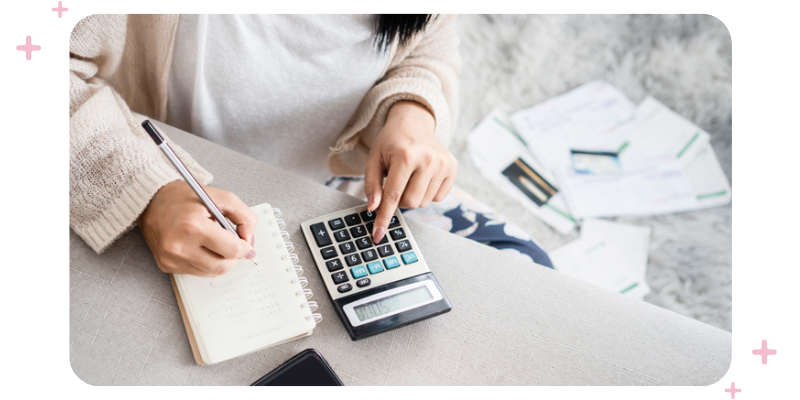 Purchasing equipment
Outfitting a gym with all the necessary equipment is expensive and something you should budget for carefully. The money you'll spend on machines depends on how much and what kind of equipment you need, but as a general rule, expect to pay at least £35,000.
Below is a breakdown of average costs for some popular commercial gym machines:
Treadmill: £2,000
Rowing machine: about £1,000
Bench press: £1,500
Cross trainers: £800
Weight set (150kg): £500
You'll need 15% of your membership list equipment in a given hour. So, if you have 200 members, you'll need 30 machines. Based on the above prices, that means an initial upfront cost of £34,800 for equipment.
Renting equipment
You can also save money in the short term by renting commercial gym equipment from a third-party provider, like Hire Fitness. Here's a price comparison of buying vs. renting equipment.
| | | |
| --- | --- | --- |
| | Buying cost | Monthly rent cost |
| Treadmill | £2,000 | £240 |
| Rowing machine | Around £1,000 | £80 |
| Bench press | £1,500 | £68 |
| Cross trainers | £800 | £160 |
| Weight set (150kg) | £500 | £50 |
The upfront cost of purchasing and owning your gym equipment is £39,500 for 200 members.
However, renting equipment would only be around £2,048 a month - this might save you money in the short term while you're building up your client base, but it becomes more expensive in the long run. If you bought the equipment outright, ROI would be seen within 18 months instead of hiring costs.
Payment software
Third-party payment software is an excellent way to stay on top of your finances and manage your budget and revenue. By automating your accounting process, you can save time and energy.
Employing staff
If you're the owner of a new fitness studio, you'll likely be leading most of the workouts and working directly with clients. However, you can also hire certified personal trainers to teach classes in specific areas like pilates or yoga.
Before hiring anyone new, carefully check their training and accreditation documents. Consider including a test class or personal training session as part of the interview process, so you can see how they interact with members before making any decisions about hiring them long-term.
If you're only planning on having classes a few hours per week, freelance instructors might be the more budget-friendly option. To understand what accreditations are necessary for each fitness trainer's role, use the CIMSPA professional standards library for more information.
How do you find good gym locations?
Where you establish your gym is critical; in fact, the IHRSA (a non-profit trade organization representing health and fitness facilities) discovered that 50% of people who join a gym quit within six months. The main reason cited for leaving was an inconvenient location.
According to Dstillery, a marketing firm in the US, people who go to the gym only travel up to 4 miles on average. Establishing your business in heavier populated areas is advantageous so you can increase sales.
How do you find a suitable building?
According to industry standards, the amount of space you'll need in your fitness center for each person – not counting communal areas and bathrooms – is 10-15 square feet. So, if you want 100 monthly members, your workout space should be around 1,000 square feet.
Some other important factors to keep in mind when considering a location are:
A cafe or seating area for customers/clients
Ample parking spaces
Office space for administrative work
A locker room and shower amenities
Lifts and disability access
Room for expansion
How does location affect your prices?
The establishment's location can significantly impact your gym membership price. The line chart below compares Nuffield Health's five gyms to the average property cost in each area.
The monthly membership price at each gym location is impacted by the average monthly rental cost in that area, as shown in the chart.
Consider your location when costing your gym startup and factor it into your pricing and marketing strategy.
What insurance will you need for your gym business?
Generally, you will need two insurance types for franchising: professional indemnity and public liability. Professional indemnity helps with damages related to a customer or client, such as injury from one of your workout machines.
On the other hand, public liability covers financial liabilities pertaining to public claims.
What legal structure will you have?
The vast majority of the time, the franchisor will tell you what legal structure is required for ownership through the Franchise Disclosure Document (FDD).
In some cases, the franchisor offers flexibility in choosing an ownership structure that suits you.
Below are the four primary legal structures your business can have:
Sole Trader
Partnership
Limited Company
Limited Liability Partnership (LLP)
Opening a gym through franchising
It would be best if you looked into fitness franchises to open a gym at a lower cost. This way, you can utilize an established company's name and resources instead of starting from scratch.
However, it would be best to research each opportunity thoroughly before committing. Consider factors such as the operational areas offered by the franchisor and if they fit with what you want and can do.
You must know what you're getting into before starting a gym franchise. Although there are many advantages to owning a franchise, it's still running your own business—complete with the occasional challenges and obstacles.
Myths and mistakes people make when starting a gym
No matter what your unique situation is, every gym startup faces challenges. And with these challenges comes the potential for making mistakes. To help you avoid some of the more common ones, we've compiled a list of tips below.
Acquire the proper training and accreditation
Your clients consider you an authority figure, so you must meet their expectations. Not only will this help them achieve their fitness goals, but it will also benefit your gym business in the long run.
Furthermore, having a specialty or niche market is a great way to make your gym stand out from its competitors.
Never start working without a client base
Do not open your own gym unless you have clients who have already agreed to join, as it is a tricky business to generate revenue.
It would be wiser to initially build your client base on a smaller scale. Having several devoted customers who will become members is essential for the success of any fitness-related business; thus, make sure you can achieve this goal before taking any risks.
Be sure to invest in high-quality equipment
Having excellent equipment and facilities for your members and maintaining a good bottom line is essential. Used machines may seem like they save you money at first. But in the long run, you will be sacrificing access to full manufacturer's warranty coverage and current technology that would better serve your members.
Don't be a source of unsolicited noise for your neighbors
Considering you'll be making noise, it's crucial to speak with your landlord and neighbors beforehand. You don't want your business impacting its surroundings negatively, after all.
With that in mind, here are some key points to remember:
Be honest about the noise level.
Soundproof your space as much as possible.
Try reaching out to potential customers outside of peak hours.
3 things you should remember before starting your gym business
Finding the best practices for your industry can be a matter of luck or experience, but luckily we have compiled some great tips to help you get started with your gym business.
Create a team that will help you achieve your goals
When opening a gym, it's best not to go it alone. Not only will starting with partners ease some of the burdens, but you're more likely to see results. If your team is also made up of investors, that's financially beneficial. That being said, be mindful when splitting leadership, as having purpose and direction are crucial.
Your gym is much more than simply a place to work out
If you want your gym to succeed, focus on creating a positive culture that will captivate your members. Traditional business practices are essential, but the right image and atmosphere can take you further. Plan ahead, so you know what kind of environment you want to create.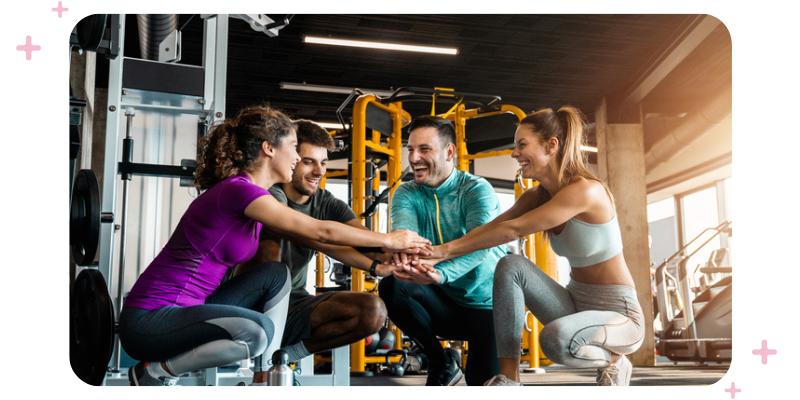 Chasing short-term profits is not the only thing that matters
Your initial focus should be on constructing your brand and attracting an audience. Everything you do should funnel back to those objectives.
Offering workout fuel, like protein bars or recovery drinks, might not make much profit, but it does help your clients and keeps them returning.
Health and nutrition directly impact fitness—so by stocking quality products in your gym, you're sending the message that you care about your members while establishing yourself as an expert voice in the industry.
These investments will pay off down the road.
Frequently asked questions (FAQs)
Is opening a gym a good investment?
Owning a gym can turn a profit, but it's not some quick scheme to make money. The key to success in this industry is being willing to work hard.
How much do gym owners make?
The average annual salary for a gym owner in the United States is just under $70,000 but can range up to over $100,000. The success of the business, the number of employees and locations owned, geographic location, and other factors affect how much gym owners make each year.
How can I raise the capital to open a gym?
There are a few different ways to raise the capital you need to open a gym:
Seek out business partners or sponsors.
Look into crowdfunding options.
Take out business loans.
Check for government grants or other forms of funding.
Before you decide to open a specialized gym, do your research to know if there is a demand in the area where you plan to open.
How do gyms profit?
Gym owners can generate revenue from membership fees, class prices, and personal training sessions. Their income varies based on their success in gaining new members and keeping the ones they have. Some sources of revenue for a gym might include:
Memberships
Class pass sales
Personal training services
Do gyms make good profit?
A well-functioning gym with a diverse number of members can produce high revenue. Take, for example, a gym with 1,000 people paying $50 monthly; that would amount to $50,000 in revenue per month. If the expenses for said gym total up to $20,000 each month, then the profit generated would be $30,000 per month.
What type of gym is the most successful?
Community-based fitness facilities like CrossFit gyms are currently the most successful type of gym. However, these specialized gyms and fitness studios, which include ballet and barre gyms, boutique fitness studios, women's gyms, and group fitness studios, tend only to be successful based on their location.
How difficult is it to open a gym?
The fitness industry is highly competitive, and it's becoming more and more challenging to become a successful gym owner. Although there is great potential in owning a fitness business, 8 out of 10 will fail within their first year.
Open Comment Form