As a gym owner, you understand the importance of appointments as a significant revenue source for your business. But, with traditional booking methods, such as phone calls, managing appointments can be time-consuming and error-prone. Imagine streamlining and automating the process, resulting in increased revenue, satisfied customers, and even new clientele.
Don't let outdated systems hold back the growth of your gym. Upgrade to online booking through gym scheduling software and experience the convenience of managing your classes and appointments all in one platform. Upgrade now and see the benefits for yourself!
The most recommended gym management software that helps your business grow, TeamUp.
What is the use of appointment scheduling software in the gym?
Using appointment scheduling software in your gym goes beyond just scheduling and managing bookings. It can also handle payments, create alerts and reminders for both clients and trainers, and run reports for you to analyze data. This, in turn, can help you craft your marketing plans better.
What is appointment scheduling software?
As a gym business owner, appointment scheduling software helps schedule and manage bookings for your gym. Ideally, the software is web-based with a corresponding mobile app, accessible anytime, anywhere. Its features include booking and schedule management, online payments, cancellations, waitlists, reminders, customer service, and payments.
Benefits of using the scheduling software for your gym:
As mentioned, booking appointments is not the only purpose of scheduling software for your gym business. Take a look at the numerous benefits it can provide:
One of the primary functions of gym scheduling software is to help manage your booking and appointments. A member can book a class or training session by calling your front desk or accessing the software from the web or a mobile app. From there, the software assigns the appointment to the relevant trainer or staff member.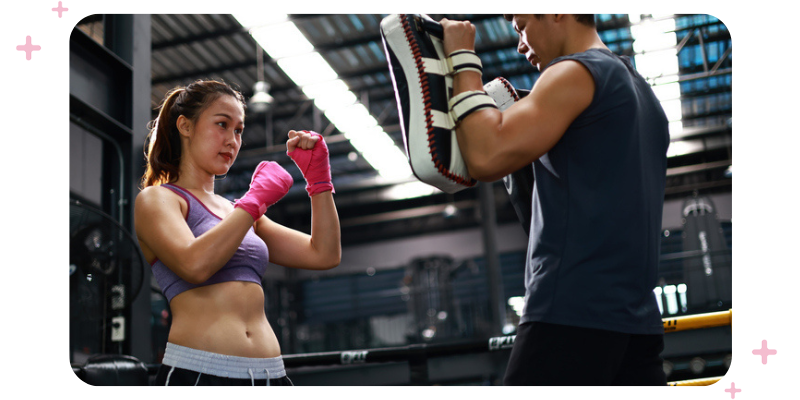 Learn more about gym management software.
Rescheduling can be done from the gym member's end, pending approval from the assigned staff. To protect your business, you can set restrictions and limits on the number of rescheduled requests per member. You can also disable the feature altogether. However, giving your members some leeway in scheduling their appointments can help increase customer satisfaction and retention in your gym.
Like rescheduling gym appointments, cancellation requests help with customer satisfaction because you help them easily cancel their appointments without having to call your hotline. To prevent members from abusing the system, you can set limits for cancellations, such as a grace period or a cancellation fee. Just make sure these are clearly stated on your website or mobile app when they are booking an appointment.
To help members keep their appointments, alerts and reminders can be set up. You can send pre-appointment reminders and SMS messages to remind them about their upcoming session and allow them to add the event to their calendar (Google, iCalendar, Outlook).
A sound appointment scheduling system has payment processing integrated into the software. Members can book and pay without the need to jump from one app to the next or, as a gym owner, manually process payments on your end.
Learn more about payment software for fitness businesses.
Waitlist management helps fill up classes quickly. Once a class is fully booked, members can add themselves to the waitlist from the software. When a slot frees up, the member is notified automatically, and they can book a session. All of this is automatically done by the software, saving you time and resources.
Scheduling software also creates a customized and centralized task and services calendar for your gym. A trainer can view their class schedule from the app's backend. You or the assigned admin employees can look for a specific member or instructor to see what is scheduled.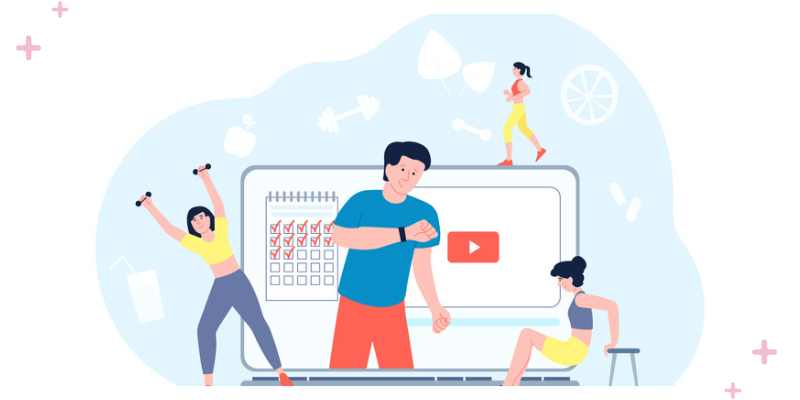 Gym scheduling software can also be a marketing tool for your business. Link the system to your social media channels to give members quick access to your booking system. Send reminders and promotions about upcoming events to your current client list to increase bookings through email marketing. Fitness clubs create coupons to attract new customers. The possibilities are endless!
Permission levels can be activated in scheduling software to restrict access to certain features, such as sales reports and client profiles. You can set employee/trainer and admin/owner access from the backend, depending on the scheduling software. Trainers can only see their booked classes—schedules and members– while owners can access everything.
Learn more about access control software for gyms.
Most scheduling software provides integration features to help you manage everything in one place. For example, you can integrate your booking system with payment processors, Zoom for online classes, and Google Calendar for your trainers and employees. Some platforms offer a wide range of software options available for integration.
Memberships guarantee a consistent and long-term revenue stream; gym scheduling software can help you acquire and retain recurring memberships better. Members can purchase and access their exclusive membership features directly from the app. For example, if a membership feature allows for five monthly sessions with a personal trainer, a member can directly book an appointment from the app to schedule their sessions. Add in a few perks, such as a personal fitness report or exercise videos—all accessible from the booking app- and you are a winner!
The fitness industry is adapting to the hybrid version of fitness classes too. With the pandemic unlocking the world of online fitness classes, many fitness centers have continued offering hybrid their members after the lockdowns. Fitness studios continue adding an online component to their in-person classes.
You can offer online classes through the app, and members can book a session and even attend the class in the app through an integration.
Learn more about online classes booking software.
On-demand classes are different from live online classes because members can view them at leisure. They can sign up for an on-demand class and "attend" at their own pace. Having pre-recorded fitness courses or sessions available on your booking system is an excellent way to create a stream of passive income for your business.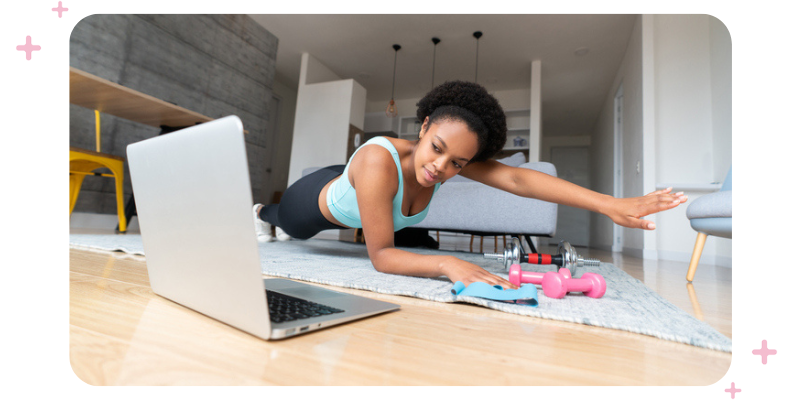 Learn more about on-demand fitness software.
Through the scheduling software, you can run daily business reports to track bookings, sales, attendances, trainer/employee work schedules, and more. You can quickly see which classes and time slots have the most attendances and who your most popular trainers are.
Learn more about fitness business reporting.
Have members sign waivers and forms needed before booking a class. This helps protect you, the trainer, and the member from liability should an unforeseen event happen. The booking software keeps waivers and forms in your client management database, and you can easily use them as a reference.
Learn more about fitness waivers and ParQ software.


A good gym scheduling software provides an import service if you switch providers. They help you immediately set up your app for success by seamlessly transferring all customer and booking information.
A member or client app increases your brand exposure and recognition. Gym scheduling software apps typically come with a front-facing client member app that you can personalize your brand logo and colors.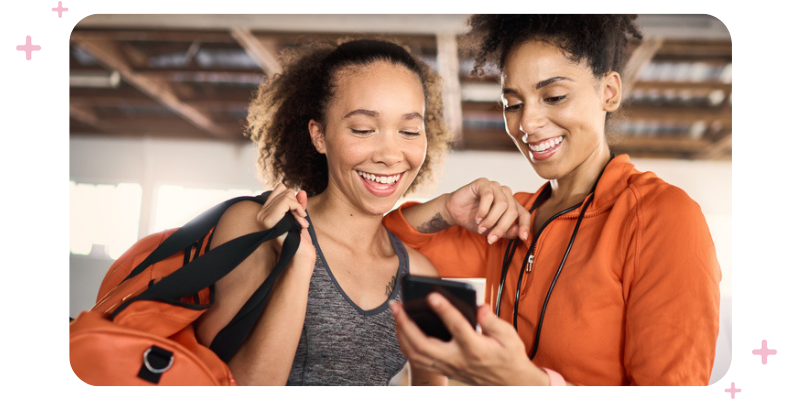 Frequently asked questions
How does appointment scheduling software work?
An appointment scheduling software books appointments, classes, or services through a cloud-based portal. A client visits your website or app to schedule an appointment from available calendar slots. You can view appointments from the backend and even process payments if needed.
What is the most used gym scheduling software?
Industry and user reviews show TeamUp leading the pack among the most popular and most-used gym scheduling software. It has a 4.6 out of 5 score from G2, a third-party user review site, and is ranked first among the best gym management software by industry experts in Fit Small Business.
How does appointment scheduling software compare to using traditional methods such as paper schedules or Excel spreadsheets to manage gym appointments?
Appointment scheduling software saves your gym business time, money, and resources. More importantly, it minimizes or even prevents booking errors from happening due to manual scheduling and clerical errors. Clients typically avoid calling to make appointments, and booking straight from your website helps them manage their time better, too.
Can appointment scheduling software help gyms to send automated reminders and confirmations to clients?
Yes, appointment scheduling software usually includes an alerts and reminders feature you can set up to send reminders to clients about their booked appointments.
Can appointment scheduling software help gyms to manage their waiting lists?
Yes, appointment scheduling software has a waitlist feature that allows clients to put themselves on a waitlist if a session is fully-booked. Once a slot frees up, a notification is sent to the next person in line to remind them to sign up.
How much does it typically cost to implement appointment scheduling software in a gym?
At TeamUp, gym software, our flexible pricing is tailored to fit the unique needs of your business. Pay only for the number of active customers you have per month and never for features you don't need. With our flexible pricing, you'll be able to access all the features you need to run your gym efficiently. Don't just take our word for it, visit our pricing page to see all the details and discover how TeamUp can help take your gym to the next level.
Is it worth investing in gym scheduling software?
Yes, absolutely! Investing in gym scheduling software helps you manage your gym business better and also helps increase customer satisfaction and retention. Moreover, it can also attract new customers if implemented together with your marketing strategy.
Open Comment Form