Need some inspiration or content ideas for your brand new On Demand library? Thanks to several of our customers (50!), we able to provide you with dozens of examples of different types of on-demand workouts, video, ideas, and more.
From how-to instructional videos to guided meditations to nutrition advice and full workouts, the amount of content you can offer your clients is endless. What matters most is finding the types of content your clients will love and providing them with a valuable service they can't get anywhere else.
To make it easier for you to view we have broken down this extensive list in alphabetical order by type of content and genre. We also provided a list of our top tips for organising your on-demand content to give your clients a seamless viewing experience at the bottom of the list. So without further ado, let's dive in.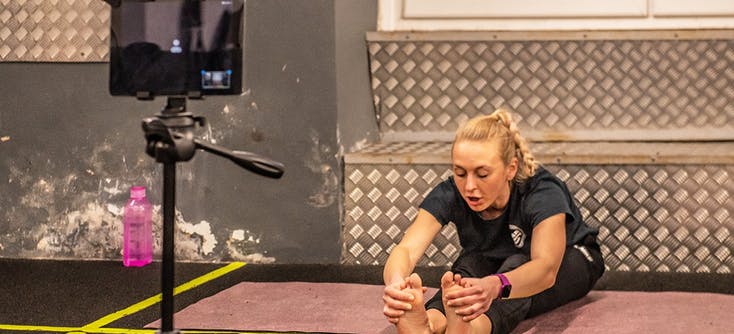 Photo Credit: Lean Training Club
Ability levels
If you have clients and members who have different levels of fitness, your On Demand library is the perfect place to provide them with content they can use anytime they want. Creating filters with the level or specifically curating videos for beginner to advanced classes can help them quickly identify the perfect workouts for them. It can also help your clients build and advance. Starting with a beginner video and working their way up to advance will help your clients keep track of their own progress outside of class. Don't leave anyone out and give something everyone can enjoy at whatever level they are most comfortable with.
Go Physio's Go Pilates knows that their intermediate students might be a little more familiar with some of the more advanced techniques in their classes which is why they offer intermediate classes with equipment included in an intermediate collection. Beginners can find videos curated for them in the beginners' collection as well.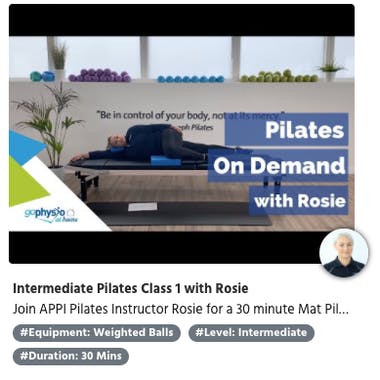 The Fit Hut - Regardsoe Fitness offers their senior clientele with Pilates workouts that will help them improve their mobility and strength at their own pace. A nice gentle workout that can be enjoyed by seniors, beginners, and anyone who wants an effective workout who might be new or starting out.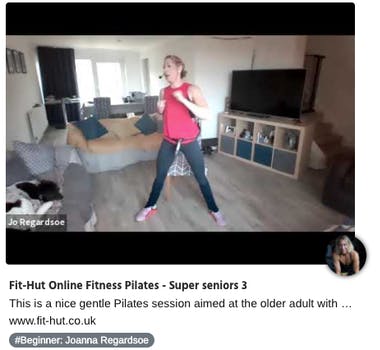 Getting the fundamentals down is important, especially when getting started. Even if they are new to the studio, but not new to Pilates, Positive Pilates has videos for their customers to teach them their specialised techniques and what to expect in intermediate classes.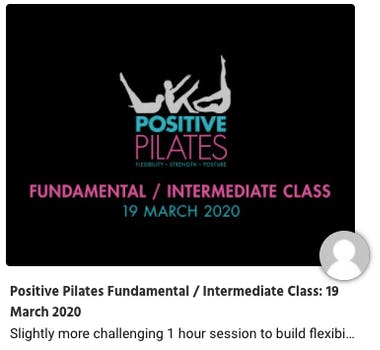 Equilibrium Pilates Room includes a breakdown of the most technical Pilates movements in their advanced mat classes, as well as weekly sessions organised by level so everyone can find the perfect class for them.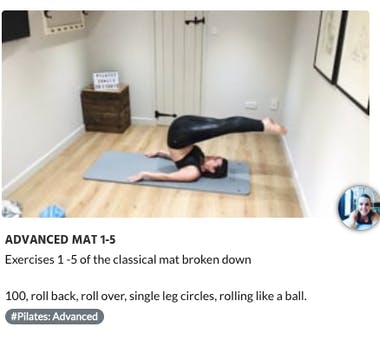 Class recordings
One of the most popular types of on-demand content that you can offer your clients is recordings of your class workouts. Not only are class recordings a huge time-saver, but they allow your clients to experience their favourite classes again and again and give your clients who couldn't make it to class the community look and feel. You can either link your class recordings directly to your library or save the video of you teaching and instructing and offer that to your clients. You won't have to repeat the same workouts, and your clients will enjoy taking their favourite classes at their convenience. Here are several examples of on-demand class recordings:
Bootcamp SE16 offers a number of various class recordings for their clients who can't make it to the park to work out as well as cardio, mobility, and conditioning sessions they can do at home.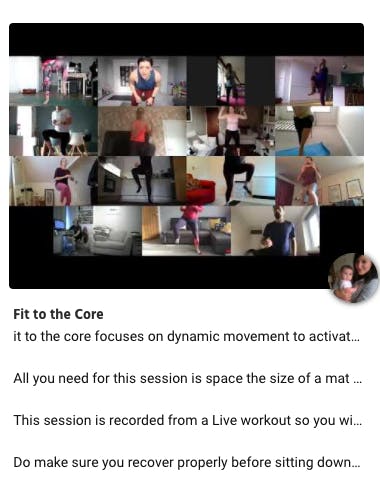 DanceFit Bath doesn't want their clients to miss out on your movin' and groovin' when they can't make it to their energetic live class.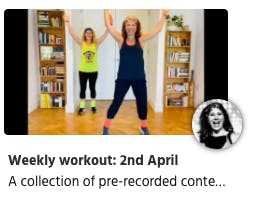 The Pilates Fairy offers recordings of their Mat classes for their clients to catch up and enjoy whenever they like.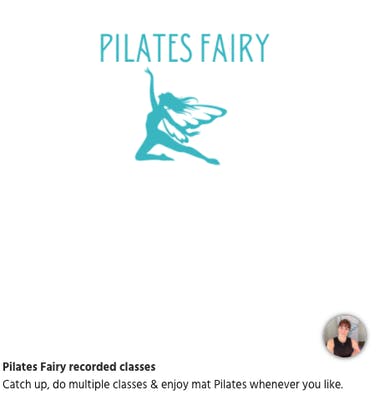 Akarma Life Studios shares their all-levels yoga class recordings in their library so that their students can catch up on previous classes and repeat their favourites.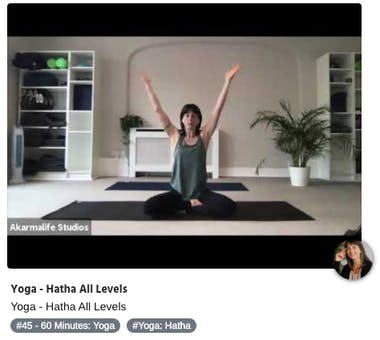 Cardio classes
Give your customers videos that boost their cardio without making them run on the treadmill or elliptical. There are so many ways to get your cardio levels up that don't require a machine and now is your opportunity to show your clients how to take it up a notch at home. Whether you offer HIIT resistance videos, cardio boxing or dance, or techniques on how to improve your walking, running, or any endurance exercise, your cardio collection is the perfect place to provide your clients with tons of cardio videos that anyone can enjoy.
Take it to the next level with Flin's Fitness HIIT cardio resistance classes. In just 36 minutes, their customers can get an energy-boosting amazing workout that only requires themselves and a couple of dumbbells if they have them at home.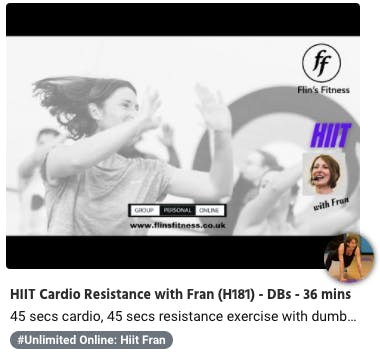 One of the most important parts of any cardio workout is conditioning which is why Everybody Fit Gym & Centre offer a number of conditioning workouts for short, intense, full-body workouts that can be done anytime, anywhere.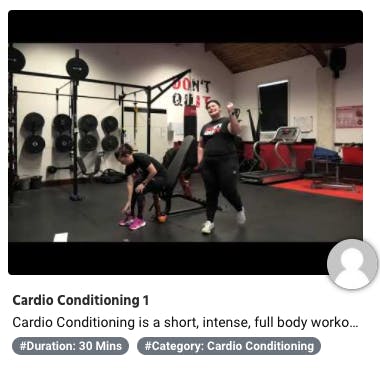 Balance the Countryside Gym's Kathryn Edwards challenges her clients to 45-minute fast-paced cardio workouts for a burn and amazing workout. Their customers can even add in some dumbbells to really take it up a notch.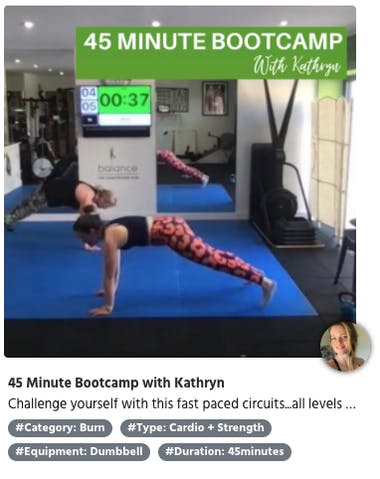 Combo classes
If you enjoy keeping it fresh and mixing up your class content, then combos are just the thing to offer in your library. Whether you mix traditional yoga with HIIT or CrossFit with stretching and endurance training, your customers will love getting to do their favourite exercises in one video. You can make it a series or always offer something new. The combination of different workouts is sure to make your clients want more and more.
Breathe Yoga is a big fan of combining their yoga classes with HIIT and strength training to keep the class active and energising. With several videos including yoga and kettlebells, there is something for everyone to enjoy.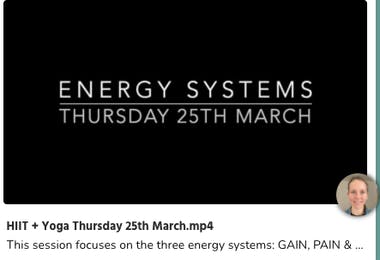 Infinite Balance PT mixes in a combination of HIIT and Tabata to keep their clients going full throttle for an engaging and effective workout.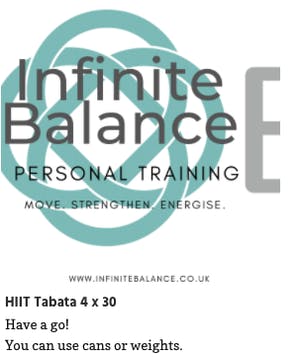 Take your dance moves to the living room with Feeling the Fitness's Zumba videos. Mixing cardio and dance is a fun and amazing way to get in a good workout and boost your mood. Their customers have their pick of several Zumba videos and can even follow each of her videos in order starting with Workout 1.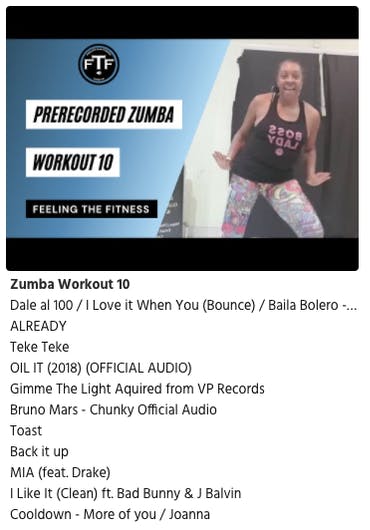 Core classes and videos
Abs and core can be one of the most difficult exercises to master on your own, and providing your customers with videos instructing them how to do core at home to get the six-pack they want is excellent content that will always get taken advantage of. Whether you include core in your full-body workouts or create videos solely focused on this key area, your customers will love having dedicated core workouts in your library.
Nu You Pilates teaches its customers how to strengthen their core to excel in their Pilates classes. Core is such a fundamental part of Pilates that showing beginners how to really perfect their core movements can make all the difference.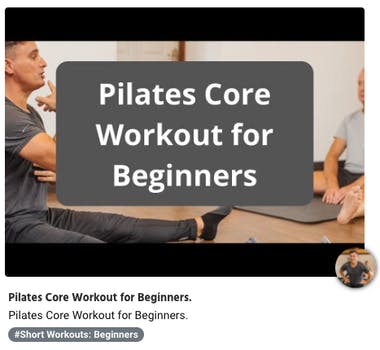 Viva Fitness knows that as much as they love a hardcore workout, a relaxing core stretch is just as important and effective.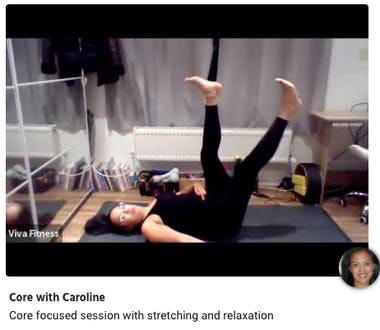 Courses and workshops
Do you offer your customers masterclasses, courses, or workshops that can help them learn about the deeper and more fundamental practices of your fitness business? Perhaps you have clients that are starting their own businesses. Your On Demand library can host this content too when you include it in your memberships that include specialised courses or offer additional informational content for your customers to enjoy within their typical class memberships.
Tree Living Yoga offers their yogis training courses that include philosophy workshops in their library for students who want to learn more about the fundamentals and basics of certain yoga practices.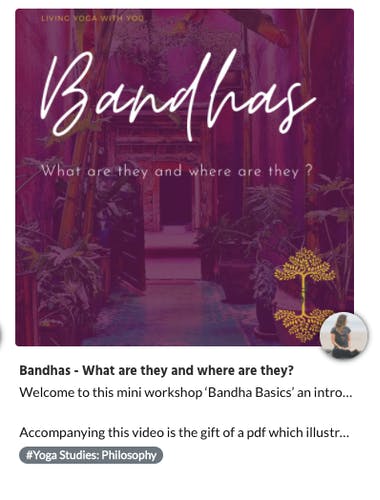 Louise Redmond PT really motivates her customers with specialised masterclasses for weighted workouts. Learning the proper techniques and getting a great workout is the perfect combo for progression and improvement.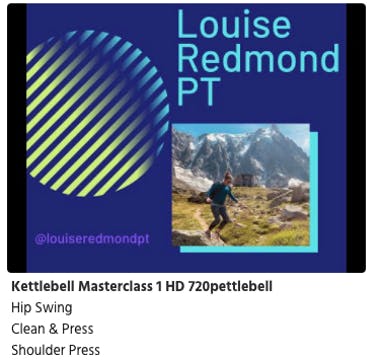 Family friendly workouts
Bring the whole family to work out by offering family-friendly on-demand content. It can be hard for your customers to sneak away for a workout at home or find the time when their kids want their undivided attention. Offering them workouts that they can bring their kids will be fun for everyone. Your customers with kids will love including them and getting a chance to work out at home undistracted.
Carly Wilkinson not only offers on-demand content for new parents, but also for families with little ones who love to jump and dance around. They can get out all the wiggles and the parents can feel fit while doing so.
Introduction videos
Adding introduction videos explaining who you are and what you offer at your business is a helpful way for your customers to get a better idea of what to expect as a member. Including an intro letting your audience know more about you, what you enjoy, what you want to help them achieve can help build that important impression early on, especially if your training is mostly online and there is less in-person interaction.
Be Wright Fit offers their customers a new intro video every month to share new updates, information, and what clients can expect that month.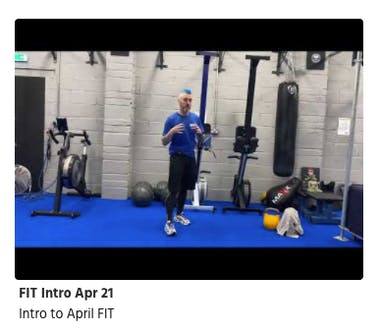 Lean Training Club takes their customers through five days of introduction to yoga. With five 5-minute videos they can watch all at once or one at a time, their customers can learn how to get started with their practice.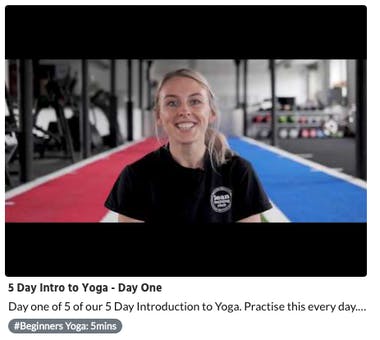 CrossFit Alc's On Demand library takes their customers through a refresh of the sessions and WODs focused on each month.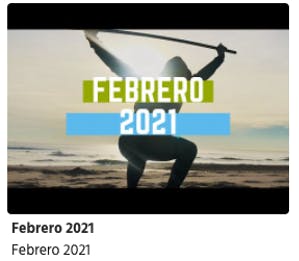 Mental health and wellness videos
Do you have clients that want to work on their health beyond exercise? Why not offer some video content focused on mental health & wellness. Guided meditations, breathwork, bedtime stories and stretches can ease anxiety and stress and keep your clients calm and relaxed all day long. The combination of exercise and relaxation is not only proven to help people get in shape, but it can have a major positive impact on their overall health. If you want to offer your clients well-rounded content they can use and enjoy outside of a workout, then you should consider providing focused on mental health & wellness:
Shambhala Yoga offers its members exclusive videos to help with breathwork, meditation, and yoga as well as tons of class recordings.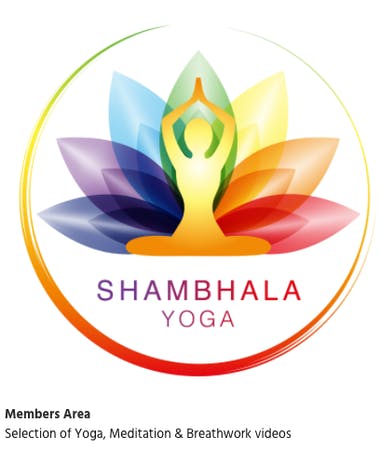 The Soul Spa doesn't want their customers to struggle to fall asleep, which is why they offer guided sleep meditations in their content library.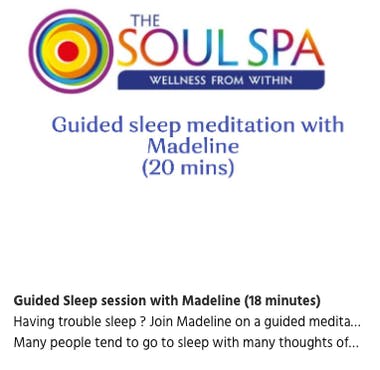 Akasha Yoga Centre Online offers a series of energy block releasing videos to eliminate all the stress and anxiety holding their customers back.
Mobility, pain, and injuries
If you have clients that want to come to class but struggle to keep up due to pain or injury, video content with exercises they can do to adapt to their pain and help them improve their injuries can be very helpful. Those customers who couldn't make will not only recover faster but won't have to pause their memberships and miss out on your valuable assistance and guidance on getting them back up stronger than ever. You can also include stretches and exercises your clients can do to avoid injuries in the future and incorporate them into their regular workout routine.
Gaia Pilates offers a number of videos focusing on specific body regions and how to improve mobility to ease pain in that region. If her customers have an injury that needs healing they know exactly where to look.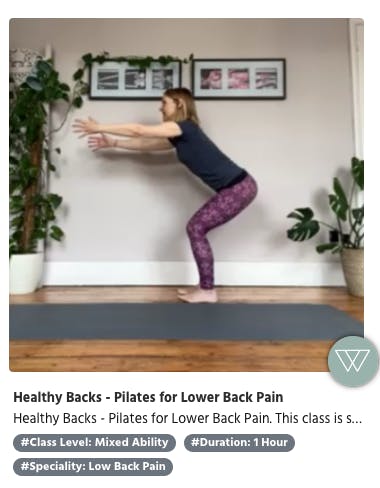 Black Box Fitness knows that many of its customers have day jobs that require them to be at a desk all day. Whether you're tied to your chair or the couch, their desk mobility exercises are the perfect videos to watch after sitting for hours and hours.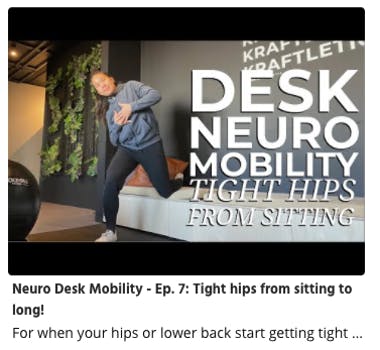 Muscles can be stubborn and exercising through the pain can sometimes lead to more issues, which is why Northants Pilates supplies their customers with stretching videos to improve flexibility and mobility when those muscles misbehave.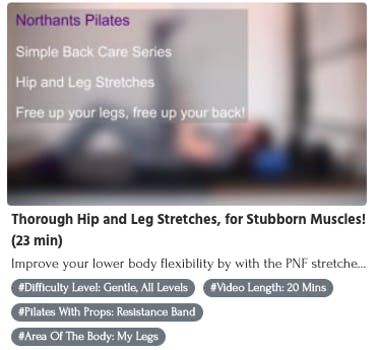 Elite Personal Training offers their customers routines that they can do to loosen up sore muscles. Whether you're moving around or sitting at a desk their videos help customers learn what to do anytime they need quick muscle tightness relief.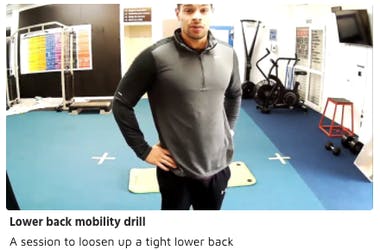 Pull Up Pilates with G curates her content to target and mobilize the whole body. Spine, hips, legs, the works, their customers can learn how to activate their whole body to avoid injuries.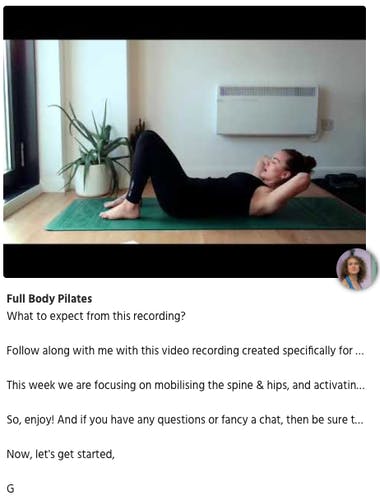 Nutritional videos
Nutrition is a very important part of one's fitness journey. You can share and help your clients know and learn exactly what to eat to achieve the best results by curating recipe video content. Whether you show them how to make the actual meals or quick and easy tips on things they can do to improve their nutrition, this is helpful content your clients can enjoy outside of class and watch while in the kitchen.
Who doesn't love bread? Best Life Basics offers their clients ideas and recipes on how to make everyone's favourite snack in a healthy, low carb way, just in time for the spring and summer seasons.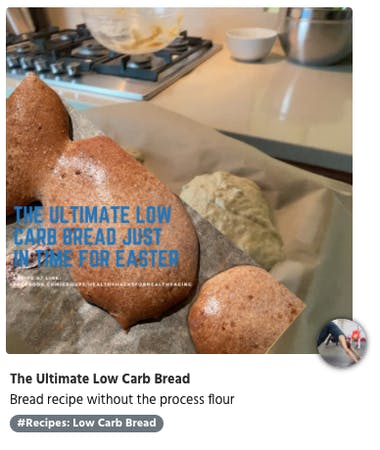 Prenatal and pregnancy exercises
If you have mothers and mothers to be in your classes offer them a little something extra to enjoy at home by creating pregnancy and prenatal on-demand content. The beauties of new motherhood don't always have a schedule, so providing extra content they can enjoy when they have some time to move and flow will be an amazing gift to your customers.
Zen Flow Yoga has a variety of videos and courses in her library on core, yoga, breathwork, and stretching to help her prenatal and pregnant clients learn how to move safely and easily during their pregnancy.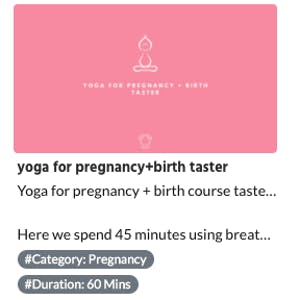 Get comfortable and strong with Apple Birth & Wellness's 55-minute Vinyasa flow for pregnancy. Their holistic approach is just the thing their customers need to feel mighty and strong during their exciting new chapters.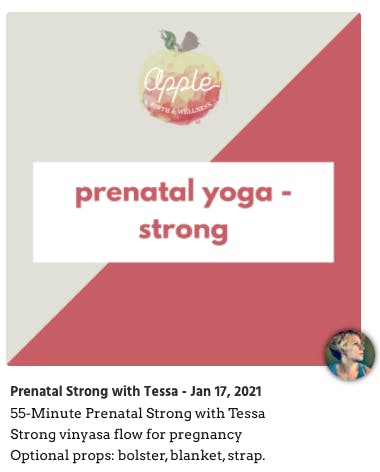 Quickies and short workouts
Give your clients who have small windows of opportunity for a workout something that they can do in a short period of time. Not all workouts or classes need to be an hour or longer to be effective and helpful. A quick 5-15 video for the busy bees can not only make a huge impact on their ability to see that they can fit great workouts into those limited time frames, but it will also give your clients who want to squeeze in a little more something to enjoy as well. Your clients will be happy to know you offer content that works for them and their situation and you can also make excellent recommendations on which to watch for harder or easier workouts to do in that time.
Julie the Badass Rules offers several 10-minute workouts that her clients can use to focus on arms, legs, and stretching so that if their schedules don't allow for long workouts, they have several options to choose from.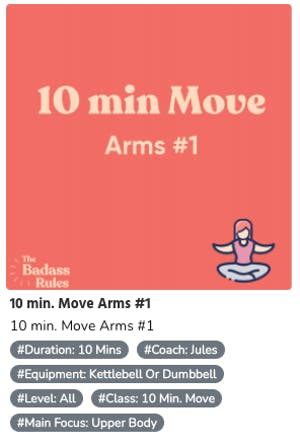 Hspace Movement has a collection of workouts and mobility exercises that each of their members can do under 30 minutes as well as instructional videos on how to do them properly.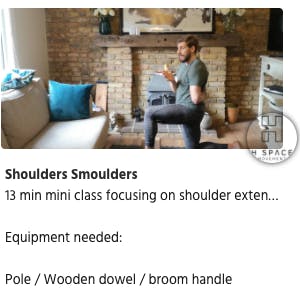 Sarah Maxwell has quick video workouts you can do both indoors and outdoors (even in your wellies)! You can have all the fun even in under 10 minutes.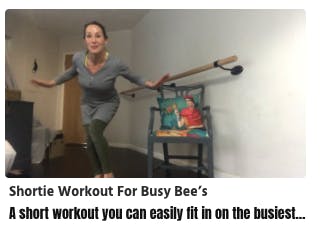 Perfect for customers who want to get in a class during their lunch break, Orange Bloom offers their customers lunchtime express yoga and a variety of videos they can do in under 30 minutes.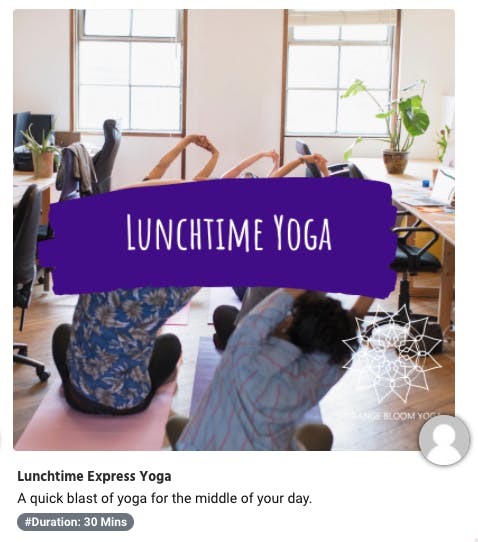 Sports training
Do you offer specialised classes and training that can help your clients improve their ability to do other sports? It's not uncommon that your clients have other interests outside of your gym, studio, or classes. You can boost your on-demand subscriptions by including content that combines both your services and their other interests. Whether you offer stretches to help your customers' golf game or tips on agility and conditioning that can take your clients to elite athlete status on any field or court, mix it up, find out what your customers' interests are and build content that keeps them engaged and interested.
Claire Seager Pilates has excellent tips for her clients who want to improve their Pilates training and their golf and tennis game. With a full 45 minute workout, you will feel more flexible and ready for your next sports outing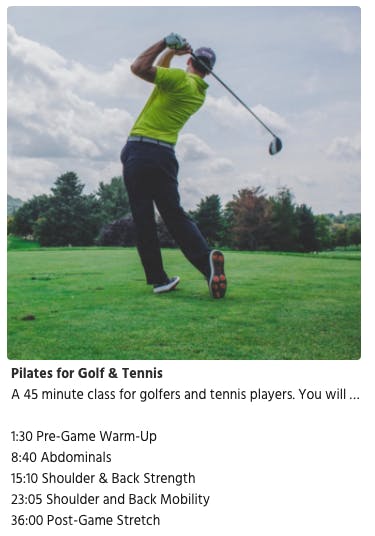 Pilates Works can appreciate that their clients spend hours on their feet. Warm up for your next round of golf by practising their quick 15-minute standing workouts.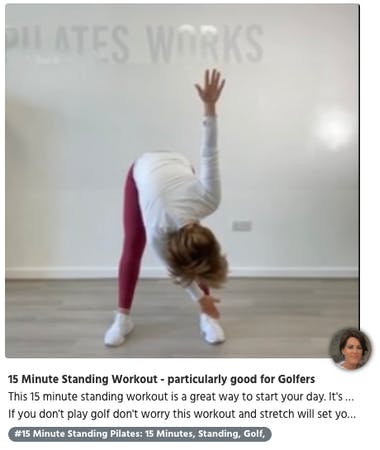 Tabata, EMOM, AMRAP workouts
Mix it up by offering your customers content that differs from what you offer in a group or private sessions. Specialised workouts including Tabata and AMPRAP (as many reps as possible) are excellent timed workouts that not only can your clients carve out a window of time for, but will really push them to the test and give them a workout they can do anytime anywhere.
Icon Gym gives their customers a full Tabata workout with 4 sections that their customers can complete in 30 minutes. Filled with strength, cardio, and GAP exercises you get the full workout that you can do outside, at home, in the gym, and anytime.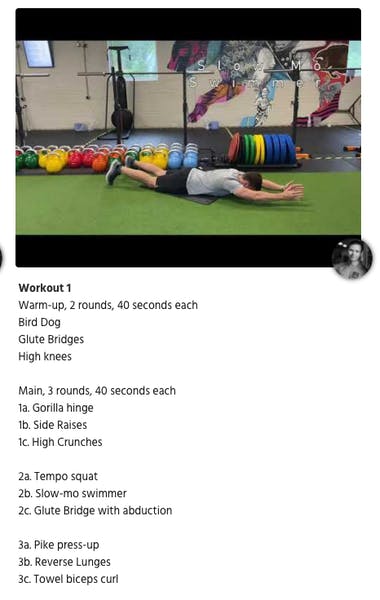 Jen Johnson offers her customers turbo HIIT and Tabata workouts to really make the body burn and all her ladies feel amazing. In two rounds they get 12 movements that they can repeat again and again.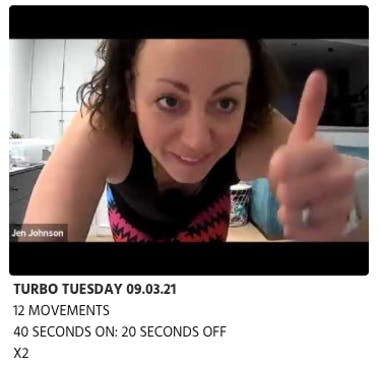 Ladies Bootcamp offers their clients a mix of strength, core, and cardio in their on-demand superset videos. For a full-body workout, their customers can play one of these videos and enjoy.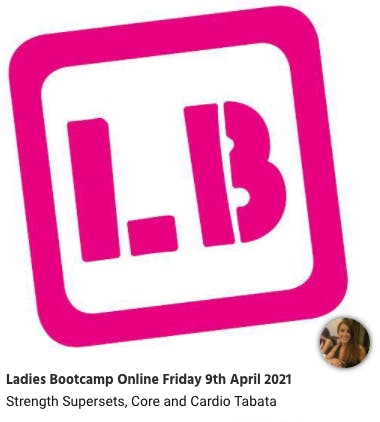 Themed classes and workouts
Motivate your clients to watch your content by adding a theme. Holidays, films, seasons, tv-series, periods in history, and more are great ways to get your clients excited and add a flair to your workouts. Your client will love opening your content library to find a workout paired with their favourite movie or tv show and music from their favourite band, group, or genre! Who doesn't love the 80s? You can even go the extra mile and ask your clients to submit theme ideas and surprise them with new videos including that theme.
Not only does Method Training offer a Star Wars-themed video, but they also have an entire Star Wars-themed weeks worth of content. Trade in your barbell for a lightsaber and be one with fitness.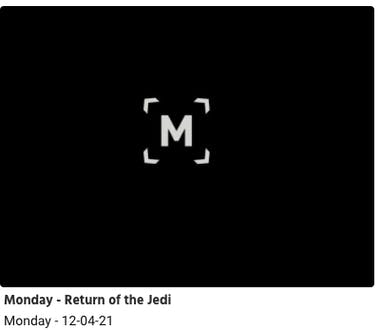 Jane Mansley has dozens of videos themed for every month of the year, and she was sure not to leave out content for the holiday season. Pair your favourite holiday with your favourite workout.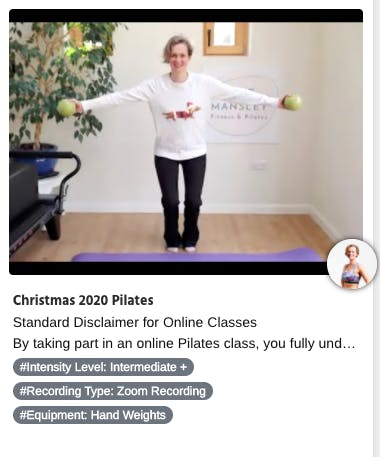 The Team Workout has many videos for their customers to get in every type of bootcamp workout from home. Even for everyone's favourite food holiday - Pancake Day! A workout at home followed by homemade pancakes sounds like our kind of weekend.
Traditional exercises and the history of fitness
Do you know a thing or two about the history of fitness or the origins of your type of fitness training and techniques? While many of your customers come for the workout and exercise, they'll stay to learn more from you. Bring your passions and specialities together to create unique video content surrounding your fitness category, business, and history.
De Ville's Studio not only teaches its students who to practice Tai Chi, but they also focus on the traditional forms in step by step videos to really get it right and stay true to their practice.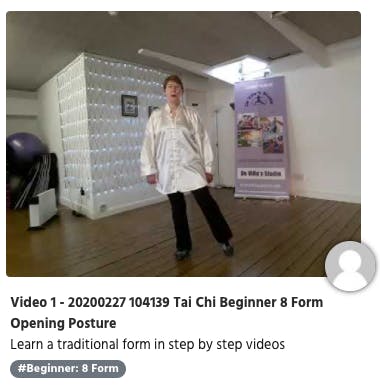 Warm-ups and cool-downs
Properly warming up and cooling down is a very essential part of every workout. Jumping into a workout cold turkey or going straight from a workout at home to your desk can lead to injuries and pain. There is no worse way to ruin progress than to not warm up, stretch, and cool down properly. If you don't already include these elements in your workout videos, you can supplement your videos with additional warm-up and cool down content.
Before taking it to the pole, the Pole Shed wants all their members to properly warm-up and get ready for their fun energetic classes the right way.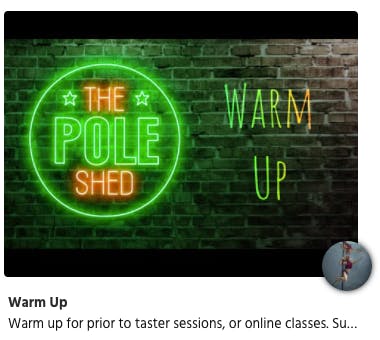 Weighted strength workouts
Do your customers have kit or weights or have they fashioned their own kit out of tools they have at home? Why not offer them something to take it to the next level. Help them boost their progress at home by adding weighted strength videos to your library. Your customers with the right equipment will love finding videos that they can easily follow, and your customers who don't can still follow along without using weights if they still want to do the workout. You can even make recommendations in your videos on how to scale up each week while reusing the same workout video.
Head Active makes it easy for their customers to enjoy weighted strength workouts from home by creating content fit for any type of weighted equipment, whether that's a dumbbell or a heavy water bottle.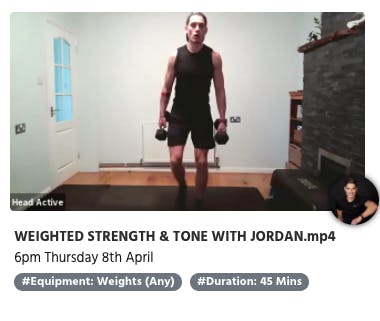 The Fitness Box knows how important strength and conditioning is for keeping up your progress at home which is why they offer a collection dedicated to this type of content in their library.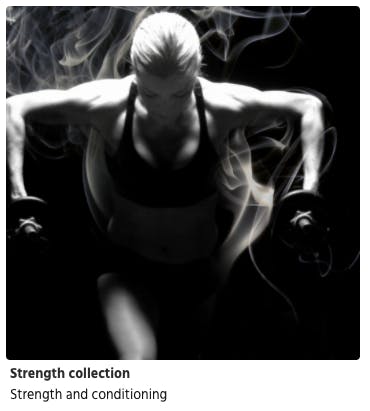 Workouts with items from home
Typically your customers' home isn't going to come equipped with all of the fun equipment and kit your gym or studio offers. Giving them video content with workouts including exercises they can do using their furniture is a great way to mix it up and feel like they are using the equipment. From chairs to the floor to the kitchen table, show your customers how to use their home items to get in a great workout.
Who needs a ballet bar to do a Barre class when you can use your chair in your living room? Primal Gym Limited demonstrates to their customers how to perfect their Barre and balance at home. They also have just about every type of workout in the book in their library, offering something for every customer to enjoy and mix up their routine.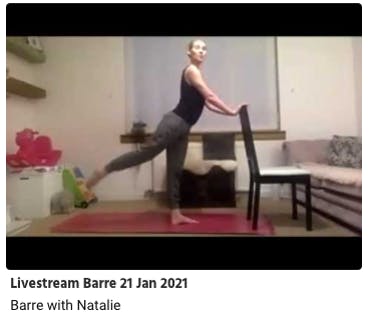 Blush Dance UK and their customers can turn their homes into their very own burlesque clubs with their series of burlesque and chair dance classes. Their wide variety of dance, pole and mobility training keeps each of their customers entertained and coming back for more and more.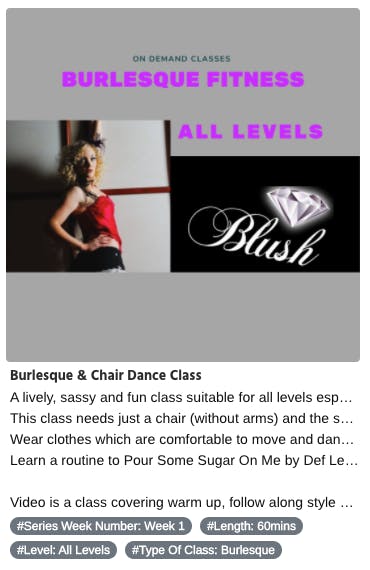 Quick tips for organising your on-demand content in your TeamUp On Demand library
The On Demand feature comes with a number of organisational tools to help you make viewing and subscribing easy for your customers.
Filters
Create any number of tags you want that your customers can use to filter and easily find the content they love. You can arrange and organise your tags and filters so that they always display on your videos in the same order and your customers can make quick associations from one piece of content to the next. Add music tags, length and level, whatever will make it easiest for your customers to navigate your library.
Collections
If you want certain membership plans to have access to certain types of content, your collections can help you do that. When you add videos to a collection, you need to assign membership plans to that collection. Once you do, customers with that membership will be able to view it, and if your customers do not have that membership, but want access they will need to purchase that plan.
Instructor name
You can assign an instructor to each one of your videos as well. If you have multiple instructors creating content for your library or running your online classes you can label each video with that instructor so that your customers can quickly find and watch videos by their favourite instructors.
Be consistent with your names and descriptions
Creating and clear and consistent format for how you display the content in each video will again, make it easier for your customers to familiarise themselves with. Once you find a format that best serves you and your customers, use that display across all of your videos so they can find exactly what they are looking for whenever they access your library.
We hope this list and our tips help spark some inspiration for your own On Demand library and content. If you have an idea you'd like to contribute to our growing list, send us a message at marketing@goteamup.com and we'll check it out.
Thanks for reading!
Open Comment Form