When COVID-19 started showing early signs of becoming a pandemic, gyms and fitness studios were the first to shut down. This not only halted the physical businesses but the staff, coaches, clients, and members. Without anywhere to go, and unable to leave their homes, the transition to the digital sphere commenced. In the pre-pandemic era, not many trainers and fitness videos were focusing on digital channels. But the demand for online fitness programs surged, with 16% of US adults reported watching more online exercise videos in 2020 than before.
Although gyms and studios begin to re-open and transition back to the traditional fitness space, some people don't necessarily want to give up the comfort and flexibility of exercising at home; A benefit that comes with online classes and on-demand content. From a fitness provider's viewpoint, this means a substantial rise in opportunities. If you want to sell your fitness classes online and on-demand content, there's not been a better time than now.
One of the best tools to help you launch your online fitness content - social media. Social media offers excellent opportunities when it comes to promoting your fitness classes online. In this guide, we will cover how you can leverage social media to drive viewership and subscribers for your online fitness content, and which tools and platforms can help you grow and expand your efforts.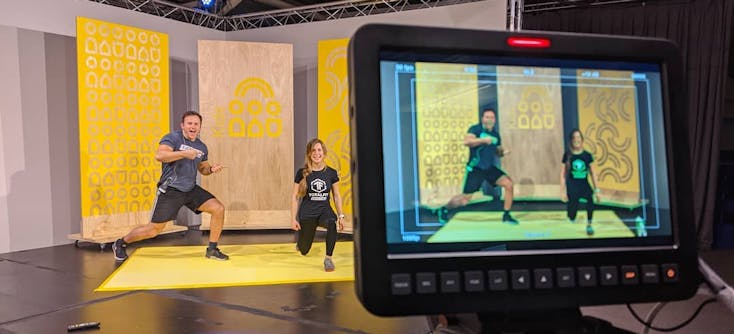 Why use social media?
Exploring and utilizing plenty of marketing avenues including SEO, social media, and a blog will make it easier for your business to stand out in the digital world. With certain marketing aspects like SEO being more competitive than ever, it isn't easy to break through as a trainer without having any digital presence at all. While blogging and posting on your website can certainly help you boost traffic over time, if you want a quick and effective way to get results, then you should set your sights on social media.
Despite numerous talks about the degrading organic reach on Facebook and Twitter, social media still offers myriad opportunities to build an audience, increase brand awareness, generate leads, and drive sales. The relevance of marketing your fitness class on social media increases tenfold if you're targeting a younger audience (18-29 years). Research shows that among US adults aged 18-29 years, more than 90% use YouTube, 75% use Facebook, and 55% use Instagram.
How social media can help promote you offline
Social media has another significant benefit. Just like websites, you can promote your social media profiles offline using technologies like QR code generators. Create a custom QR code and include it on your offline marketing materials, such as brochures, banner ads, etc and link the codes to your social media profiles. Since every phone camera now comes with a QR code API, people can scan the code and connect with you on social media in a matter of seconds.
Whether to share information or to pair with your software to broaden your reach, exploring how social media and technology go hand in hand is a great way to ensure you're reaching all possible client markets.
The best platforms to market your fitness classes and content
As the above data suggests, Facebook, Instagram, and YouTube are the best social networks to promote your online fitness content. However, it's essential to understand the nitty-gritty of each social network first in order to determine which may be the best for your business.
Facebook
Facebook is the largest social media platform out there, with more than 2 billion active users. But the recent algorithms have significantly plunged organic reach for brands, and if you want to reach a considerable audience, you'll need to consider ads. Facebook advertising isn't a bad investment, though. Facebook can be a great social network to market your online fitness content, especially if you want to generate leads and sales.
Youtube and Instagram
But if your current objective is to grow your audience and build a presence online, YouTube and Instagram can be excellent choices. Instagram has a younger user base that loves to see images and videos. If you can produce quality visual content on a consistent basis, give Instagram a go. YouTube requires more effort, as you need to share high-quality videos consistently. It also requires more planning than Facebook and Instagram. But the results you get with YouTube, in the long run, can be substantial.
Social media management apps
Lastly, you don't have to limit yourself to these platforms or one over the other. Your management software allows you to integrate with some of the best social media management apps that can help you explore social networks like Twitter, LinkedIn, TikTok, and Pinterest which also have large user bases and can play a pivotal role in your social media marketing strategy. It's essential to conduct in-depth research about the type of users on each platform and devise a plan accordingly to find your ideal market.
Quick tips to ignite your online fitness program on social media
Once you've decided upon the social networks you want to use, it's time to create content. Here are a few tips to follow when creating content for social media:
Define your persona
Going on social media means you'll be competing with thousands of other trainers trying to sell their fitness program online. What makes you stand out? When people choose a gym, they don't just consider the amenities offered. The experience they'll get in the gym also influences the decision. Ask yourself this, when you're training people in person, what type of experience do you create? Is it fun and lightweight or crush-it-style? Find your style and ensure that every piece of content you share conveys it.
Mix up the content you share
Don't bombard your audience with promotional content. While your end goal is to sell your fitness services, social media isn't very appreciative of salesy trainers. It's okay to promote your product once in a while, but most of your content should consist of helpful, engaging, and entertaining content.
As a fitness trainer, you can share numerous types of content on social media. Helpful 'how-to' videos are a good place to begin. You can pick a common issue that your audience might be encountering, such as the right way of doing pushups, and create an explainer video about it.
Also, encourage your audience to interact by conducting live streams, Q&A sessions, polls, and more. Interaction leads to engagement, and engagement translates to sales. Lastly, add a human element to your content by sharing snippets from your life. Sharing moments from your daily life can help you build an emotional connection with your audience.
Request action
Assuming that your audience will take action when they're ready isn't the right approach. Apart from buying essential items, customers rarely purchase a product unless they're asked and convinced to do so. Be sure to actively request participation from your audience. Include a call-to-action with each post you upload. The CTA doesn't have to be for a purchase every time. It could be to sign up for the email newsletter (more about it later) or a link to a blog post (if you have a website).
Encourage user-generated content
User-generated content (UGC) can increase social media engagement. Social media is in a state of content shock (a state where the content available is more than what users can consume). You might be producing great content on social media, but you're not alone.
In this competitive landscape, setting yourself apart from the crowd can be challenging. UGC can resolve this hurdle. The easiest way is by encouraging followers to share their images and videos. Remember the #pushupchallenge, where you'd do ten pushups and tag your friends and challenge them to do the same? You can conduct a similar contest where you can challenge your followers to do an exercise and share their videos on Instagram with a particular hashtag.
Consider investing in ads
While organic content still has its place, especially on platforms like Instagram and Twitter, you need to invest in Facebook ads if you want to get results on Facebook. And keeping the large (and growing) user base in mind, Facebook is a platform you shouldn't ignore if you want to sell your online fitness program. Create a Facebook ad strategy and allocate an amount of your marketing budget to it. Keep an eye on the metrics and analyze the data carefully to see how your campaigns are performing.
Use social media to strengthen all of your marketing efforts
Remember that you have the tools and resources to meet your clients online in the places where they are most likely to engage. Encourage them to join your email newsletter, where you can send them VIP content and exciting offers. You can also redirect them to your website, where they can find more about your offerings and book your classes directly. There is no exact formula for success, but having a well-rounded plan that helps you execute your strategies will always lead to achieving your goals.
Wrapping up
If you want to sell your online fitness program online, social media can reach a broader audience, build a following, and drive leads and conversions. However, no matter what type of trainer you are and who your target audience is, you'll need a plan. Figure out how you'll communicate with your target audience, what message you will try to get across, and how you will keep them engaged and entertained.
Author bio:
Akshay Deogiri is from the team at Beaconstac, enabling businesses to bridge their gap between the digital and offline worlds through custom QR codes.
To learn more ways to market your business in TeamUp check out our marketing tools guide. Don't forget to tag #TeamUp and tag @TeamUp in your own social media posts, you know we love to share.