Fighter Focus Pad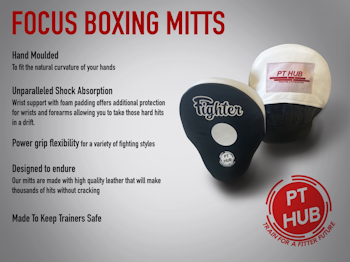 Fighter Leather Focus pads Boxing Mitts - Curved Hook and Jab Target Hand Pads - Great for MMA, Kickboxing, Martial Arts, Muay Thai, Karate Training - Padded Punching, Coaching Strike Shield
* PtHub punching mitts are hand moulded to fit the natural curvature of your hands
• Economy Focus Mitts are padded with foam padding that offers unparalleled shock absorption. This allows you to take those hard punches in a drift. Wrist support with foam padding offers additional protection to the wrist and forearm. Also Offers power grip flexibility for a variety of fighting styles.
• Designed to Endure: Essentials mitts are made with High quality Leather that will take thousands of hits without cracking
• Made to Keep Trainers Safe: Any coach knows that holding focus mitts is serious business. Poor fits and uncomfortable grips can add up as you take more punches.