After completing teacher training certification programs, one of the next steps new yoga teachers often take is to look for a mentor or business coach that can help them launch their business. Although not every teacher goes down this path, many studio owners and freelance teachers have found having a guide, someone to ask advice to, and a buffer for major business decisions, very valuable, especially at the start of their new endeavours.
Along with investing in studio management software with a Zoom integration to run online classes, there has also been an increased demand for yoga coaches and mentors to help navigate the changes due to COVID-19. More coaches than ever are not only assisting studio owners and teachers in determining how to alter their classes and services but also how to grow and succeed in the digital environment.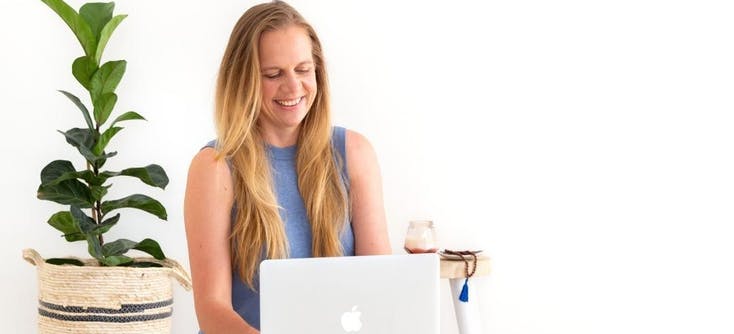 Photo Credit: Amy McDonald
We sat down with Amy McDonald, aka the Yoga Biz Coach to pick her brain about what yoga instructors, both studio owners and freelance teachers, can do right now to grow their businesses, find ways to thrive with online classes and improve their online presence. With many years of experience as a coach and mentor, she has worked tremendously hard to help her clients succeed and learned some valuable lessons in what does and does not work well in the online space. Here's what she had to say:
Diversify your offering
One way I am seeing people do really well online is by changing their offerings. There seems to be a move away at this point from regular classes and moving to more specialised offerings. So diversifying may be something to look at. Diversifying what you offer whether it's through virtual retreats, short duration courses, a staycation, morning and night sessions that come together. You have the flexibility and decide what works best for your business.
Welcome students - new and old
There is a really good opportunity right now to grow your following and reach out to new people. It's a great time not only for studio owners but also for freelance teachers to be welcoming in new students. I know a lot of my clients love having people from overseas in their classes who obviously couldn't come to their classes in the studio. Online makes it easy for them to attend now. On the other side of that, now my clients who have also moved locations or moved overseas are now able to welcome back previous students from where they used to live. They can now come back and hang out with them again, and they are really enjoying that.
Make your website attractive, but honest
In order to succeed online, you should have a quality website. For better or for worse when it comes to the first purchase online, we make our decisions based on how a website looks. If we come back that's because the class, or the service, or the offering proved valuable to us. Retention is about quality, but that first sale is dependent on the appearance and attractiveness of your website. No matter where you are a brand new business or have been around for a while, having good quality photos (that yes, can still be taken with a phone) is enough to make your website look fantastic and to make clients interested in learning more about you and your offering. Businesses can no longer do well online if they lack an online presence.
Don't commit yourself to one social media platform
Building your social media following is essential right now and I encourage all my clients to grow their following across a variety of platforms. With everything online now is a good time to put your social media eggs in multiple baskets. I had a client who for some reason we do not understand had one of their social media profiles blocked. Although this could have majorly affected his business and access to his clients online, because he had other social media platforms he was able to stay connected and bring new people into his classes and community.
Work smarter, not harder
I am a huge fan of working smarter not harder, where less is more. While having a larger online presence and more social media profiles may seem like more work on your plate or that you will now have to sit at the computer all day, it doesn't. There are new opportunities to explore. It's a great time to have a Youtube channel, explore podcasting, grow your social channels, add people to your email list, and build a community that brings everyone together through a variety of platforms.
Find what makes you special
Make sure you're looking at what is it about what you offer that makes you really special or different. Not in a way that is false or contrived. The teachers that I am working with who are excelling the most have really found what they love the most and are backing themselves fully with that speciality. People from around the world are finding them and loving exactly how they do it, not because their yoga style is necessarily particular or unique but because who they are is irreplicable. We can only be ourselves so when we give ourselves permission to do that 100% then students who love what we have to offer are going to find us.
Thank you, Amy! Although investing in a business coach or mentor may not seem like something you want to do right now, there are plenty of coaches just like Amy offering their services and advice for free to ensure all studio and gym owners take advantage of the present opportunities to grow and succeed. Check out our recent round-up of advice from more coaches and mentors for more, here.
TeamUp's marketing resources for yoga studios and teachers
If you are a yoga teacher or studio owner looking to strengthen your online presence, your TeamUp tools and resources can lend you a hand.
Marketing your studio in TeamUp
From notifications to email marketing your TeamUp software can help you do more than help you manage your tasks and streamline your business admin. It can also help you get them in the door (physically or virtually). Learn how to use your software to expand your client list, build your brand, and connect with your clients outside class, in our guide to growing your business using your TeamUp tools.
The top marketing integrations
Discover which of TeamUp's integrations can help you streamline your marketing efforts and business admin all in one. We're looking at you Zapier. Don't forget that we partner with Zoom to make running and marketing your online classes the easiest thing you'll ever do.
Refer a friend
Did you know your business could benefit from you letting your friends know about TeamUp? When you recommend our software to other yoga studios and teachers and they sign up for an extended 45-day free trial you can receive a gift card. If they're not quite sure management software is right for their studio, let them know just how powerful it could be for their business with our "How to manage your yoga studio with booking software" guide.
Social media management apps
Learn about the top social media management apps that can help you automate and schedule your posts across multiple channels. The insights you gain from these apps can help you identify which audiences to target and what your customers like to see from you.
For more information on marketing your business and using studio management software, check out our resources, here.
Thanks for reading!
Open Comment Form