If you had an opportunity to offer your clients a service that would benefit you both, boost your income, and give you more time and energy to grow your business, would you consider taking advantage of it? You're in luck! Offering on-demand content not only has the ability to help your business grow, but it also gives your clients more services to subscribe to and another reason to stay invested in you.
The combination of services including, both in-person and on-demand, can eliminate your clients' needs to go searching elsewhere for the content they crave and help you upgrade your customer experience. Many of our customers who have begun adding to their content libraries shared with us why they decided to introduce on-demand content in their offering and how it has helped them elevate their businesses. Here are the benefits that our customers agree come with offering on-demand content: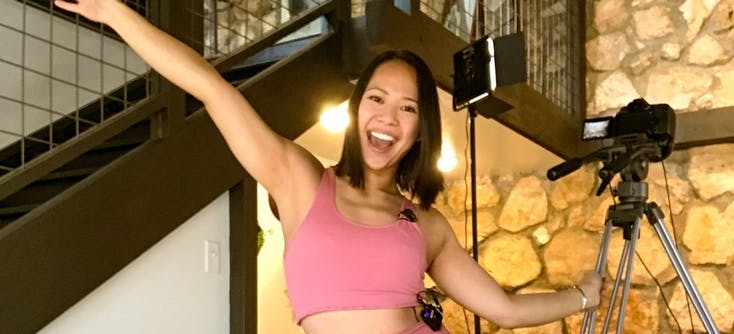 Photo Credit: Allison Le, owner of Allison Le Yoga
An opportunity to earn more income
On-demand is a service, therefore you get to charge for it. You can offer on-demand content access to your clients through your memberships and you have an even better opportunity to boost your revenue when you run your classes and on-demand side by side. By encouraging your clients to purchase memberships that include both you can secure that boost and that they won't feel the need to look elsewhere for the content you can now offer them.
That additional income can also be used to even invest more into your delivery and the tools and equipment you use to produce high-quality on-demand content. If you're not quite sure how to price your on-demand videos to increase your revenue, check out our guide on including on-demand in your memberships.
Higher retention rate through extra value
For those clients who couldn't make it to class or clients who wanted a bit more than what you currently have to offer, not only do you avoid them slipping away, but you give them even more of a reason to stay for the long run. Sometimes fitness clients need a break or have lulls in their fitness journeys. But now with your content to use at their convenience, they won't have to drop their membership when they stop coming to every class. Instead, they can purchase a membership with on-demand access and watch your content when it works best for them. Your clients will appreciate that you have an option for them that meets their current needs and you won't have to worry about losing your valuable clients.
Saves time and energy in the long run
One of the first things we heard back from our customers who began sharing on-demand content was how much time they got back. A big misconception about pre-recorded videos and producing extra content is that it will take up much more of your time. However, although it can take a little extra time to get content together in the beginning, once you start curating and share your videos to your library it will actually help you save so much more time. Your clients won't feel the need to ask you for more when they can just go into their member apps and find additional content to use at their leisure. It's a win-win.
Business growth and expansion
With more time and energy saved, those projects and ideas you put on the back burner ages ago can finally be revisited. A business owner is always innovating and now that you have given your clients an incredible tool and resource that will keep them focused and motivated, those other areas of your business you've been wanting to expand on can now have your full undivided attention. You can show up for your clients, teach classes, produce content, and grow your business in ways you've been dreaming of just because you have added a new service to your offering.
Helping clients save money on additional fitness subscriptions
It's not completely unlikely that although a customer is paying for your membership, they also may be paying for others as well. But if they had to choose between yours and the other, they are going to choose the one that is most valuable to them. And you're going to want to make sure that's you.
Our customers who have started offering on-demand content have not only found that some of their clients who had external memberships converted full time to their business, but also that those clients wanted to invest more in their business thanks to saving them extra costs. By offering classes and on-demand content, the likelihood that your clients will need to subscribe to an external service for additional content quickly vanishes.
Flexibility for clients who can't make it to class
Your customers who struggle to make it to your live classes will be thrilled to know that they can now watch later or do another workout via your video library. No matter how hard you try offering class times that work perfectly for everyone can be very difficult. Especially, when your clients have other circumstances preventing them from adjusting their own schedules.
Giving your clients the flexibility and means to exercise on their own time will help keep them engaged and motivated as well as provide them with a new way to experience the value of your services. They will feel relieved to know there is always a backup option when they are unable to come to class, and you can feel secure in knowing that your clients are getting the content they want and need. You can even upload your Zoom recordings so your clients won't feel like they're missing out on all the class fun.
New assets in the form of a tangible product
Your library is not only a resource for your current clients, but it is also an asset to your entire business. It's both a way to keep those clients happy and invested as well as entice new members to subscribe to your services. New clients don't have to wait to attend a class or travel far to experience your classes. They can purchase an on-demand membership and get started right away. You will have completely eliminated any window of opportunity for a potential new client to pass on the opportunity to trial your services. +
This new asset is also tangible evidence of what you do as a business owner, teacher or trainer. This service can help you add another layer of professionalism to your business experience and help you improve the quality of your offering to attract more clients and gain more loyal members.
A boost in customer referrals and new clients
We'll always be the first to say that customer referral programs are one of the best ways to attract your ideal client. Especially because their sign up and registrations typically comes from a recommendation by a friend or person that they know and trust. When your clients experience the value of your services and love them enough to share with everyone they know, that's when you'll start seeing new members come through the door. You can even provide your clients who refer new members with additional exclusive content as a way to thank them for their support and help.
Allows clients to be more accountable for their fitness and memberships
On-demand content is also another way to make your clients more accountable for their own memberships. It can create a lot of stress and worry when you notice that your clients and members are not coming to class. You start to worry if they will end their membership, if they are actively looking elsewhere for fitness content, or if they are working out but not with you. However, now thanks to the On Demand library if your clients aren't always coming to class that doesn't necessarily mean they aren't still exercising or will end their membership.
With multiple services in their membership, your client becomes responsible for how much they take advantage of. You can still be hands-on and encourage them to come to class or watch specific videos, but you can also rest easy knowing your clients have options within your business to do what they want.
Keeps the community united from anywhere
As gyms and studios transition back to in-person classes, some businesses will reduce the number of online classes they offer. If you are one of those businesses, offering on-demand content has proven to be a successful way to help clients who remain at home feel like they are part of the community. By recording live in-person classes and including that in your on-demand libraries those clients who prefer the feel and environment of a group fitness class can still enjoy that sense of community even though the class is not live.
And don't forget about all the clients who signed up for your memberships because they could access you online. Clients who live farther away can still continue to be your member without needing to come to live classes. On-demand can help you bridge that gap and keep those members you worked so hard to gain.
Remember...on-demand is a compliment, not a substitute
While on-demand can be viewed as a way to teach less and offer fewer classes while still making a great income and offering a service to your clients, remember that on-demand is a compliment to what you already offer, not a substitute. Your clients don't want to see less of you live now that they can access you in video format. They simply want a way to be able to have a solution when they can't make it to class and additional content they can use at their convenience.
If you plan on launching your library to reduce the services you currently offer, you certainly can do so but it's important to consider your clients' desires, needs, and expectations of you and your business. They already value you and your time, and if you want to improve your relationship and offer an even better customer experience, and boost your business's growth and success at the same time, then on-demand can help you do that.
To begin uploading videos to your On Demand library, check out our on-demand set up guide.
Have you started offering on-demand content? Tag us at @teamup in your social posts and we'll share.
Open Comment Form