Fitness studios now account for $4 billion of the $34 billion health and fitness industry. According to Inc.com, of the seven fastest-growing franchises in the USA, the top three are fitness studios and businesses. The more boutique style of business is drawing in more and more clients, and the health & fitness industry are now staking their claim on the market.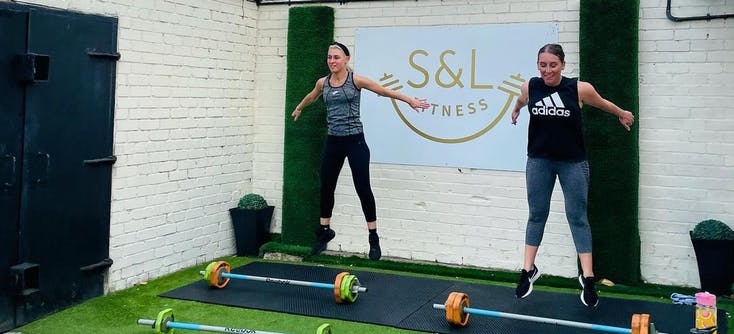 Photo Credit: Smile and Lift Fitness
Become a studio owner; how to start your own fitness studio
Opening a fitness studio for the first time can seem like a daunting prospect. From the initial costs to the added little extras that are often overlooked, it can be hard to know where to start. There are plenty of lightweight articles out there that give a vague list of how to approach starting your own fitness studio but without giving you specific examples or ideas. With this thorough guide, we're going to take you through some of the main aspects to consider before opening a fitness studio.
Why do new gyms and studios fail?
You don't want to go into a new business venture worrying about how you might not succeed. It's still worth considering why new businesses can struggle at first so you can avoid it happening to your new fitness studio.
Don't run before you can walk
As you get clients to sign up to your fitness studio and your profits continue to increase, it might seem tempting to follow the example of companies like Club Pilates Franchise who have nearly 450 locations throughout the USA. You might feel that after a few months, your gym has been doing reasonably well and you can attract more clients with more locations. However, hold back; wait until you have a solid brand and a wider customer base before you chase the franchise dream.
Gyms are more than just the right fitness equipment; your staff need to know their stuff
If you're starting a boutique fitness studio, it goes without saying your staff will need to be well-trained and knowledgeable about the services you intend to provide. Simply having high-end equipment available to your clients won't make your business high-end by itself. Your staff, from the trainers to the support staff, should be fully qualified with an accredited certification and ready to represent your brand.
Don't forget, you're selling the idea of a boutique brand for clients who have most likely had the experience of gyms and fitness studios before. To command higher membership fees than an average gym, you have to ensure the service you're providing is of a higher standard as well.
Keeping up with trends, changes, and updating your equipment
Understandably, you may feel reluctant to think about updating your equipment having just invested in kitting out your fitness studio. But it's a cost that you have to be prepared for in the future. Your gym or studio will need updating at some point, especially once you have lots of active members coming to use your fitness facility every day.
It's also worth keeping up with trends within the health & fitness industry, a great reason to maintain an online presence. Following fitness pages on social media will keep you in the know about the ever-changing trends within the sector. This means you can stay ahead of your competitors when trying to draw in more members and customers to your gym.
More in: 11 Things New Gym Owners Should Consider When Opening A Fitness Club
Find out how successful fitness studios get started the right way
Financing your business
There are plenty of things to consider when you're opening a fitness studio, and financing your project will be one of the considerations at the forefront of your mind. According to Entrepreneur, startup costs can range from $10,000 to $50,000 for a fitness centre, and it could still be higher. From sourcing funding to figuring out where you'll need to invest the most amount of money, financing your business raises a number of things to consider before opening your own fitness studio.
Securing funding: loans or investors?
Whether your budget is $10,000 or $50,000, that's still a lot of money to find. If you've been planning your business venture for a while, then chances are you have some money saved. But if you still need to find the extra cash just to help you through the first few weeks or months after opening, you need to decide whether to look for an investor or to take out a loan. Securing an investment could be a more difficult way to go, so a startup loan could be your best option.
Finding the correct facility
Once you have your funding secured, your next job is finding the perfect premises for your fitness studio. Your decision on the location of your boutique fitness studio will determine a lot of your startup costs. Before leaping to a decision on location, use the market research you have done already to determine where you think you'll have the most influence on your target clientele.
If you're unable to afford to buy your own space in your desired location, renting will at least get you off the ground. This is by no means cheap. In the USA, you can expect to pay around $6,000 per month for a space of about 2,000 square feet. In London, UK, you could be looking at paying as much as £2,175 per square foot. You will also need to consider the cost of making sure your space is business-ready. It may be that you only need to make cosmetic changes, or you could be looking at an entire renovation. All this needs to be taken into consideration when you're looking into funding.
Buying equipment for your boutique fitness facility
The equipment that you need for your fitness facility of course depends on what your new studio will be offering. It will also determine the size of the facility you'll need. For a studio of around 2,000 square feet, you wouldn't want a lot of weight machines and general gym equipment for the simple reason that you would quickly run out of space. If a boutique gym is a direction you want to take your business, you will need to find a space that covers at least 3,000 square feet. You also need to decide if you can afford a one-off payment or if you're going to need to find a company that offers a payment plan, which will need to be included in your monthly costs.
Ensuring you have the right insurance
It goes without saying you want to protect yourself against any incidents or liabilities, beyond the fact it's a legal requirement. Knowing the right insurance plan for you and your business requires some digging around, but there are some basic requirements that are highly recommended to include in your plan:
Business owners' policy (BOP)
General gym liability insurance
Building property insurance
Professional liability/Errors and omissions (E&O) insurance
Workers' compensation insurance
Location is key
Location, location, location; when you're setting up your boutique fitness studio, this old adage is important. Even if you're offering online or even hybrid classes, you still want as many clients as possible to come to your brand new premises that you've spent time and money on.
You want your fitness studio to be in an area that's logical; you may decide to target clients who are on their way to or from work, or you may wish to aim for more residential areas. The important thing to remember when selecting your studio's location is the time it'll take for your clients to reach you rather than the distance they travel — your members should ideally be able to reach you within ten minutes.
Making it easy for your clients to get to your classes gives them that bit of extra motivation to keep coming back, and it ensures that those memberships and subscriptions keep getting renewed for your new business.
Pricing strategies
Deciding on how your pricing for memberships will be structured depends in part on how you want your scheduling to work. Monthly subscriptions are the most common way to go, but you may also wish to offer term-time blocks, class packs, or even pay as you go options.
As a new business, you don't want to put off potential clients with high prices, but you also want to avoid selling yourself short. You obviously need to make sure you're covering your overheads, and you don't just have to have one price fits all; if you offer a selection of subscription options, you can alter your rates depending on what each package offers your clientele.
Learn how to engage with your ideal clientele
The best tips for launching a new fitness studio
Once you've built your plan and are getting ready to launch your business then there are some tips and tricks that we'd recommend you explore based on our long experience of helping new businesses.
Every email is worth its weight in gold
Ok, an email probably doesn't weigh all that much. However, you should start collecting emails today to get ready for your new venture. Every time you speak with someone about your new idea, or if you attend events to start promoting, get the emails logged and on your list. Set up a pre-launch page on your website and promote it on social. Get a signup form on your Facebook page. Find any way to build your database of prospective clients. A free account from Mailchimp is a great way to get started.
Build excitement by involving your audience in the journey
With your fledgeling email list start telling your story. Send pictures of progress. Promote some early social events or free sessions in a different location. The more involved your audience is, the more they will be resolute in their support. It's a powerful psychological trigger and is the secret to a great community.
Bonus tip: early excitement will tell you a lot about how well you have positioned your new venture. This is your chance to engage with your potential audience and find the gaps in the market that will drive people to your door.
Founder memberships
The most important goal for any new business is to break even as quickly as possible with positive cash flow. Founder memberships are one of the best ways to achieve this. Put together a special deal for the very first members of your studio (and pre-sell, see next tip!). Include t-shirts, free PT, samples from supplier partners - whatever you can do to make the package exciting will get people to commit.
Pre-sell so you hit the ground running
Don't wait until opening day to start getting commitments from your new members. Build excitement and momentum from day one. Ask your TeamUp account manager to help you time the launch to perfection. We can help you set a pre-sale up so that payments are set up and only taken on opening day. This tip can be the difference between success and failure. Once you have locked those members in then make sure that they know you will grandfather their prices.
Grandfathering membership prices
A hidden tip for the long term is to grandfather the original membership prices a member pays. As long as they stay they stay at their great rate. The catch: if they leave then they have to pay whatever the new price is for the same membership. This works really well because people are very hesitant to give up a great deal. And the boost to your customer lifetime value is huge. This kind of smart decision making will set you up for long term success and these members are your secret promotion team.
Build a promotion team
Your best advertising channel in the early days and beyond is your happy member base. If you look after your community they will go to incredible lengths to spread the word about your business. TeamUp includes an automated referral program that allows you to give them a code to share to earn rewards for bringing in new members. But even an ad-hoc thank you is better than nothing - find ways to say thank you and encourage your promotion team to spread the word.
Run a launch competition
This great strategy was explained by Chris Burgess from Lift The Bar in our launch video series. Run a competition for memberships to your new venture. Offer a surprise runner up prize of a discounted membership. Get a paying audience from day one for the cost of a couple of seats, and over-deliver meaning that the discounted members stay and pay full price in the end.
What do the most successful fitness studio launches do right?
Research
We can't underplay how important research for your gym or studio is. When you set up your fitness business, you're going to have a dream scenario in mind, but don't be afraid to alter, change, and compromise based on what your research tells you.
First off, you need to know what you're up against. You might be starting your boutique fitness studio in a city with a number of potential competitors, or in a smaller town with less in the way of competition. Whatever your location, ask yourself:
Is your business model different enough to any established gyms in your area?
If not, where is the gap in the market you can hone in on?
What are you offering that your competitors aren't?
Who are your target clientele and what can you do to encourage them to join your fitness studio?
Who are the best suppliers for your equipment needs?
What licenses and permits will you need before opening your boutique fitness studio?
Even if you're a fully qualified trainer or new to the fitness industry, these are vital points to consider in your business plan. You really need to know what your competitors are doing and creating a well-researched competitive analysis of their USP and services is a great way of isolating where there's a gap in the market for your boutique fitness studio.
Create an online presence
A key part of any marketing strategy nowadays is making a mark online. From social media to google ad campaigns, it is one of the easiest and most effective ways to get your name out there. We layout some simple ways to help you create an online presence for your business.
Join the fitness community on social media
Marketing and advertising are going to play a vital role in taking your business forward. The most cost-effective way to reach as many people as possible is to ensure that you have a solid online presence. By using social media and actively keeping it updated with testimonials from happy clients, examples of your product, and daily "stories" will help build your client base through online word of mouth.
Reach fitness fanatics from far and wide
Even before the COVID-19 pandemic forced much of the world to go online for work, there was a growing trend for online content from fitness studios, gyms, and personal trainers to reach more potential clients. COVID has now undeniably changed everything, with both online, and more recently, hybrid classes becoming the norm. Additionally, creating on-demand content will further expand your business.
Find the best management software for your day to day admin needs
Addressing your admin needs: invest in the right management software to help your business grow
Once your fitness studio is ready to go, you're going to want to set up a coherent administrative system, not only for you and your staff but also for your clients. Making it as easy as possible to book, pay, and know exactly what classes are available is a sure-fire way to keep your active members active!
There are a number of great management software apps on the market, many of them catering for multiple sectors. For a newly established studio, a management solution that specialises in the health & fitness sector guarantees you will have support from experienced professionals who have worked within the industry for a number of years, problem-solving and developing software designed specifically to help fitness studios, gyms, and even personal trainers without permanent business premises to streamline their admin needs.
Another great reason to invest in software early on in your journey is that you will expand your appeal and reach through the ability to host online classes via Zoom or sell access to your on-demand content (or include with your founder memberships). Using a system like TeamUp will help you get to the break-even point faster, and be ready for the next stage of growth.
Launch your business with TeamUp
TeamUp is built to help you succeed with your new business. With smart features that will help you attract, build and retain members.
TeamUp is an ideal option for a fledgeling fitness studio. With everything you need in one place to successfully manage your business, TeamUp takes the stresses of day-to-day admin off your hands. With flexible membership options, you don't pay until you've been paid, and the monthly subscription fee is dependent on the number of active members you have. So in the early stages of your new fitness venture, you know your admin costs will remain low.
TeamUp features a number of integrations that ensure you have access to some of the best tools designed to make your business run smoothly. For example, with TeamUp, you lose the stress of chasing up clients' payments. Your clients can set up direct debits via the app, and you can rest easy knowing that you will be receiving your payments on time.
Simplify scheduling with your TeamUp calendar
Scheduling becomes a breeze through the software, and you can decide how you want your TeamUp calendar to work. From monthly subscriptions to term-time blocks, you can offer a variety of options for clients attending your classes, and build your schedules based on both their and your needs.
We believe that you deserve value for money when you invest in management software. We built our pricing to help you get started. Starting at a low rate that only scales when you scale with no hidden extras, you'll maximise your chance of success with our help and a free trial.
Check out these articles to find out more about starting a fitness business:
Create You UK's experience launching their business with gym management software ready to go
Choosing online payment processors for your fitness business
Fitness trends to watch out for in 2021
How Advantage Pilates went from an online to multi-location business in one year
Thanks for reading!
Open Comment Form