In a world that is increasingly centered around video content, fitness businesses have an incredible opportunity to harness the power of video marketing and take their reach to new heights.
Video marketing can be instrumental in helping gyms and fitness studios acquire more members, retain existing ones, and provide them with an enhanced experience overall.
In this article, we will outline what fitness video marketing entails, how it can benefit your business today, and strategies you can implement for creating engaging videos that drive conversions.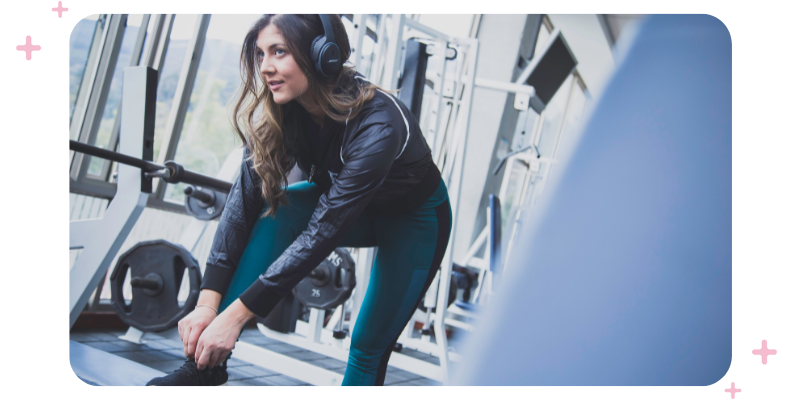 What is fitness video marketing?
Video marketing for gyms is the practice of creating video content to promote your brand and attract more business. It can span a variety of video formats, including video tutorials, testimonials, class demos, event promotions, and more. The point is to create visually engaging content that speaks directly to potential customers and encourages them to take action.
Fitness video marketing is a powerful way to share your brand and services—from product demonstrations, instructional videos, workout clips, client testimonials, or advertisements. Distributing these videos through social media platforms, websites, or email campaigns can significantly expand the reach of fitness businesses.
Not only that, but it also builds brand awareness and engagement with prospective customers and drives sales! With captivating yet informative video content, fitness companies can establish themselves as the industry leader and attract more attention to what they offer.
The potential of video marketing
Video content has unquestionably become an essential part of our lives, with 500 hours uploaded to YouTube every minute and people consuming more than 16 hours of video each week.
This influence is further highlighted by major social media channels such as Facebook, Instagram, Twitter, and LinkedIn, featuring eight billion daily views on the latter alone! Video's impact on marketing is too powerful to be overlooked or underestimated.
Videos have significantly influenced consumers, as 84% of people are more likely to purchase a product after watching its related video. The combination of visuals and sound creates an experience that is far more captivating than text or images alone,
How fitness businesses can harness the power of video to enhance their growth
For gyms and fitness businesses, video can be a powerful tool for increasing member attraction and retention and providing more rewarding member experiences.
Video can be used to introduce people to your fitness brand and culture and offer insights and thought leadership that will help your brand stand out from the competition.
You can even use video to generate additional revenue streams in addition to traditional advertising. You can position your company as a trustworthy solutions provider in the marketplace by using video as a gateway to your brand.
After all, although members pay to use your facilities, they are aiming for a higher level of personal achievement in exchange for their money.
In the following sections, we'll explore the strategies that gyms and fitness businesses can use to create high-converting videos that drive engagement and sales.
A blueprint to crafting a successful video strategy for your fitness brand
If you're looking to incorporate video content into your fitness brand, it is possible with the right strategy and creativity. To make sure that your videos are successful, it's essential to have a clear plan laid out before jumping in. Establishing objectives and understanding who specifically you want to reach will go a long way in helping create effective video marketing strategies.
Pinpointing your target audience
Creating a thorough persona document to gain insight into your ideal customers is necessary. This should include all of their characteristics, from their problems, what they want and need to their values concerning themselves and your offerings.
Use the "Before & After" Grid to understand how potential buyers think before viewing your video content. With this knowledge, you can develop customized campaigns for each customer segment!
Crafting a captivating script
Creating an impactful video starts with writing a thought-provoking script. An excellent script should be able to highlight the customer's struggles, establish a character that can effectively communicate your brand message, and provide solutions for your audience.
To ensure you are successful in evoking particular emotions from viewers, include production design components such as location and dialogue into play.
Aligning with brand guidelines
Keeping your brand identity consistent in all videos you create is essential. To do this, ensure that logo animations are included, no competitor's mentions are present, and a unified color scheme reflecting your branding requirements is followed throughout.
Adhering to agreed-upon deadlines
Create a detailed production schedule, split it into different phases, and set completion deadlines for each stage. If you have different teams working on the project, create a project pipeline to ensure maximum efficiency.
Keep all team members and other stakeholders updated regarding the project's status and always have a buffer period to account for any unwarranted delays or emergencies.
Crafting a budget and sticking to it
The size and scope of your project are totally dependent on the budget. That's why it's essential to brainstorm with your team beforehand and devise a plan that works within financial constraints.
If you're on a tight budget, start by eliminating unneeded costs; use in-house production services such as voiceovers or casting services; haggle with vendors to get the best rates possible and employ an experienced professional who can take care of overseeing your finances and production.
What you need to have to create a high-converting video
Creating a high-converting video requires attention to detail and a solid understanding of what makes a video successful. In this section, we will explore the anatomy of a high-converting video.
Camera
The first element of a high-converting video is the camera. The quality of the camera used to record the video can make a significant difference in the final output.
If you're using an iPad, find a stand so people can see what's on your screen.
The camera used should be able to capture high-quality images. Utilizing a camera with manual settings is advisable to fully control the image's exposure, focus, and white balance.
Furthermore, ensure your video is at least 1-2 minutes long, HD quality, and loads fast. Additionally, include a catchy title in your video. A good video camera that can shoot in HD with a microphone is essential.
The best types of cameras for filming fitness videos are DSLR and Mirrorless.
Sound
Sound is often an overlooked element in video production, but it is critical in creating a high-converting video. Poor sound quality can lead to viewers losing interest in the video, even if the visuals are top-notch.
To ensure high-quality sound, invest in a good-quality microphone that can capture clear audio.
A lapel mic is an excellent option for recording voiceovers or interviews. Additionally, make sure to record in a quiet environment to eliminate any background noise that could distract viewers.
Tripod
A shaky video can be distracting and unprofessional, so it is essential to use a tripod to keep the camera steady.
A tripod ensures that the camera stays in place, providing a smooth and stable video that is easy to watch.
Using a tripod also makes it easier to frame the shot and keep it consistent throughout the video.
Timing
Timing is crucial in video production and can make or break a high-converting video. The video's length should be long enough to provide value to the viewer but not too long that it becomes tedious to watch.
The ideal length of a video can vary based on the content, but a general guideline is to keep the video between 1-3 minutes. Additionally, make sure to hook the viewer's attention within the first few seconds of the video to ensure they continue watching.
Quality editing
The creative magic of video editing can take any decent footage and make it truly outstanding! Utilize software that offers visual enhancements such as color correction and contrast adjustments, or even add filters for a more professional touch.
Smooth transitions between shots are vital to ensure the pacing remains consistent, helping you create a polished final product.
CTA (Call to Action)
The final element of a high-converting video is the call to action (CTA). The CTA should be clear and concise, prompting the viewer to take a specific action.
Whether subscribing to a channel, visiting a website, or purchasing a product, you should prominently display the CTA at the end of the video to encourage viewers to take action.
In conclusion, creating a high-converting video requires attention to detail, quality equipment, and solid editing skills.
By investing in these six critical elements, businesses can create engaging, informative videos and encourage viewers to take action.
With the right approach, video content can be a potent marketing tool to help businesses reach a large audience and grow their brand.
11 different types of videos you can create
If you're looking to create videos for your fitness business, you can produce various types of videos. Here are some examples:
Tips from your team
If you want to create an engaging and educational video, consider featuring tips from your trainers or instructors. Cover everything from proper form for various exercises to nutrition advice - all the way to overall health and wellness!
For instance, have one of your experts demonstrate how an exercise should be done correctly or share helpful insight on recovery after physical activity. Viewers will gain essential knowledge relevant to their fitness journey with your guidance!
An excellent example of this type of video is the "MyProtein Gym workouts" series, which features different trainers giving advice and tips on various aspects of fitness, such as nutrition and exercise.
Product reviews and diet plans
Videos like this are perfect for promoting your company's products and services. For example, if you offer supplements, capture footage of yourself detailing the benefits of each product one by one.
This type of video is sure to attract customers that want an in-depth review before they make their purchase decision. If you're an expert on diet plans or meal coaching, produce a clip featuring recipes or break down the basics of any particular dietary strategy.
A promotional video is guaranteed to get your business noticed!
Provide reasons to join your gym
Ready to increase your membership at your gym or fitness studio? Utilize this video explaining why someone should join!
Showcase the perks of your facility, from access to state-of-the-art machines and equipment all the way up to personal training sessions with qualified professionals.
For reference, check out LA Fitness' "Why Join?" video - it's an ideal example of how you can effectively list off reasons for joining a gym while captivating potential members.
Social media content
These are short clips explicitly curated for a video platform like Instagram or Facebook. Make sure to use features like autoplay, video loops, and call-to-action buttons to improve conversion rates.
Social media is essential to any modern marketing strategy, and video content can be a particularly effective way to engage with your audience. There are many different types of social media videos that you can create, depending on the platform you're using and the goals of your campaign.
For example, Instagram stories are an ideal format for short, snackable videos that capture your audience's attention as they scroll through their feed.
These videos can be teasers for longer-form content, behind-the-scenes glimpses of your business, or even fun challenges that encourage your followers to engage with your brand.
Learn more: Social media post ideas
On platforms like LinkedIn and Twitter, you might opt for more in-depth videos that provide insights into your business or industry. These could include interviews with thought leaders in your field, explainer videos that break down complex concepts, or even live streams that allow you to interact with your audience in real time.
Testimonials
This type of video can feature testimonials from your members. You can interview members who have achieved their fitness goals and ask them to share their experiences and how your business helped them achieve them.
The "CrossFit Testimonials" video series is an excellent example of how to use customer testimonials to promote a fitness brand. These videos feature real people who have seen significant results from doing CrossFit workouts.
Classes and training
Videos, such as those of group classes or private training sessions, serve to reveal the scope and variety of your business's fitness offerings. This can be invaluable in helping potential customers identify opportunities that best fit their needs. Showcase these unique options with video content!
How to use equipment
Exploring the benefits of instructional equipment videos can help you to understand how to utilize gym equipment and perform exercises safely and correctly.
The "Life Fitness Academy" video series is a perfect instance of this, offering tutorials on different workout machines like treadmills, ellipticals, and weight lifting tools.
With these types of videos at your disposal, you'll quickly understand exactly how to make use of all the available exercise gear!
Commercials
Videos have the power to draw in a wide audience and deliver information in an enticing and captivating manner. To accomplish this, commercials – a staple of video advertising since television first came about - are designed to be impactful, attract attention, and stay etched into viewers' minds.
Whether you decide to run yours on TV or online, these short snippets should last no longer than two minutes with a powerful hook that grabs your audience's attention at once!
To create an effective commercial, you must think of a hook that will capture the attention of your viewers and keep them engaged.
It's important to consider how this appeal can be most memorable: perhaps with a catchy phrase, joke, or even dynamic visuals. Once you have determined what resonates best with your target audience and sparks their enthusiasm for what you are offering, utilize it in the commercial!
Showcase your facilities and team
You can use this type of video to showcase your gym or fitness studio and your team. You can show off your facility and provide an overview of the equipment and services you offer. It's also an opportunity to introduce your team and share their credentials and experience.
A great example of this type of video is the "Planet Fitness Virtual Tour" video, which provides a virtual tour of one of their gyms, highlighting the different areas and equipment. It also features staff members who discuss their roles and the gym's facilities.
Take a Virtual Tour of Planet Fitness with Teddy
Explainer videos
These videos help the audience understand how a product works. Nearly 96% of people who participated in a Wyzowl survey watched an explainer to find out how a product works. Even companies that don't rely on videos for branding have started to make explainers.
Finally, explainer videos are a great way to educate your audience about your business and the products or services you offer. As we mentioned earlier, nearly 96% of people have watched an explainer video to learn about a product or service, so there's a lot of interest in this type of content.
Explainer videos can take many different forms, but they're typically designed to be informative and engaging.
They might use animation or whiteboard drawings to illustrate complex concepts or feature a spokesperson who walks the viewer through a particular process or product. Whatever form your explainer video takes, it should be designed to educate your audience and make it easy for them to understand what you offer.
Personal workout videos
This type of video can feature a trainer or instructor leading a workout. It can be a full workout or a targeted workout focusing on specific muscle groups or areas of the body.
An excellent example of this type of video is The "Blogilates" YouTube channel, which features Pilates workouts that you can do at home and workout challenges and vlogs. The channel's creator, Cassey Ho, has built a significant following through her engaging and challenging workout videos.
Overall, creating different types of videos can help promote your fitness business and engage your audience in different ways.
Tips after publishing your first video
Congratulations on publishing your first video! Whether it's a workout class, a personal training session, or a gym tour, creating and publishing your video is vital in marketing your gym.
But now what? How can you ensure that your video gets the attention it deserves and translates into more memberships, engagement, and, ultimately, more revenue? In this article, we'll share five tips to help you maximize the impact of your first video and set you up for success in your video marketing journey.
Share your videos on the right channels
Creating a great video is one thing; getting eyes on it is another. Share your videos in all the places you know your audience visits, such as YouTube, Facebook, Twitter, Instagram, websites, and forums. Paid ads can place your videos in front of your persona instantly.
Stay top-of-mind by producing videos consistently
Video is one of the many content formats. To attract more customers, you'll need to be consistent. Create a list of ideas and a calendar, and commit to producing and sharing videos regularly.
Get creative and tap into your customers for inspiration
Invite your audience to question you with their inquiries and suggestions. Host a poll or urge them to use the comments section to convey new ideas. This is an effective method for both coming up with fresh concepts and interacting more closely with your viewers.
Empower your growth through studying results
Crafting effective marketing campaigns is an art form, requiring close attention to metrics such as watch time, likes, shares, and comments. To truly understand what resonates with your target audience the most - and when it's best to post new content - you must use these metrics as a means of data-driven learning.
Try new things
Have some fun, and don't be scared to go outside the box with your video content. Consider new viewpoints, add some striking visuals, use a range of editing software applications, or collaborate with influencers for unique opportunities.
You can discover what works best for your target audience and business by trying out different strategies!
Conclusion: Video marketing for gyms
To conclude, video marketing can be a powerful tool for fitness businesses to promote their services and products.
By developing various videos such as facility promos, product reviews or diet plans, and even personal workout clips, they can draw in new clients while maintaining current ones. If done correctly with the right gear, lighting, and sound quality, these videos will entertain viewers while giving them valuable information about the business's offerings.
By regularly publishing, promoting, and running paid ads for videos on the appropriate platforms such as YouTube, Facebook, Twitter, and Instagram - you will remain top-of-mind with your audience.
Furthermore, implementing ideas from customers into content creation is paramount to success. Lastly, monitoring metrics and analyzing the results can help fitness businesses better understand what works best for their viewers and create more successful video campaigns in the future.
If you have the ambition to grow your gym business through video marketing, why not start now by following the tips in this article? Build a strategy and timetable; then get ready to share your videos on social media platforms popular among your intended customers. Begin today for the best results!
Frequently asked questions on video marketing for gyms
How can I promote my gym facilities?
To give your gym the exposure it deserves, create a video outlining its features - from gear and amenities to classes offered - then broadcast that video on social media platforms and your website.
How do I market my gym business?
To make your gym stand out in the market, create captivating videos that feature what makes it special - training programs, members' successes, and the overall experience. Afterward, spread these clips through email campaigns and social media to maximize exposure.
How do you make a gym video?
Constructing a gym video requires careful planning, from outlining the concept to selecting and utilizing the right equipment. Crafting a script and storyboard is essential for conveying your message effectively. After filming has wrapped up, edit and finalize until you reach your desired outcome!
What is the best video marketing strategy?
The most effective video marketing strategy to promote your gym is to craft engaging, informational, and captivating videos. These videos should demonstrate just how valuable your gym is—highlighting its features and advantages and showcasing what it's like for members at your facility.
Open Comment Form