When you're starting out as a fitness business owner, it's natural to think that you can run your admin with spreadsheets and calendars. At the start, when you have fewer clients, it can seem manageable. Booking clients into classes manually, receiving payments on the day, and even sending out reminders and emails can all seem doable. But that's not sustainable, especially as your business starts to grow and you have more and more clients.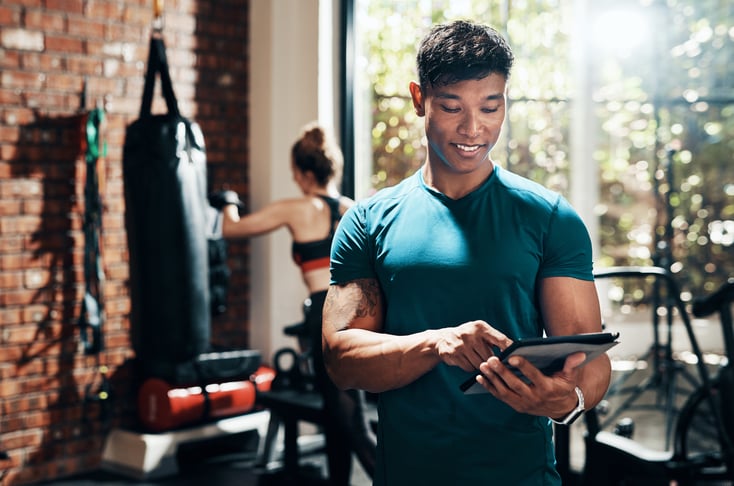 Investing in gym management software at the start of your fitness business's life cycle sets you up in good stead for the future. No matter what stage your fitness business is at, whether you're a new studio just starting out or a well-established CrossFit box, having a gym management system to make sure you can run your admin efficiently and simply makes your day-today so much simpler.
Choosing the best gym management software for your fitness business
With a lot of great gym management software programs on the market, choosing the best gym software for your needs can take a bit of time and research. But it's worth it because having a system that is tailored to your gym can make a world of difference.
The best gym management software will offer features such as:
Online bookings and payment processing

A client database

Scheduling and class management

Reporting and analytics

Marketing tools
Each of these key features is designed to help gym and fitness business owners with streamlining the types of admin tasks that quickly stack up and become both repetitive and time-consuming.
This guide will walk you through these features, among others, so you can get a better sense of how to use gym management software and the difference it can make in the day-to-day running of your business and make your professional life easier.
1. Online bookings
One of the primary attributes that gym owners look for in their gym software is making sure it offers a user-friendly online booking system.
The biggest benefit of good gym software with an intuitive online booking system is that it hands over the responsibility of booking classes and sessions to your clients.
Don't just rely on spreadsheets and Google calendar
With spreadsheets, Google Calendar, or even a handwritten schedule, it means having to navigate between emails, texts, and phone calls to try and make sure your gym clients get the booking they want.
Gym management software means a simpler solution for everyone. You're no longer having to field calls and deal with the back-and-forth of trying to schedule someone in. Instead, your clients can book and pay for their sessions all in one go via your gym's website or through their customer app.
Many gym software providers now offer a mobile app for your customers which makes it even easier for your clients to book and manage their membership while they're on the go.
2. Client database
As your gym business grows its customer base, so does your client database. It's important to have a system in place that can deal with an ever-growing list of names, addresses, phone numbers, and email addresses.
It's important to have a way of staying on top of your customers' information so you can get to know them better and communicate with them easily and efficiently.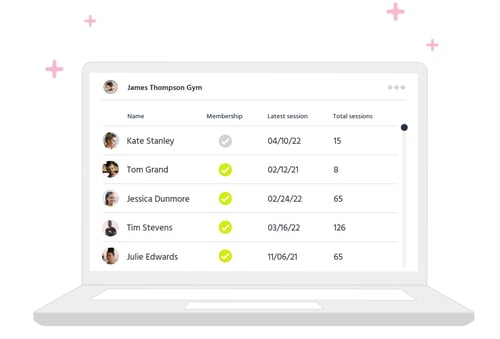 Keep on top of your membership management
A good gym management software will have a CRM (customer relationship management) system built in. This tool helps you to manage your client data and gives you valuable insights into your customers.
With gym management software, all of your gym clients' information is stored in one central database. This means that you can access it whenever you need to and update it as and when things change.
With a gym CRM, you can track member interactions, monitor customer service issues, and get a better understanding of who your ideal clients are. This information is then invaluable when it comes to marketing and selling new products and services to your gym members.
Further Reading: Guides for New GYM Owners
Opening a GYM
Gym Pricing Strategy
GYM Features
3. Scheduling and class management
When offering classes as part of your gym business, then having a good scheduling system is essential. The best gym management software will allow you to easily create and manage your class schedule.
You'll be able to ensure all the classes have been sorted into the correct time slot, add in instructor details, and set capacity limits. This way, you can be sure that your gym classes are running smoothly and efficiently.
Class management features will also allow you to track attendance, no-shows, and cancellations. This data is valuable when it comes to understanding which classes are popular and which ones might need to be tweaked or even removed from your schedule.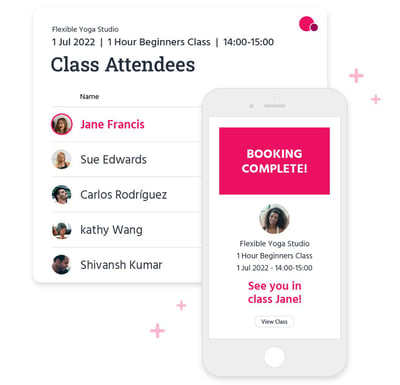 4. Custom gym memberships
For a lot of fitness businesses, a one size fits all membership isn't practical. When you have different class packs, clients with specific needs, and different tiers of memberships offering different services, bespoke gym memberships just make life easier for you and your customers.
With gym membership software, you can create custom memberships that perfectly fit the needs of your gym business. You're no longer restricted to a few set options, but you can be as creative as you like when it comes to designing memberships that work for your gym or studio.
This could include things like:
Pay-as-you-go gym memberships

10 class passes

Monthly unlimited memberships

6-month gym memberships

Annual gym memberships
The options are endless and by offering a variety of gym memberships, you're giving your clients the freedom to choose a membership that perfectly suits their needs.
5. Automated notifications for your members
Membership retention plays a big part in how gym management software can help fitness businesses and automated notifications have an essential role to play in that.
You can set up your gym software to send automated reminders for classes, upcoming membership renewals, payment deadlines, and even special offers and discounts.
This functionality is important because it helps you to avoid the awkward conversation of trying to track someone down to pay their gym fees.
It also encourages people to maintain their membership, rather than letting it lapse and then losing that client.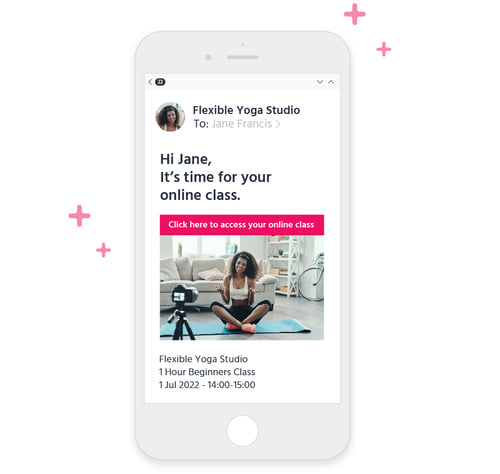 6. Online payments
The best gym management software will have an online payment system built in. This is important because it allows your clients to pay for their gym membership, classes, and other services online.
By offering online payments, you make it easier for your clients to do business with you. They can make payments at a time that suits them and they don't have to worry about carrying cash or writing cheques.
Prevent late payments with automated billing
An online payment system also allows you to automate your billing process. Automated billing means that you can set up recurring payments so that gym memberships are automatically renewed each month.
Automated billing is a huge time-saver for gym businesses and it means that you don't have to chase up late payments or run the risk of a client slipping through the cracks and not paying at all. Whatever stage of the life cycle your business is at, keeping track of income and cash flow is crucial to success.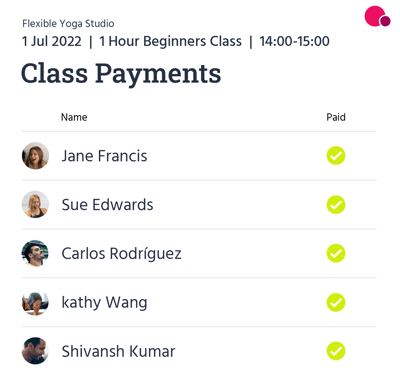 7. Reporting and analytics
As a gym owner, you're always looking for ways to improve your business. You want to attract new members, retain the ones you have, and increase profit. But how can you make sure you're making the best decisions for your gym?
This is where reporting and analytics come in. This feature in your gym management software allows you to see how your gym is performing in terms of membership growth, retention rates, class attendance, and income.
Making business decisions based on facts
All of this data from advanced reports is valuable because it helps you to make informed decisions about the future of your gym business based on facts, not guesses. For example, if you see that your membership growth has begun to slow down, you can try out different marketing strategies to attract new members.
Or, if your retention rates are low, you can look into what's causing your members to leave and make changes accordingly. Reporting and analytics give you the insights you need to make smart decisions for your gym.
8. Integrations
Gym management software can be a powerful tool to help manage your gym, but it can be expanded by intuitive integrations to help automate a wide range of administrative tasks.
Some of the most popular integrations include:
Payment processors: This integration allows you to accept payments online and in person with some of the most reliable payment processors, including Stripe and GoCardless.
Member management: This feature allows you to manage your members' information, such as contact details, membership status, and payment history.
Scheduling software: This integration allows you to schedule your workouts and classes in advance.

Automated messages: This integration allows you to communicate with your clients via text or email without having to manually send out each individual message.

Reporting: This feature allows you to generate reports on your fitness business' progress, clients' attendance, and payment history.


Expand your marketing tools with user-friendly integrations
With TeamUp's gym management software, you can use our integration with Zapier to automatically send new gym members a welcome email when they sign up. This helps you stay in touch with new gym members and helps them feel more comfortable at your gym.
You can also use Zapier to connect your gym management software to your email marketing software. This allows you to automatically send emails through apps such as Mailchimp to gym members about new classes, events, or deals.
Integrations and automations make it easy to improve your gym member management and increase client retention.
9. Free trials
When you're looking for gym management software, it's important to find a system that offers a free trial to test the software before you commit.
While there are great gym management software providers out there, there are also gym management software programs that expect fitness businesses to sign on the dotted line and start paying monthly fees with long contracts that are hard to get out of.
Choose gym management software that lets you try it before you buy
This all circles back to finding the right gym management system for you. Before you commit, you want to have had the chance to have a complete overview of a gym management system with time to see that each feature works for your fitness facility.
Gym management software providers such as TeamUp give new customers a free trial with no obligation to commit at the end of that period.
The free trial gives you time to enjoy a complete overview, test the various features, and design bespoke membership options, along with unlimited support from a knowledgeable team.
10. Customer support
And that leads us to an often overlooked feature of gym management software; customer support. It's important to make sure that you choose gym management software with excellent customer support.
This is valuable because it means that if you run into any problems or you're unsure how to use a certain feature, you can get in touch with the gym management software provider's team and ask for help.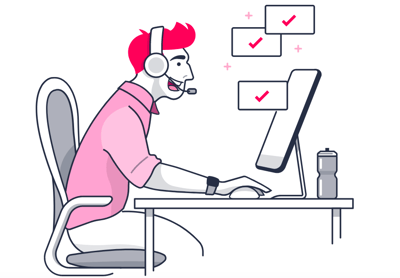 Enjoy personalised support from a team that cares
Customer support at TeamUp is at the heart of what we do. Each new fitness business owner will have an introductory call to assess their needs. You also get a walkthrough after you sign up for your trial, completely free. You will also receive a free data transfer.
Whether you're switching gym management software providers or you're looking at gym management software for the first time, our team will make sure all the data and customer information you need and want to retain is transferred over.
Keep in touch and let us know if you need help
A huge benefit of TeamUp's customer support is that it is continual, and always free. No added costs for additional help. If there is ever anything that a fitness business owner needs help with, they can email or simply book a call.
Where possible, we also like to make sure that you'll be liaising with the same team members to solve any issues with your fitness software. This ensures that when you talk to a member of our team, they know you, your business, and they don't have to ask for a recap on your concerns. They can get on and help you get the most out of your gym management software.
To sum up
Gym management software can at a first glance just seem like an elaborate online booking system with a lot of fiddly and difficult features. However, when you use the right gym management software, you'll find flexible features that make your day to day easier by taking the complexity out of repetitive, time-consuming administrative tasks.
The best gym management software will also include comprehensive customer support that is always on hand to give you the help and advice you need to make the most of your gym business.
When you're looking for gym management software, keep these key features in mind; a simple and easy-to-use interface, appointment scheduling, payment processing, member management, and customer support.
By choosing gym management software that has all of these features, you can be sure that you're making the best decision for your gym business. Gym software should make your life easier, not harder.
TeamUp offers a free trial with no obligation to commit and comprehensive customer support. Schedule a call today and enjoy user-friendly gym management software with flexible, robust features.
Open Comment Form