TeamUp's newest feature allows you to put membership packs and prepaid plans, otherwise known as a non-recurring membership, on hold for a specific customer. Holds for this type of membership are created just as you would create them for any weekly, monthly, or annual membership. This is especially helpful if you have class pack memberships or prepaid memberships that have an expiration date or limited time usage, and your customer needs to take a short break during that time.
Why would a customer need to put membership on hold?
If a customer is unable to complete their membership for a specific reason or unforeseen circumstance, you now have the option to put their account on hold. By putting the membership on hold, rather than cancelling it completely, you reduce the risk of that customer losing their classes and not returning to your gym or studio as a result. Both you and your customer will benefit from this type of feature.
For your customer, they won't have to miss out completely on their membership or class pack. Their membership will simply pick back up after the end date of the hold. You will also be able to edit the hold if necessary. If a customer comes back early you can end the hold manually, or extend if you or they need more time.
For you as an owner, this feature prevents you from having to refund your customer if they are unable to complete their membership. By giving your customer this very flexible option you will gain your customers' loyalty and support for having supported them and helped them out. This may even encourage them to purchase more classes and recurring memberships with you later.
This is also beneficial in cases that could include you need to close your gym or studio for a period of time, you are unable to give classes, or your schedule has to change and you need a period of time to adjust. As the owner of your gym or studio, it is up to you to set the limitations in which this feature can be used, but the good news is, you now have the option no matter what types of memberships you offer.
How to put a non-recurring membership on hold in TeamUp
To put a non-recurring membership on hold, you will first need to go to your customer list and select the customer whose membership will be held. Once you have selected their profile you will next select the memberships tab and select the customer's current active membership.

In the membership section, you will see all of the details, and the options to edit, cancel, or hold. You will then select the 'hold' button and arrive at the page to add the hold details.

You have the option to select specific start and end dates of the hold or choose to make it open-ended, which you can manually end later.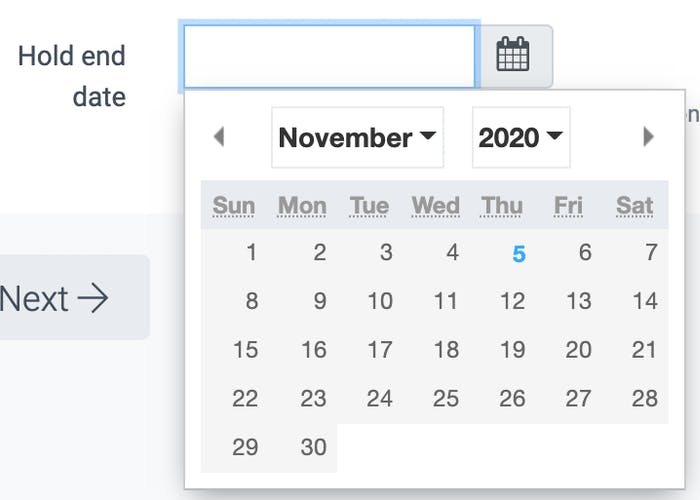 If you choose to give an end date, select the date that the hold will end on. Once you have selected the dates, the next page will give you a new expiration date to set according to the hold period of time. The new expiration date field is only applied if there is already expiration date associated with the membership package. If that is the case, you can manually adjust this if you would like to set a different expiration date.

After the hold has been created you will be able to see it within the customer's profile with the options to edit or end the hold.
Customer membership hold report
Another place with your TeamUp dashboard you can edit all customers holds is within the customer memberships hold report. Not only will you be able to see every hold per customer, but you can edit and end holds directly from the report. The report will also allow you to make bulk edits to your customers' holds as well.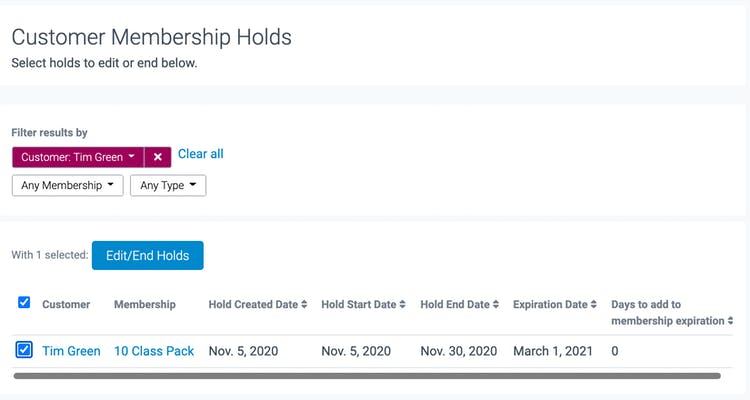 If you choose to edit or end a hold you will be given the options to keep or set new dates, keep the current values or set new values. You will also be able to end the hold immediately from here.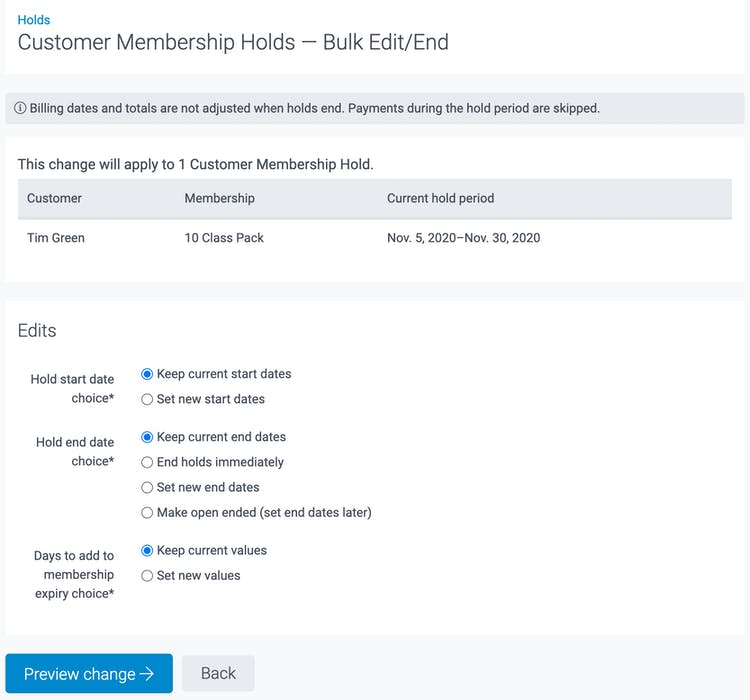 If you have customers inquiring about putting their membership on hold, you can begin to place them within your TeamUp dashboard.
Don't forget to check the what's new section weekly for new and updated TeamUp features.
Open Comment Form