Get your customers booking your classes even faster by encouraging them to download the TeamUp member app. Newly updated with brand new features to make booking even easier, the member app has tons of capabilities that benefit both you and your customers.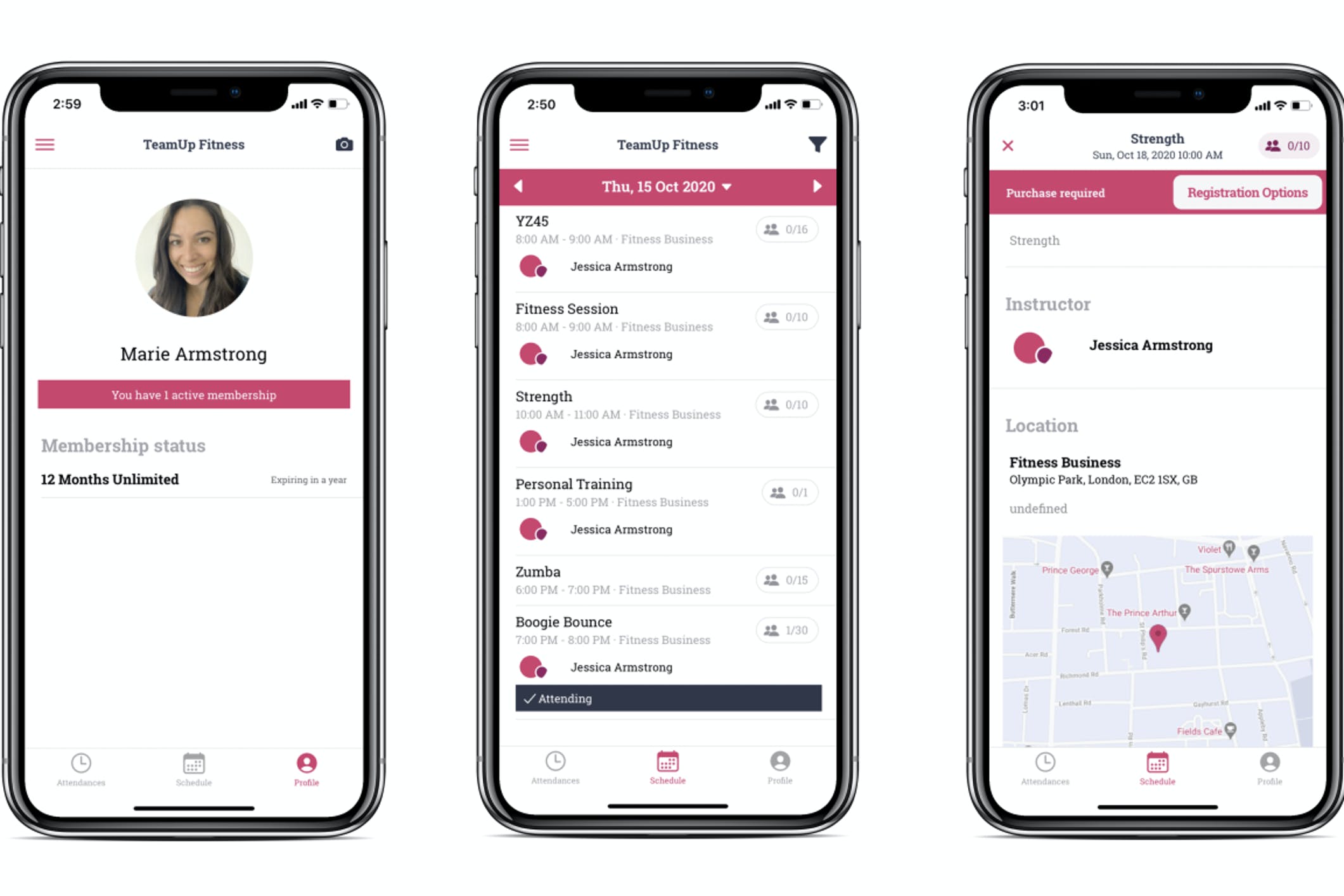 What's the member app?
The TeamUp member app is your customer's very own app for their iOS or Android device (or tablet) to browse schedules, register for classes and courses, sign up for waitlists, and manage their upcoming sessions at your gym or studio.
In the app, they can also manage their own customer admin including filling out forms and signing waivers, as well as purchase new membership packages.
The member app's newest features
While the member app is only for fitness customers, it helps fitness businesses out big time. It saves your customers time and is a way for them to be able to register or amend their bookings while on the go, which leads to increased engagement and attendance for your classes.
To keep things up to date and improve the current capabilities of the app, here is a list of the new features that can be used by any TeamUp customers' customer:
Browsing classes
Everything starts with the class schedule. In the app, your customers can browse all of your available classes and courses that can be booked with the membership they have purchased. They can filter by class type, instructor, and jump to any particular day to see what classes are offered.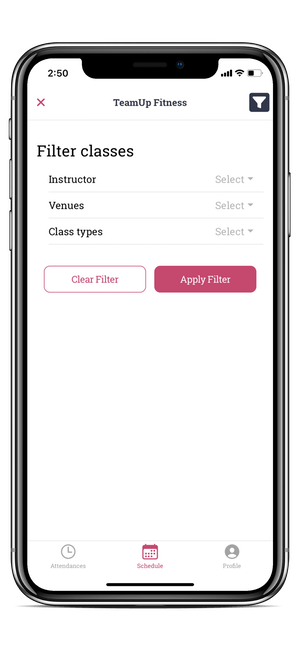 Once they have found the classes they would like to book, the next step is registering for class.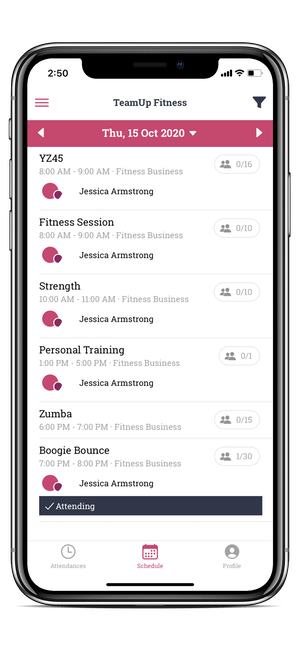 Registering for classes and purchasing memberships
On the class details page, customers can see which classes are available to book, including the class description, instructor(s), venue, and the number of spots available to book, as well as total attendees.
If there is an open spot, your customer can book. If there is not, your customer can sign up for the waitlist (but more on that later).
If the customer has a membership that lets them register for free, they can register with one tap. If they have more than one membership, they'll be able to choose which to use.
If the customer doesn't have a membership that allows them to register, they'll be able to seamlessly purchase it from the app.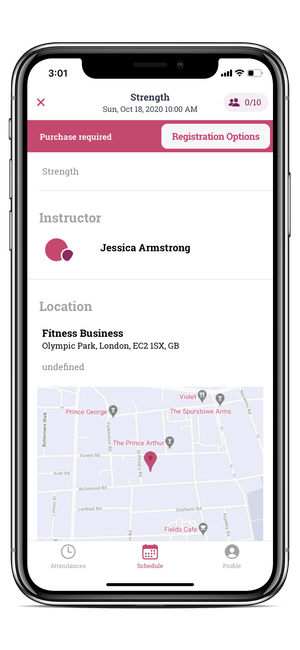 Once a customer has found a class they would like to register for, they simply need to click on the class and see the registration options.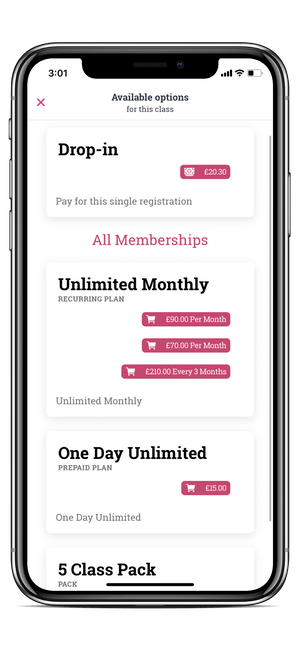 Attendances and memberships
Customers can easily view their upcoming classes and completed classes (this is especially helpful for your customers who want to keep track of the number of classes they have attended).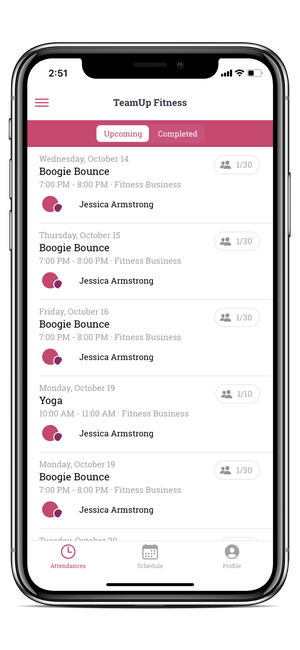 They can also check and see how many active memberships they currently have.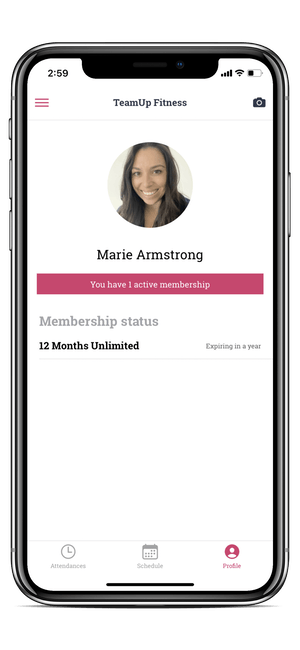 Push notifications
If a customer wants to attend a class, but there are no open spots, they can sign up for the waitlist. Customers can choose to receive push notifications about waitlist updates, like when their spot is reserved or if they were automatically registered for a class from the waitlist.
Courses
For businesses offering courses, customers will be able to see class sessions alongside the regular classes. However, they will only be able to book those if they have a membership package that includes classes from the course series. Customers will be able to see their registrations for course classes and make or amend their sessions from the app.
Family support
The TeamUp Members app has full support for families so customers can manage their children's attendances from one app.
Waivers and forms
The app also has full support for forms and waivers so you can collect previous experience, any injuries or conditions you should be aware of, and ensure that emergency contact details are up to date easily. Customers will be prompted to fill out the form or waiver before registering for a class or when they purchase a new membership.
How to get started
If your customers do not already have a TeamUp customer profile, they will need to create one to use the app. To create a customer account on TeamUp, your customers will need to click the link that is in the email sent to them when they first sign up for your class via TeamUp. Once they click the link they will be able to create their customer profile and access their account via the TeamUp website or app.
Note: your customers must sign up via the link sent to their email, and not by creating an account directly on the TeamUp website, as that will create a business account for them.
To find more information about the member app, check out of our app FAQs, here.
Encourage your customers to sign up for your classes using our how-to register guide.
Check out what's new section weekly for new updates to your favourite TeamUp tools and features.
Open Comment Form