This article has been updated as of August 3, 2021 to include Appointments.
Your members deserve the best customer experience and that includes having an easy-to-use calendar to book, which just got a pretty big facelift. TeamUp's latest update includes a brand new look for the customer calendar with easier to view class details and availability, endless scroll on the list view, and new filters for class type, instructor, venue location, and online vs. in-person classes.
Your customers will be able to quickly distinguish the number of customers registered for class, navigate back and forth from list to week to month as well as jump ahead in the schedule to book as far in advance as your schedule permits. Available for all types of devices, including laptop, tablet, and smartphone, your customers won't have any trouble accessing your calendar wherever they are.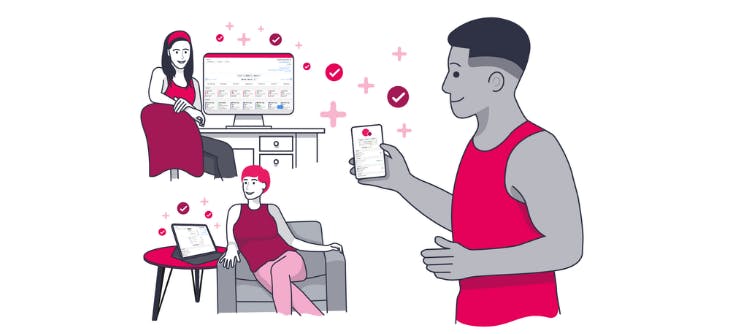 What can you expect from the new customer calendar?
The customer calendar was updated to perfect the customer experience. With a sleeker and cleaner look, you can expect reduced confusion about class bookings and details, faster registrations when you add new classes, and your customers getting to the confirm page quicker. Not to mention the web calendar and member app now share a closer appearance. Your customers will also be able to clearly see right at the top of the calendar how many upcoming registrations they currently have and always find the class types they're looking for.
List view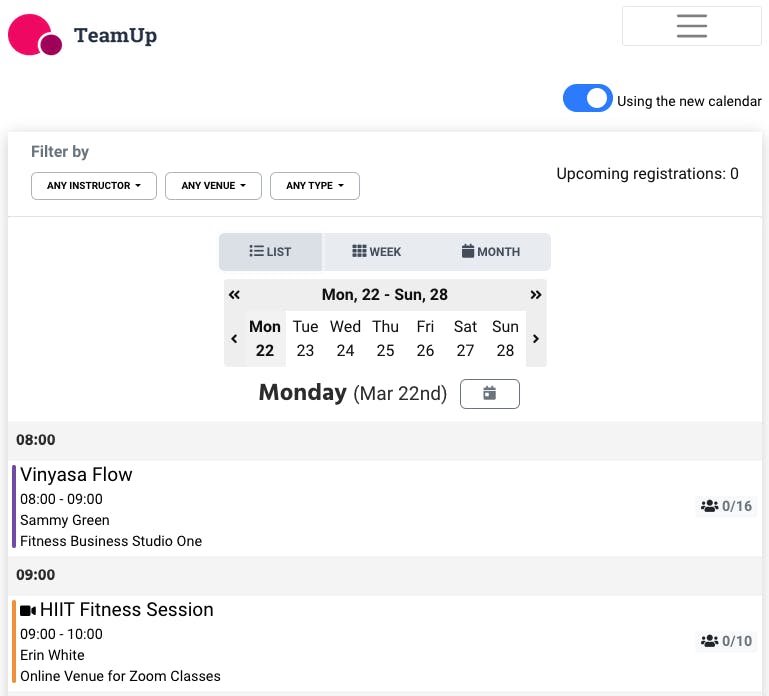 Week view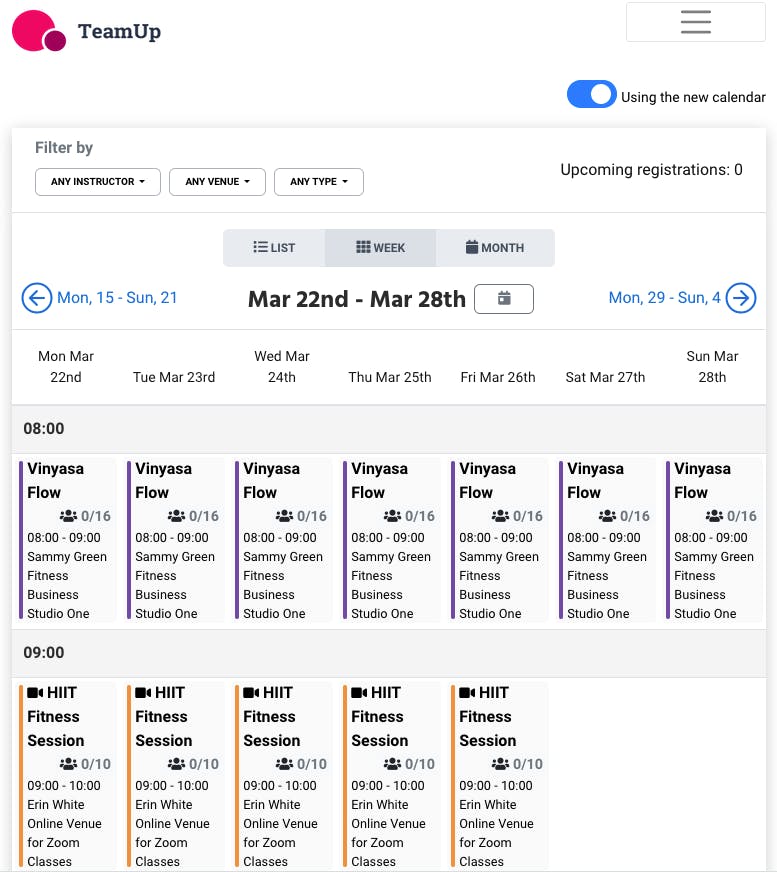 Month view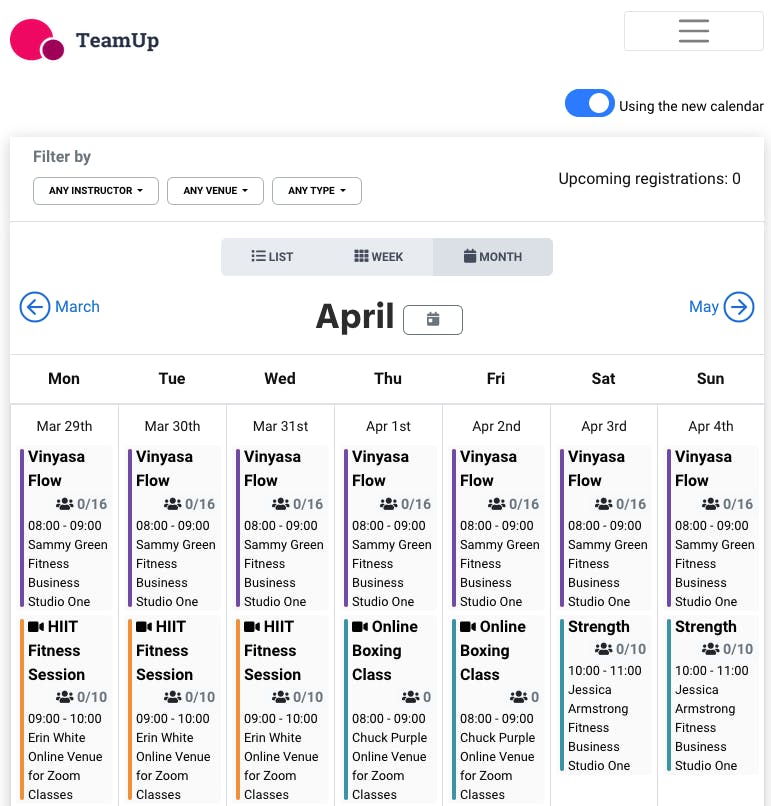 How your customers can book your classes using the new calendar
The good news is booking your classes is just as easy as it was before, only now it's a little bit faster and the pages are a little bit neater. Rather than being directed to a new window, when your customer goes to select a class to book a popup with the class details will appear. If your customer does not already have a membership they can select the Registration Options which will show you what types of membership plans, packs, or drop-ins are accepted for that class.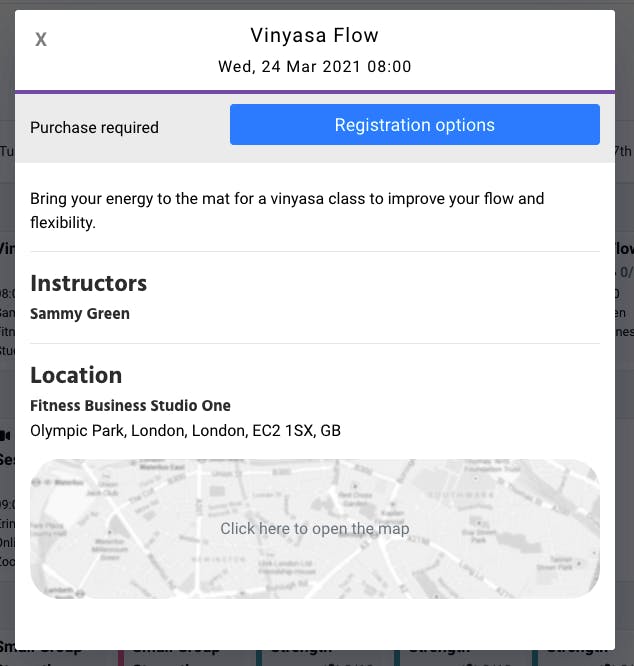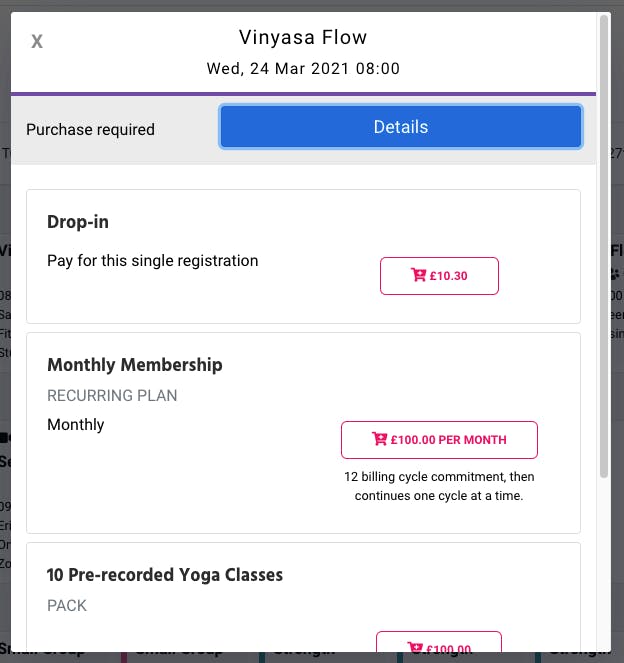 Once they have selected what type of membership they would like to purchase, they will be redirected to the confirmation page to pay and complete. It's that easy.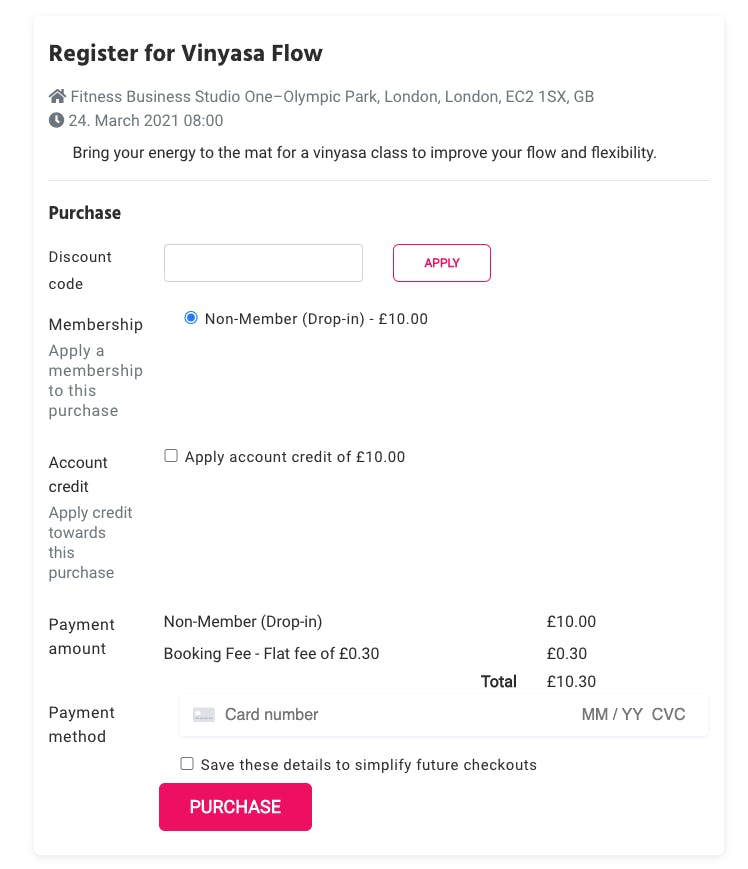 They can also select to make a reservation if you have enabled that option.
The customer calendar now includes appointment scheduling
Your customers can now book classes and appointments side by side. Either within the customer calendar feature itself, on the customer site, or using the TeamUp Member App, customers now have the ability to manage their own class and appointment registrations. The new TeamUp Appointments feature includes everything you love about TeamUp class bookings, now for appointments, too. To learn more about Appointments and how your customers can book, check out our new what's new guide, here.
What is a customer reservation and what are the benefits of offering them?
For customers who regularly attend the same classes at the same time, you can use the reservations tool to book them into those upcoming classes in bulk. In order to make a recurring reservation, your customer must have a membership, either a recurring or non-recurring membership or class pack.
A recurring membership will allow you to book your customers into a class until their membership ends or they decide to change the class, but a non-recurring membership or class pack will allow your customer to be booked into a reservation for as long as their membership is valid for.
Booking your customer into their favourite classes will save them time from having to book weekly and give you an idea of who is coming to classes well in advance.
To use the reservations tool head to the classes section in your dashboard to begin booking or to find out which of your customers currently have reservations.
Why it is important to offer your customers the best possible customer experience
One of the biggest obstacles businesses, especially new businesses, often face is customer retention. Finding your ideal client and making them loyal members of your gym or studio can take time and require you to put an extra effort into the quality of your services which includes presentation. When you present and offer a professional appearance and attitude, easy to use online booking system to pay and register in advance and provide high-quality engaging classes you create a package that not only encourages customers to return but also encourages them to refer friends and family members. Start offering your customers an elevated experience and make being your member easier than ever.
For more articles on the customer booking experience, check out our guide on teaching your customers to register for your classes and our member app.
To learn more about TeamUp's newest features and updates, check out our what's new section.
Open Comment Form