Joining a fitness franchise has seen a surge in popularity over the last decade due to pre-existing brand recognition and successful business models.
Owning a franchise of this kind is less risky than starting your own business from scratch and comes with more immediate customers, support from fellow franchise owners, and the public's growing interest in healthy living initiatives.
The US market size of $35 billion currently boasts over 109,000 businesses, making 2023 an ideal time to buy into one of these top franchises as they grow their reputation and make more significant contributions to local communities.
After carefully evaluating the most esteemed fitness franchises for 2022 based on their growth rate, trustworthiness, client and stakeholder satisfaction levels, and overall impact on society, below are some of the best boutique fitness franchises you should invest in in 2023.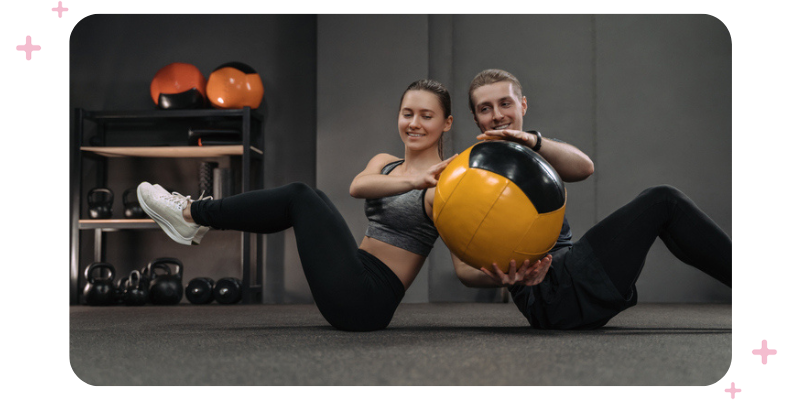 Learn more: 2023 fitness trends
What is a boutique fitness franchise?
Boutique fitness centers are typically smaller than traditional gyms and tend to specialize in one or two fitness areas. Examples include indoor rowing, cycling, HIIT, yoga, and boxing.
Over the last few years, boutique chains have increased due to their intimate social environment and feeling of accomplishment when members leave after a great workout.
Due to the size of these studios, they can be found in nearly any location.
Franchises allow business owners to expand rapidly without using their own capital; this allows them access to various spin-off workouts and products from different fitness brands.
Why invest in a boutique fitness franchise?
Investing in a boutique fitness franchise can be an excellent option, whether you're venturing into franchising or looking to expand your current portfolio. Here are three compelling reasons why:
Health is a bigger priority than ever
The pandemic has made us acutely aware of the importance of health.
When you are active and have a healthy weight, your risks for heart disease, obesity, and diabetes plummet - that's all down to exercising regularly, maintaining a balanced diet, and keeping up with an ideal weight.
Last year we saw governments strongly advising consumers on their well-being; it is clear that people are now following these recommendations more than ever!
The ever-increasing demand to get the best experience
Boutique fitness isn't just about working out; it's about providing a first-rate experience for members. From a variety of amenities to skilled teachers and a pleasant atmosphere, boutique fitness goes beyond simple physical activity.
The entire member journey comprises several touchpoints that complete the gym-going experience, which has become even more significant in this time of social disconnection.
To meet these needs and wants, you must supply your clients with a comprehensive and fulfilling encounter every time they visit.
Learn more: How to keep customers happy
Disruptive innovation sparks curiosity
Boutique fitness brands are constantly pushing the boundaries in the industry, incorporating technology and science to craft unforgettable workout experiences.
Consumers have become increasingly eager to search for easier ways of exercising while ensuring visible results - which is precisely why Orangetheory Fitness has incorporated heart rate monitors into their program.
Boutique fitness takes regular workouts and spices them up more than ever due to this innovative approach; as these businesses keep advancing how we view health and wellness, people's enthusiasm towards it continues to surge.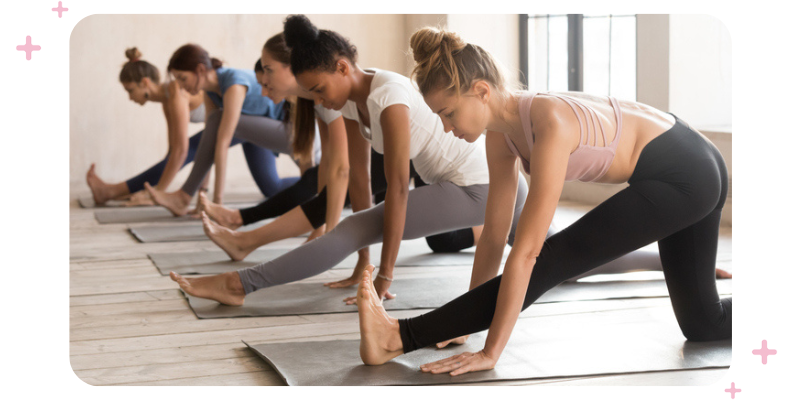 12 best boutique fitness franchises to invest in 2023
Whether you're looking to invest in a boutique fitness franchise or just finding out your options, there are plenty of niches and brands from which to choose.
Each franchise offers different fees and requirements, so weighing the pros and cons before taking any action is essential.
Fortunately, there are varying costs available for every budget size, passion level, or skill set. Here are 12 top-tier boutiques franchises perfect for 2023!
Learn more: How to open a gym business in 2023
Anytime Fitness
Anytime Fitness is a titan in the fitness industry with an ambitious mission to "improve the self-esteem of the world." It's no wonder it is so successful because Anytime Fitness operates 24/7 at over 4,000 locations in 50 countries on all seven continents!
Boasting more than four million members from its Woodbury, Minnesota headquarters, this leading coed gym franchise shows no signs of slowing down anytime soon.
At Anytime Fitness, a friendly and uplifting atmosphere is of utmost importance to both members and personnel. Along with traditional gym options, customers can access yoga classes, spin classes, personal training sessions, and Zumba offerings.
In 2020, the Entrepreneur's Franchise 500 list placed Anytime Fitness at 19th for Top Growth – providing aspiring franchisees the unique chance to enter their enterprise at low cost but with significant potential benefits!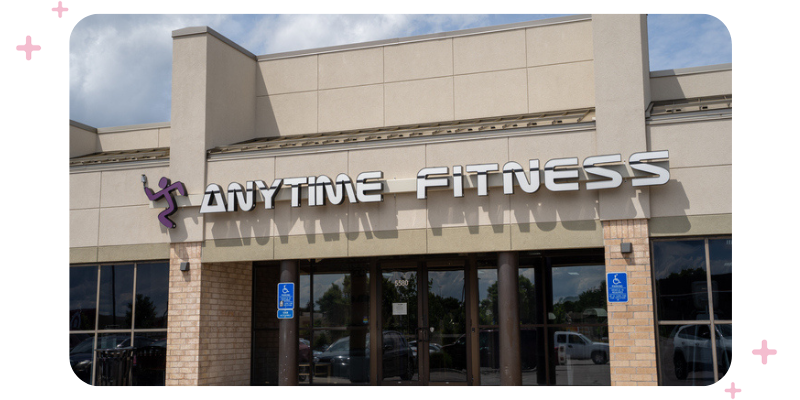 Anytime Fitness is an attractive franchise opportunity with a one-off fee ranging from $3,150 to $42,500 and an initial investment of between $381,575 – $783,897.
Financial requirements include minimum liquid capital of $175,000 as well as a net worth requirement around the industry average of approximately $350,000. Furthermore, flat monthly royalty fees and advertising charges make it easy to plan your budget accordingly.
Planet Fitness
Established in 1992 by brothers Michael and Marc Grondahl, Planet Fitness has become an international sensation with its headquarters in Hampton, New Hampshire.
This rapidly growing organization now boasts more than 2 thousand locations across North America, Canada, Australia, and Latin America.
Open your own Planet Fitness franchise with an initial fee of only $20,000 and a total investment between $1 million and a staggering $4.1 million!
That's not all; you can enjoy 7% royalty fees from the aggregate gross charges and adjustable advertising rates.
Unfortunately, US expansion applications are currently on pause — nonetheless, owning a Planet Franchise could be highly lucrative for any aspiring entrepreneur.
TRIB3
TRIB3 provides an unparalleled, remarkable experience through its HIIT group workout model and strong community.
People can enjoy intense training sessions in lavish industrial settings with the best equipment available, a successful boutique fitness concept, and world-renowned branding.
The business has spread across multiple countries around the globe, such as the UK, Spain, Russia & Finland - soon to be followed by more international locations!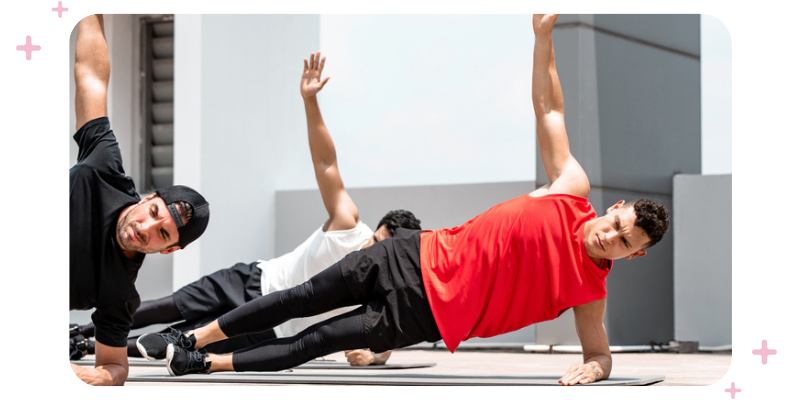 Pure Barre
Originating with Carrie Rezabek Dorr in 2001, Pure Barre is the leading 'barre' fitness franchise across North America.
With more than 500 studios and 555,000 customers worldwide, it's no surprise that this exercise inspired by ballet and yoga continues to expand into Germany and Austria rapidly. There are now 760 studios worldwide where individuals can empower their inner dancers!
Learn more: How to get more yoga clients
Pure Barre is devoted to empowering lives through cost-effective, studio-level classes that emphasize learning and community unity.
Their exercise programs embrace strength training, cardio fitness, and flexibility. Being repeatedly featured in Entrepreneur Magazine's Franchise 500 List (222nd in 2022), Pure Barre has been identified as the leading barre franchise across North America!
Meanwhile, Entrepreneur also named them 107th on their list of fastest-expanding franchises all over the globe.
Pure Barre offers a unique franchise opportunity to individuals seeking an exciting venture. The initial fee is $60,000, with the total investment ranging from $198,650-446,250.
In addition to this cost, there are also 7% royalty fees on gross sales and 1% advertising fees monthly.
You will receive comprehensive training consisting of 194 hours, including 94 hours in the classroom and 100 hours on-site work, as well as real estate support, construction & design help, recruitment, and marketing assistance.
Crunch Fitness
In 1989, Doug Levine founded Crunch Fitness in New York City with its motto: "Goals are made to be crushed!" Nowadays, this fitness club boasts over 300 locations and offers a low-cost $9.95 monthly membership fee.
Additionally, Crunch Fitness requires an affordable initial franchise fee of only $25,000; however, the total investment can exceed $304,000 to 2 million dollars depending on your business plan.
When you factor in the royalty fees (5% of monthly gross sales) and advertising fees (2% of monthly gross sales) into your business plan, it is crucial to be aware that a minimum net worth of $1 million with liquid capital of $400,000 is also needed.
The Crunch Fitness franchising team does not take this commitment lightly – they are dedicated to ensuring their success translates directly into yours!
Orangetheory Fitness
Founded by Ellen Latham in 2010, Orangetheory Fitness opened its doors for the first time in Fort Lauderdale, Florida.
This fitness club utilizes treadmills, weights, and rowers to provide a unique experience that combines heart rate-based science and technology with their inspiring program of DEI - Diversity Equity & Inclusion – to promote healthy living through their service.
To ensure that clients are satisfied with the program, they offer a 30-Day Quit Free Guarantee Program; this allows customers to get their 100% membership fee back if they have substantially unsatisfactory experiences after just 12 sessions within the first month.
The initial franchise fees range from $54,950 to $59,950 for starters and can eventually cost up to a whopping $999,121 in total! Furthermore, 8% of gross sales must be paid as royalty fees and an additional 2%-3% for advertisement expenses.
To qualify for a life-changing franchise opportunity like this requires at least liquid capital of 350,000 and a net worth of around 1 million dollars.
The Bar Method
The Bar Method is a revolutionary low-impact studio that offers an effective full-body workout designed to strengthen and sculpt.
Founded in 2001 by Burr Leonard and Carl Diehl, The Bar Method was created with physical therapists' help, making it ideal for those who have suffered injuries or are looking for safe yet powerful exercise classes.
Combining elements of ballet with marathon-style activities, The Bar Method provides students with a stimulating experience that will leave them feeling stronger than ever!
This led to The Bar Method being featured in some of the most-viewed digital media companies, including Business Insider, Good Morning America, and BuzzFeed.
For over twenty years, The Bar Method has helped members of all ages discover a new and exciting way to stay fit.
With an initial fee of $42,500 and total investment costs ranging from $237,559 - $499,869 (including royalty fees at 6% and advertising fees at 2%), it's a fantastic opportunity that can be yours today!
CycleBar
CycleBar is one of the leading indoor cycling fitness franchises, offering an exhilarating experience regardless of age or body type.
With their CycleStars instructors motivating and inspiring participants to reach their goals, it's almost as if a nightclub and indoor cycling collide!
CycleBar also concentrates heavily on community building within its studios and beyond. This has already resulted in over 250 open locations with continuing devotion from its fans.
To start this exciting venture, you will need an initial investment between $346,910 – $487,910.
Burn Boot Camp
Burn Boot Camp is a fitness empire specializing in women's health and well-being. What makes this gym unique for female exercisers?
All members are exclusively ladies! Burn Boot Camp started with limited resources - just a parking lot connected to a gymnastics studio – yet now it stretches across 38 states. Since 2015, they've been opening new franchised locations around the country, which offer 45-minute strength and cardio workouts designed to encourage personal growth.
With over 400 franchise partners since 2012, it's no surprise why Burn Boot Camp continues expanding its community every day.
In 2021, their success was recognized by Entrepreneur Magazine, which ranked them #90 on their Franchise 500 list for three consecutive years!
Burn Boot Camp seeks to transform the lives of ambitious women worldwide. They have made this possible by investing at a low cost, utilizing an open floor plan, and offering complete backing from Burn HQ.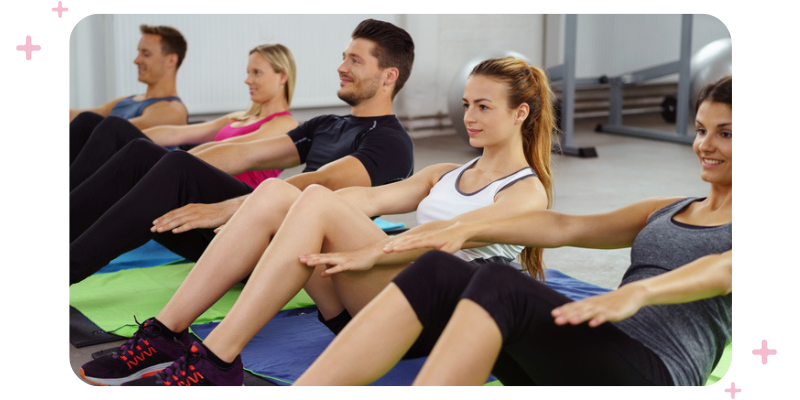 This boutique franchise concept is in high demand and has a welcoming, family-focused approach for its employees, franchisees, and members.
Becoming an investor takes at least $150,000 of liquid capital and a minimum net worth of $300,000, with a credit score of 700 or higher.
Furthermore, this business requires 6% of gross sales to be given out as Royalty fees and 2% of gross sales that goes toward Advertising fees. You must meet all requirements to qualify for the opportunity to join this prosperous franchise business!
STRIDE Fitness
Backed by renowned boutique fitness creator Xponential Fitness, STRIDE Fitness offers a treadmill-based interval training experience that accommodates all skill levels.
All individuals in this inclusive space are welcome to join the community and become active members, regardless of whether you consider yourself a "runner" or not!
Led by highly educated and experienced coaches, STRIDE is an interactive program that uses the latest heart-rate monitoring technology.
It offers three signature class formats - interval, endurance-based, and strength training - in 10 states, with almost 100 locations continuing to expand. Should you decide to join them on this journey of success, your total investment cost would lie between $372,412 – $533,512.
9Round
Owned by IKF Light Middleweight Kickboxing World Champion, "The Cannon" Shannon Hudson, along with his wife Heather, 9Round was created using the couple's combined knowledge of martial arts and their love for staying active.
Founded in July 2008 in Greenville, South Carolina - it only took four years for this business to grow into a whopping 100 units!
9Round promises a fun and energizing kickboxing workout experience with no fixed class times. When you arrive at the fitness center, an experienced trainer will guide you through nine stations in 30 minutes!
This innovative program combines cardio, circuit training, interval-style exercises, and functional movements while incorporating heart rate technology to help members maximize their performance during each session.
Plus – you can expect results without breaking the bank, as the average investment for 9Round ranges from $79,175 to $163,275.
F45 Training
The F45 Training franchise opportunity requires an initial investment of $313,200 to $485,100 and comes with a one-time fee of $50,000.
Additionally, owners are responsible for paying monthly royalties, which amount to 7% or up to a maximum of $2,500 off gross sales, plus an additional fixed advertising fee set at $2,500.
To be eligible for this remarkable business chance, you must have access to liquid capital resources that exceed no less than 300 000$ either by yourself or through partners/investors.
Tips on deciding on the ideal franchise to launch your fitness business
Selecting the perfect franchise for you can be a daunting decision. However, there are four essential tips to keep in mind when searching for your ideal opportunity:
The name of the brand
How recognizable is your brand name? Potential customers will be drawn to you because of the company's impressive track record if it's widely known. A well-known brand can do wonders for driving sales and acquiring new clients.
Support from franchisor
What kind of assistance can the franchisor provide? A reliable franchisor will arm you with training and guidance to set up your business and offer ongoing support.
The funds you need
How much capital do you need to invest in the franchise? Ensure that you have sufficient resources to cover the initial and long-term costs.
The reputation of the franchisor
Before signing any agreements, take the time to conduct comprehensive background research so that you are well-informed about the franchisor's history. The reputation and values that the brand represents will be an essential factor in determining whether or not it is the right fit for you.
We hope this guide has given you a better understanding of boutique fitness franchises, quality assurance, investment costs, and much more.
Regardless of the boutique fitness franchise you choose, make sure that you conduct thorough research and get to know the franchisor.
With proper preparation and a solid foundation, there is no limit to what your boutique fitness business can achieve. Good luck!
Frequently asked questions on boutique fitness franchises
How much does it cost to start a gym franchise?
Depending on a gym franchise's size, location, and brand, beginning costs can differ significantly. On average, one should be prepared to pay approximately $2,405 - $5 million upfront.
Additionally, ongoing expenses such as royalties and marketing fees must also be considered when budgeting for your new business venture.
Is a fitness franchise profitable?
Owning a fitness franchise can be highly lucrative with the proper location, competitive advantage, and franchise type selection.
Although dedication and hard work are required to succeed in this endeavor, the rewards of operating a well-run facility make it all worthwhile!
What is the most profitable fitness franchise?
If you want to invest in a premier fitness franchise, check out the Top 10 Entrepreneur's Franchise 500 for 2022 below:
Planet Fitness

F45 Training

Crunch

Anytime Fitness

Burn Boot Camp

Club Pilates

The Exercise Coach

Pure Barre
What is the fastest-growing fitness franchise?
F45 Training has been recognized as the #10 fitness franchise in the world and #14 in North America, making it one of the highest-rated brands for health and wellness.
Is the fitness industry growing in 2022?
Yes, the fitness industry is expected to continue growing in 2022. The Gym, Health & Fitness Clubs industry is predicted to surge 4.2% by 2022 - a promising indication of growth and success for the market size!
What makes the most money in the fitness industry?
The fitness industry is a highly competitive and lucrative field. Here are some of the best ways to make money in the fitness industry.
Personal training

Group classes

Corporate wellness programs

Nutrition services

Online/Virtual training programs

Apparel and equipment retail sales

Facility rentals & memberships

Supplementation and meal delivery services
What do boutique gyms offer?
If you're looking for something more personalized than a regular gym, boutique studios offer an intimate and immersive experience.
Traditional gyms are very general in their approach to fitness, but at boutique gyms, the main focus is usually specified on one fitness area. Additionally, these facilities tend to be much more exclusive and community-oriented.
Are boutique gyms profitable?
With the proper strategies and initiatives, boutique fitness studios can become highly profitable. After just 6-18 months, you can start seeing a return on your investment.
However, making critical mistakes, such as picking the wrong location or pricing structure, paying for ineffective marketing campaigns, etc., could lead to loss of money rather than profits.
Open Comment Form